10 Tips on Introducing Your Labradoodle Puppy: A Complete Guide to Welcoming and Caring for Your Furry Friend
The Labradoodle Breed: An Introduction to this Adorable Hybrid
The Labradoodle, a crossbreed of Labrador Retriever and Poodle, has gained popularity. This adorable mix combines the best traits of both species, resulting in a friendly and intelligent companion. Labradoodles are known for their curly or wavy coats, ranging in colour from cream, chocolate, and black to apricot.
One of the main reasons why Labradoodles have gained so much popularity is their hypoallergenic qualities. Because they have inherited the Poodle's non-shedding coat, they are often a suitable option for individuals with allergies or asthma.
Labradoodles are highly sociable and make great family pets.

10 Tips on Introducing Your Labradoodle Puppy
They are known for their gentle and affectionate nature, making them excellent companions for children and adults. They are also generally friendly towards other animals, making them a great addition to multi-pet households.
Intelligence is another characteristic that sets the Labradoodle apart. Both Labradors and Poodles are highly intelligent breeds, so it's no surprise that Labradoodles inherit this trait as well. They excel in obedience training, making them easy to train and eager to please.
Labradoodles need daily exercise for physical and mental stimulation. Daily walks, playtime, and interactive toys are essential to keep them happy and prevent boredom.
Labradoodles Requires Regular Grooming
If you're considering adding a Labradoodle to your family, it's important to note that they require regular grooming due to their curly or wavy coats. Regular brushing and occasional professional grooming will help keep their skin healthy and prevent matting. Labradoodles are adorable hybrids that combine the best qualities of Labradors and Poodles. They are friendly intelligent, and make fantastic family pets. However, it's important to consider their exercise and grooming requirements before bringing one home.
Preparing for 10 Tips on

introducing Your Labradoodle Puppy to his his home.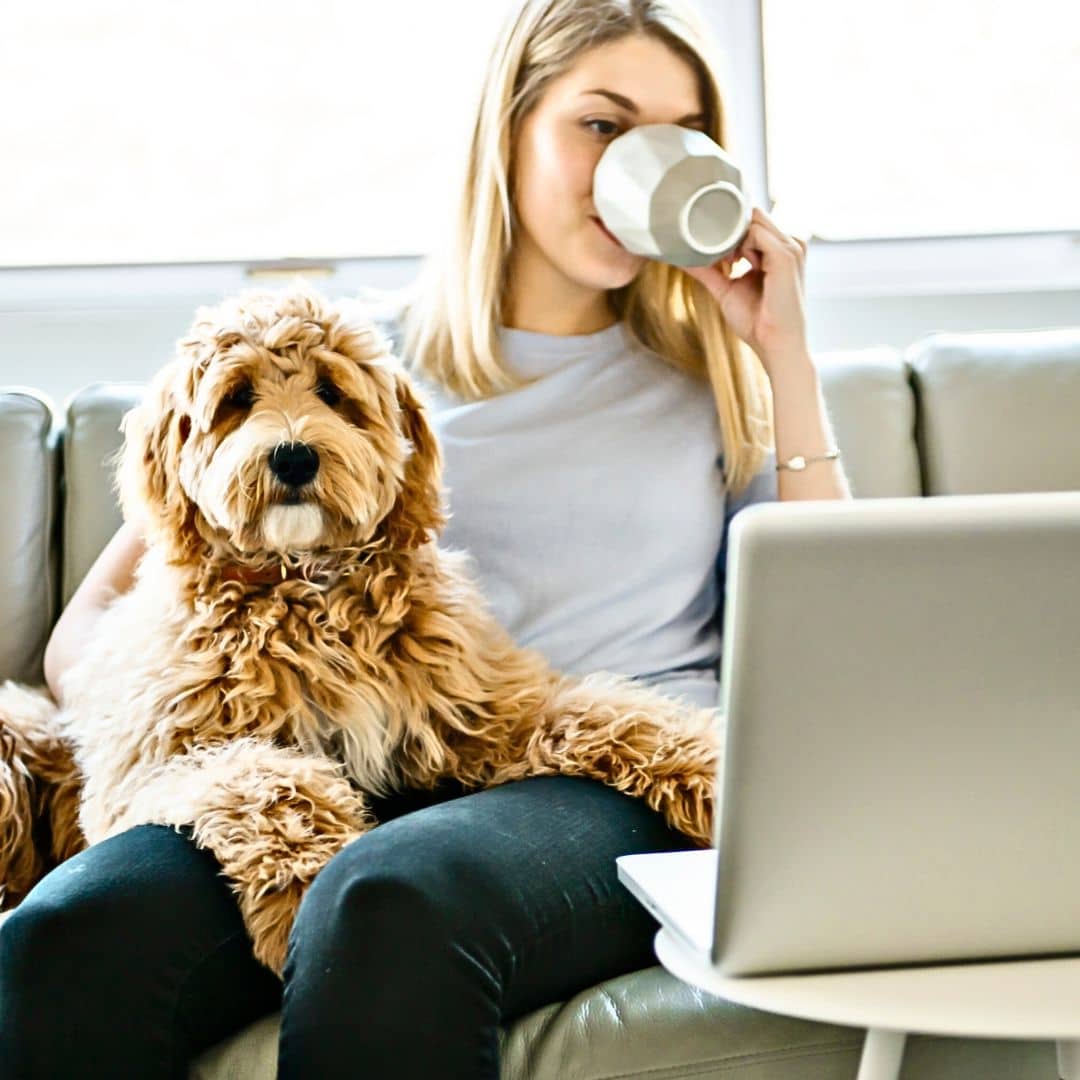 Bringing a labradoodle puppy into your home is an exciting time, and it's important to make sure your space is safe and ready for their arrival. Here are some steps to puppy-proof your home and set up a safe space for your new furry family member:
Walk through your home and identify hazards that could harm your labradoodle puppy. This includes electrical cords, toxic plants, cleaning products, small objects that can be swallowed, and anything else that could pose a danger. Secure these items or move them out of reach.
Labradoodle puppies are curious and may be tempted to explore trash cans. Ensure all your trash cans have lids that can't be easily opened, or consider keeping them in a closed cabinet.
Block off restricted areas:
Determine which areas of your home will be off-limits to your labradoodle puppy, such as certain rooms or staircases. Block access to hazardous areas with baby gates until the puppy is trained.
Protect cords and cables:
Puppies love to chew on things, including electrical cords and cables. Keep these out of reach, or use cord protectors to prevent your labradoodle from getting injured or causing damage.
Before bringing your labradoodle puppy home, ensure you have all the necessary supplies. These include:
– High-quality puppy food
– Collar and ID tag
– Leash
– Crate or carrier for transportation
– Bed or blanket for comfort
– Toys for mental and physical stimulation
– Puppy pads for house training
– Grooming supplies like a brush and shampoo are essential in maintaining the cleanliness and health of your pet's coat.
Remember, labradoodle puppies are energetic and curious, so it's important to provide them with plenty of mental and physical stimulation. Regular exercise, training, and socialization will help them grow into happy and well-adjusted adult dogs.
Bringing Your Labradoodle Puppy Home:

The First Day Checklist an our

10 Tips on Introducing Your Labradoodle Puppy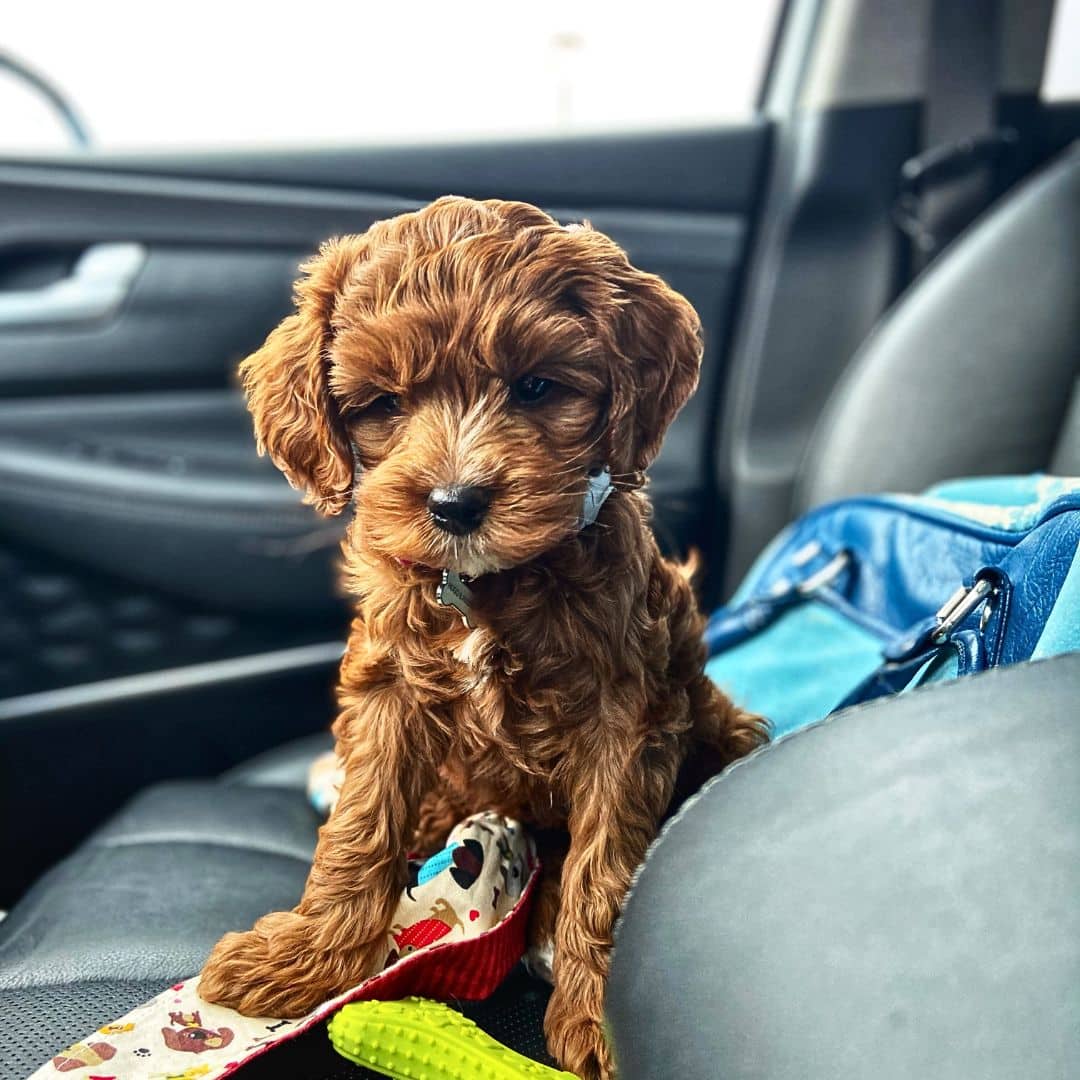 Bringing a new labradoodle puppy home is an exciting time! To ensure a smooth transition, create a first-day checklist. Here are some key steps to follow:
1. Set up a safe space:
Create a designated area where your labradoodle puppy can feel safe and comfortable when you cannot supervise them. This can be a crate, playpen, or a puppy-proofed room with their bed, toys, water, and some puppy pads for accidents.
2. Puppy-proof your home:
Labradoodle puppies are curious and love to explore. Remove potential hazards such as toxic plants, electrical cords, or small objects they could swallow.
3. Introduce slowly:
Allow your labradoodle puppy to explore their new environment gradually. Start with a small area and progressively expand their access as they become more comfortable.
4. Establish routines:
Dogs thrive on routine, so start establishing regular feeding, potty breaks, playtime, and nap times. Consistency will help your labradoodle adjust quickly.
5. Provide comfort:
Labradoodles are social dogs and will appreciate your presence during the first few days. Spend quality time with your puppy, offering gentle affection and reassurance.
6. Offer nutritious food:
Consult a veterinarian to determine an appropriate diet for your labradoodle puppy. Provide high-quality puppy food and ensure they have access to fresh water at all times.
7. Begin socialization:
Proper socialization is crucial for labradoodles. Gradually introduce them to new people, animals, sounds, and environments to help them become well-rounded adults.
8. Start basic training:
Begin teaching your labradoodle basic commands such as "sit," "stay," and "come." Positive reinforcement techniques work best, so reward good behaviour with treats and praise.
9. Schedule a vet visit:
Set up an appointment with a veterinarian to ensure your labradoodle is healthy and up to date on vaccinations. They can also guide health care, nutrition, and training.
10. Be patient and consistent:
Remember that it takes time for your labradoodle puppy to adjust to their new surroundings. Stay patient consistent, and stay positive throughout the process.
By following this checklist, you can help your labradoodle puppy feel welcomed, secure, and loved in their new home. Enjoy this special time with your new furry companion!
Feeding and Nutrition:

What to Feed Your Labradoodle Puppy for Optimal Health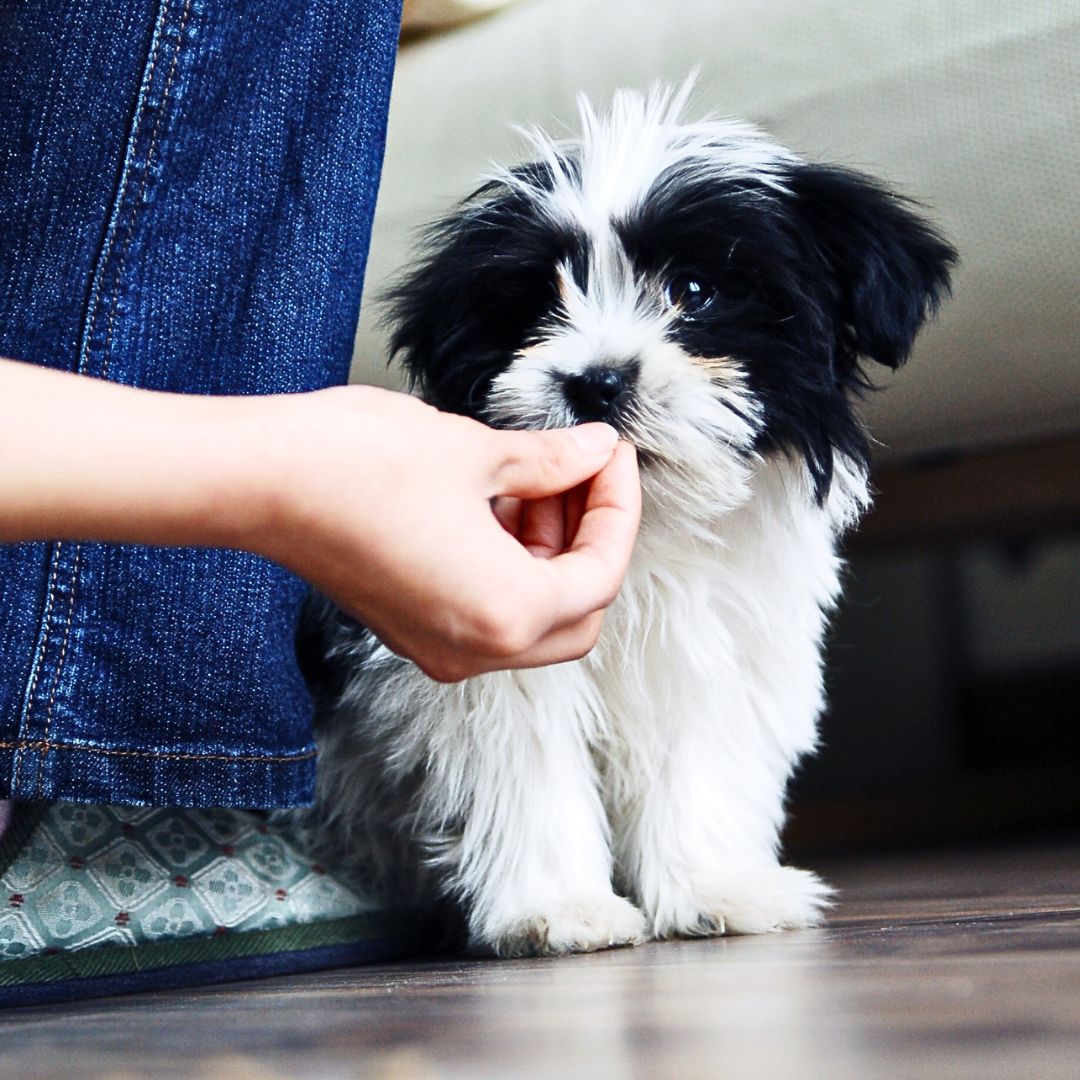 Feeding quality nutrition plays a crucial role in the optimal health and development of your Labradoodle puppy. Here are some recommendations to help you provide the best diet for your furry friend:
For optimal nutrition, choose high-quality, commercially prepared puppy food formulated specifically for growing dogs. Opt for brands that use real meat as the first ingredient and avoid those with excessive fillers or artificial additives.
Puppies have specific feeding requirements, and it's important to establish a consistent feeding schedule. Generally, it is recommended to feed your Labradoodle puppy three to four small meals per day until they are around six months old. After that, you can gradually transition them to two meals per day.
Nutritional Needs of Labradoodles:
Labradoodles require a balanced diet that includes proteins, carbohydrates, fats, vitamins, and minerals. Protein is particularly important for muscle development, while carbohydrates provide energy. Healthy fats support brain function and promote a shiny coat. Consult a veterinarian for dietary recommendations based on your puppy's age, weight, and activity level.
Treats and snacks can be a part of your Labradoodle's diet but should be in moderation. Opt for healthy options like small pieces of fruits or vegetables, freeze-dried meat treats, or specifically formulated dog treats that are low in calories and free from harmful ingredients like artificial colours and flavours.
Remember these additional tips:
– Provide fresh water at all times.
– Avoid feeding your Labradoodle human foods that can be toxic or harmful to dogs (e.g., chocolate, onions, grapes).
– Monitor your puppy's weight regularly and adjust their food portions accordingly.
– Regularly consult your veterinarian for guidance on your Labradoodle's dietary needs.
By following these guidelines, you can ensure that your Labradoodle puppy receives a nutritious and balanced diet for optimal health and well-being.
Training and Socialization: Building a Well-Behaved and Happy Labradoodle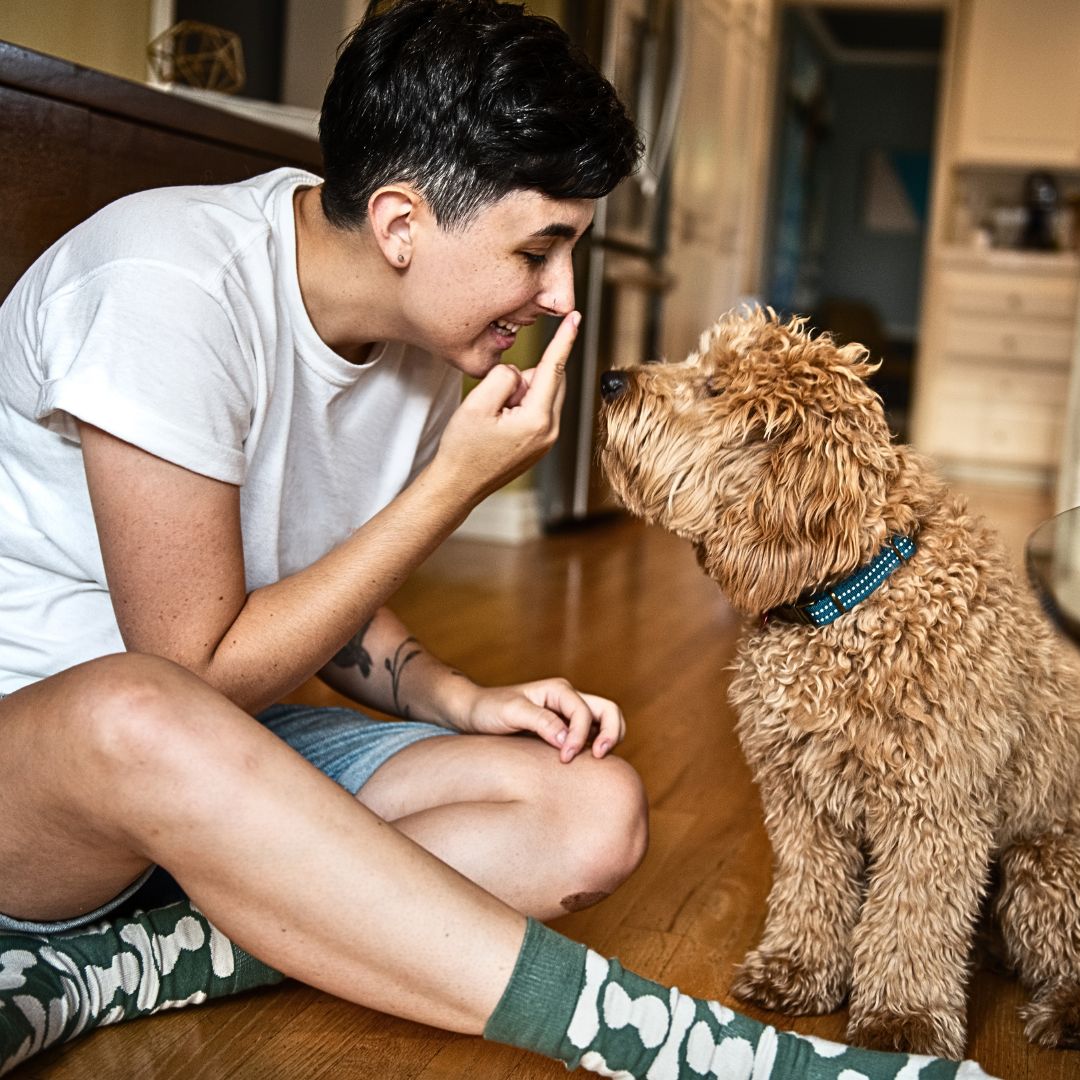 Training and socialization are essential for building a well-behaved and happy Labradoodle. Here are some basics to consider:
Start training your Labradoodle early to establish good behaviour habits. Teach the puppy basic commands like sit, stay, and come using positive reinforcement techniques. Consistency and patience are key.
10 Tips on Introducing Your Labradoodle Puppy including housebreaking

Use a consistent routine for housebreaking your Labradoodle. Take them outside regularly, especially after eating, sleeping, or playing. Reward them when they are eliminated in the appropriate spot, and avoid punishing accidents.
Socializing with Other Dogs and People:
Socialization is crucial for a Labradoodle's development. Expose them to various people, dogs, and environments from a young age. Arrange playdates with other friendly dogs, take them to dog parks, or enroll them in puppy socialization classes.
Obedience Training Suggestions:
Beyond basic commands, consider enrolling your Labradoodle in an obedience training class. This structured environment can help reinforce positive behaviours and improve their obedience skills.
Remember always to use positive reinforcement methods during training sessions. Treats, praise, and rewards will motivate your Labradoodle to learn and behave appropriately. Additionally, maintaining a consistent training schedule will help reinforce their training efforts.
By investing time into training and socializing your Labradoodle, you will set the foundation for a well-behaved and happy companion for years to come.
Grooming Your Labradoodle: Coat Care and Maintenance Tips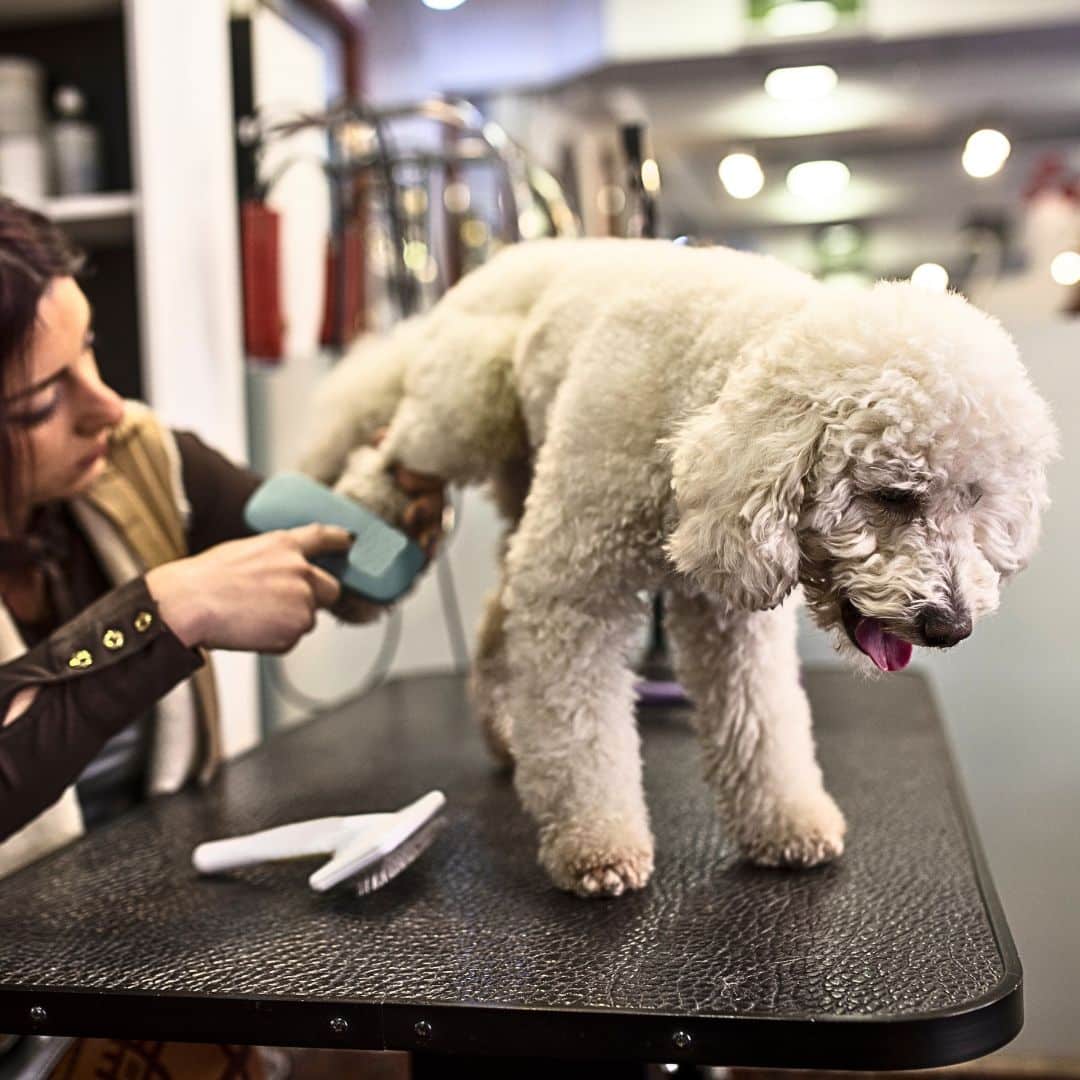 Grooming your Labradoodle is an important part of keeping their coat healthy and looking its best. Labradoodles have a unique coat type that requires specific care and maintenance. Here are some tips to help you with brushing frequency, grooming tools, and bathing instructions for your Labradoodle's coat:
Labradoodles have a low-shedding coat prone to matting, so regular brushing is essential. Aim to brush your Labradoodle at least two to three times a week to prevent tangles and matting. However, if your Labradoodle has a longer or more curly coat, daily brushing may be necessary.
To properly groom your Labradoodle's coat, you will need a few essential tools, including a slicker brush for removing tangles and mats, as well as keeping the skin smooth and shiny. A stainless steel comb can help you catch any remaining tangles or mats the brush might have missed. Additionally, you may need thinning shears or scissors for trimming the hair around sensitive areas such as the eyes, ears, and paws.
Labradoodles generally require bathing every 6 to 8 weeks, which can vary depending on their lifestyle and activity level. When cleaning your Labradoodle, it's important to use a mild dog shampoo specifically formulated for sensitive skin. Be sure to thoroughly rinse all the shampoo from their coat to avoid any residue irritating their skin.
Labradoodles have a double-layered coat that can take longer to dry, so it's recommended to use a high-velocity dryer or a low-heat setting on your home dryer. Remember to take extra care when drying the hair around their ears and paws, as these areas are prone to moisture build-up.
In addition to regular brushing, it's vital to maintain good hygiene practices for your Labradoodle. This includes:
It is important to check your ears regularly for any signs of infection. Please be mindful of abnormalities or discomfort in your ear and seek medical attention if necessary.

Trimming their nails to an appropriate length.

Brushing their teeth to prevent dental issues.
By following these tips and establishing a regular grooming routine, you can help keep your Labradoodle's coat healthy, free from matting, and looking its best.
Health Care for your Labradoodle Puppy: Vaccinations, Vet Visits & Common Health Issues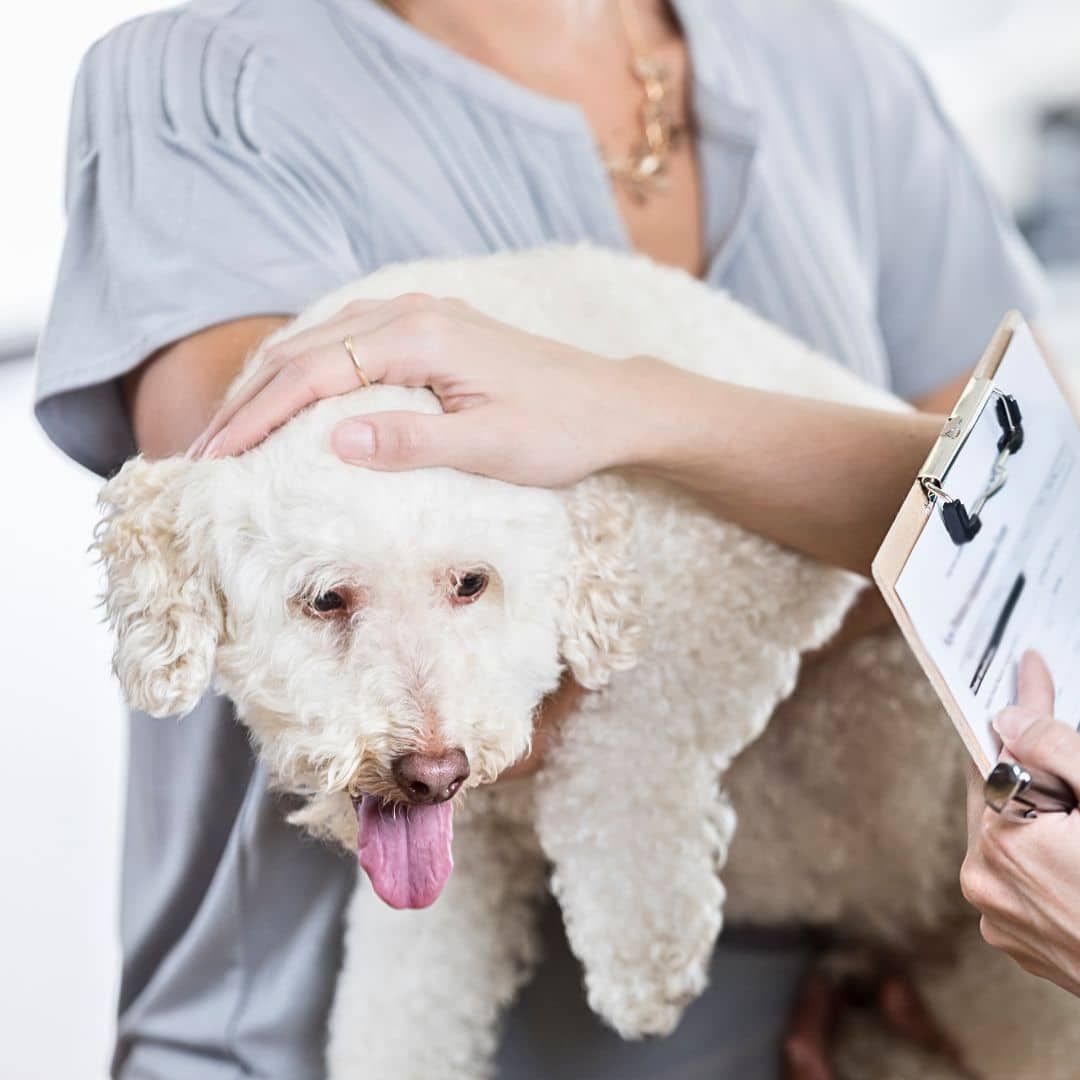 Regarding health care for your Labradoodle puppy, there are a few important aspects to consider: vaccinations, vet visits, and common health issues. Let's explore each of these in more detail.
Puppy Vaccinations Schedule:
Vaccines play a role in protecting your Labradoodle puppy from various diseases. It's essential to follow a proper vaccination schedule recommended by your veterinarian. Typically, puppies receive a series of shots starting at around 6-8 weeks and continuing every few weeks until they are about 16-20 weeks old. These vaccinations protect against diseases such as distemper, parvovirus, hepatitis, rabies, etc. Your veterinarian will guide you on which vaccines are necessary based on your puppy's needs.
Finding the Right Veterinarian Clinic or Hospital:
Choosing the right veterinarian clinic or hospital is essential for your Labradoodle's ongoing health care. Look for a reputable facility with experienced veterinarians who specialize in small animals and have knowledge about Labradoodles specifically. It's also beneficial to find a clinic that offers emergency services if you ever need urgent care for your puppy.
To find the right veterinarian, you can ask for recommendations from other Labradoodle owners or consult local online forums and review websites. Take the time to visit potential clinics in person and ask questions about their services, facilities, staff qualifications, and approach to preventive care.
Common Labradoodle Health Issues:
While Labradoodles are generally considered healthy dogs, like any breed, may be prone to certain health issues. It's important to be aware of these potential problems so that you can monitor your puppy's health and seek veterinary care if necessary.
Some common health issues that Labradoodles may face include hip dysplasia, progressive retinal atrophy (PRA), ear infections (due to their floppy ears), allergies (food or environmental), and certain genetic disorders. Regular vet check-ups and open communication with your veterinarian will help identify and address any health concerns early on. Remember, prevention is key to your Labradoodle puppy's health. Regular vaccinations, routine check-ups, a nutritious diet, exercise, and proper grooming are all crucial for maintaining their well-being.
Creating a Loving and Happy Home for Your Labradoodle Puppy
Creating a loving and happy home for your Labradoodle puppy is essential for their well-being and development. Here are some key factors to consider:
Developing a strong bond with your Labradoodle puppy is crucial. Spend quality time with them, engage in regular play sessions, and be consistent with training. This will not only strengthen your relationship but also establish trust and promote positive behaviour.
Providing mental and physical stimulation:
Labradoodles are intelligent and active dogs that require mental and physical stimulation to maintain their happiness and well-being. Incorporate daily exercise routines, such as walks, runs, or playtime, in a secure area. Additionally, they offer interactive toys, puzzle games, and training sessions to keep their minds engaged.
Maintaining a loving environment:
Creating a loving atmosphere at home is vital for your Labradoodle's emotional well-being. Please provide them with a comfortable bed, access to fresh water, and nutritious meals tailored to their dietary needs; regular grooming, "Taking care of your pet includes tasks such as brushing their coat and cleaning their ears regularly." is essential for their comfort and well-being.
Dogs thrive on routine as it provides structure and predictability. Establish a consistent schedule for feeding, exercise, playtime, training, and rest. This will help your Labradoodle feel secure and reduce anxiety or stress.
Introduce your Labradoodle puppy to different people, animals, environments, sights, sounds, and experiences from an early age. Proper socialization helps them become well-rounded dogs who are confident and comfortable in various situations.
Remember to be patient, understanding, and positive throughout creating a loving and happy home for your Labradoodle puppy. Your consistent efforts will result in a joyful companion who feels safe, loved, and truly part of your family.
Conclusion: Enjoy the Journey with Your New Labradoodle Puppy!
Congratulations on your new Labradoodle puppy! This is an exciting time as you embark on a journey filled with joy, love, and lots of fun. As a new pet owner, it's important to be well-prepared and equipped with the right knowledge to ensure a smooth transition for you and your furry friend. Here are some tips to help you along the way:
Labradoodles are social dogs that thrive on human companionship. It is essential to expose your puppy to different people, animals, and environments early on to ensure they become well-adjusted and confident adults.
Labradoodles are known for their high intelligence and willingness to please their owners. It makes them relatively easy to train when compared to other dog breeds. It's vital to start with basic obedience, such as sit, stay, and come. Then, progress to advanced training using consistency, positive reinforcement, and patience.
Labradoodles are active dogs that require regular exercise to keep them happy and healthy. Aim for at least 30-60 minutes of exercise each day, such as walks, playtime in the backyard, or interactive games like fetch.
Labradoodles have a unique coat that requires grooming to prevent matting and keep it looking its best. Brush their skin at least once a week and schedule regular professional grooming sessions every 6-8 weeks.
Schedule regular veterinary check-ups for vaccinations, deworming, and preventive care. Labradoodles are generally healthy dogs but can be prone to certain genetic health issues, so it's important to stay proactive in their healthcare.
Labradoodles are smart dogs that need mental stimulation as much as physical exercise. Please provide puzzle toys, interactive games, and training to keep dogs' minds engaged.
Building a strong bond with your Labradoodle is crucial. Spend quality time together, go on adventures, and engage in activities that help strengthen the bond with your furry companion.
Remember, raising a Labradoodle puppy is a journey filled with love, learning, and laughter. Enjoy every moment, be patient, and always remember to shower your new furry friend with the love and care they deserve.