Can Cucciolini Labradoodles Eat Chicken? Feeding your Labradoodle a healthy diet is essential for their overall well-being.
Here is a guide to help you provide balanced and nutritious meals for your furry friend. It covers topics such as the importance of a healthy diet, feeding guidelines, nutritional needs, Labradoodles eating chicken, and various dog food options.
Understanding the Nutritional Needs of Labradoodles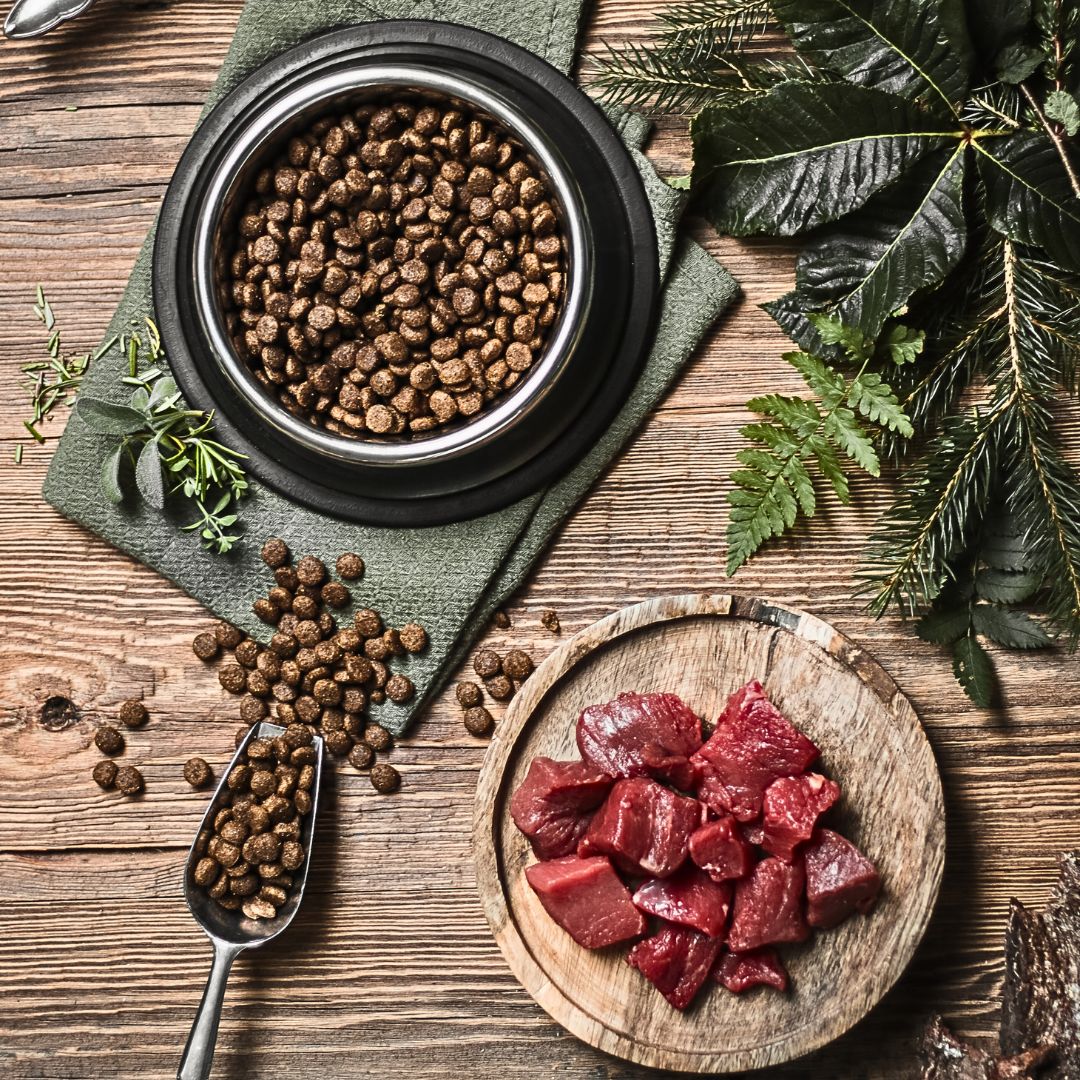 Like all dogs, Labradoodles have specific nutritional needs that should be met to ensure their overall health and well-being. A well-balanced diet supports their growth, energy levels, and immune system. Here are some key points to keep in mind when it comes to understanding the nutritional needs of Labradoodles:
1. High-Quality Protein
Labradoodles require a good source of protein in their diet, as it helps in muscle development and repair. Look for dog foods that contain high-quality animal proteins, such as chicken, beef, or fish.
2. Carbohydrates
Carbohydrates provide energy for Labradoodles, so including them in their diet is important. Opt for whole grains like brown rice or oats, which are easily digestible and fiber-rich.
3. Essential Fatty Acid
Omega-3 and omega-6 fatty acids are crucial for maintaining coat and skin Health. Omega-3 can be found in fish oil or flaxseed supplements or added to their diet through foods like salmon or chia seeds.
4. Vitamins and Minerals
Labradoodles need a balanced mix of vitamins and minerals to support their immune system and overall health. Ensure their diet includes fruits, vegetables, and supplements if necessary.
5. Avoid Fillers and Artificial Ingredients
When choosing dog food for your Labradoodle, it's important to avoid products that contain fillers, artificial colours, flavours, or preservatives. Opt for natural and wholesome ingredients instead.
6. Portion Control
Labradoodles can be prone to overeating, leading to weight gain and related health issues. Follow feeding guidelines on the dog food packaging and monitor their weight regularly.
7. Consult with a Veterinarian
Each Labradoodle is unique, so it's a good idea to consult your veterinarian, who can provide personalized recommendations based on your dog's needs, age, and activity level.
Remember, providing your Labradoodle with a balanced diet is essential for their health and happiness. By considering their nutritional needs and making informed choices, you can help your furry friend thrive.
What does a labradoodle feeding guide look like?
A labradoodle feeding guide is a resource that provides information on the recommended feeding practices for labradoodles, taking into consideration their specific nutritional needs. While individual dogs may have unique requirements, here is a general outline of a labradoodle feeding guide:
1. Age and growth stage
Labradoodle puppies have different nutritional needs than adult dogs. A feeding guide typically provides separate recommendations for puppies, adults, and senior labradoodles.
2. Portion sizes
The guide will suggest appropriate portions based on the dog's weight and activity level. Feeding your labradoodle the right amount of food will help maintain a healthy weight, and avoiding overfeeding is important.
3. Frequency of meals
The feeding guide will indicate how often labradoodles should be fed. Puppies usually require more frequent meals, while adult dogs may be fed two meals daily.
4. Type of food
The guide will recommend high-quality food that meets the specific nutritional requirements of labradoodles. Choosing a balanced diet that includes protein, carbohydrates, fats, vitamins, and minerals is advisable.
5. Feeding method
The guide may suggest feeding your labradoodle, such as free-feeding (leaving food available all day) or scheduled mealtimes.
6. Treats and supplements
The guide may advise on treats and accessories suitable for labradoodles, ensuring they do not exceed their daily caloric intake or consume anything harmful.
7. Hydration
Adequate access to fresh water should always be available for your labradoodle to hydrate properly.
Remember, every dog is unique, so it is essential to consult a veterinarian for personalized feeding recommendations based on your labradoodle's age, weight, health conditions, and activity level.
The Benefits and the Risks of Feeding Chicken to Labradoodles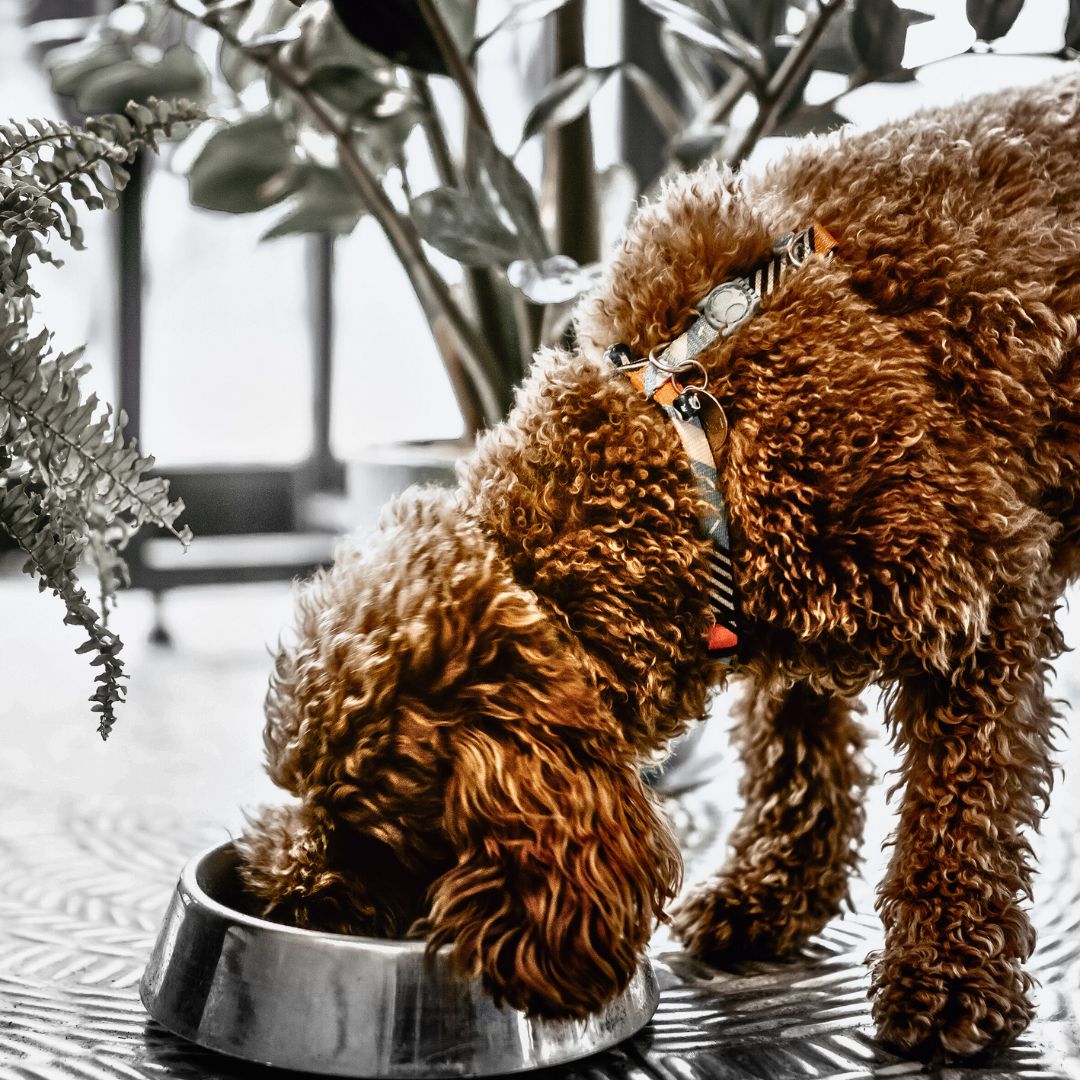 Can Cucciolini Labradoodles eat chicken as part of their diet? And many dog owners choose chicken as a protein source for their pets. There are several benefits to feeding chicken to Labradoodles, but it is important also to be aware of the potential risks.
Benefits of feeding Chicken to Labradoodles
1. High-quality protein
Chicken is an excellent source of lean protein for dogs' overall health and muscle development.
2. Nutrient-rich
Chicken contains essential vitamins and minerals such as vitamin B6, niacin, and phosphorus, contributing to a well-balanced diet for Labradoodles.
3. Easily digestible
Chicken is generally easy for dogs to digest, making it a suitable protein option for those with sensitive stomachs.
4. Variety
Including chicken in your Labradoodle's diet can provide variety and help prevent boredom from eating the same food daily.
Risks of feeding chicken to Labradoodles
1. Bones
Be cautious when feeding cooked chicken bones to your Labradoodle, as they can splinter and pose a choking hazard or cause damage to the digestive tract. It's best to avoid feeding cooked bones altogether.
2. Raw chicken
While some dog owners choose to feed their pets raw diets, including raw chicken, it is important to note that raw meat carries the risk of bacterial contamination, such as salmonella or E. coli, especially if you are planning to feed your dog a raw diet, it's crucial to ask your veterinarian to ensure safety and proper nutrition.
3. Allergies
Like humans, dogs can develop allergies or sensitivities to certain foods, including chicken. If you notice signs of food allergies like itching, gastrointestinal upset, or skin irritation after feeding your Labradoodle chicken, consult your vet for further evaluation.
It's always recommended to consult with your veterinarian before significantly changing your Labradoodle's diet. A veterinarian can offer personalized advice based on your dog's needs and potential health concerns.
Alternative Protein Sources for Labradoodles with Allergies or Sensitivities to Chicken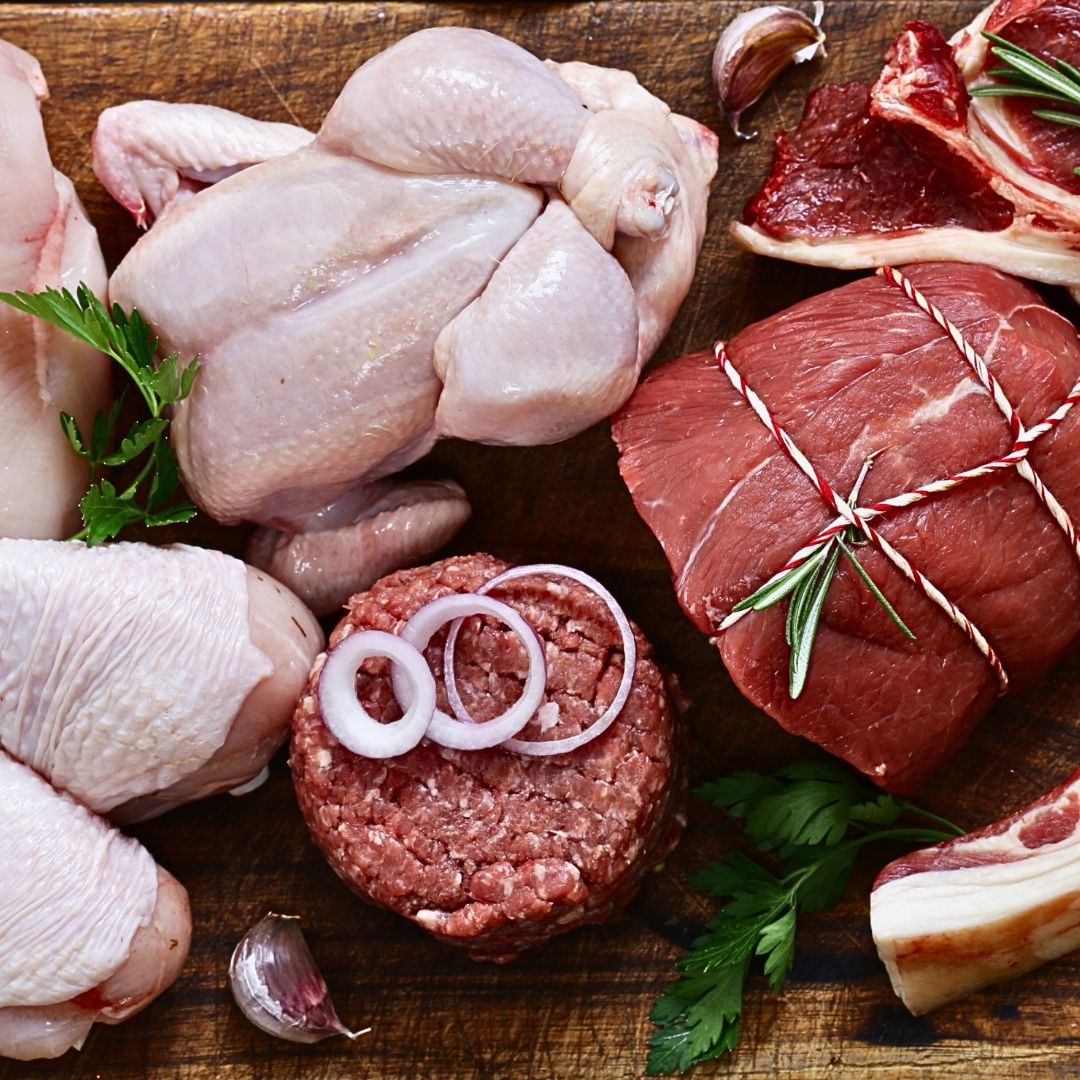 Labradoodles with allergies or sensitivities to chicken may require alternative protein sources in their diet. Fortunately, there are several options available to address their dietary needs. Here are some alternatives to consider:
1. Turkey
Turkey is a common alternative protein source for dogs with chicken allergies. It is rich in nutrients, low in fat, and easily digestible for many dogs.
2. Fish
Fish, such as salmon or whitefish, can provide a high-quality source of protein for your Labradoodle. Fish is a great source of omega-3 fatty acids to help maintain healthy skin and fur in pets.
3. Lamb
Lamb is another protein option suitable for Labradoodles with chicken allergies. It is often used in hypoallergenic dog food formulas and provides essential amino acids.
4. Duck
Duck meat is a novel protein source that dogs with chicken allergies may tolerate. It offers a different flavour profile and can be a good alternative to chicken-based products.
5. Venison
Venison, or deer meat, is another alternative protein source. It is lean and can provide essential nutrients without triggering allergic reactions.
When looking for chicken-free dog food options, it's important to choose hypoallergenic dog food specifically formulated for dogs with sensitivities or allergies. These formulas typically contain alternative proteins and limited ingredients that can minimize the risk of triggering an allergic response.
Before changing your Labradoodle's diet, it's important to consult a veterinarian. They can advise on what dietary changes will suit your pet. They will determine the best action based on your dog's needs and dietary restrictions.
About Feeding Chicken to Labradoodles Answered
Is Chicken Safe for Labradoodles?
When prepared properly, chicken can be a safe and nutritious protein source for Labradoodles. Ensuring the chicken is cooked thoroughly is important to eliminate harmful bacteria that could cause digestive issues or food borne illnesses in your Labradoodle. Feeding raw or under cooked chicken to dogs can pose risks such as salmonella or E. coli infections.
When feeding chicken to your Labradoodle, removing the skin and bones is recommended as they can be a choking hazard or cause gastrointestinal problems. It is crucial to avoid seasoning the chicken with onions or garlic because these ingredients are toxic to dogs.
Including chicken in your Labradoodle's diet can give them lean protein, essential amino acids, and vitamins. However, it's crucial to maintain a balanced diet by incorporating other protein sources, fruits, vegetables, and grains suitable for dogs.
How Should I Prepare and Serve Chicken to My Labradoodle?
When preparing and serving chicken to your Labradoodle, following a few guidelines is important to ensure your pet's well-being. Here are some steps to consider:
1. Cook the chicken
Cooking it completely before serving it to dogs is generally recommended. This helps eliminate any potential bacteria or parasites that could harm your Labradoodle. Avoid seasoning the chicken with salt, onions, garlic, or spices, as they can be toxic to dogs.
2. Remove bones
It's crucial to remove all bones from the chicken before serving it to your Labradoodle. Cooked bones will splinter and cause serious internal injuries or blockages if ingested.
3. Cut into appropriate portions
Cut the cooked chicken into small, bite-sized pieces that are easy for your Labradoodle to chew and digest. This will help prevent choking hazards and make it easier for them to eat.
4. Monitor portion sizes
Chicken should be offered as a treat or part of a balanced diet for your Labradoodle. It should only make up a portion of their daily food intake. Consult a dog nutritionist for appropriate portions based on your dog's size, weight, and overall health.
5. Consider your dog's preferences
While cooked chicken is generally safe for dogs, not all dogs may tolerate it or enjoy it as much as others. Observe your Labradoodle's reaction when introducing chicken into their diet and adjust as needed.
6. Raw vs cooked chicken
Raw chicken can risk bacterial contamination, such as salmonella or campylobacter, harming both dogs and humans. It is generally recommended to cook chicken thoroughly before feeding it to dogs.
Can Labradoodles Eat Chicken Bones?
Feeding chicken bones to Labradoodles can be risky and potentially harmful to their health. Chicken bones pose a serious risk of injury to dogs. These sharp bone fragments can lead to choking, internal punctures, or blockages.
Avoid giving dogs any cooked bones, including chicken bones, which are generally recommended. Instead, consider these alternatives for Labradoodles:
1. Raw Bones
Raw bones from reputable sources, such as raw meaty bones or recreational bones specifically designed for dogs, can provide appropriate chewing and dental benefits without the risks associated with cooked bones.
2. Dental Chews
Various dental chews are available in the market, specifically designed to promote good oral health in dogs. These treats help satisfy your dog's chewing instincts while also helping to clean their teeth.
3. Kong Toys
Kong toys are highly durable and interactive toys designed to be filled with treats. These toys provide a great way to keep your pet engaged and entertained while offering a fun way to reward them with their favourite snacks. They provide mental stimulation and a safe outlet for chewing.
4. High-quality Dog Food
A balanced and nutritious diet is essential for your Labradoodle's overall health. Include high-quality dog food that meets their specific dietary needs.
Remember, it's always best to consult your veterinarian for personalized advice regarding Labradoodle's diet and appropriate chew toys.
Delicious Recipes That Include All Meats for Labradoodles
Recipe #1: Meaty Beef Stew for Labradoodles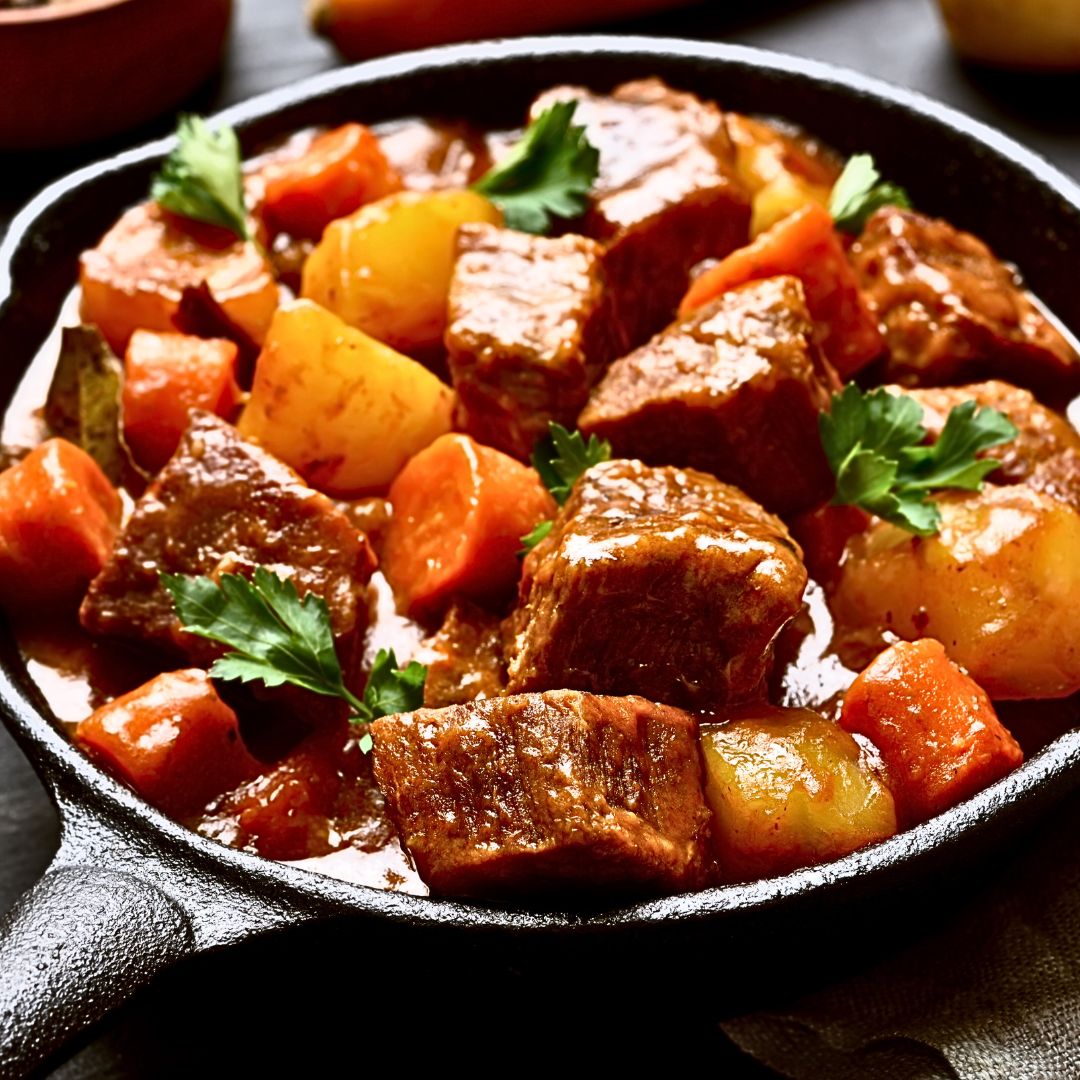 If you're a Labradoodle owner looking to treat your furry friend and nutritious meals, look no further! We have an amazing dog-friendly beef stew recipe tailored specifically for your beloved Labradoodle. This recipe combines the flavours of tender beef and wholesome vegetables to create a hearty and satisfying meal that your furry companion will love. Let's dive into the details and learn how to prepare this delectable feast!
Ingredients:
– 1 pound of beef chunks (preferably lean and boneless)
– 11/4 cup of chopped carrots
– 1 cup of peas (fresh or frozen)
– 4 cups of beef broth (low sodium if possible)
Cooking instructions:
1. Start by cutting the beef chunks into smaller, bite-sized pieces.
2. combine the beef chunks and broth in a large pot. Bring it to a boil on medium heat.
3. Reduce the heat to low and let the stew simmer for about 30 minutes or until the beef is tender.
4. Add the chopped carrots and peas to the pot. Simmer for 10 minutes or until the vegetables are cooked but still firm.
5. Let the stew cool down before serving it to your Labradoodle. Make sure it's not too hot to avoid burning their mouth.
Note: If you prefer a thicker stew, add a small amount of flour or cornstarch mixed with water to thicken the broth. However, remember that some dogs may have allergies or sensitivities to certain ingredients like grains, so it's important to consult your vet if you're unsure about adding thickeners.
Always serve the stew in appropriate portions for your dog's size and dietary needs. Enjoy cooking for your Labradoodle!
Recipe #2: Chicken and Rice Casserole for Labradoodles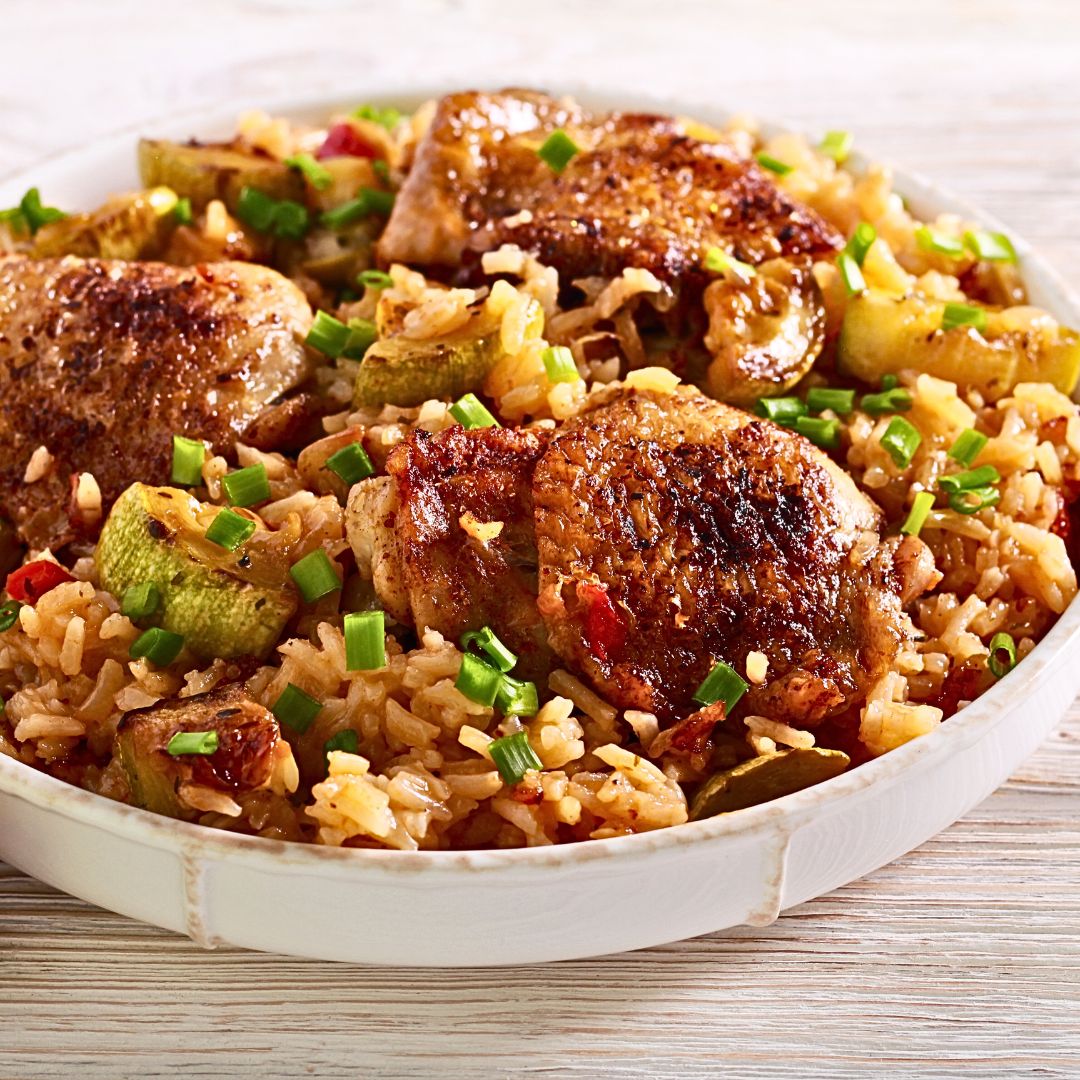 Here is a dog-friendly recipe for chicken and rice casserole that Labradoodles will surely enjoy.
Look no further than this dog-friendly recipe for chicken and rice casserole. Labradoodles are known for their love of food, and this recipe will make their tails wag with excitement. Not only is it tasty, but it also provides essential nutrients for your furry friend's well-being. Let's dive into the details of this mouthwatering dish!
Here are the ingredients you will need:
– Chicken breasts or thighs: Remove any bones and skin before cooking.
– Brown rice or quinoa: These grains provide essential carbohydrates and fibre for your Labradoodle.
– Vegetables: Broccoli is a nutritious vegetable that adds vitamins and minerals.
– Chicken broth or stock: This will add flavour to the casserole while keeping it moist during cooking.
Now, let's move on to the cooking Instructions:
1. To prepare the oven for baking, set the temperature to 350°F (175°C).
2. Cook brown rice or quinoa according to the package instructions. Set aside.
3. Cut the chicken into bite-sized pieces.
4. In a large skillet, cook the chicken over medium heat until it is no longer pink in the center.
5. Steam or blanch the broccoli until it is slightly tender.
6. combine the cooked chicken, rice or quinoa, and steamed broccoli in a mixing bowl.
7. Gradually add chicken broth or stock to moisten the mixture, ensuring it is not too dry.
8. Transfer the mixture to a deep casserole dish and spread it evenly.
9. Cover the casserole with aluminum foil and bake for about 25-30 minutes or until heated.
10. Allow the casserole to cool before serving it to your Labradoodle.
Remember, moderation is key when feeding homemade meals to your dog. If you have concerns about specific ingredients or portion sizes, consult your veterinarian to ensure they align with your Labradoodle's dietary needs.
Recipe #3: Lamb and Sweet Potato Chowder for Labradoodles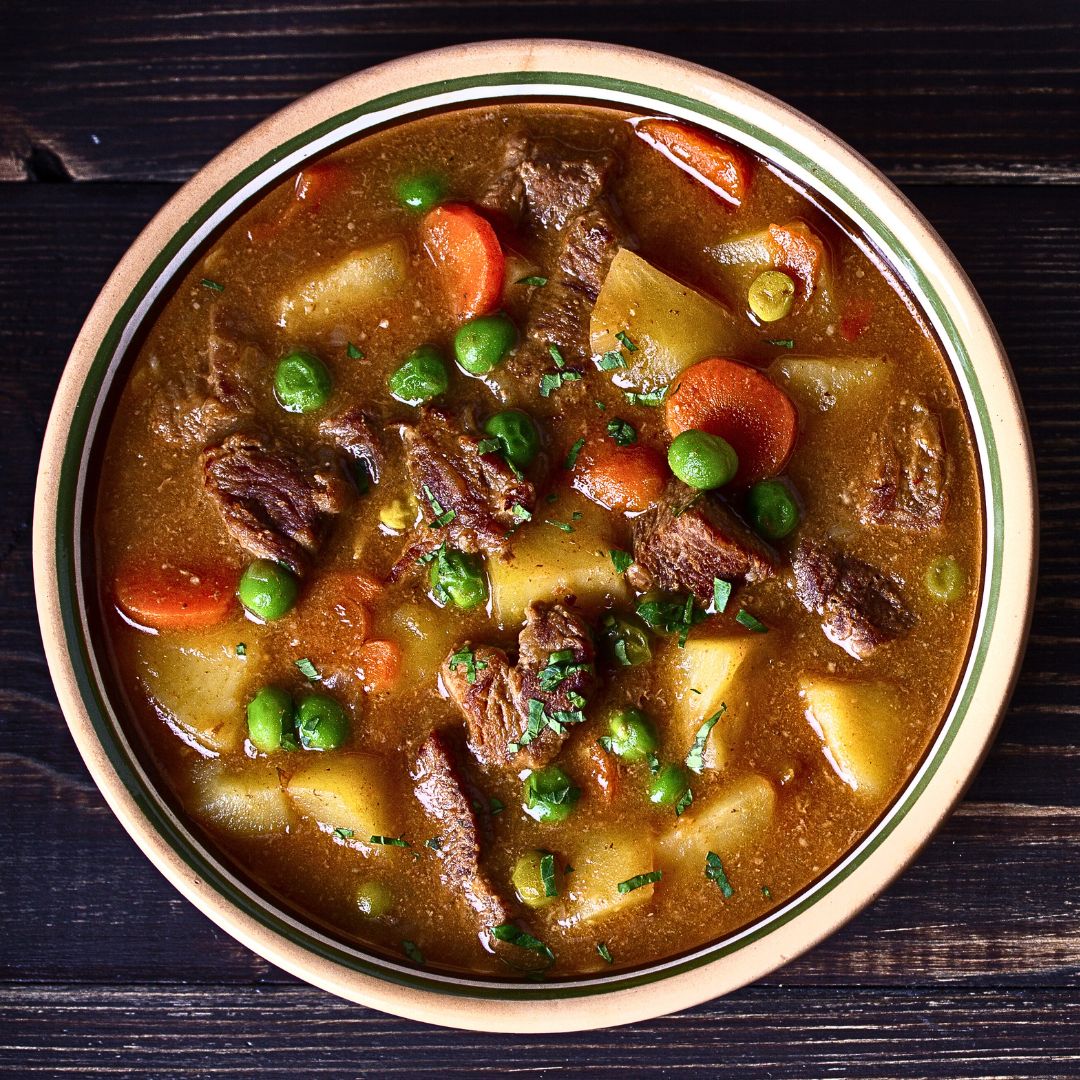 Sure! Here's a dog-friendly lamb and sweet potato chowder recipe for Labradoodles:
Ingredients:
– 1 pound of ground lamb or lamb chunks
– 2 cups of sweet potatoes or yams, peeled and diced
– 1 cup of carrots, peeled and diced
– 4 cups chicken or vegetable broth/stock
Cooking Instructions
1. In a large pot, brown ground lamb or thoroughly cook lamb chunks over medium heat.
2. Add the diced sweet potatoes and carrots to the pot. Stir well to combine with the lamb.
3. Pour the chicken or vegetable broth/stock into the mixture. Then, heat the mixture until it boils.
4. Reduce the heat to low and let the chowder simmer for about 20-25 minutes until the sweet potatoes and carrots are tender.
5. Remove from heat and let the chowder cool down completely before serving it to your Labradoodle.
Note: Before feeding this chowder to your Labradoodle, ensure all ingredients are safe for dogs and consult your veterinarian if you have any concerns about your dog's specific dietary needs.
Enjoy preparing this tasty and nutritious chowder for your furry friend!
Tips for Preparing Meat-based Recipes for Your Labradoodle
When preparing meat-based recipes for your Labradoodle, remember a few important tips. Let's go through them:
1. Serving Sizes
It's crucial to consider your Labradoodle's size and activity level when determining the serving sizes of meat-based recipes. Smaller dogs will require smaller portions, while larger and more active dogs may need larger quantities to meet their nutritional needs. Consulting with your veterinarian can help determine appropriate serving sizes for pets.
2. Lean Cuts of Meat
Opt for lean cuts when selecting meat for your Labradoodle's recipes. Lean meats like chicken, turkey, and lean beef are lower in fat and promote overall health. Avoid using fatty cuts or processed meats high in saturated fats.
3. Seasoning
While it's natural to want to enhance the flavour of your Labradoodle's meals, it's important to avoid seasoning with harmful ingredients like garlic and onion. These ingredients may harm dogs and cause digestive upset or health issues. Instead, consider using dog-friendly herbs and spices like parsley or basil to add a touch of flavour.
4. Cooking Methods
When preparing meat-based recipes for your Labradoodle, choose safe cooking methods that preserve the ingredients' nutritional value. Options like baking, boiling, or grilling are generally better than frying, as they can help retain more nutrients and minimize the use of additional oils.
5. Food Safety
Like human food preparation, good food safety habits are crucial when cooking for your Labradoodle. Ensure to wash your hands thoroughly before and after handling raw meat, keep surfaces clean, and properly store any leftovers in the refrigerator to prevent bacterial growth.
Remember that while homemade meals can be a great way to provide your Labradoodle with a nutritious diet, consulting with your veterinarian is always a good idea to ensure you meet your dog's specific dietary needs.
Conclusion: A Guide to Feeding Your Labradoodle a Healthy Diet
Providing your Labradoodle with a healthy diet is essential for their overall well-being and longevity. By following a feeding guide and ensuring they receive the right nutrition, you can help them maintain a healthy weight, promote strong bones and muscles, and support their immune system.
Balanced Diet
A balanced diet for a Labradoodle should consist of high-quality protein such as lean meats or fish. Incorporating fruits and vegetables into their meals can provide essential vitamins and minerals. It's important to avoid feeding them foods toxic to dogs, such as chocolate or onions.
Portion Control
Portion control is crucial in preventing overfeeding and obesity in Labradoodles. For appropriate portion sizes based on your dog's age, weight and activity level, it's important to consult a veterinarian.
Incorporate Supplements
Additionally, consider incorporating supplements like omega-3 fatty acids or joint support formulas if recommended by your vet. These can help support their coat health and joint mobility.
Keep Labradoodle Hydrated
Remember always to provide fresh water and monitor any changes in appetite or digestion. If you have any concerns about your Labradoodle's diet or nutrition, consult a veterinarian who can provide personalized advice based on their needs.
By prioritizing a healthy diet for your Labradoodle and following these guidelines, you can ensure they lead a happy, healthy life full of energy and vitality.