Therapeutic Benefits from "CHARLIE."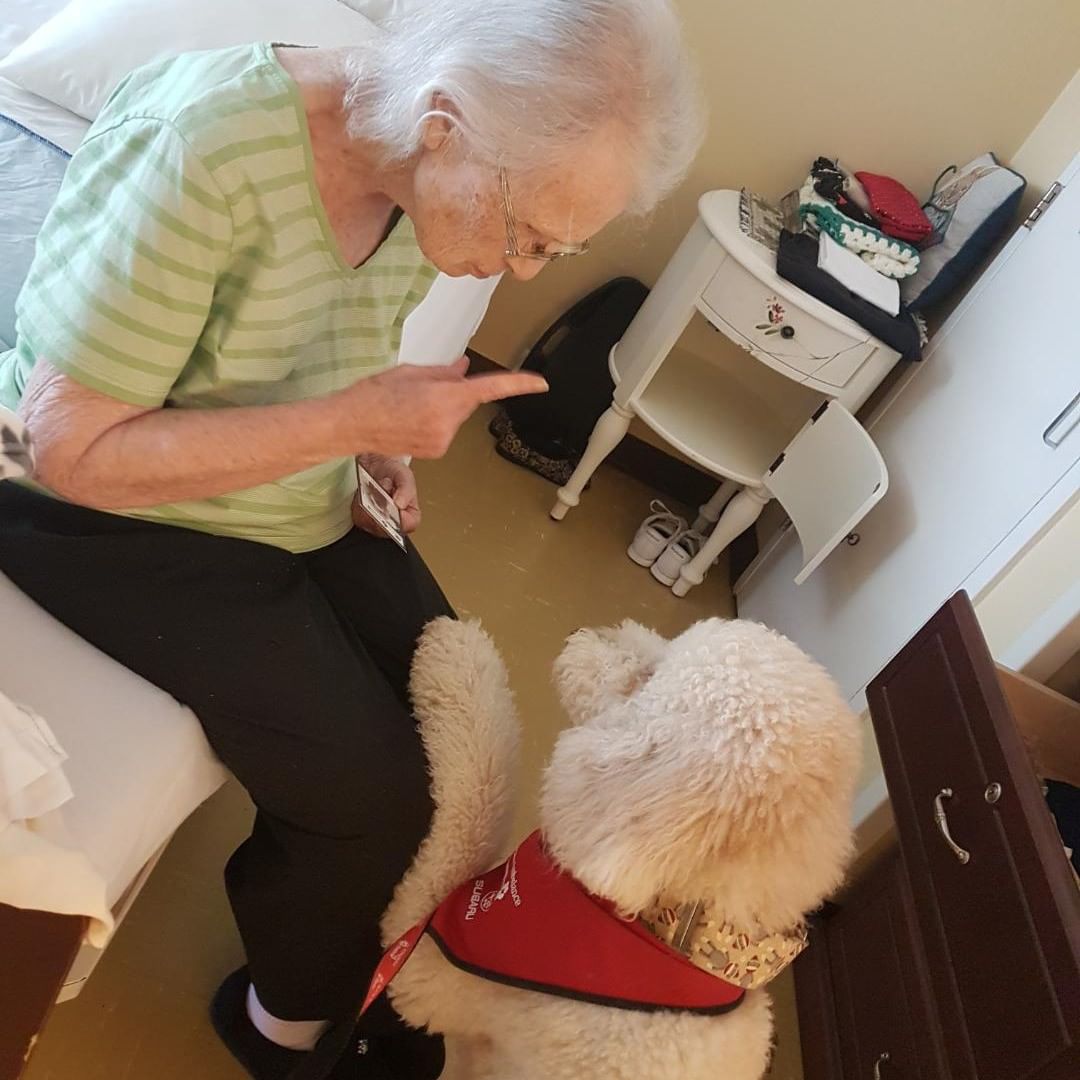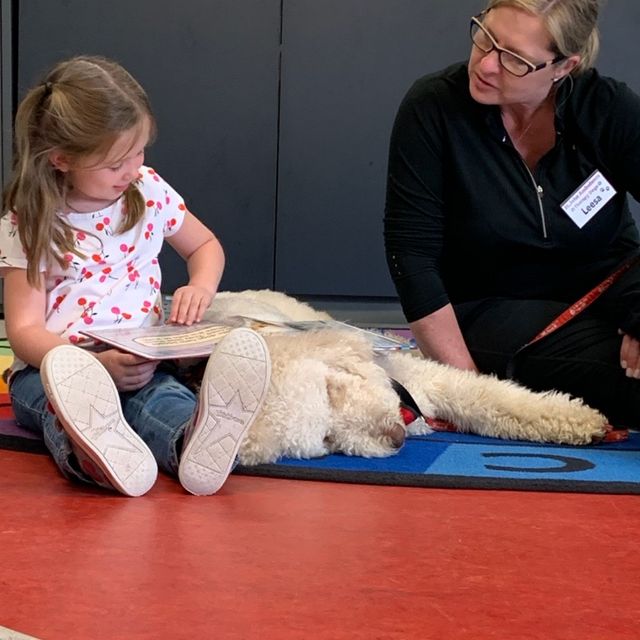 Creating Docile, Intelligent, Social Labradoodles with Therapeutic Benefits from "CHARLIE."
Labradoodles by Cucciolini is committed to creating docile, intelligent and social puppies to assist those who could benefit by having Emotional Service or Service trained Labradoodles. 
To whom it may concern: 
A puppy with intelligence and learning capacity is the same as an 8-month-old child. I would chew Everything I could get my teeth on. It's how I explore and learn about the world around me. Even human children are putting things that don't belong in their mouths. Train me on what is mine to chew and what is not acceptable. Charlie says that Dogs cannot hold my bladder for a long time, usually not longer than 1-2 hours. Dogs cannot speak and let you know if they need to eliminate. 
Could you not feed me too late?
It would help if you remembered that I must eliminate after eating, sleeping, playing, drinking, or every two to three hours. If you want me to sleep at night, wait to give me a drink of water after seven or eight pm. A crate will help me learn to train easier. Accidents will happen. Please be patient with me! 
They were playing and running with Toys.
I like to play and run around. Love chase imaginary monsters. Running after your feet and toes is yummy, attacking you is fun, and chasing fuzzy balls that's fun too. I play, and it's what I do; I love to play all day if I can. Please do not be upset at me, as we cannot sleep all day; a dog can't do it. 
Love to play
If my energy level is exhausting to you, consider an older dog from a rescue. My playful demeanour is essential and healthy for us to be happy and healthy. Using your experience to guide me outdoors with toys and activities like chasing a rolling ball, gentle tugging games, or many chew toys keeps me busy. I start nipping too hard; talk to me in dog language by giving a loud BARK; I will get the message, as it's how dogs speak with one another. I get too rough; it's best to ignore me for a few minutes or send me to my crate with an appropriate chew toy stuffed with Peanut Butter that we dog absolutely LOVE.
How to Love Respect as you do. Therapeutic Benefits from "CHARLIE
An animal has many feelings and deserves Respect; it is essential to me to be part of your family. I will give you companionship and unconditional love, always. Help me grow with gentleness and guidance to learn.
No one is perfect, as are you.
Please learn what you can about training me as a puppy with behaviours through dog care books and computer research. Learn about my particular breed and characteristics, as it will give you an understanding of why I do the things I do. Guide me with love and patience. The right way is to socialize with me in training classes. 
One day I will make you proud of me. I love you, Charlie.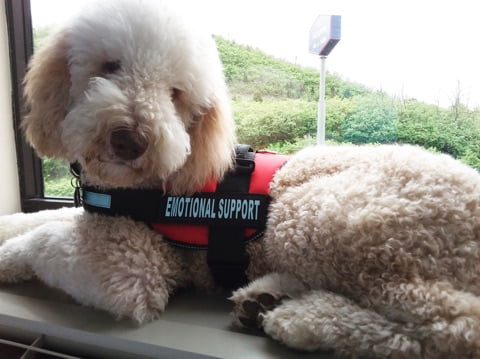 Emotional Support, companionship and Therapeutic Benefits from "CHARLIE."



Lack of exercise or sleep will create Anxiety and depression: lost wages, or the high cost of a lifetime of caregivers.

DOGS CHANGE LIVES
If a person with a disability gets an Emotional or Service dog, they are more likely to be:
Independent (90%).
Self-esteem (80%).
Content (80%)
Assertive (80%)
Isn't it amazing what dogs can do
For many people with disabilities, animals are an essential part of life. Special skills need to be implemented for people who are blind, deaf, epilepsy or have a physical disability that can improve independence, safety, and community involvement. Therapeutic animals have many benefits. Even dog companion animals can have a special place in the life of a person with a disability.
Touch is Healing
Physical contact with an animal can be very healing. People physically or emotionally isolated from others form social relationships and struggle with communication through their connection with a therapy dog. Animal-assisted therapy can reduce isolation and create a sense of safety and unconditional acceptance.
DEPRESSION



Don't back away the next time a dog approaches you for a big sloppy kiss and a belly rub. In an ongoing study, researchers have found that interacting with and petting animals creates a hormonal response in humans that can fight depression. High levels of serotonin, a hormone in humans that fights depression, rise dramatically after interaction with live animals. Showing these benefits, the researchers hope to help assist dogs in therapy become a more medically accepted intervention for patients.
AUTISM
Many children are diagnosed with Autism and neurological disorder. It manifests mainly as an impairment in forming social relationships and communication. Therapeutic interventions have slightly improved autistic behaviours in children, and information suggests that dogs are vital in children's social and cognitive development. Human and animal interactions may alleviate stress in children and reduce autistic characteristics and behaviours. 
Sensory and Motor



We are assisting them in modulating their sensory and motor behaviour. They can help orientate their owners to their environments and may alert caregivers to any problems. Social isolation of a person with Autism can be overwhelming when a service dog attracts positive attention and thus facilitates social interaction with others is crucial.
A dog's natural ability to learn routines can help its owner to remember a sequence of steps in routine activity and accommodate changes that can help a person be more flexible with unforeseen changes.
THERAPY DOG QUALITIES
Only some dogs make good therapy dogs. Determining your dog's personality will help you identify what activities will suit you and the type of training you will need. Puppies must receive many healthy human interactions in the first weeks of life.
Benefits of having a Labradoodle Companion
Pets decrease blood pressure, cholesterol and triglyceride levels. They reduce morbidity and mortality related to heart disease. There is a clear link between pet ownership and better health, as pets are not just good friends; they are good medicine.
We invite you to shop for Everything your puppy needs for a great start, including Crates, Food, Treats, Accessories, Feeding Bowls, Health, Grooming, Training Aids and Toys!
Save
Save
Save