Have you ever wondered how the world perceives Labradoodle's Vision around them?
As beloved companions and family pets, Labradoodles have captured the hearts of many with their playful nature and friendly demeanour. But have you ever stopped to consider how the Labradoodle's vision influences their experiences? In this section, we will delve into the fascinating realm of Labradoodle vision and explore how they see the world through their canine eyes. From understanding their colour perception to examining their depth perception and even exploring their night vision capabilities, we will uncover the intriguing aspects of Labradoodle's visual perception. So, let's embark on this enlightening journey and gain a deeper appreciation for our furry friends' perspective on the world.
Understanding Labradoodle Vision and How It Differs from Humans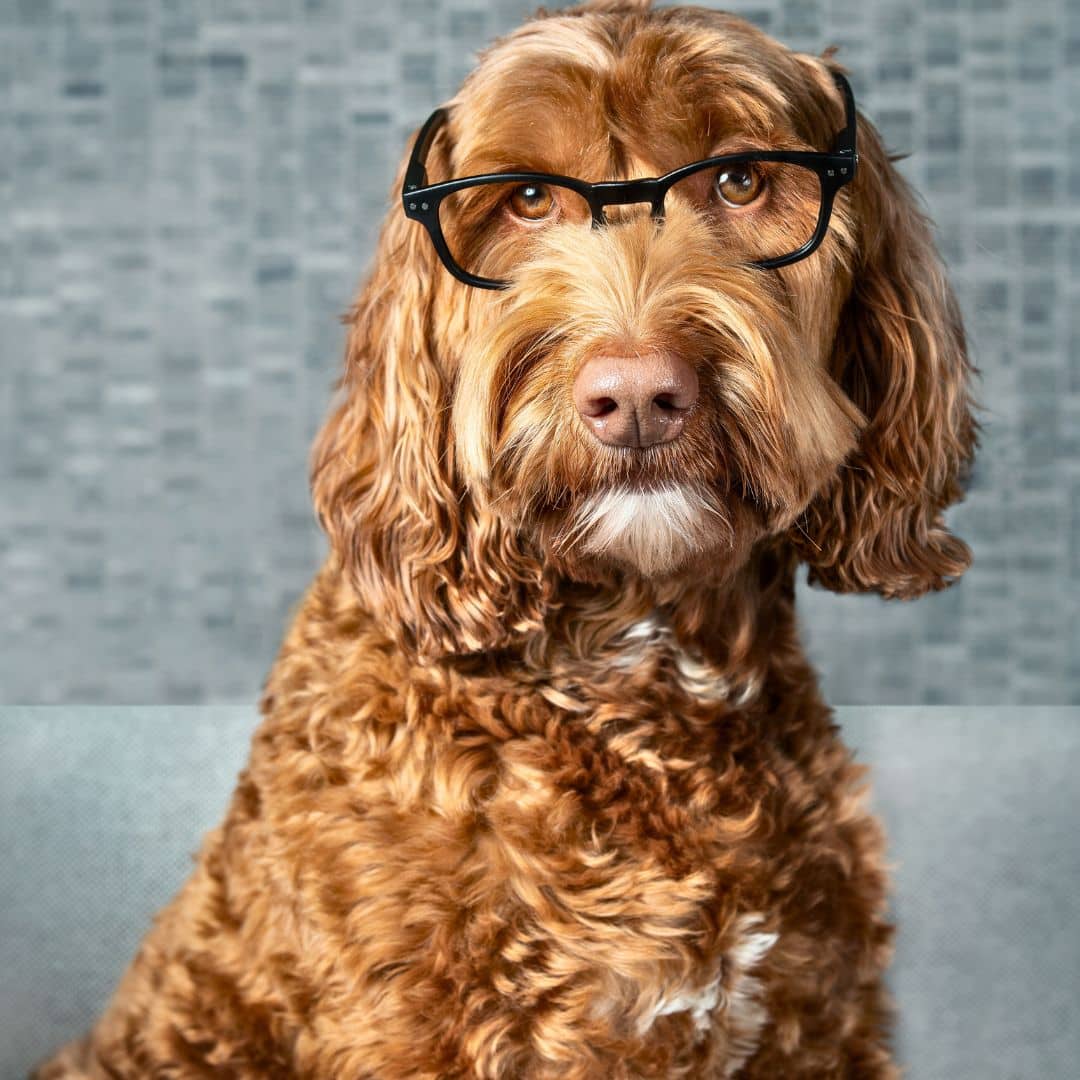 Are you curious about the fascinating world of Labradoodle Vision and how it differs from our own? Labradoodles, a popular crossbreed between Labrador Retrievers and Poodles, possess unique visual abilities that set them apart from humans. By understanding these differences, we can appreciate how Labradoodles perceive the world around them. Explore the intriguing realm of Labradoodle vision and unravel its mysteries.
Understanding Labradoodle Vision
Like most dogs, Labradoodles have a visual system that is different from that of humans. While humans rely heavily on colour vision and detailed visual acuity, dogs are more attuned to motion and have superior night vision. Dogs have more rods than cones in their eyes, enabling them to detect movement and see better in low-light conditions.
Colour Perception
Labradoodles can see colours, but their colour perception is less vibrant than ours. They have two types of color-detecting cells called cones, whereas humans have three. It means a Labradoodle Vision colour is limited to shades of blue and yellow. Red and green hues appear as shades of gray or brown to them.
Visual Acuity
When it comes to visual acuity, Labradoodles fall slightly behind humans. While humans can see details from about 100 to 200 feet, dogs can only discern objects up to 20 feet away. However, their exceptional motion detection compensates for this limitation as they can quickly spot movement even from a distance.
Peripheral Vision
Labradoodles have a wider view than humans, allowing them to see more of their surroundings without turning their heads. Labradoodles' peripheral vision spans approximately 240 degrees, while humans typically have around 180 degrees. This wide-angle vision is an advantage when detecting potential threats or prey.
Depth Perception
Labradoodles have a good sense of depth perception but may not be as accurate as humans. It is because their eyes are positioned more to the sides of their heads, resulting in slightly overlapping fields of vision. As a result, they rely more on motion cues and other sensory inputs to navigate their environment.
Understanding Labradoodle's Vision is crucial for providing a safe and enriching environment. While they may not see the world exactly as we do, their unique visual abilities contribute to their remarkable skills as companions and
The Role of Labradoodle's Vision In Their Ability to Navigate in Low Light Conditions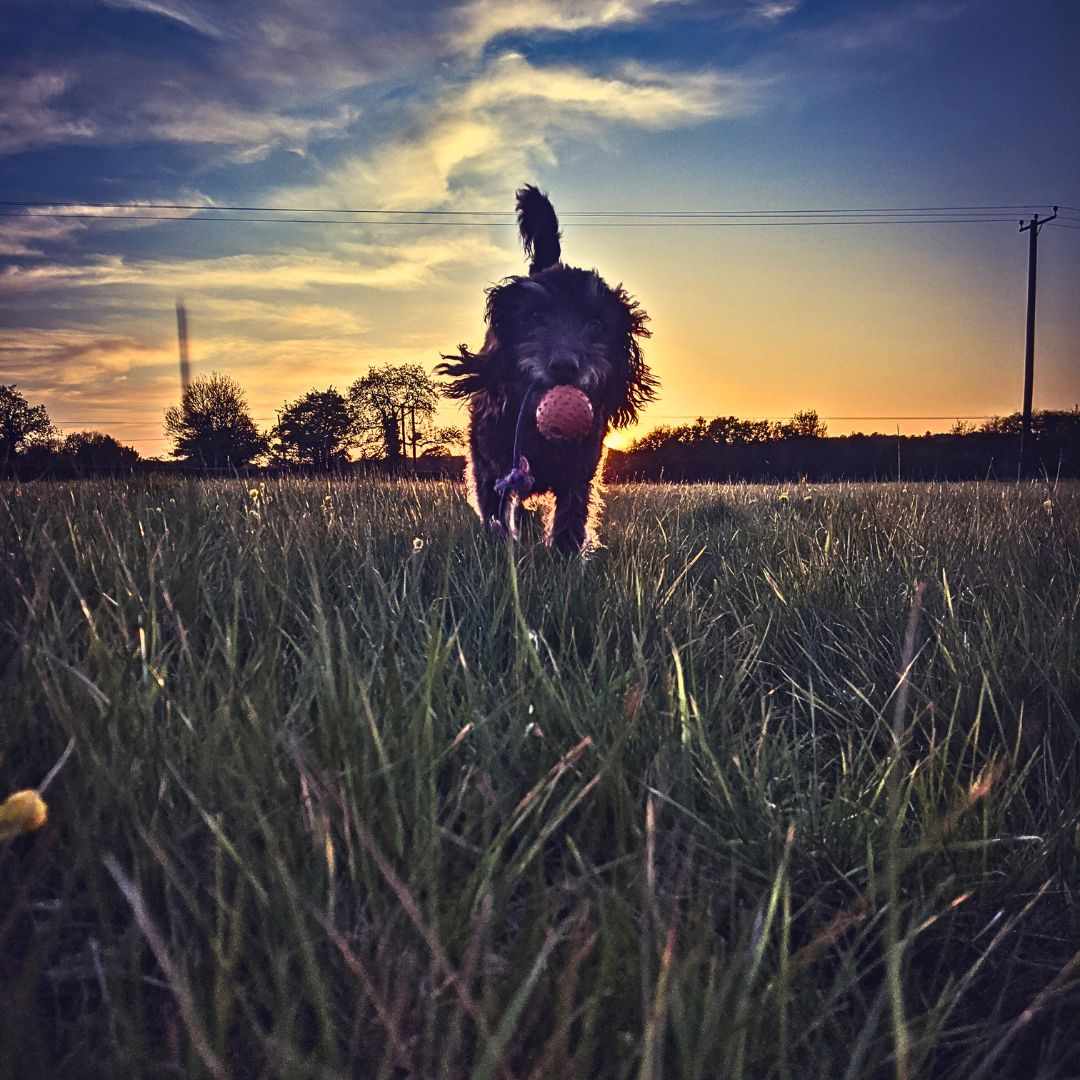 Like many other dog breeds, they possess some degree of night vision, which allows them to navigate in low-light conditions. While not as developed as nocturnal animals, Labradoodles' eyes have certain adaptations that enable them to see better in the dark.
Labradoodles have a structure called the tapetum lucidum, a reflective layer at the back of their eyes. This layer enhances their ability to capture and process available light, maximizing their visibility in low-light environments. It reflects sunlight through the retina, giving the photo-receptor cells a second chance to detect it. It improves visual sensitivity, making it easier for Labradoodles to see objects and navigate at night.
However, it's important to note that a Labradoodle's Vision at night is limited compared to animals specifically adapted for nocturnal activities. Their visual acuity and depth perception may be compromised in extremely dark conditions. Therefore, providing additional light sources or using caution when taking them out during nighttime excursions is crucial.
Answers about Labradoodle Vision
Can Labradoodles see better than humans? While Labradoodles have excellent vision, it would need to be more accurate to say that they see better than humans. Dogs, including Labradoodles, have different visual capabilities compared to humans. Their eyes are designed to detect motion and see in low-light conditions, which can be advantageous in certain situations. However, humans possess superior visual acuity and colour perception.
Labradoodles may excel in other senses, such as their sense of smell and hearing. Their ability to pick up scents and detect sounds can be incredibly helpful in various scenarios. It's important to remember that each species has evolved with specific sensory strengths tailored to their unique needs.
Do Labradoodles have colorblindness?
Like any other dog breed, Labradoodle Vision can have colour perception deficiencies, including colorblindness. However, it is important to note that colorblindness in dogs is relatively rare compared to humans. While some Labradoodles may experience colour perception deficiencies, it does not mean all Labradoodles are colorblind.
Colorblindness in dogs is typically caused by a genetic mutation that affects the cones in their eyes, which are responsible for detecting different colours. This condition can vary in severity, with some dogs having a mild deficiency and others being unable to perceive certain colours.
If you suspect that your Labradoodle may have a colour perception deficiency, it is recommended that you consult with a veterinarian who can conduct specialized tests to assess their vision. They will be able to provide you with more information about your dog's specific condition and offer guidance on how to best accommodate their needs.
Remember, even if your Labradoodle has a colour perception deficiency, they can still lead happy and fulfilling lives. Dogs use their other senses, such as smell and hearing, to navigate the world around them.
Can my Labradoodle see well in the dark?
Like most dogs, Labradoodles have limited night vision compared to nocturnal animals. While they may have better night vision than humans, they rely more on their other senses, such as hearing and smell, to navigate low-light conditions. Labradoodles can still see in the dark to some extent, but their vision may be somewhat impaired compared to daylight conditions. It's important to remember that individual dogs may vary in their ability to see in the dark, so it's always a good idea to provide proper lighting and a safe environment for your Labradoodle during nighttime activities.
Are there any eye conditions that are common among labrador retrievers or poodles that may affect a labradoodle's vision?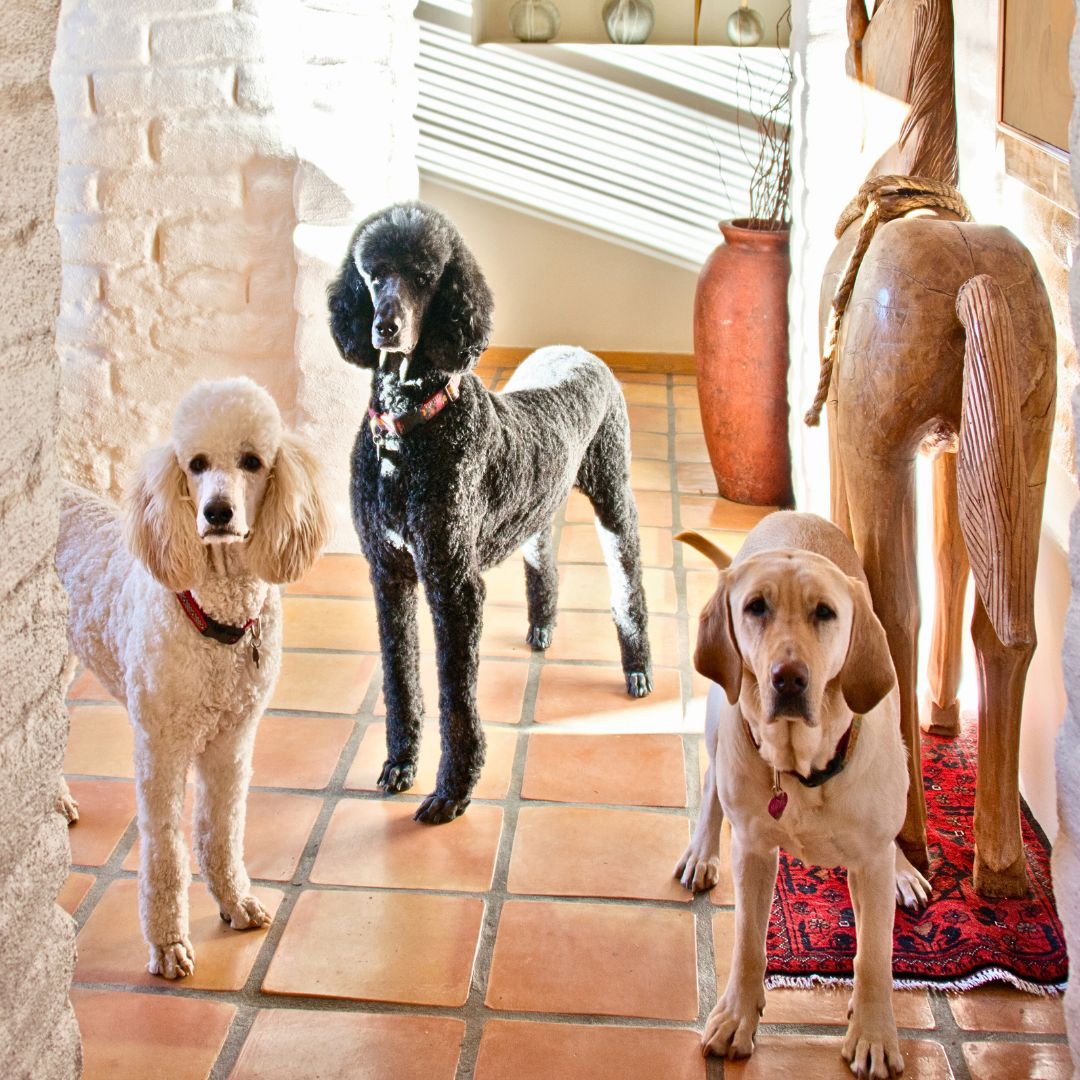 Labrador Retrievers and Poodles are both breeds prone to certain eye conditions. Regarding Labrador Retrievers, one common eye condition is Progressive Retinal Atrophy (PRA), a genetic disease that leads to gradual vision loss and can eventually cause blindness. Poodles, on the other hand, are more susceptible to conditions like cataracts and progressive retinal atrophy as well.
Since Labradoodles are a mixed breed, they can inherit eye conditions from either parent breed. It's important to note that not all Labradoodles will develop these conditions, but there is a possibility. Regular eye checkups with a veterinarian are crucial to detect potential problems early on.
Suppose you have a Labradoodle or are considering getting one. In that case, I recommend consulting with a reputable breeder who conducts proper health screenings for both the Labrador Retriever and Poodle parent breeds. I can help minimize the risk of inheriting genetic eye conditions.
Remember, early detection and proper care can make a significant difference in managing and treating any potential eye issues.
How can I ensure my Labradoodle's Vision health?
Ensuring your Labradoodle's vision health is essential for their overall well-being. Here are some proactive measures you can take to maintain good eyesight in your furry friend:
Regular Veterinary Checkups
Schedule a checkup with your veterinarian to monitor your Labradoodle's Vision. They can help detect potential issues early on and recommend appropriate treatments or preventive measures.
Balanced Diet:
A Labradoodle's well-balanced diet should contain foods rich in vitamins A, C, and E. They are beneficial for maintaining healthy eyes. Please consult your veterinarian to ensure you're feeding them the right diet.
Labradoodle Eye Cleaning Routine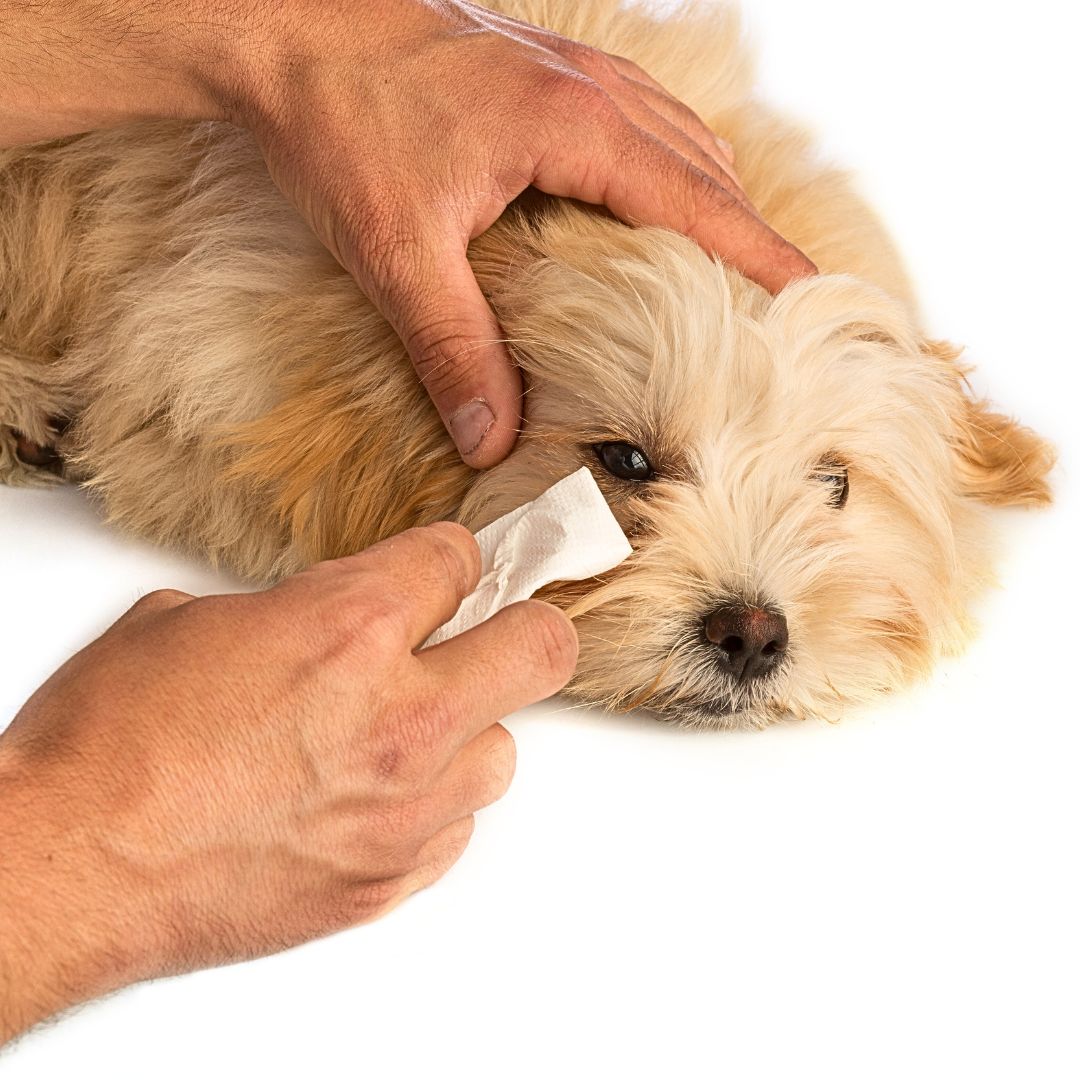 Establish a regular eye cleaning routine to keep your Labradoodle's eyes free from debris and prevent infection. Use a clean, damp cloth or specialized pet eye wipes recommended by your veterinarian.
Protect from Harmful UV Rays
Labradoodles can be sensitive to harmful ultraviolet (UV) rays like humans. Consider using doggy sunglasses or providing shade outdoors, especially during peak sun hours.
Monitor Allergies
Look for any signs of allergies that may affect your Labradoodle's eyes, such as excessive itching, redness, or discharge. If you suspect allergies, consult with your veterinarian for appropriate treatment options.
Engage in Mental Stimulation
Mental stimulation is crucial for overall well-being, including eye health. Engage your Labradoodle in activities that require visual focus, such as playing with puzzle toys or teaching them new tricks.
Regular Exercise
Regular exercise is beneficial for maintaining good blood circulation throughout the body, including the eyes. Take your Labradoodle for daily walks or play interactive games to keep them active and healthy.
Remember, prevention is key in vision health care for Labradoodles. By following these proactive measures and seeking professional guidance from your veterinarian, you can help ensure your Labradoodle enjoys excellent vision health.
Labradoodle's Vision is truly worthy of admiration
Labradoodles' remarkable visual perception sets them apart and deserves our utmost appreciation. Their unique vision allows them to see the world in a fascinating and awe-inspiring way.
One of the most notable aspects of Labradoodle's Vision perception is their exceptional depth perception. It means that they have a keen ability to accurately judge distances between objects, which enables them to navigate surroundings with remarkable precision. Whether playing fetch or going for a walk, Labradoodles' depth perception gives them an advantage in understanding their environment and reacting accordingly.
It means they can see various surroundings without turning their heads. This heightened awareness allows them to detect movement and changes in their environment more easily, making them alert companions and reliable watchdogs.
The Labradoodles Visual system is finely tuned to detect even the slightest movement, making them excellent at tracking objects or animals. It makes them well-suited for activities like agility training or participating in sports where quick reactions are necessary.
In addition to these remarkable visual abilities, Labradoodles also have a heightened sense of colour perception. While they may not see colours as vividly as humans, they can still differentiate between shades and hues. It adds another layer of richness to their visual experience and allows them to appreciate the world uniquely.
So, let us take a moment to appreciate the incredible visual abilities of these remarkable dogs.