Understanding Dog Teething: Why is Your Dog Going Through This Phase and How Can You Help?
Understanding dog teething is crucial for any dog owner, especially those with puppies. Like humans, dogs experience a teething phase where permanent adult teeth replace baby teeth. The process can be uncomfortable and painful for dogs, which may lead to certain behaviours that may confuse their owners.
One of the main reasons why dogs go through a teething phase is to facilitate their transition from milk to solid food. As their baby teeth start to loosen and fall out, dogs may experience gum irritation and discomfort. This can lead to increased chewing behaviour as dogs instinctively try alleviating pain. Owners must provide appropriate chew toys and treats to redirect their dog's chewing behaviour towards more suitable items.
During the teething phase, it is not uncommon for dogs to exhibit signs of discomfort, such as drooling, increased biting or chewing, and even mild aggression. Owners must be patient and understanding during this time, as these behaviours are typically temporary and will subside once the adult teeth have fully grown in.
Another reason why understanding dog teething is important is because it allows owners to identify potential dental issues early on. Sometimes, adult teeth may grow improperly or become impacted, leading to more serious dental problems. Regularly inspecting your dog's mouth during teething can help you identify abnormalities and seek veterinary care.
In summary, understanding dog teething is essential for any responsible dog owner. Recognizing the signs and symptoms of teething, providing appropriate chew toys, and monitoring dental health can help your furry friend navigate this uncomfortable phase with minimal discomfort. Patience and proper care are key when supporting your dog's teething journey.
Why Dogs Go Through the Teething Phase: Unveiling the Reasons Behind It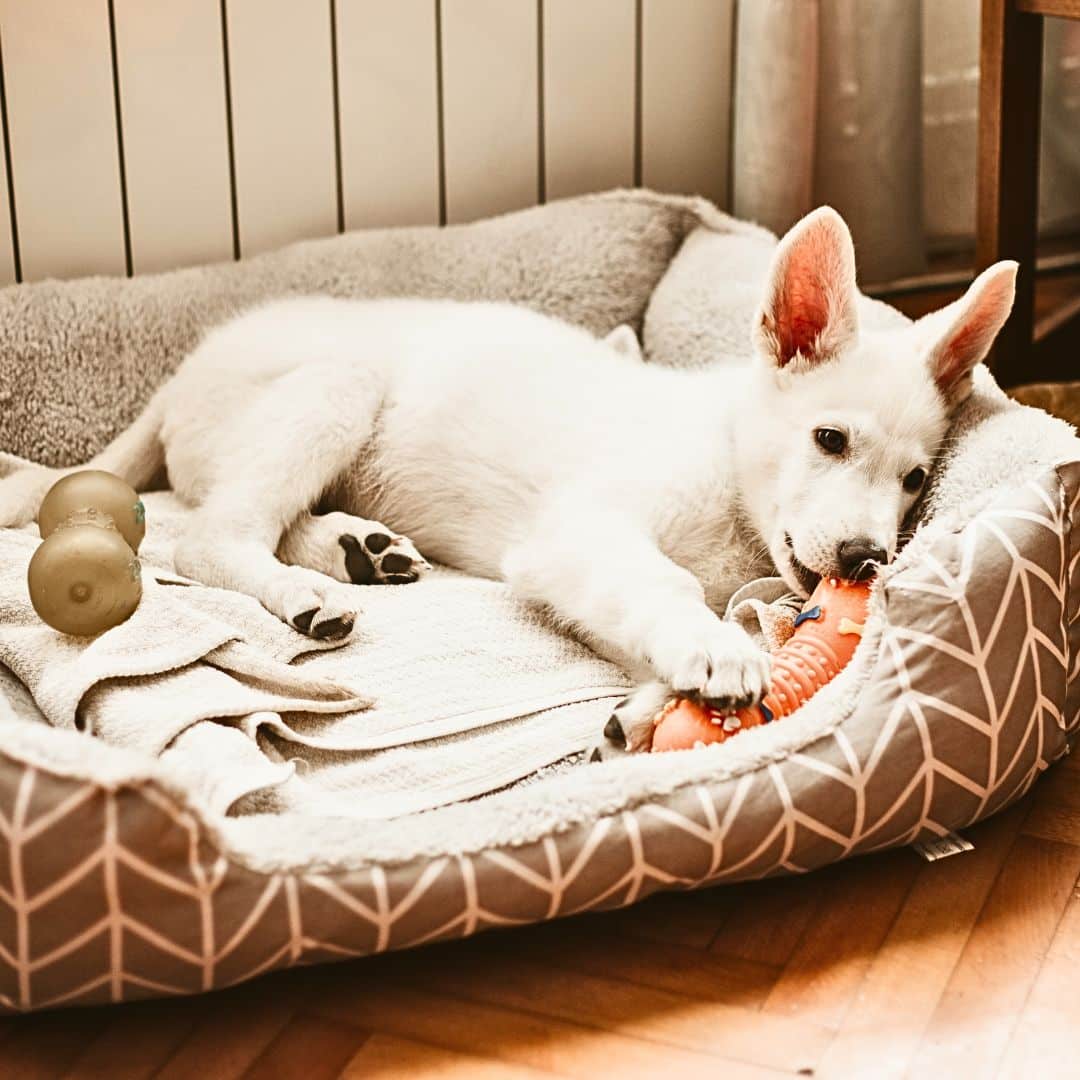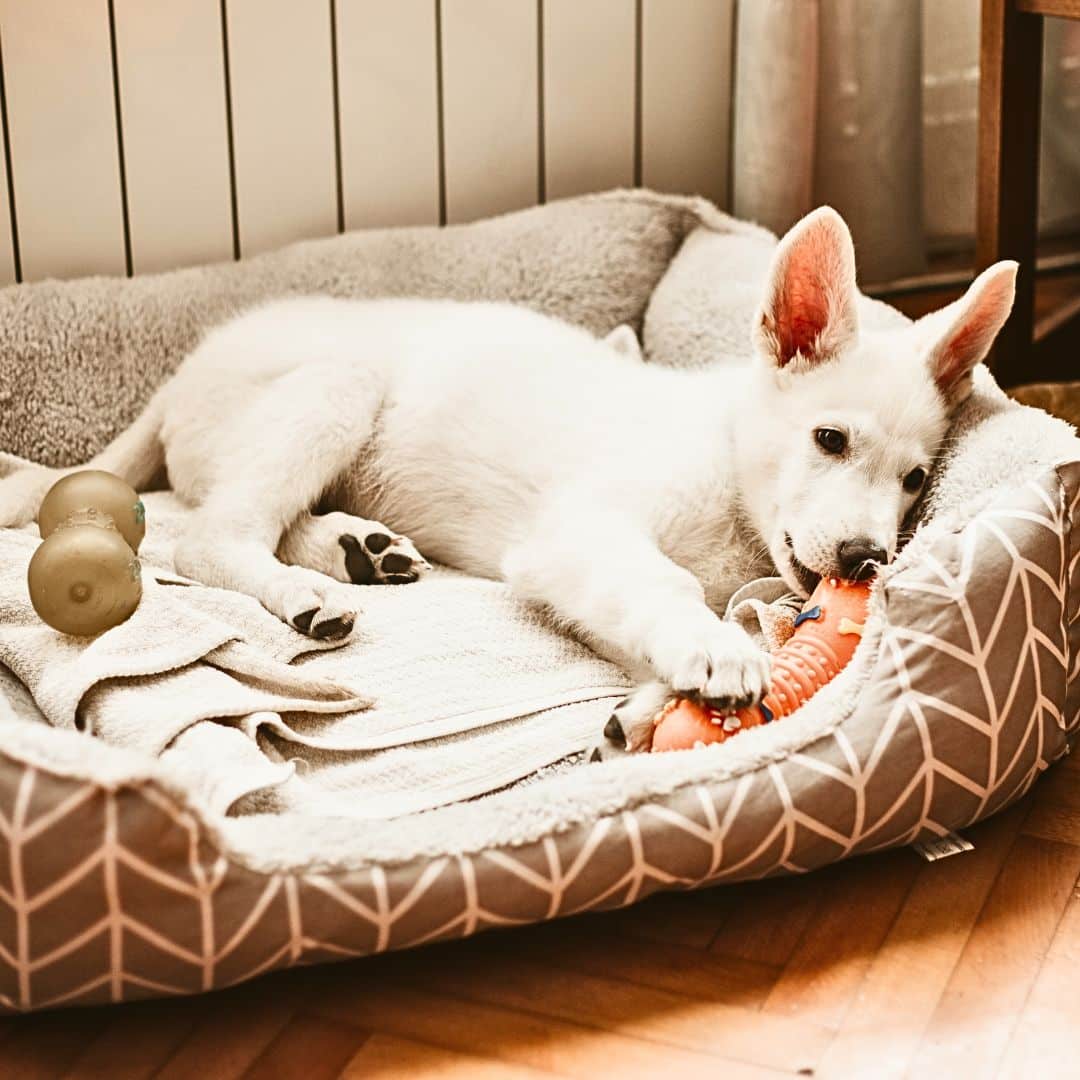 The teething phase is a natural and important process in a dog's life that helps them transition from puppyhood to adulthood. During this phase, dogs lose their baby teeth and grow permanent adult ones. Understanding why dogs go through the teething phase can help pet owners better support their furry friends.
Dog Teething
Firstly, teething allows dogs to replace their sharp, fragile baby teeth with stronger, sturdier adult teeth. This is crucial for their overall health and well-being, as adult teeth are better equipped for chewing and consuming their regular diet.
While this may seem complex, especially regarding dental care for your furry friend, now is the perfect opportunity to gently introduce your puppy to having their mouth touched inside and out. Be careful that he doesn't nip you — Addressing those sharp puppy teeth ensures a more pleasant experience for you and your furry friend. Teaching your puppy how to enjoy or at least tolerate activities properly will contribute to their overall well-being and enhance your bond and getting his teeth brushed.
Secondly, teething helps dogs explore the world around them. Puppies use their mouths to investigate objects, textures, and tastes. The discomfort experienced during teething encourages them to chew on various items, providing much-needed relief to their gums. Pet owners must provide appropriate chew toys and treats to redirect their chewing behaviour and protect household items from damage.
Furthermore, the teething phase plays a significant role in developing a dog's jaw and facial structure. As adult teeth come in, they help shape the jaw's alignment and promote proper bite formation. This ensures that dogs can effectively grasp and chew their food as they age.
Notably, teething can sometimes be accompanied by discomfort or mild pain for dogs. They may experience swollen gums, drooling, irritability, or increased chewing behaviour. 
Chew Toys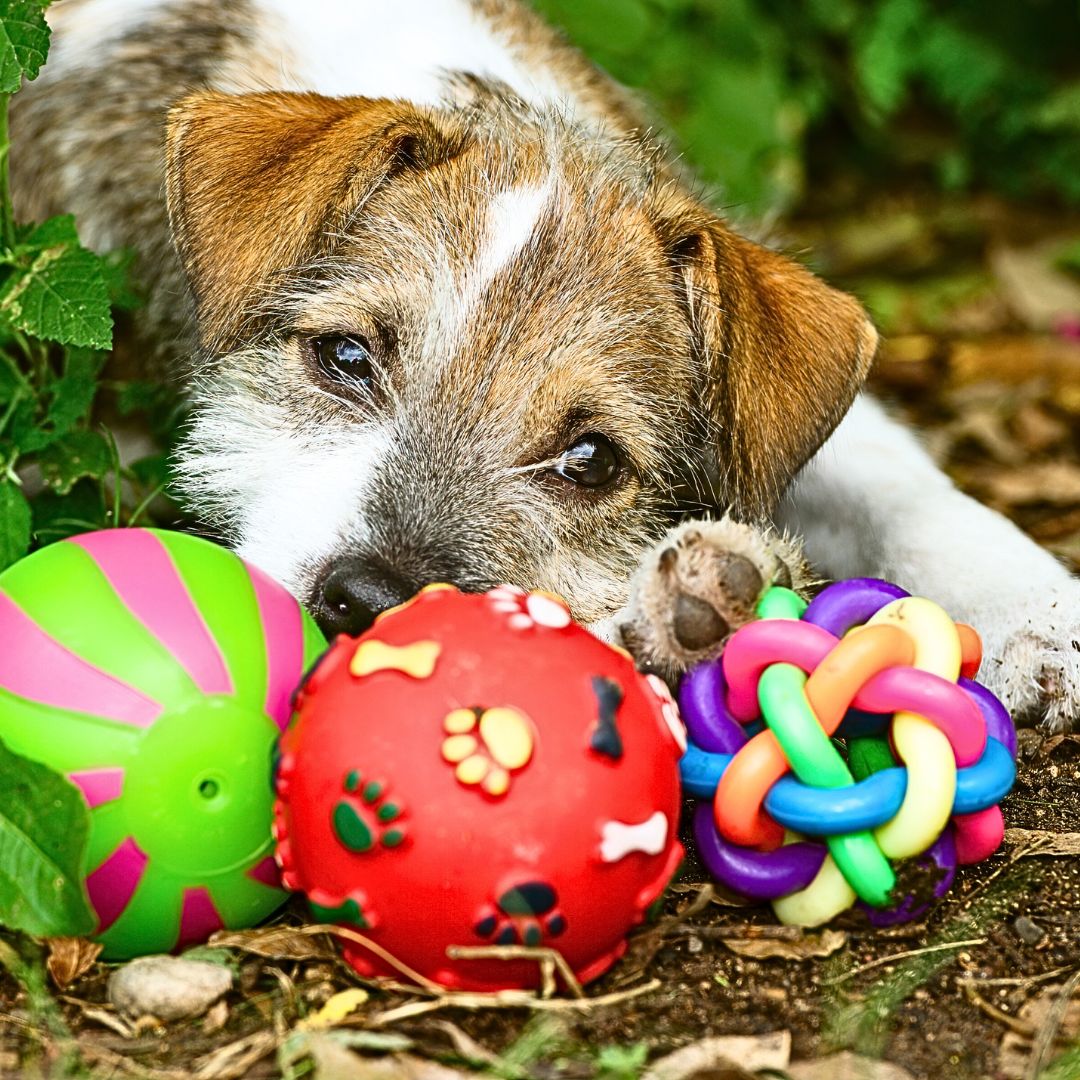 If your playful pup is always energetic and craves a good challenge, they will adore this dog puzzle toy. They can devise a solution or a toy that dispenses treats. While some puppies like snuggling up with a soft plush puppy toy, other dogs may love stuffed toys to shred or tougher rubber and rope puppy toys.
Pet owners should be patient and understanding, providing gentle care and soothing measures such as cold or frozen chew toys to alleviate discomfort.
The teething phase is necessary for dogs to grow into healthy adults. By understanding the reasons behind it, pet owners can support their canine companions during this transitional period with appropriate chew toys, gentle care, and patience.
How to Help Your Teething Dog: Tips and Techniques to Soothe Their Discomfort
Watching your furry friend go through the discomfort of teething can be tough. Fortunately, several effective ways exist to alleviate their pain and make this phase more manageable. From safe chew toys to natural remedies, we've got you covered. Read on for tips and techniques to help your teething dog find relief.
Provide Chew Toys
One of the best ways to help your teething dog is by offering them safe and durable chew toys. Look for toys specifically designed for puppies, as they are softer on their developing teeth and gums. Opt for materials like rubber or nylon that provide a satisfying chewing experience without posing a choking hazard.
Try Cold Compresses
Cold compresses can work wonders in soothing your dog's swollen and painful gums. Wrap a clean cloth or towel around an ice pack or a frozen wet washcloth, then gently apply it to your pup's mouth for a few minutes. Lowering the affected area's temperature can help reduce inflammation and provide temporary relief by numbing the area.
Natural Remedies
Many pet owners prefer natural remedies to alleviate their dog's teething discomfort. Chamomile tea, for example, can be brewed and cooled before being applied to your dog's gums using a clean cloth or cotton swab. Chamomile has natural anti-inflammatory properties to soothe sore gums. Be sure to consult with your veterinarian before trying any natural remedies.
Keep It Cool
Another effective method is providing your teething pup with cool treats or frozen toys. Soak a washcloth in water or low-sodium broth, then freeze it for a few hours before giving it to your dog. The cold sensation will provide relief while also keeping them entertained.
Monitor Your Dog
While providing comfort during this teething phase is essential, monitoring your dog is equally important. Avoid giving them toys or treats that can easily break or pose a choking hazard. Regularly check their toys for signs of wear and replace them as needed. 
Also, always supervise your dog using cold compresses or other remedies to ensure their safety.
Teething can be challenging for you and your dog, but you can help ease their discomfort with the right techniques. It is important to ensure that your pet has safe chew toys, consider using cold compresses, and explore natural remedies with the guidance of a veterinarian. Additionally, it is crucial to ensure their safety at all times.
About Dog Teething:
When do puppies start teething?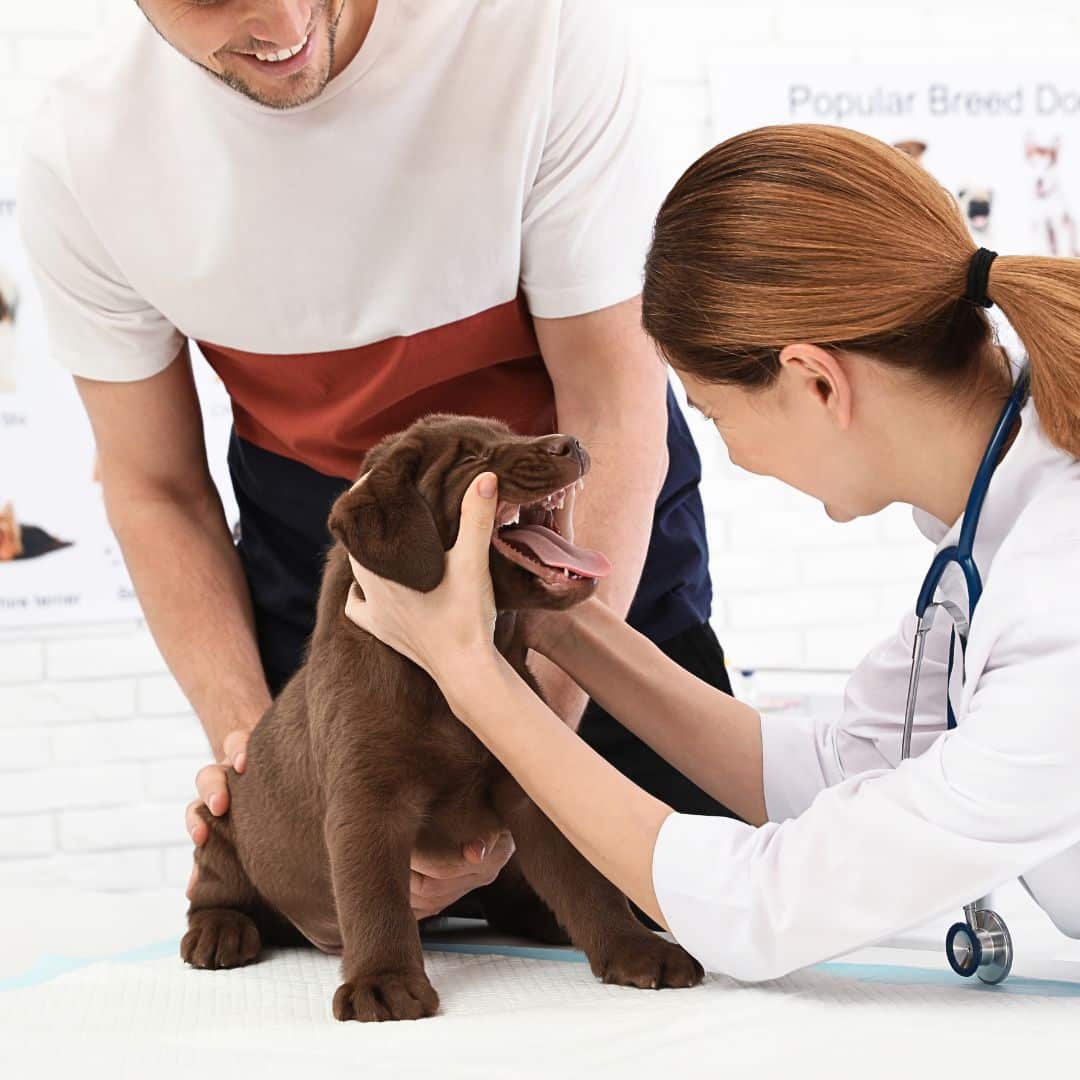 Puppies typically begin teething around 3 to 4 months when their baby teeth start falling out and are replaced by permanent adult teeth. The teething process can last for several months, with the adult teeth fully coming in by around 6 to 7 months. It's important to provide appropriate chew toys and outlets for your puppy during this time to help alleviate discomfort and prevent them from chewing on inappropriate items.
How long does the teething phase last in dogs?
The teething phase in dogs typically lasts from around 4 to 6 months. During this time, puppies experience discomfort as baby teeth fall out and their adult teeth enter. It's important to provide appropriate chew toys to help alleviate their sore gums and prevent them from chewing on inappropriate items. When puppies reach six months old, they should have all their adult teeth, and the teething phase should be completed.
What are the signs that my dog is going through the testing phase?
During the teething phase, puppies experience the eruption of their deciduous (baby) teeth and the growth of their permanent teeth. Here are some signs that your dog may be going through this phase:
Chewing
Puppies will often chew on various objects to alleviate the discomfort caused by teething. They may gnaw on furniture, shoes, or toys more frequently.
Drooling
You may notice increased drooling during the teething phase, as puppies' gums can become swollen and sensitive.
Loss of appetite
Some puppies may experience a temporary decrease in need due to the discomfort in their mouths. However, if your puppy refuses food for an extended period or shows other signs of illness, consult your veterinarian.
Behavioural changes
Puppies going through teething may become more irritable or restless. They might display mild mood swings or seem more eager to chew and bite.
Bleeding or swollen gums
You may observe slight bleeding or swollen gums when your puppy's baby teeth start falling out, and new teeth emerge.
Facial rubbing or pawing at the mouth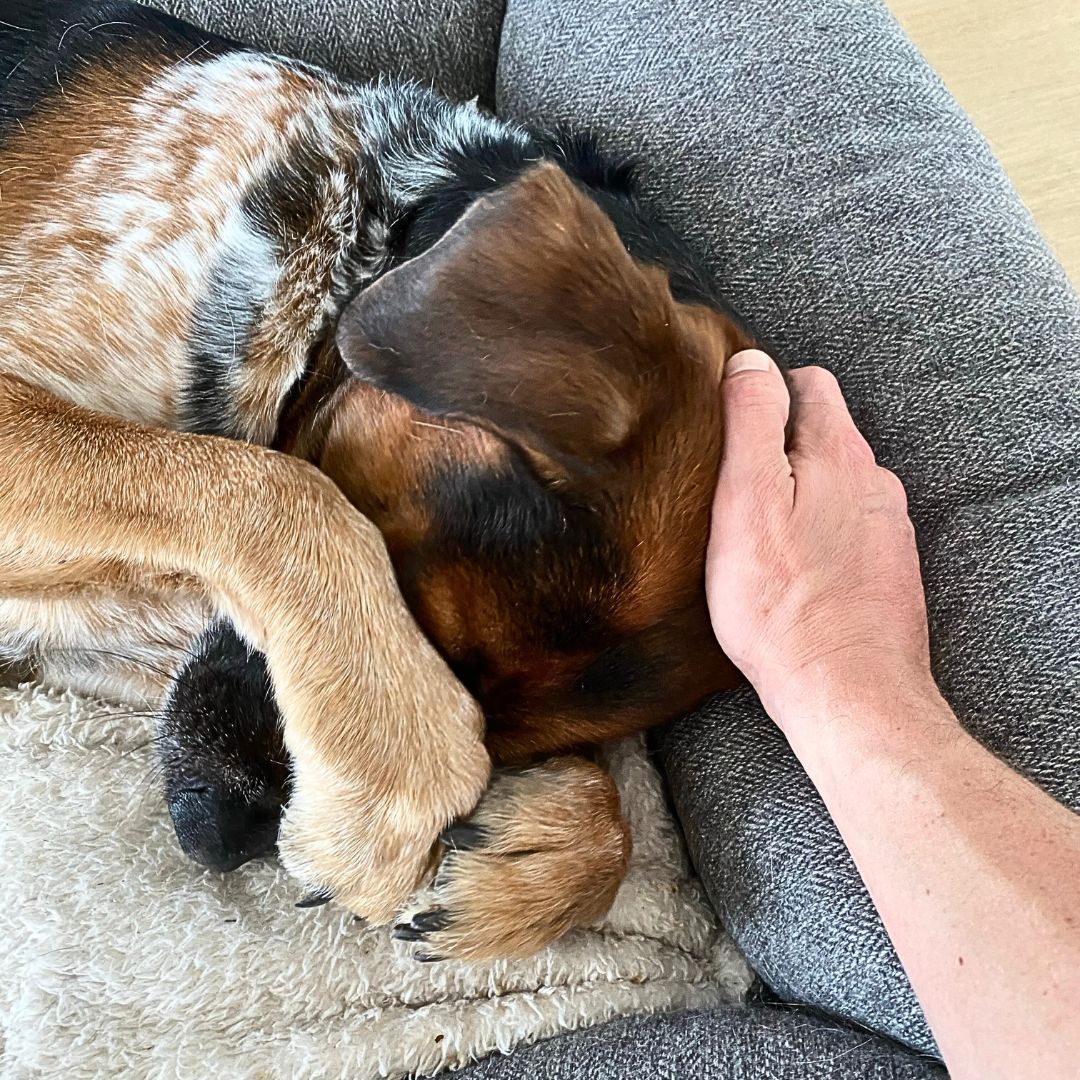 Your puppy may rub their face against furniture or paw at their mouth to soothe the discomfort.
It's important to note that while these signs are commonly associated with teething, they can also indicate other dental issues or health problems. If you have concerns about your puppy's oral health, it's best to consult a veterinarian for a proper diagnosis and guidance on managing this phase effectively.
Are there any risks or complications associated with dog teeth eruption?
While dog teeth eruption is natural, certain risks and complications can be associated. Pay attention to your furry friend's dental and oral hygiene to minimize these issues.
One potential risk is the development of orthodontic problems. Sometimes, the permanent teeth may erupt in an improper position, causing misalignment or overcrowding. This can lead to difficulty chewing, discomfort, and even potential damage to the surrounding teeth.
Poor Oral Hygiene
In addition, poor oral hygiene during the teething phase can increase the risk of gum disease. When there is plaque and tartar buildup around teeth that are growing, it can cause inflammation in the gums and potentially result in infection or periodontal disease.
Establishing a good dental care routine for your dog mitigates these risks. Regular brushing using a pet-friendly toothbrush and toothpaste recommended by your veterinarian can help remove plaque and maintain oral hygiene. Appropriate chew toys can relieve discomfort and encourage proper teeth alignment.
Professional Guidance
It is always recommended to consult with a veterinarian for professional guidance on managing your dog's dental health during the teething phase. They can provide advice tailored to your pet's specific needs and address any concerns or complications that may arise. By prioritizing dental care and maintaining good oral hygiene for your furry companion, you can help minimize the risks and complications associated with dog teeth eruption.
What should I avoid giving my teething dog?
When it comes to dogs who are teething, it's important to keep their safety and oral health in mind. Here are a few things you should avoid giving your teething dog:
Unsafe chew toys for puppies
Ensure that the chew toys you provide are specifically designed for teething puppies. Avoid toys that are too small, as they can be easily swallowed or those with small parts that could pose a choking hazard.
Foods that can harm puppy teeth
Certain foods can damage your puppy's teeth, especially during teething. Avoid giving them hard treats, bones, or toys that may be too tough to chew and potentially damage their developing teeth.
It's crucial to prioritize your puppy's safety and dental health. Always consult your veterinarian for specific recommendations on safe chew toys and suitable foods for your teething dog.
Conclusion: Helping Your Dog Through the Teething Phase
In conclusion, helping your dog through the teething phase is important to its overall well-being. By following a few teething tips for dogs and properly caring for teething puppies, you can ensure that your furry friend's dental health remains in top shape.
First and foremost, providing appropriate chew toys is key during this phase. Opt for toys specifically designed for teething puppies, as they are made with softer materials that are gentle on their sensitive gums. Avoid giving them items that are too hard or small, as these can cause damage to their teeth or pose a choking hazard.
Regular dental care is also essential for promoting healthy teeth in dogs. Brushing your dog's teeth regularly with a dog-friendly toothbrush and toothpaste helps remove plaque and tartar buildup, reducing the risk of dental issues during the teething phase and beyond. Additionally, consider using dental treats or water additives that can help maintain oral hygiene.
It's important to note that teething can be uncomfortable for puppies, so be patient and understanding during this time. Provide plenty of love and attention, and offer soothing relief by giving them access to cool or frozen chew toys or damp washcloths to help ease discomfort.
Following these tips for teething and prioritizing dental care, your beloved pet will have healthy teeth and gums throughout life. Remember, a little extra care during the teething phase goes a long way in ensuring their overall well-being and happiness.