Are you tired of leaving your four-legged friend behind whenever you head out for a camping adventure? Well, worry no more! 
We've got just what you need: a guide on "How to Make Camping with Your Dog Easy and Stress-Free."
Camping with your dog can pose challenges, such as ensuring their safety, managing their behaviour, and accommodating their needs in a wilderness setting. However, with careful planning, proper training, and the right equipment, you can easily find a solution for your "how to secure dogs when camping" worry!
Whether you're a seasoned camper or a newbie to the great outdoors, bringing your furry friend along can add an extra wag to your tail. No need to fetch worry or bury yourself in stress; we're here to make camping with your dog a walk in the park. So grab your backpack, leash up your pup, and dive into this adventure of a lifetime!
Tips for Making Camping with Your Dog Easy and Stress-Free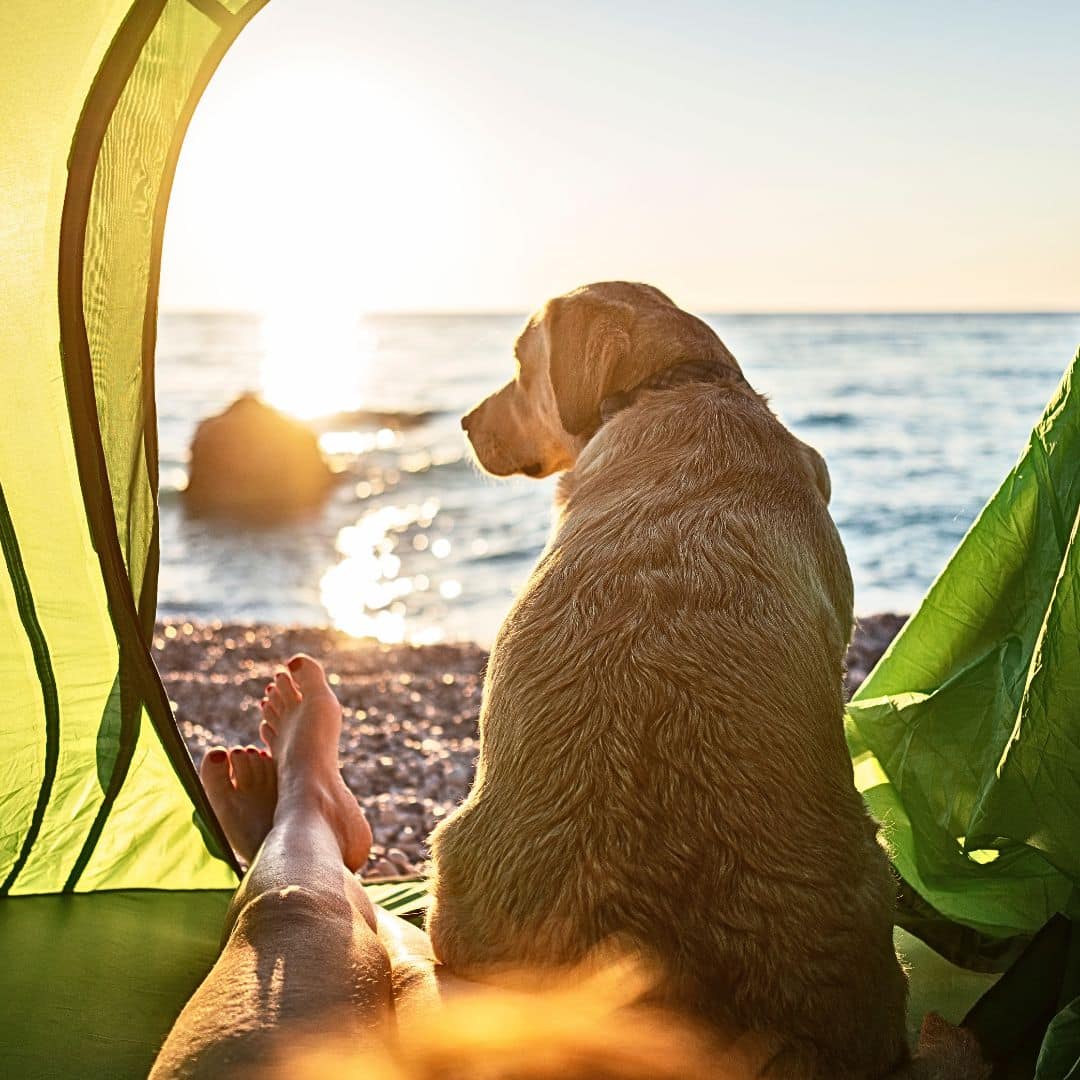 The American Kennel Club stated that tent camping with dogs can have health benefits for your furry companion. So not only can you enjoy the beauty of nature together, but you'll also be promoting overall well-being for both you and your canine camping buddy. That's why, from tail-wagging trails to dog-friendly campgrounds, we'll help you easily navigate the wild.
Prepare and Pack Essentials
Being prepared is the key to a successful tent camping adventure with dogs! Make sure your pet friend enjoys their time in the great outdoors by bringing along all the necessities. First and foremost, remember to bring enough food for your pup's stay, considering their size, breed, and activity level.
A study conducted by Harvard Medical School concluded that dogs burn more calories when active. So pack a little extra kibble for their outdoor energy bursts! Also, remember to pack ample fresh water to keep your dog hydrated throughout the trip.
Don't leave behind any necessary medications or supplements your dog will require if you are going camping in the winter season. Preparing and packing these essentials will set the stage for a wag-fantastic camping experience!
Choose a Dog-Friendly Campground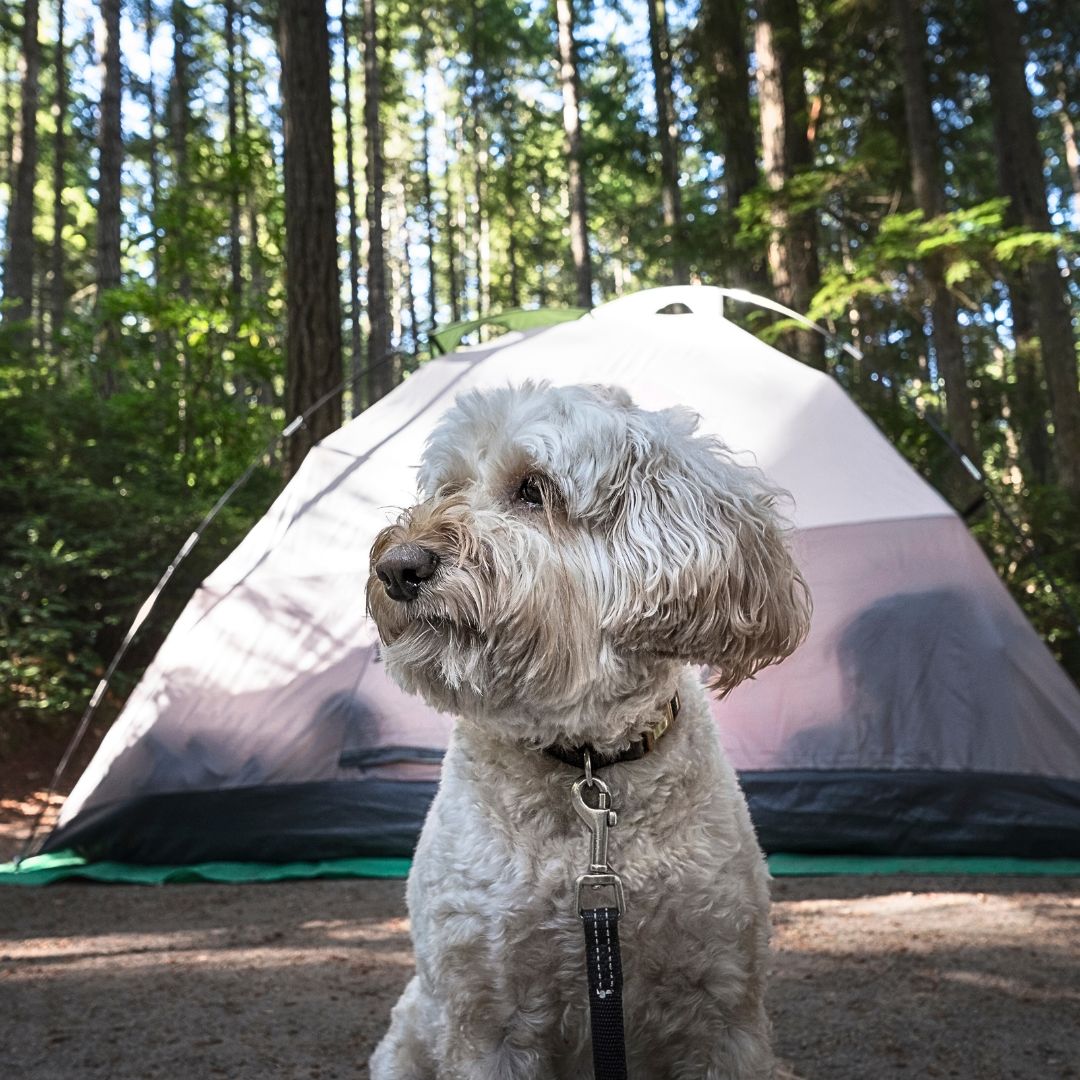 When it comes to RV camping with dogs, choosing a dog-friendly campground can make all the difference in creating an awesome experience! A dog-friendly campground welcomes furry companions and offers amenities catered to their needs.
Look for campgrounds with designated dog-friendly areas or trails where you and your pup can explore together. Luckily, some campgrounds even provide doggy play areas or dog washing stations. How cool is that? Check the campground's dog policies, such as leash requirements and any restrictions on breed or size.
It's also a good idea to consider the surrounding environment—opt for campgrounds with pet-safe terrain and minimal wildlife risks. By choosing a dog-friendly campground, you'll ensure that your four-legged friend will welcome you with open paws and that you can enjoy a fantastic camping adventure together!
Keep Your Dog On a Leash
When camping for the first time, keeping your dog on a leash is essential. Leashes keep your dog from wandering off and protect them from hazards like wild animals, poisonous plants, or cliffs.
By keeping your dog on a leash, you're not only being a responsible pet owner but also showing respect for nature and fellow campers. Remember, even the best-behaved dogs can get excited or curious in a new environment, so having that extra control can make all the difference.
Plus, it allows you to explore together, creating a stronger bond and shared experiences. So leash up your pup and embark on a tail-wagging adventure while keeping them safe and secure by your side!
Practice Good Campground Etiquette
When camping with your dog, practicing good campground etiquette is essential, showing respect to nature and fellow campers. Remember to keep noise levels down, especially during quiet hours, to ensure a peaceful and enjoyable experience.
Excessive noise can disturb wildlife and other campers trying to relax in nature's embrace! So, always clean up after your dog by promptly picking up their waste and disposing of it properly in designated bins. It's not only a matter of cleanliness but also a way to preserve the beauty of the campground.
Additionally, be mindful of other campers' space and privacy, giving them and their furry friends the room they need to enjoy their camping trip. By practicing good campground etiquette, you contribute to a harmonious atmosphere, fostering a positive and friendly camping community for all to enjoy.
Keep Your Dog Protected
When camping with your dog, keeping them protected is of utmost importance. It means ensuring they are up to date on vaccinations and protected against fleas, ticks, and other parasites.
The information is from the Centers for Disease Control and Prevention. Fleas and ticks are annoying and can transmit diseases to humans and animals. By keeping your dog protected, you will safeguard his health and minimize the risks of any unwanted hitchhikers returning home with you.
Packaging a flea and tick collar or topical treatment is also a good idea to provide extra protection during outdoor adventures. With proper protection, you can enjoy a worry-free camping experience, knowing that your furry friend is safe from potential health risks.
Provide a Comfortable Sleeping Area
After a day of tail-wagging adventures, your pup deserves a cozy spot to rest its paws. Creating a comfortable sleeping area means providing them with a soft and insulated Labradoodle bed or blanket, ensuring a cushioned and warm surface.
It's also a good idea to bring familiar items from home, like their favourite toy, to make them feel secure in their temporary den. It's also a good idea to bring familiar items from home, like their favourite toy or a piece of clothing with your scent, to make them feel secure in their temporary den.
Don't forget to consider the weather conditions—bring extra blankets for chilly nights or a cooling pad for warmer climates. By prioritizing your dog's comfort, you'll ensure they get a good night's sleep, ready to wag their tail for another day of camping adventures by your side!
Exercise Your Dog
When camping with your dog, it's essential to provide regular exercise, not just for their physical well-being but also for their mental stimulation. Like us, dogs need daily activity to stay happy and healthy.
According to Harvard Medical School, your pet can burn off excess energy and keep a healthy weight with regular walks, plays, and hobbies.
Put on your hiking boots, grab a frisbee, or play fetch outside in the fresh air. It's a win-win situation—your dog gets to explore new scents, sights and sounds while you enjoy nature's beauty with your faithful companion.
Follow Leave No Trace Principles
Following the Leave No Trace principle is essential to minimize our environmental impact when camping with your dog. It means being mindful of our actions and leaving the campsite as pristine as we found it.
By adhering to the Leave No Trace principle, we maintain the breathtaking scenery of the wilderness and protect the welfare of the animals that call it home! So, please pick up after your dog, bag their waste, and dispose of it properly in designated bins. Remember to stay on designated trails to avoid trampling delicate flora or disturbing wildlife habitats.
Avoid excessive noise disrupting nature's tranquillity and respect fellow campers' peace and privacy. By adopting these principles, we become stewards of the great outdoors, ensuring that future generations can enjoy its wonders. So let's unleash our Eco-consciousness and make a positive impact while camping with our beloved four-legged friends!
Be Mindful of Wildlife
Picture this: you and your furry sidekick, immersed in nature's symphony, surrounded by creatures big and small. It's crucial to be mindful of these fascinating inhabitants and respect their space.
Keeping a respectful distance and observing from afar allows them to go about their natural behaviours undisturbed. Avoid feeding wildlife, as it can disrupt their natural foraging patterns and lead to dependency on human food.
Remember, some critters might be more than meets the eye—hidden dangers like venomous snakes or territorial animals can be lurking in the wilderness. So, keep your dog on a leash, refrain from disturbing nests or dens, and appreciate the awe-inspiring beauty of wildlife from a distance.
Have a First Aid Kit For Your Dog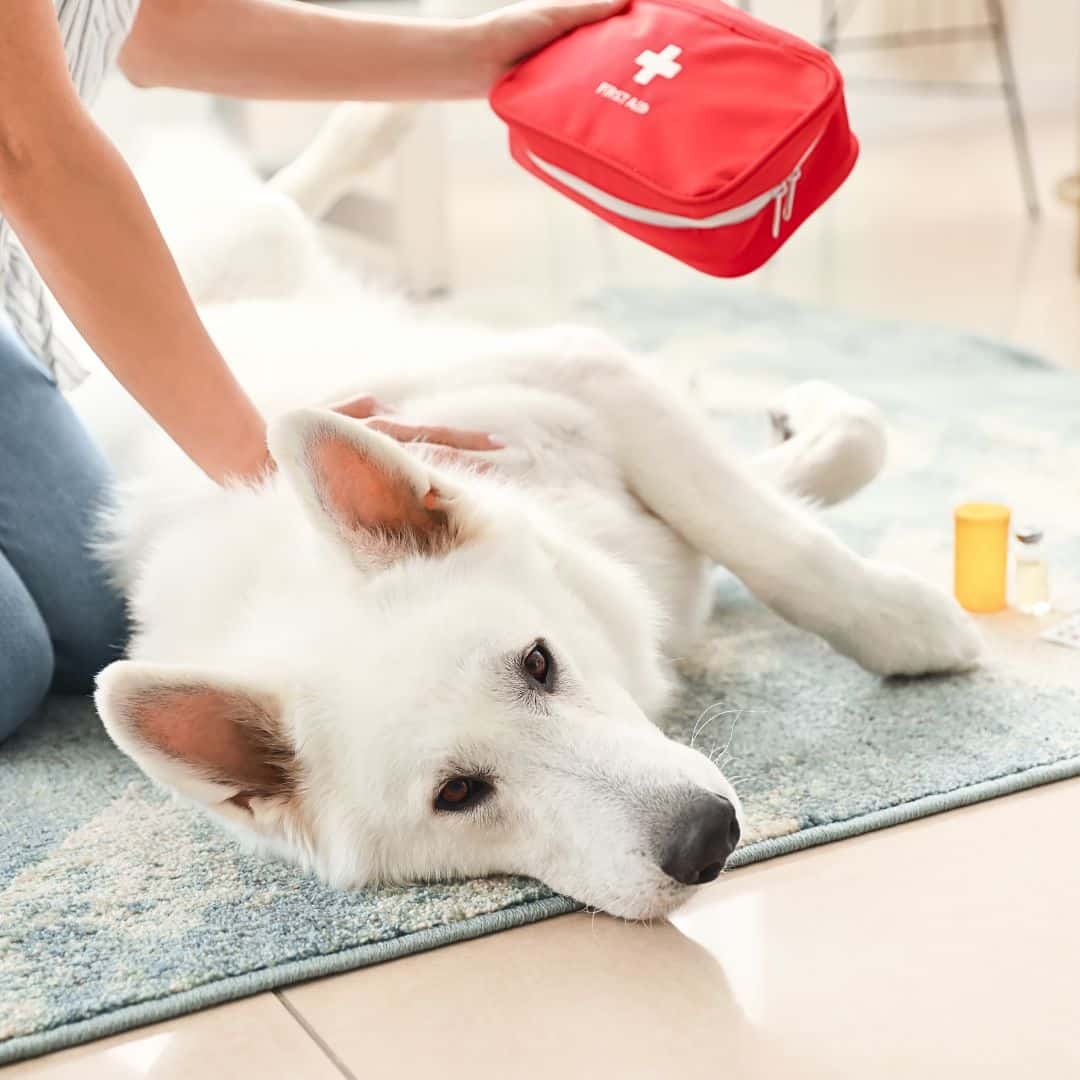 Like humans, dogs can have unexpected bumps, scrapes, or minor mishaps while exploring the great outdoors. A well-stocked first aid kit means you're prepared to handle unforeseen situations.
Some camping destinations may be far from veterinary clinics or emergency services. With a doggy first aid kit by your side, you can swiftly address minor injuries and provide immediate care until professional help is available. Your kit should include the following:
Bandages.

Antiseptic wipes.

A pet-safe pain reliever.

Any necessary medications for your dog's needs.
Plus, throw some tweezers to remove pesky splinters or ticks and a pair of nail clippers for on-the-go grooming. By having a first aid kit ready, you become your dog's hero, ensuring their well-being and enabling them to return to the adventure in no time!
How to camp with your dog?
Pack your dog's essentials like food, water, bedding, and medications to camp with your dog. Choose dog-friendly campgrounds and keep them on a leash for their safety. Practice good campground etiquette, protect them from fleas and ticks, provide a comfortable sleeping area, exercise regularly, and be mindful of wildlife.
How to secure dogs when camping?
When camping, secure your dog by using a sturdy leash and harness. Set up a designated area with boundaries, such as a portable dog fence or tie-out system. Keep them close to you and supervise them at all times. Create a safe and comfortable space for them to relax.
What should you consider while taking your dog camping for the first time?
While taking your dog camping for the first time, consider their comfort and safety. Prepare by gradually introducing them to outdoor environments and camping gear. Research dog-friendly campgrounds and check their policies. Pack their essentials, bring familiar items, and plan for their exercise and mental stimulation.
Wrapping Up!
By implementing our tips and strategies outlined in this guide, you can ensure that your camping experience with your dog is effortless and stress-free. By choosing dog-friendly campgrounds, providing comfort, exercising them, being mindful of wildlife, and taking precautions, you'll create cherished memories while enjoying the great outdoors together.
So, embrace the adventure and make camping with your dog a delightful and worry-free journey using the insights shared in "How to Make Camping with Your Dog Easy and Stress-Free"!