Dealing with Spring Allergies in Dogs, Effective Treatments and Tips for Relief.
Treating allergies that arise during the spring season in dogs is highly important to ensure their overall well-being. There are several steps you can take to alleviate your dog's symptoms, such as bathing them regularly, vacuuming your home frequently, and providing them with appropriate medication as prescribed by your veterinarian. By taking these steps, you can help your furry friend enjoy the spring season without discomfort or health issues. Effective symptom management ensures they enjoy the season fully.
Pollen Allergies
Like humans, dogs can develop pollen allergies that can cause symptoms at any time of the year. Treating Spring Allergies in Dogs: During summer and fall, dogs are more prone to pollen-related allergies.
Dog Scratching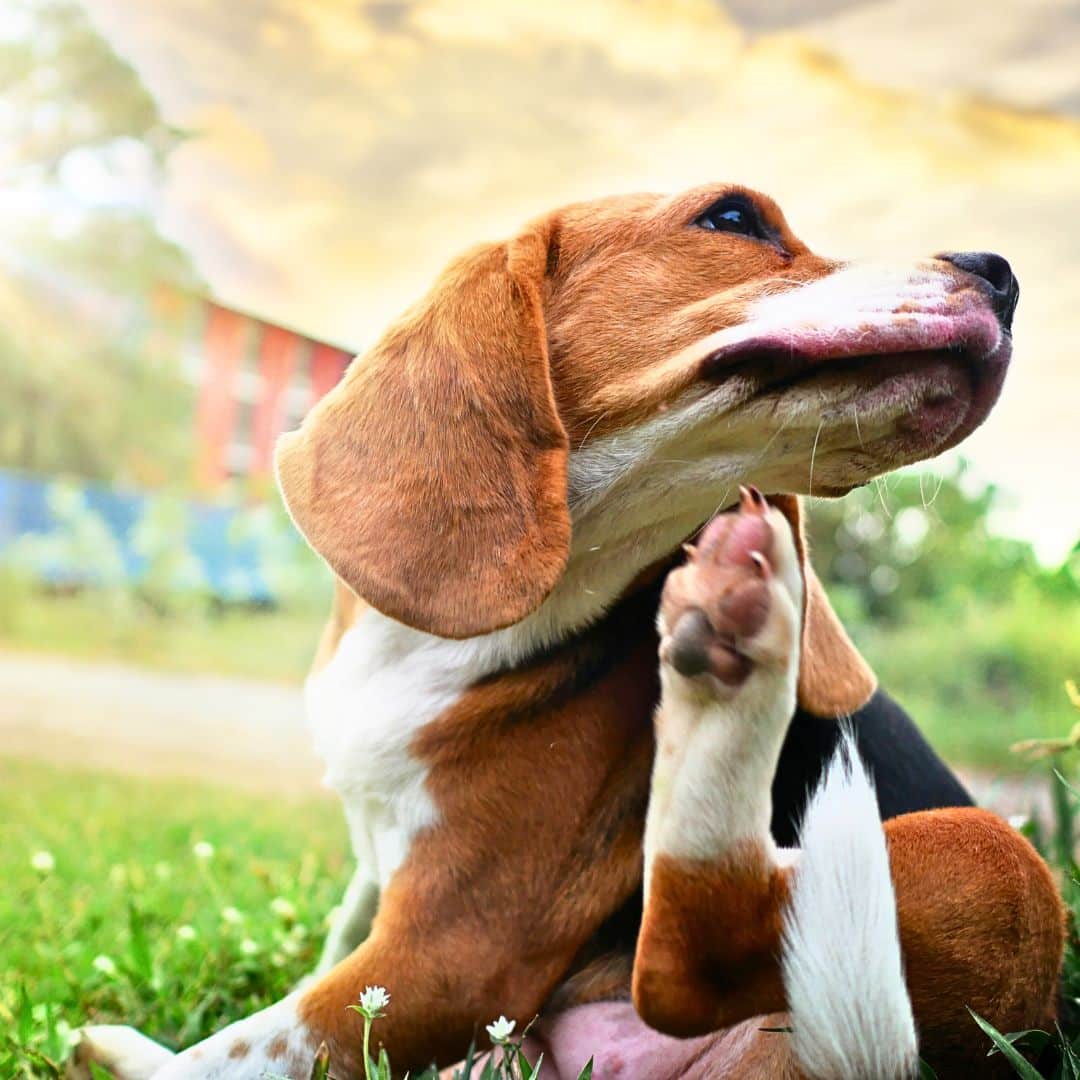 Have you noticed that your dog scratches himself excessively after walking outside? This could be a sign of allergy, particularly a pollen allergy, caused by increased exposure to outdoor allergens. Itching is a common initial symptom seen in dogs with allergies.
Hives
When an individual or a dog comes into contact with allergens, they may develop rashes and hives. Hives can appear anywhere on the body but are more commonly found in areas such as the stomach and armpits. In dogs, hives can manifest as small bumps on the legs, face or sides and can be triggered by exposure to pollen or other allergens. Some dogs may experience raised bumps for several days or even weeks.
Extreme Licking
The most common reason for dogs to constantly lick their stomach, paws, and personal areas (around the anus) is due to allergic reactions caused by excessive licking.
Puffy Eyes
If you notice red and puffy eyes in your dog, it could be a symptom of spring allergies. However, dogs are usually not as affected by these signs as humans. Hair loss around one or both eyes is another symptom to watch out for, as it can lead to infection.
Eye Discharge
If your dog's eyes start to water and discharge, it could indicate environmental allergies. This symptom may only affect the eyes, or it could be accompanied by puffiness or redness. The release may turn thick and yellow, resembling pus.
Face Rubbing
If you notice your dog rubbing its face against surfaces like the carpet, couch, or pillows, it may indicate that it is trying to relieve itself of itchiness. Just like humans, dogs can also experience itchiness, and face rubbing is one of the ways dogs try to alleviate it. Some dogs may even rub their entire body on the ground or grass. Scooting is common when dogs feel itchy and is associated with rubbing the body to relieve the itchiness.
Long Hair
As allergic reactions worsen and persist, the scratching and irritation of skin pores can lead to trauma of hair follicles, resulting in hair loss. Some dogs may nibble and chew at their skin, leading to hair loss, often noticed on their stomach, legs, and tail area. Environmental allergies, skin pores, and skin irritation can also cause some dogs to have less hair.
Pink, Smelly Ears in Dogs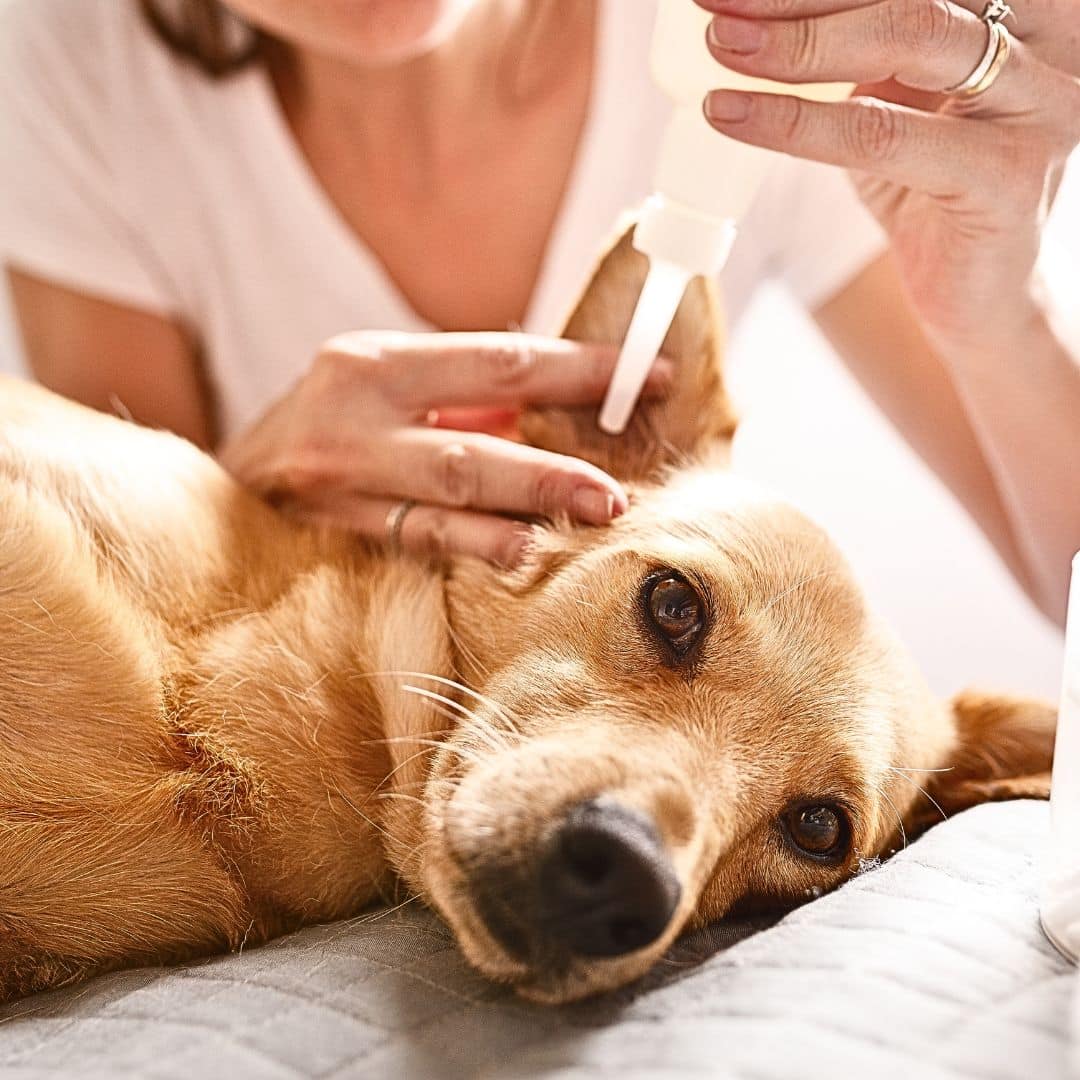 Pollen allergens can affect a dog's skin and cause irritation in the ears, which may become pink and inflamed, leading to infection. Additionally, they can cause ears to emit a foul odour. Some dogs may experience mild discomfort without showing any signs of redness or odour.
Head-Shaking
Canines may shake their head due to ear infections, which can cause itchiness and discomfort. Swollen ears may also be a sign of infection.
Red, Irritated Pores and Skin
Have you ever noticed your furry friend's mouth, chin, paws, neck, or belly turning pink? Well, it could be a sign of inflammation caused by environmental allergens. With proper care, you can quickly help your pup feel more comfortable and happy.
Hot Spots
Hot spots, also known as moist eczema, are areas of the skin where extreme moisture has accumulated. They are often seen in dogs that bite and chew on their skin, especially in areas such as the sides of the body or the base of the tail. Breeds like Labradors are more prone to hot spots. These spots can be very uncomfortable for dogs and cause much discomfort.
Sneezing
When playing with your dog, if you notice him sneezing excessively, it may indicate a pollen allergy. Additionally, reverse sneezing may also be a symptom of pollen allergies.
Sensitive Pores and skin
Dogs with allergies often experience skin that twitches or crawls when touched. Allergic reactions can cause discomfort and irritation of the skin. While some dogs may not show many signs, they may exhibit feelings of skin crawling on their back. Dogs often love having their backs scratched due to itchiness, but it is essential to have a veterinarian conduct an allergy test to determine the underlying cause of the itching.
Non – Stop Scratching in Dogs
Suppose your dog displays continuous signs of allergies, such as non-stop scratching. In that case, it is important to contact your vet and examine them for allergies—spring allergies in dogs, including pollen allergies, may be the root cause of the problem. Your dog may show these symptoms year-round or on different occasions, but this does not necessarily mean it is only a pollen allergy. There are various reasons for an allergic reaction, so it is crucial to have your dog checked by your veterinarian immediately.
It is best to obtain an accurate diagnosis and explanation for your pet's allergic reactions through veterinary analysis, as these symptoms are general indicators of an allergic reaction in dogs.
Treatment Options for Spring Allergies: From Medications to Natural Remedies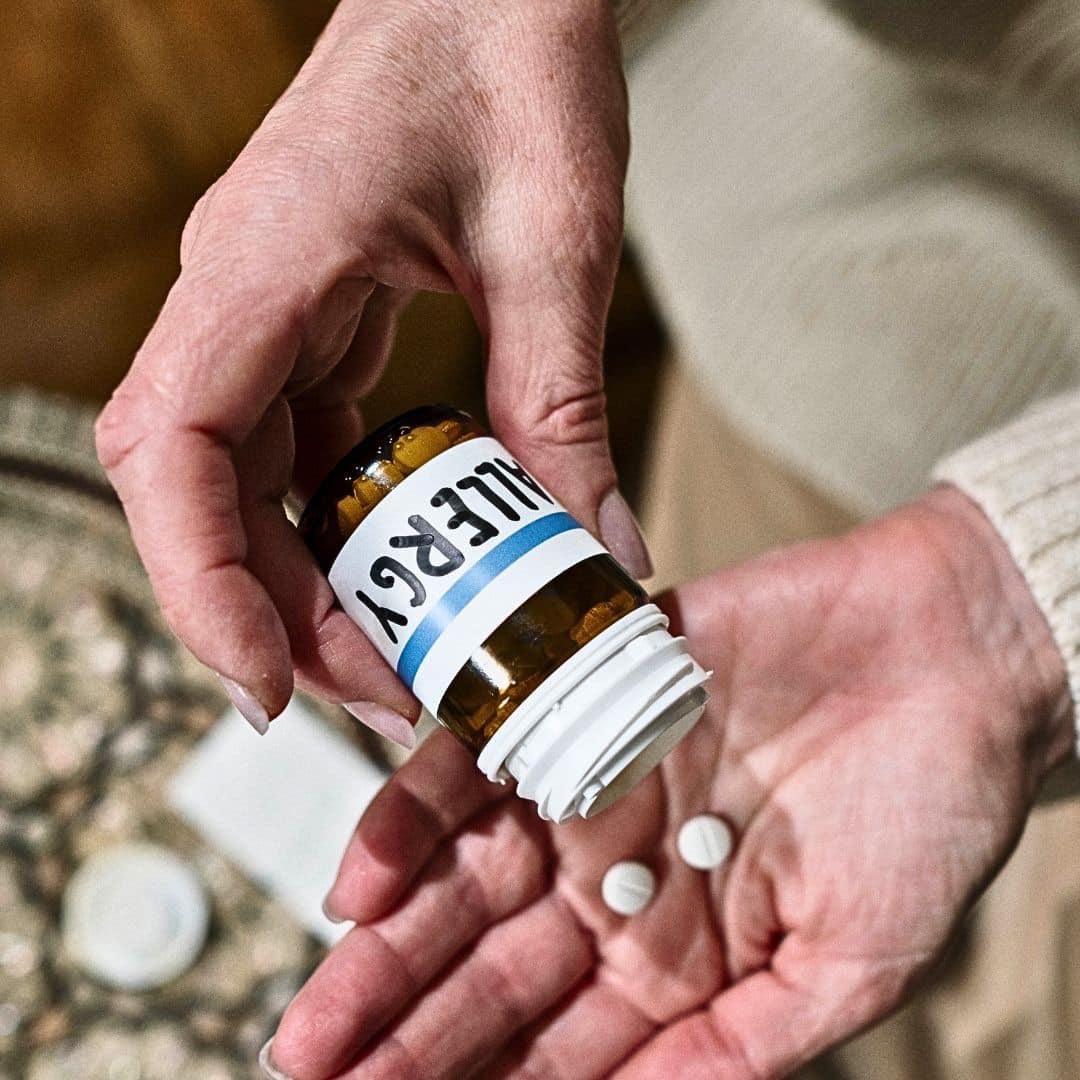 Just like humans, our beloved canine companions can also suffer from allergies, particularly during the spring season. As a responsible pet owner, it's important to explore the various treatment options available to alleviate your dog's discomfort. 
In this article, we will discuss conventional medications and natural remedies that can effectively manage dog allergies.
Allergy Medications for Dogs:
When it comes to treating dog allergies, there are several medications available that can provide relief from symptoms. Antihistamines, such as Benadryl, are commonly used to reduce itching and inflammation caused by allergies. However, it's crucial to consult your Veterinarian before administering any medication, as the dosage and specific medication may differ depending on your dog's size, breed, and overall health.
Antihistamines for Dogs:
Antihistamines block histamine receptors in the body, thereby reducing allergic reactions. While some antihistamines are safe for dogs, others may cause adverse effects or be ineffective. Working closely with your vet will help determine the most suitable antihistamine for your furry friend.
Natural Remedies for Dog Allergies:
In addition to conventional medications, natural remedies can also be used to alleviate dog allergies. Here are a few options worth considering:
Bathing:
Regularly using hypoallergenic shampoo on your dog can remove allergens from their coat and skin, providing relief and preventing irritation.
Omega-3 Fatty Acids:
Adding omega-3 fatty acid supplements to your dog's diet can help reduce inflammation and strengthen their immune system. Fish oil is a common source of these beneficial fatty acids.
Herbal Supplements:
Certain herbs like nettle leaf, licorice root, and chamomile have anti-inflammatory properties and can relieve allergy symptoms. However, always consult your vet before introducing herbal supplements into your dog's routine.
Environmental Modifications:
Making changes to your dog's environment can also help reduce allergen exposure. Regularly cleaning and vacuuming your home, using air purifiers, and minimizing contact with potential triggers like pollen or dust mites can make a significant difference.
Allergy-Proofing Your Home and Environment to Minimize Exposure
As a responsible dog owner, ensure your furry friend remains healthy and happy. Dogs, like humans, can suffer from allergies, especially during spring when pollen levels are high. To help you prevent spring allergies in dogs and create an allergen-free home, we've compiled some useful tips to reduce pollen exposure and keep your four-legged companion comfortable.
Keep Your Home Clean:
Regular cleaning is essential for reducing allergens in your home. "Want to create a healthy environment for your furry friend? If you want to keep your carpets, rugs, and furniture clean, it's worth considering buying a vacuum with a HEPA filter. This type of filter is highly effective at trapping dust, allergens, and other particles, making your home healthier and more comfortable. It will help to remove allergens and keep your dog's space clean and fresh!" Additionally, washing your dog's bedding frequently in hot water will help eliminate accumulated pollen.
How to Maintain Good Indoor Air Quality?:
Investing in a good quality air purifier with a HEPA filter will improve home air quality. It will help capture airborne allergens like pollen and keep them at bay. Be sure to change the filters regularly to maintain maximum efficiency.
Limit Outdoor Exposure:
During peak allergy season, it's best to limit your dog's time outdoors, particularly during high pollen count hours. Consider taking walks early in the morning or late evening when pollen levels are lower. Wiping your dog's paws and coat after being outside can also help remove any pollen they may have picked up.
Create a Safe Haven Indoors:
Designate certain areas of your home as "allergen-free zones" where your dog can retreat to relieve allergy triggers. Use pet-friendly wipes to gently clean their paws and fur before they enter these areas to minimize the transfer of outdoor allergens.
Regular Grooming:
Regular grooming is essential for managing allergies in dogs. Bathing your dog with shampoo can remove allergens from their fur and skin. Brushing their coat regularly will also help reduce the pollen they carry around.
Consult a Veterinarian:
If your dog's allergies persist or worsen, it's important to consult a veterinarian. They can provide further guidance on managing your dog's specific allergies and may recommend allergy testing or prescribe medications to alleviate symptoms.
The Importance of Regular Veterinary Check-ups and Allergy Testing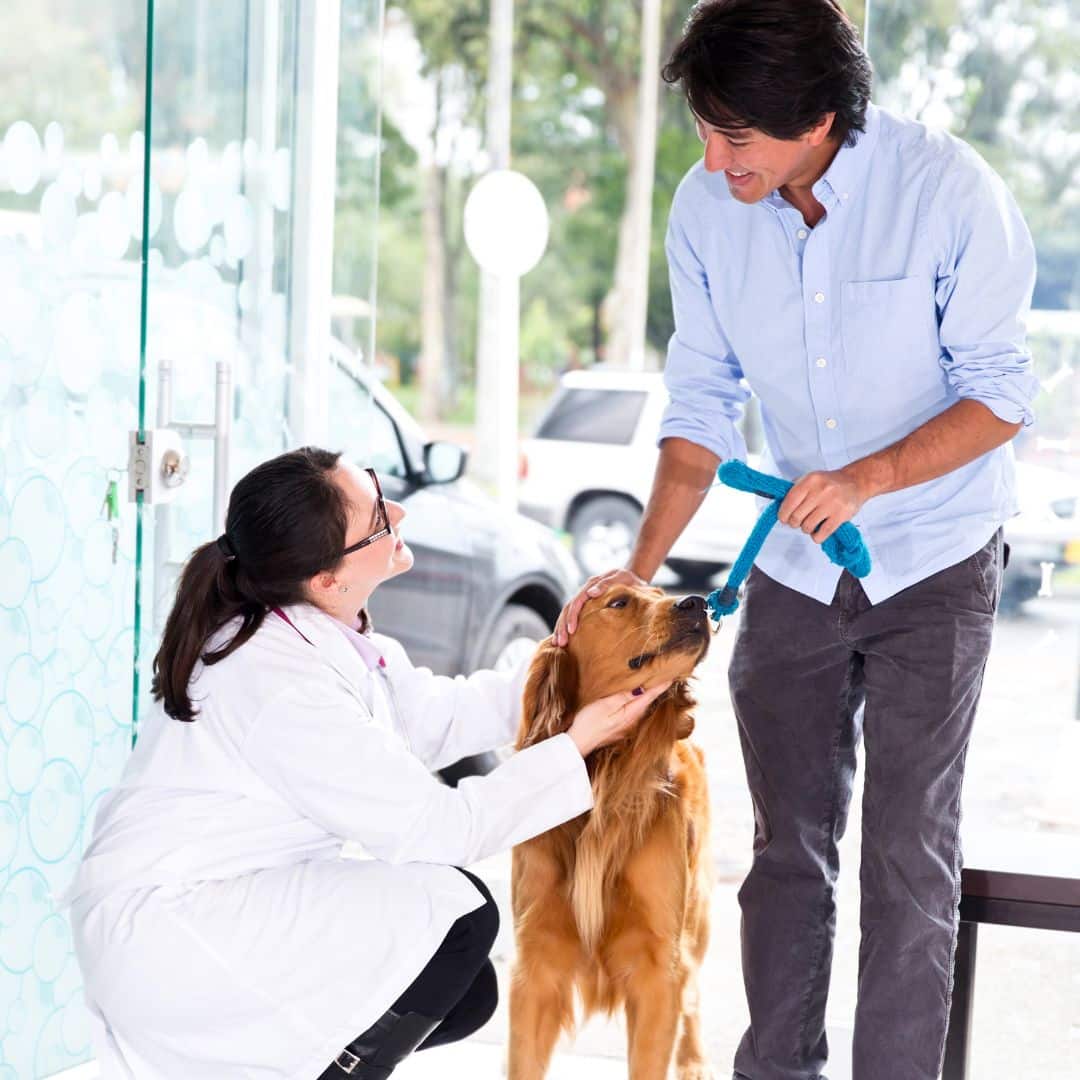 Regular veterinary check-ups and allergy testing are of utmost importance for the well-being of your beloved pets. Here's why:
Early Detection and Prevention:
Regular check-ups allow veterinarians to detect potential health issues or allergies before they become severe. Identifying problems can prevent serious conditions needing extensive treatment.
Allergy Identification:
Allergy testing helps determine the specific allergens that your pet may be sensitive to. This information allows you and your Veterinarian to take necessary measures to minimize your pet's exposure to these allergens, thereby reducing allergic reactions and improving their quality of life.
Tailored Treatment Plans:
Once your pet's allergies are identified, your Veterinarian can develop a customized treatment plan. This plan may include medication, dietary changes, or environmental modifications tailored to alleviate the symptoms and improve your pet's overall health.
Now, regarding your request for a list of allergy medications for dogs and natural homemade remedies, here are some options:
Allergy Medications for Dogs:
Antihistamines (e.g., Benadryl, Claritin):
These medications can help reduce itching, sneezing, and other allergy symptoms in dogs. However, it is crucial to consult with your Veterinarian before administering any over-the-counter medication to ensure proper dosage and safety.
Steroids (e.g., Prednisone):
In severe allergies, veterinarians may prescribe steroids to alleviate symptoms quickly. These medications should only be used under veterinary supervision due to potential side effects.
Natural Homemade Remedies:
Baths:
Regular baths using gentle, hypoallergenic shampoos can help remove allergens from your dog's coat and soothe irritated skin.
Omega-3 Fatty Acids:
By incorporating fish or flaxseed oil into your furry friend's diet, you can effectively combat inflammation and boost the overall health of their skin. Give your puppy the gift of a healthy and vibrant coat by taking this simple step today!
Coconut Oil:
Applying a small amount of coconut oil to your dog's skin can relieve itching and moisturize dry skin.
However, it's important to note that while natural remedies can be helpful, they may not be sufficient for severe allergies. Always consult your Veterinarian before trying new treatments to ensure they are safe and appropriate for your pet's needs.
Remember, regular veterinary check-ups and allergy testing are essential for maintaining your pet's health and managing allergic reactions effectively.
Conclusion: Helping Your Dog Enjoy a Healthy and Comfortable Spring Season with Effective Allergy Management Strategies
Ensuring effective allergy management strategies for your dog during the spring season can guarantee their comfort and good health. Allergies can cause much discomfort for our furry friends, but taking the right approach can help reduce their impact and improve their overall well-being.
First and Foremost
It is crucial to identify the allergens that trigger your dog's allergic reactions. Whether it's pollen, dust mites, or certain foods, understanding the specific triggers will help you take targeted actions to alleviate their symptoms. Consult your Veterinarian to conduct allergy tests and determine the best course of action.
Regular Grooming
It is essential in managing your dog's allergies. Frequent bathing with hypoallergenic shampoos can help remove allergens from their fur and skin. Additionally, brushing their coat regularly helps reduce the amount of pollen and other allergens that may accumulate on their hair.
Maintaining a Clean Living Environment
It is equally important. Regularly vacuuming your home and washing their bedding in hot water can significantly reduce the presence of allergens. Consider investing in air purifiers to filter out airborne allergens as well.
Diet plays a crucial role in managing allergies as well.
Opting for high-quality dog food formulated specifically for sensitive skin and stomachs can help reduce allergic reactions. Your Veterinarian can recommend suitable options based on your dog's needs.
Supplements
Omega-3 fatty acids and probiotics can also aid in managing allergies by supporting your dog's immune system and promoting a healthy skin barrier. Again, consult your Veterinarian to determine the appropriate supplements for your dog.
By implementing these effective allergy management strategies, you are taking proactive steps to ensure your dog enjoys a healthy and comfortable spring season. Remember, seeking professional advice from your Veterinarian is always the best approach, as they can provide tailored recommendations based on your dog's needs.