Choosing the Perfect Dog Bed for your dog will depend on various factors, including size, age, and where they sleep the most. 
Choosing the Perfect Dog bed will depend on various factors, including size, age, and where they sleep the most. Is more than just providing a comfortable resting place for your furry friend. It plays a vital role in their well-being and health. Here are some reasons why selecting the right dog bed is essential for your pet's comfort and health:
1. Optimal Comfort
Dogs need a comfortable place to rest and relax like humans. A good dog bed provides the necessary support for their joints and muscles, allowing them to sleep soundly. It cushions their body, alleviates pressure points, and promotes better sleep quality, helping them wake up refreshed and ready for the day.
2. Joint Support
Many dogs suffer from joint issues or arthritis, especially as they age. A properly designed dog bed with orthopedic features can help relieve pain and discomfort by reducing pressure on their joints. The supportive cushioning of a quality dog bed can aid in maintaining joint health and mobility.
3. Temperature Regulation
Dogs are sensitive to temperature changes, and an inappropriate sleeping surface can affect their body temperature regulation. A well-designed dog bed will have materials that help regulate temperature, keeping your pet cool in hot weather and warm during colder seasons.
4. Hygiene
A good dog bed comes with removable covers and is machine washable, making it easier to keep it clean and hygienic. Regular cleaning helps eliminate odours, allergens, and potential parasites that could affect your pet's health.
5. Allergy Control
Dogs can suffer from allergies like humans. If proper maintenance is done, dust mites, pollen, and allergens can accumulate in your dog's bedding. Investing in a hypoallergenic dog bed can minimize allergic reactions and relieve sensitive pets.
6.

Stress Relief:

 
Dogs seek comfort and security in their sleeping area. A well-chosen dog bed gives them a dedicated space they can call their own, creating a sense of security and reducing anxiety levels. I can be particularly helpful for dogs prone to separation anxiety or those adapting to a new environment.
7. Durability
Dogs can be rough on their belongings, and a high-quality dog bed is built to withstand their playful antics. Investing in a durable dog bed means it will last longer, saving you money in the long run.
Choosing the right dog bed is an investment in your pet's comfort, health, and overall well-being. Ensuring your dog has a comfortable and supportive sleeping surface can help you get the rest needed to stay happy and healthy.
Types of Dog Beds: Exploring Different Options to Suit Your Dog's Needs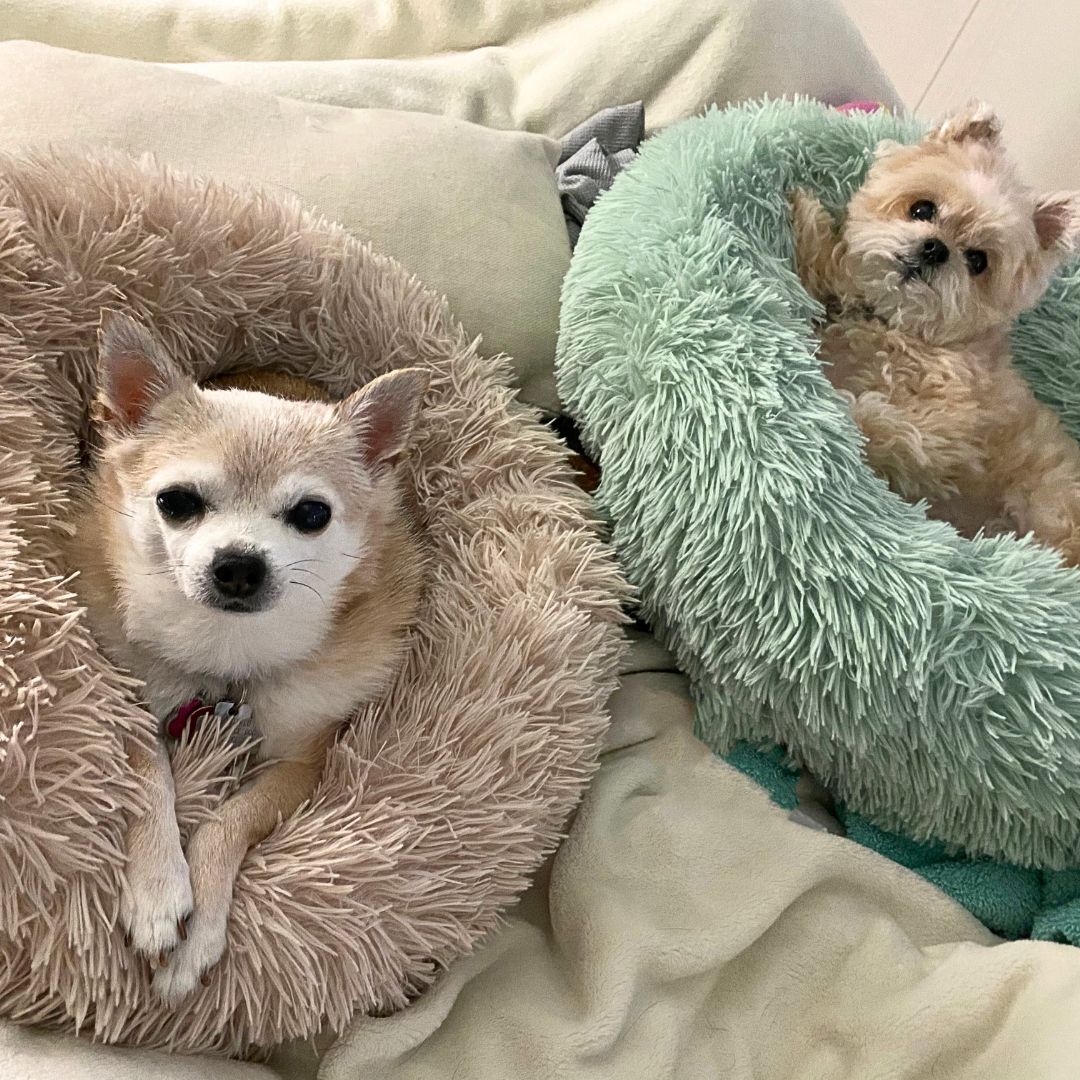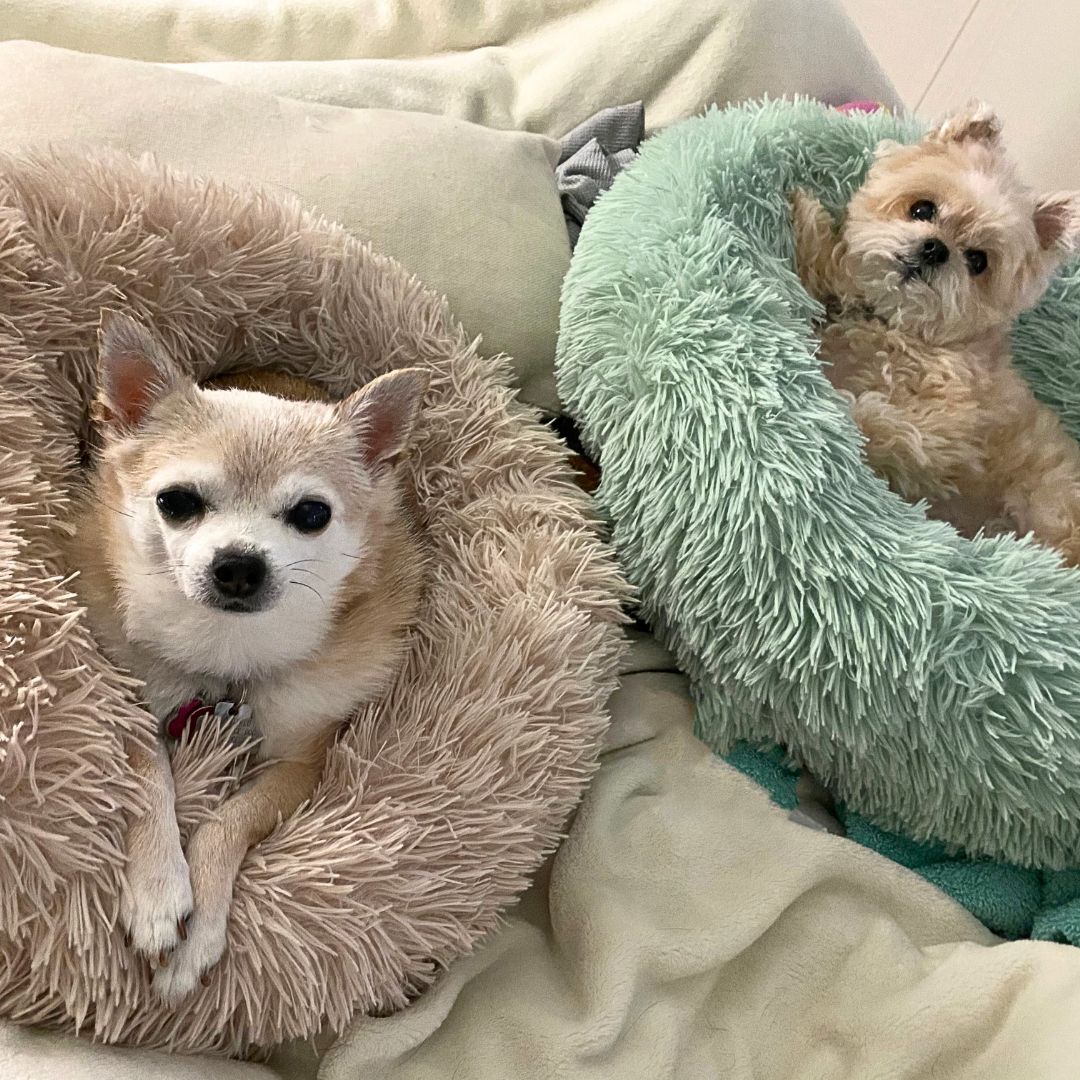 Orthopedic Dog Bed: Providing Extra Support for Older Dogs or Dogs with Joint Issues.
The premium orthopedic dog bed is designed to provide extra support for older dogs or those with joint issues. We understand that your furry friend's comfort and well-being are paramount to you, so we have crafted this bed with their specific needs in mind.
The orthopedic pet bed features a high-quality foam mattress with superior support and cushioning. The orthopedic foam conforms to your dog's body shape, relieving joint pressure and promoting healthy alignment. It can benefit dogs with arthritis, hip dysplasia, or other joint-related conditions.
The carefully selected materials used in our orthopedic dog bed ensure durability and longevity. The foam mattress is designed to retain its shape even after prolonged use, providing consistent support for your furry companion. The removable and machine-washable cover makes it easy to keep the bed clean and fresh.
Bolster Dog Bed: Offering Comfort and Security with Raised Edges
The Bolster Dog Bed – the ultimate solution for providing comfort and security to your furry friend. With its raised edges, this pet bed offers a cozy and secure spot for dogs of all sizes to relax and unwind.
The bolster design adds a touch of style to any room and serves a practical purpose. The raised edges act as a supportive barrier, giving your dog a sense of security and preventing them from rolling off the bed during their sleep.
Not only is the Bolster Dog Bed aesthetically pleasing, but it is also made with the utmost care and attention to detail. Crafted with quality materials, this bed is built to last and withstand the most active dogs. The soft yet durable fabric ensures a comfortable resting surface, while the sturdy construction guarantees long-lasting use.
We acknowledge that every dog has individual requirements regarding sleeping patterns. Our Bolster Dog Bed is available in multiple sizes, catering to dogs of all breeds and sizes. From small beds that love to curl up in a cozy corner to larger beds that prefer stretching out, there's a perfect size for every dog.
Elevated Dog Bed: Keeping Your Pet Cool and Off the Ground in Hot Weather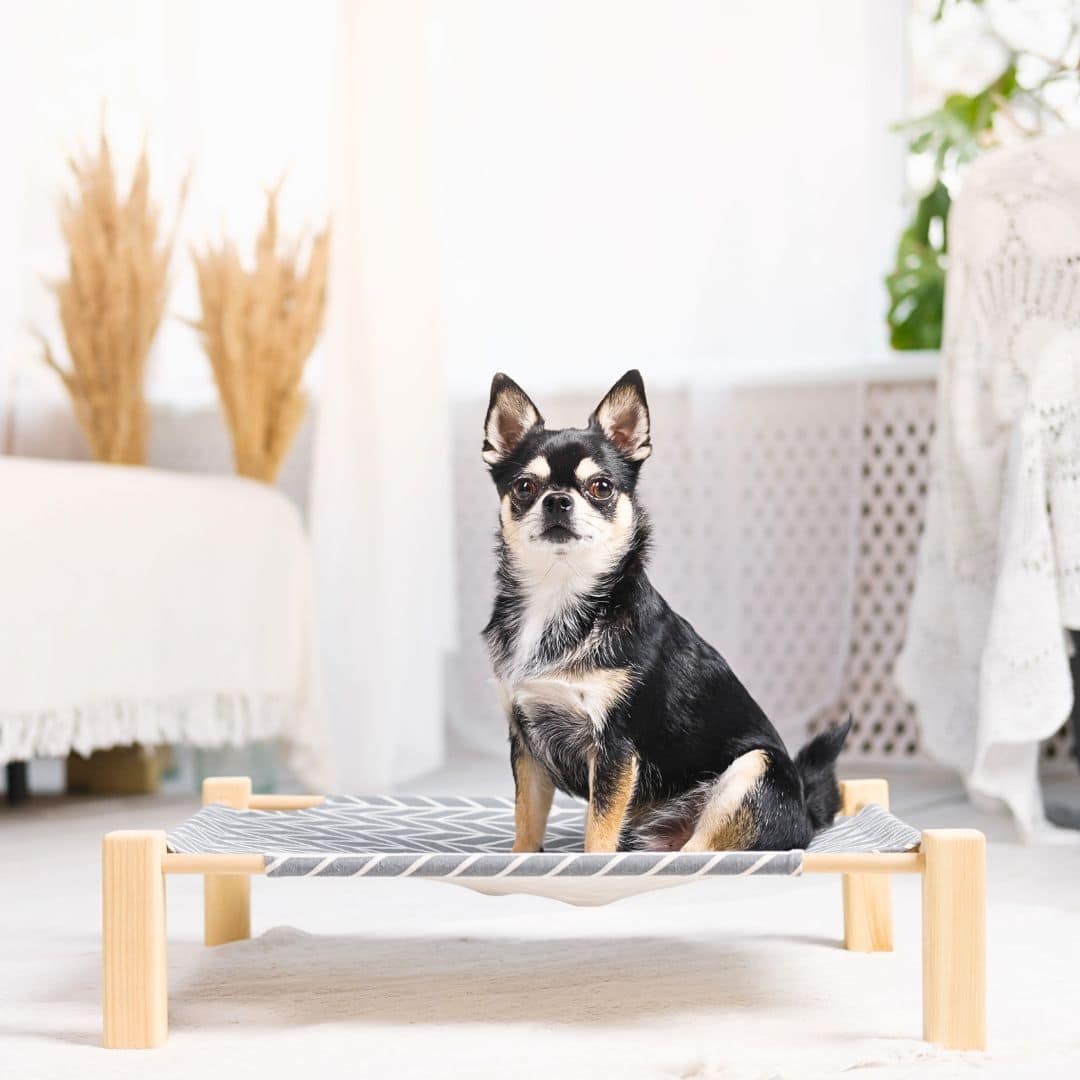 Are you looking for a way to keep your furry friend cool and comfortable during the summer? Look no further than the elevated dog bed!
When the temperatures rise, it's important to provide your pet with a comfortable, relaxing spot that doesn't trap heat. Our elevated pet beds are designed with a breathable mesh fabric that allows maximum airflow, keeping your dog cool and well-ventilated. But it doesn't stop there! With an elevated design, these beds also keep your pet off the ground, providing additional insulation from hot surfaces and preventing them from overheating. It is especially beneficial for dogs with thick fur or prone to overheating.
Cooling dog beds take comfort to a whole new level by incorporating gel-infused memory foam that provides extra support while dissipating heat. This innovative technology ensures your pet stays cool and comfortable even on the hottest days.
Heated Dog Bed: Ideal for Pets that Get Cold Easily or Older Dogs with Arthritis
The heated dog bed is ideal for pets that get cold easily or older dogs with arthritis. Ensuring the warmth and comfort of your furry companion is a crucial responsibility, particularly during chilly weather or if they experience joint discomfort. That's why we have designed our heated pet beds with their needs in mind.
Our warming dog beds provide a gentle and consistent warmth that helps to soothe tired muscles and joints. 
The heat is distributed evenly throughout the bed, ensuring every part of your pet's body stays cozy and warm. It can be beneficial for older dogs with arthritis, as the warmth helps to alleviate discomfort and promote relaxation.
Not only do our heated pet beds offer therapeutic benefits, but they also provide a sense of security and comfort for your beloved companion. Our beds' soft and plush materials create a cozy haven where your pet can rest and recharge.
Safety is our top priority, so our heated dog beds are equipped with temperature controls and automatic shut-off timers. It ensures pet stays safe and comfortable throughout their restful sleep.
Foam Bed: Providing Superior Comfort and Pressure Relief for All Breeds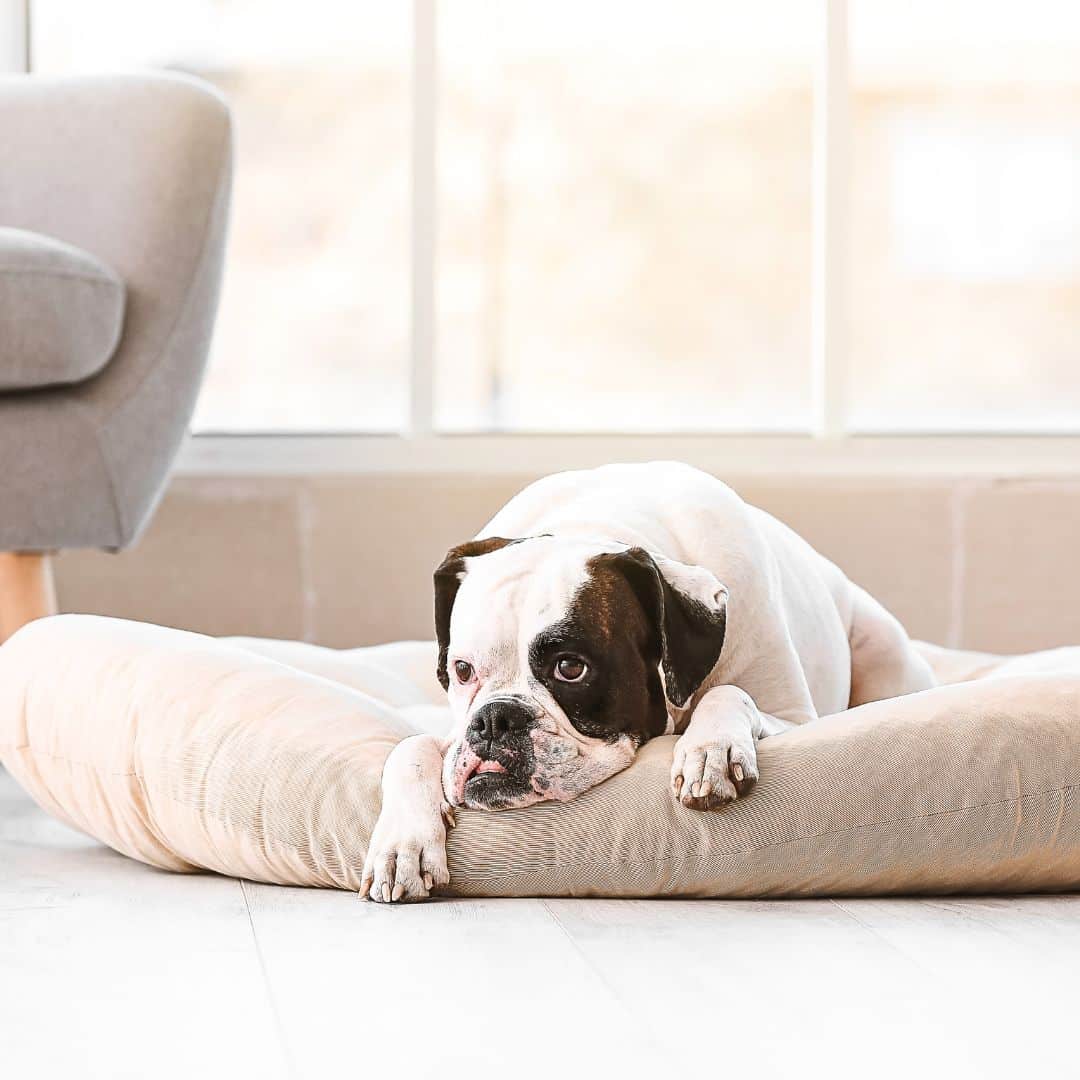 Beds are the ultimate solution for providing superior comfort and pressure relief for dogs of all breeds.
Memory foam is known to conform to the body's shape, offering personalized support and reducing pressure points. It means that no matter the size or breed of your dog, our memory pet bed will provide them with the utmost comfort and relaxation.
The pressure-relieving properties of our dog bed are beneficial for dogs with joint issues or older pets who may be prone to arthritis. Our memory bed can help alleviate discomfort and promote better sleep quality by evenly distributing their weight and minimizing joint stress.
Not only does our dog bed provide exceptional comfort, but it also offers durability and long-lasting performance. Our memory foam material is resistant to wear and tear, ensuring your dog can enjoy its cozy haven for years.
Another advantage of our memory foam pet bed is its easy maintenance. The cover is machine washable, making it convenient to keep the bed clean and fresh.
So why settle for an ordinary dog bed when you can provide your furry companion with an extraordinary sleeping experience? Consider purchasing a Memory Foam Dog Bed for your furry companion.
Features to Consider When Selecting the Right Dog Bed for Your Furry Friend
When choosing a suitable dog bed for your furry companion, it's important to consider various features that guarantee their comfort and safety. Here's a closer look at these features:
1. Durable Materials
Selecting a durable dog bed that can withstand your pet's activity level and potential wear and tear is crucial. Look for mattresses made from strong fabrics or materials resistant to scratching and chewing.
2. Washable Covers
Dogs can get messy, so having a dog bed with washable covers is essential for easy cleaning and maintaining hygiene. Look for beds with removable covers that are washing machines for a quick refresh.
3. Non-Slip Bottom
A non-slip bottom is highly recommended to prevent the bed from sliding on smooth surfaces. This feature ensures that your dog's bed stays in place, providing stability and security.
4. Waterproof Features
Accidents happen, especially with younger or senior dogs. Choosing a dog bed with a waterproof feature can be a lifesaver when it comes to dealing with accidents or spills. Waterproof beds have a protective layer that prevents liquids from seeping through the inner cushion, making cleanup hassle-free.
5. Size and Dimension
Selecting a dog bed that matches your pet's size and sleeping style is crucial. Consider weight, length, and preferred sleeping position when choosing the right size and dimension of the bed. A spacious bed will give the dog enough room to stretch out comfortably.
Bye dog, considering these features, you can ensure that you select the perfect dog bed for your furry friend—one that will provide them with comfort, durability, and easy maintenance for years to come.
Information on Choosing the Perfect Bed
Choosing the right dog bed and ensuring its proper care and maintenance can be overwhelming. But worry not! We have gathered some expert answers to common concerns to help you make an informed decision. Let's dive right in!
Q: How do you choose the right size dog bed?
A: When selecting a dog bed, it's crucial to consider your furry friend's size and sleeping habits. When buying a dog bed, measure your dog from nose to tail and add two inches for extra comfort. Please take note of their preferred sleeping positions, whether they like to stretch out or curl up. I will help you determine the appropriate bed size for your canine companion.
Q: How often should I clean my dog's bed?
A: Regular cleaning is essential to maintain a hygienic sleeping environment for your dog. We recommend washing the bed cover at least once every two weeks. If your dog tends to get dirty or has allergies, more frequent cleaning may be necessary. Additionally, it's a good idea to regularly vacuum the bed to remove any loose fur or debris.
Q: Can I machine wash my dog's bed?
A: Yes, most dog beds come with removable covers that can be machine-washed. However, it's important to check the care instructions provided by the manufacturer before tossing it in the washing machine. Some beds may require gentle cycles or specific temperature settings to ensure the fabric's longevity.
Q: How durable should a dog bed be?
A: The durability of a dog bed depends on various factors, such as your dog's size, activity level, and chewing tendencies. If you have an energetic or destructive pup, opt for beds made from sturdy materials like nylon or heavy-duty canvas. Beds with reinforced stitching and strong zippers are also great for long-lasting durability.
Q: Are orthopedic beds suitable for all dogs?
A: Orthopedic beds are particularly beneficial for dogs with joint or muscle issues or breeds prone to hip dysplasia. However, regardless of age or breed, they can provide exceptional comfort to any dog. The added support and pressure relief offered by orthopedic beds can improve overall joint health and sleep quality.
We hope these expert answers have addressed your concerns about dog beds. Remember, choosing the right size, cleaning regularly, and considering durability are key factors in providing your furry friend with a comfortable resting place. Happy shopping!
Give Your Dog the Comfort it Deserves with a Perfectly Chosen Dog Bed.
Providing your Labradoodle with a comfortable bed cannot be overstated. Dogs need a cozy and supportive place to rest and relax like humans. A well-chosen dog bed can help alleviate joint pain, promote better sleep, and reduce anxiety in your pet.
Investing in a quality bed that suits your pet's size, breed, and sleeping habits gives them ultimate comfort. Whether they prefer a plush cushion or a sturdy orthopedic mattress, there is a perfect option for every canine companion.
Remember that each dog is unique, so take the time to consider their individual preferences when selecting a bed. Pay attention to material quality, ease of cleaning, and durability to ensure that the chosen bed will stand the test of time.