Discover five tips to effortlessly maintain your Labradoodle Coat Care for a tangle-free, luscious look.
Keeping your Labradoodle's coat care-tangle-free is essential for overall health and appearance. They are known for their beautiful, unique coats requiring regular grooming and maintenance. Following these five tips ensures your Labradoodle's coat stays tangle-free and looks its best. From proper brushing techniques to regular professional grooming sessions, let's explore the key steps you need to take to keep your beloved Labradoodle's coat in top condition.
Why PEDmd says: Although Labradoodles don't need regular bathing, they might need a quick shower or tub session if they get wet or dirty while playing outside. In such situations, pet parents should use a hypoallergenic and soothing oat-based shampoo to keep their furry friend fresh and clean. Dog shampoo," says Paola Cuevas, MZV and behavioural specialist. 
Keeping your dog's coat tangle-free is essential for overall health and appearance. 
Understanding the Importance of Labradoodles Coat Care

Labradoodles are beloved for their adorable appearance and friendly nature. However, their luxurious coats require regular care and grooming to keep them healthy and looking their best. This article will explore the importance of coat care and Valuable grooming tips to ensure comfort and happiness. So, let's dive in and discover how to keep your Dog's coat in top condition!
Tip #1: Regular Brushing & Combing Sessions are Key for Labradoodle Coat Care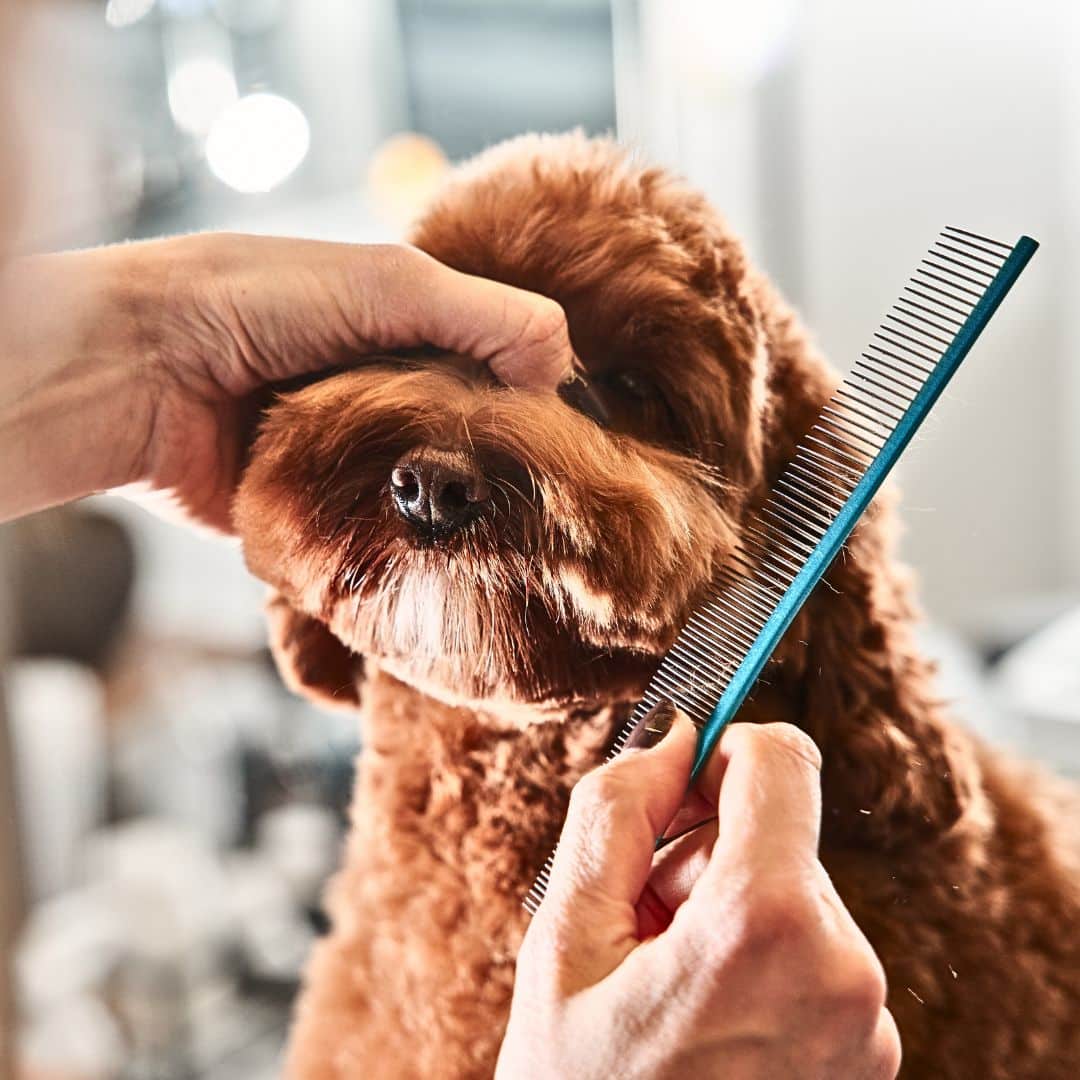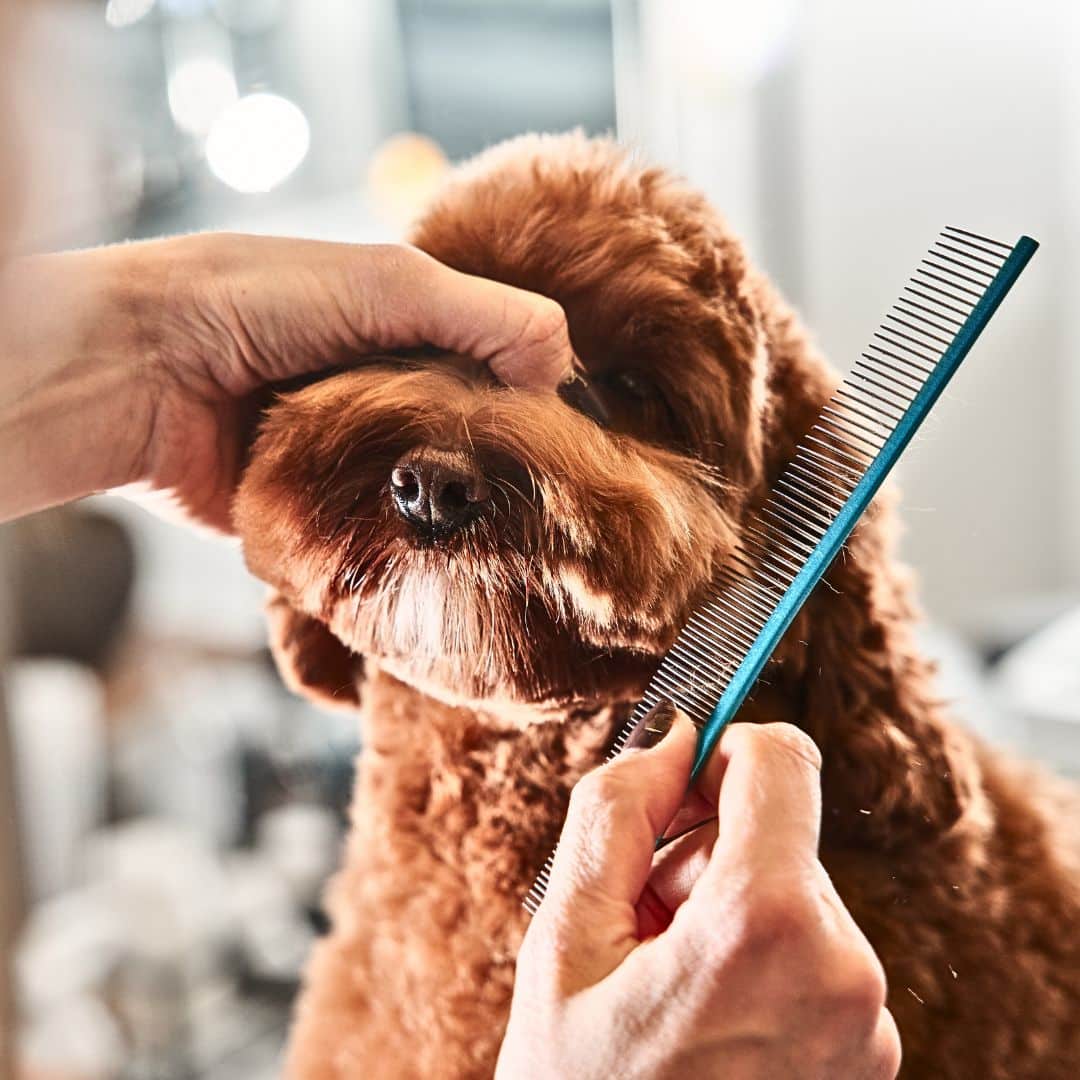 Regular brushing sessions are essential when caring for your beloved dog. Not only does brushing help to maintain their stunning coat, but it also promotes healthy skin and prevents matting. To make your grooming routine a breeze, here is a list of essential tools and tips on how often to brush your Labradoodle.
1. Slicker Brush: A high-quality slicker brush is a must-have for Labradoodle owners. It's fine; short-wired combs easily remove loose hair and tangles, keeping your dog's coat looking its best.
2. Pin Brush: A pin brush is ideal for daily maintenance and general grooming. Its longer, rounded pins gently glide through the coat, detangling any knots while stimulating the skin.
3. Comb: A wide-toothed comb helps separate the hair strands and remove any remaining tangles or mats the brushes may have missed.
4. De-matting Tool: For more stubborn mats, a de-matting tool can be used carefully to loosen and remove them without causing discomfort to your Labradoodle.
Now, let's talk about how often you should brush your doodle. Aim for at least three to four weekly brushing sessions to keep their coat in optimal condition. However, if your Labradoodle has a longer or curlier coat, daily brushing is recommended to prevent matting and keep their fur looking fantastic.
Remember, each dog is unique, so adjust the brushing frequency based on their needs. Please pay attention to any changes in their coat texture or behaviour that may require more or less frequent grooming sessions.
Consistent brushing using the right tools ensures your Labradoodle's coat care remains healthy, shiny, and tangy-free. Happy grooming!
Tip #2: Invest in Quality Grooming Products and Conditioners for your Labradoodle Coat Care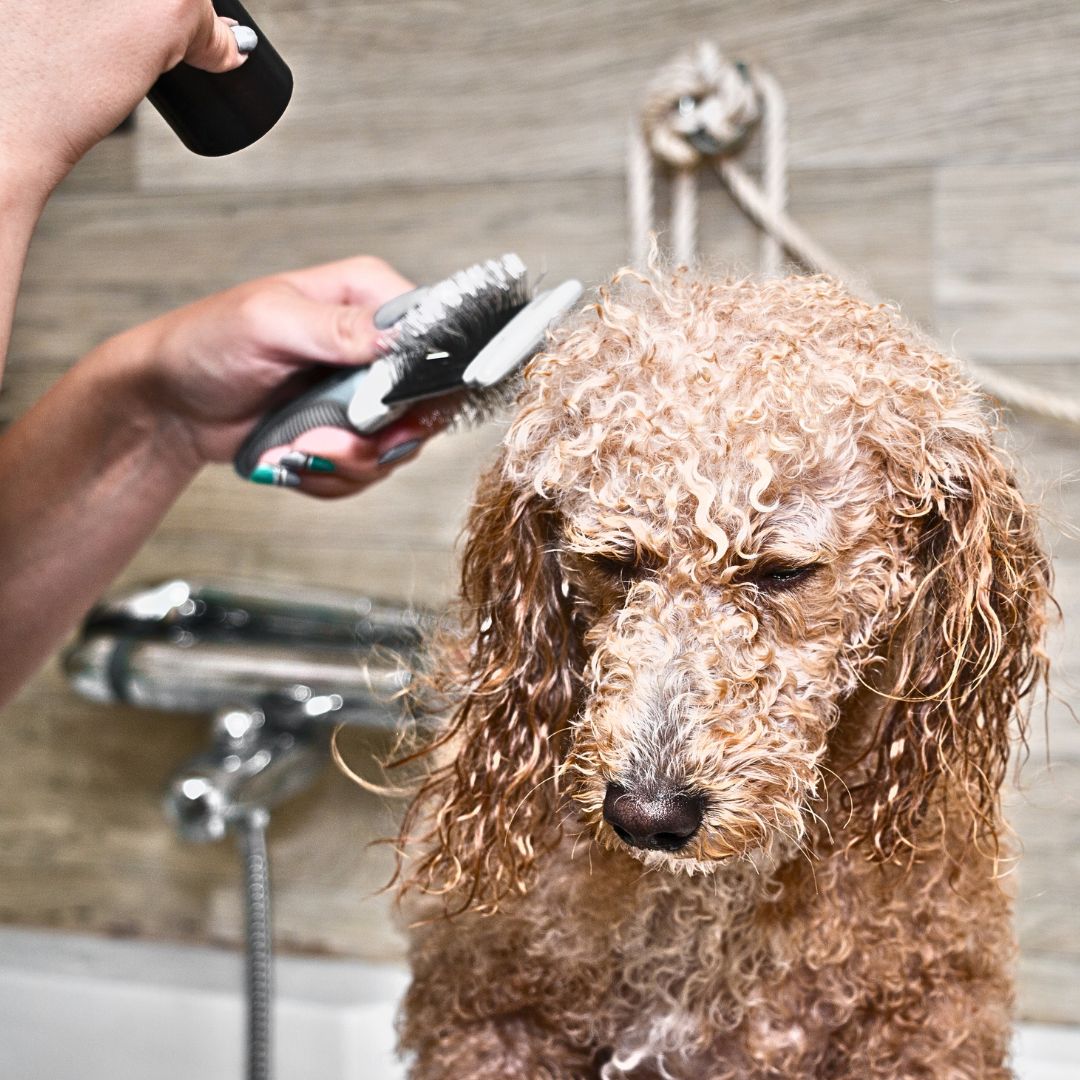 Investing in quality grooming products and conditioners is essential when caring for your beloved dog. Regular grooming is necessary for these cute pets to maintain healthy coats and look their best. To ensure a positive grooming experience and keep your doodle's skin in prime condition, here are some must-have products to consider:
1. Coat Care Shampoo
When searching for a shampoo for your labradoodle or any dog breed with similar coat types, it is recommended to use a shampoo that is specifically made for them. Buy shampoos are specially designed to clean the coat without stripping away the natural oils from their skin or causing irritation. Therefore, it is best to choose a gentle and hypoallergenic formula that will leave your dog's skin feeling nourished and their coat shiny.
2. Conditioner
A good conditioner is essential for keeping your labradoodle's coat soft, tangle-free, and manageable. Look for conditioners that provide deep hydration detangling properties and help maintain the natural oils in their fur. It will make brushing and grooming a breeze while leaving their coat shiny and healthy.
3. De-tangling Sprays:
Labradoodles are known for their curly or wavy coats, which can easily become tangled or matted. De-tangling sprays are a fantastic addition to your grooming routine as they help ease knots and prevent further matting. Choose a spray specifically formulated for labradoodles or similar breeds, ensuring it is gentle on their delicate fur.
4. Coat Conditioners
Consider using a leave-in coat conditioner to maintain the health and shine of your labradoodle's coat between grooming sessions. These products provide ongoing protection against tangles, add moisture to the fur, and help reduce static electricity. Coat conditioners also make brushing easier, resulting in a smoother and more enjoyable grooming process.
When choosing the right brands for your labradoodle's grooming needs, it's essential to do your research. Look for reputable brands specializing in products specifically designed for labradoodles or dogs with similar coat types. Reading customer reviews and seeking recommendations from fellow labradoodle owners can be incredibly helpful in finding the most suitable products for your furry friend.
Investing in quality grooming products and conditioners will enhance your dog's coat appearance and contribute to their overall well-being. So, why wait? Start pampering your doodle today with the right grooming products and see the difference it can make in their coat's health and beauty.
Tip #3: Pay Extra Attention to Problem Areas and Knots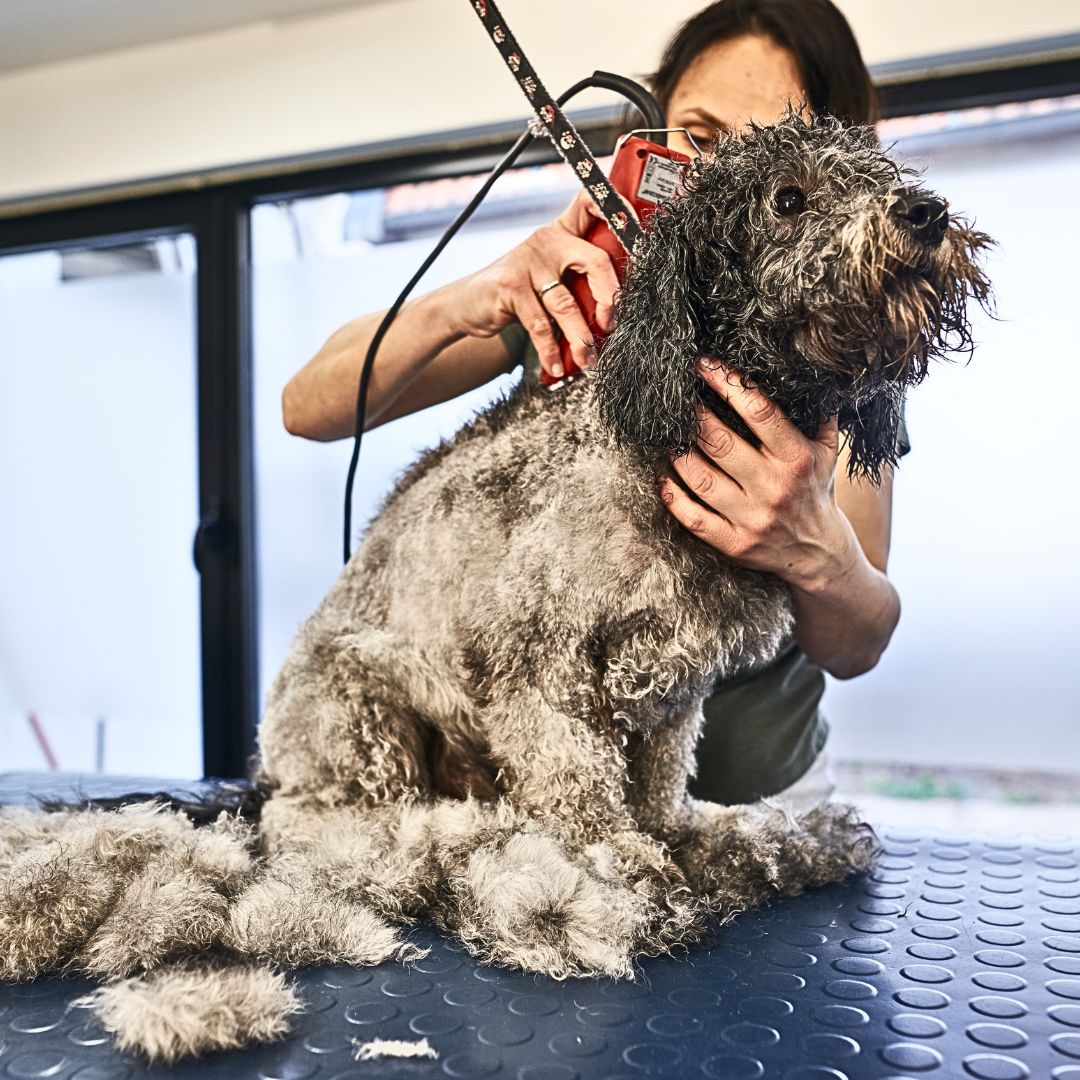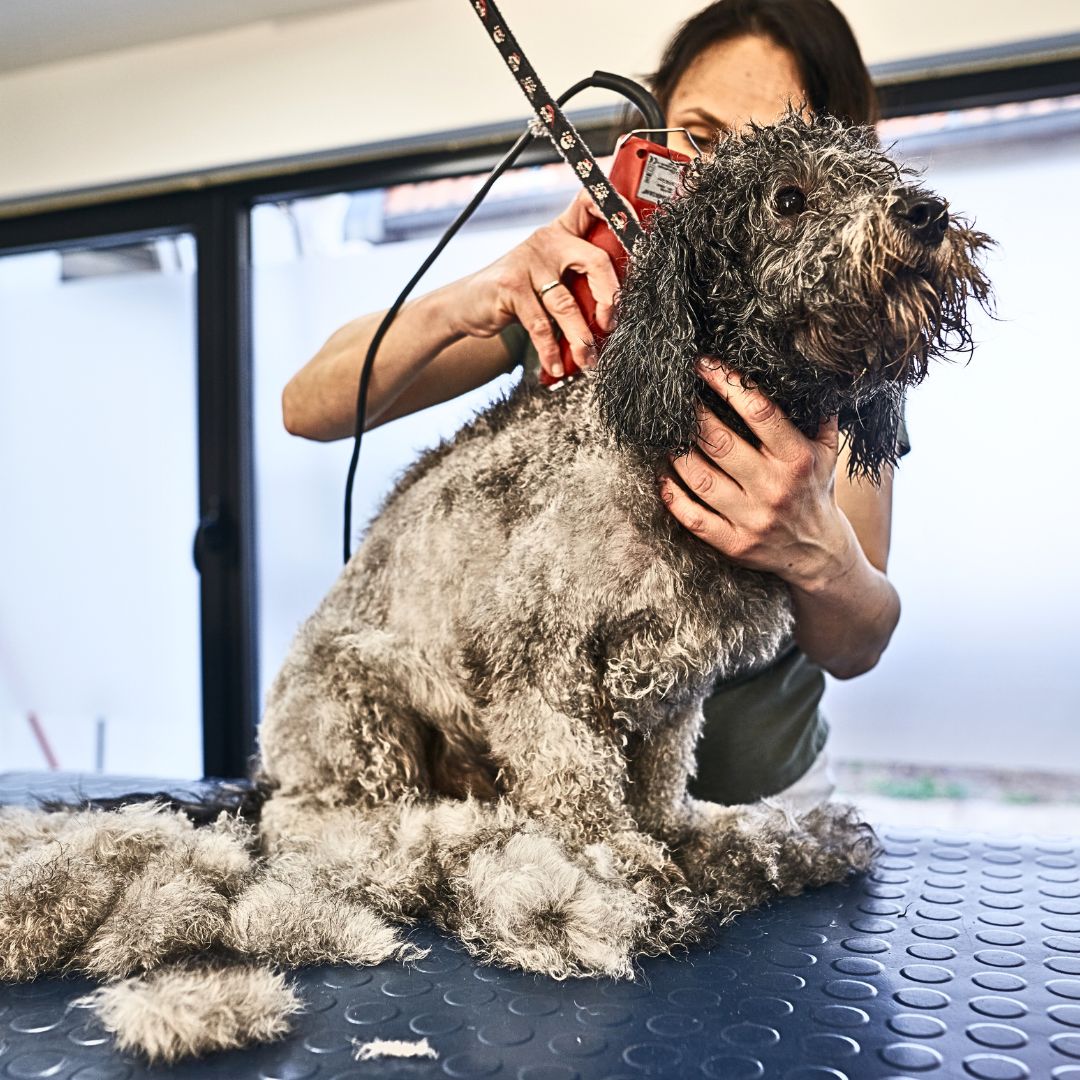 When tackling matting in your Labradoodle's coat, paying extra attention to problem areas and knots is important. Regular grooming and brushing help prevent mats from forming, but if they do occur, here are a few tips to address them effectively:
1. Use the right tools: Invest in a high-quality slicker brush or a detangling comb specifically designed for dogs with curly hair. These tools will help you gently work through the mats without causing discomfort.
2. Be patient: Mat removal can be a time-consuming process. Take your time and work on small sections at a time, starting from the outer edges of the mats and gradually working your way toward the center. Avoid pulling or tugging, as this can cause pain or skin irritation.
3. Consider using detangling spray: If the mats are particularly stubborn, try using a detangling spray or conditioner to help loosen them. Apply a small amount to the carpet and carefully work it through with your fingers or a brush.
Moving on to cleaning the inner ears, it's crucial to use a suitable solution specifically formulated for dogs.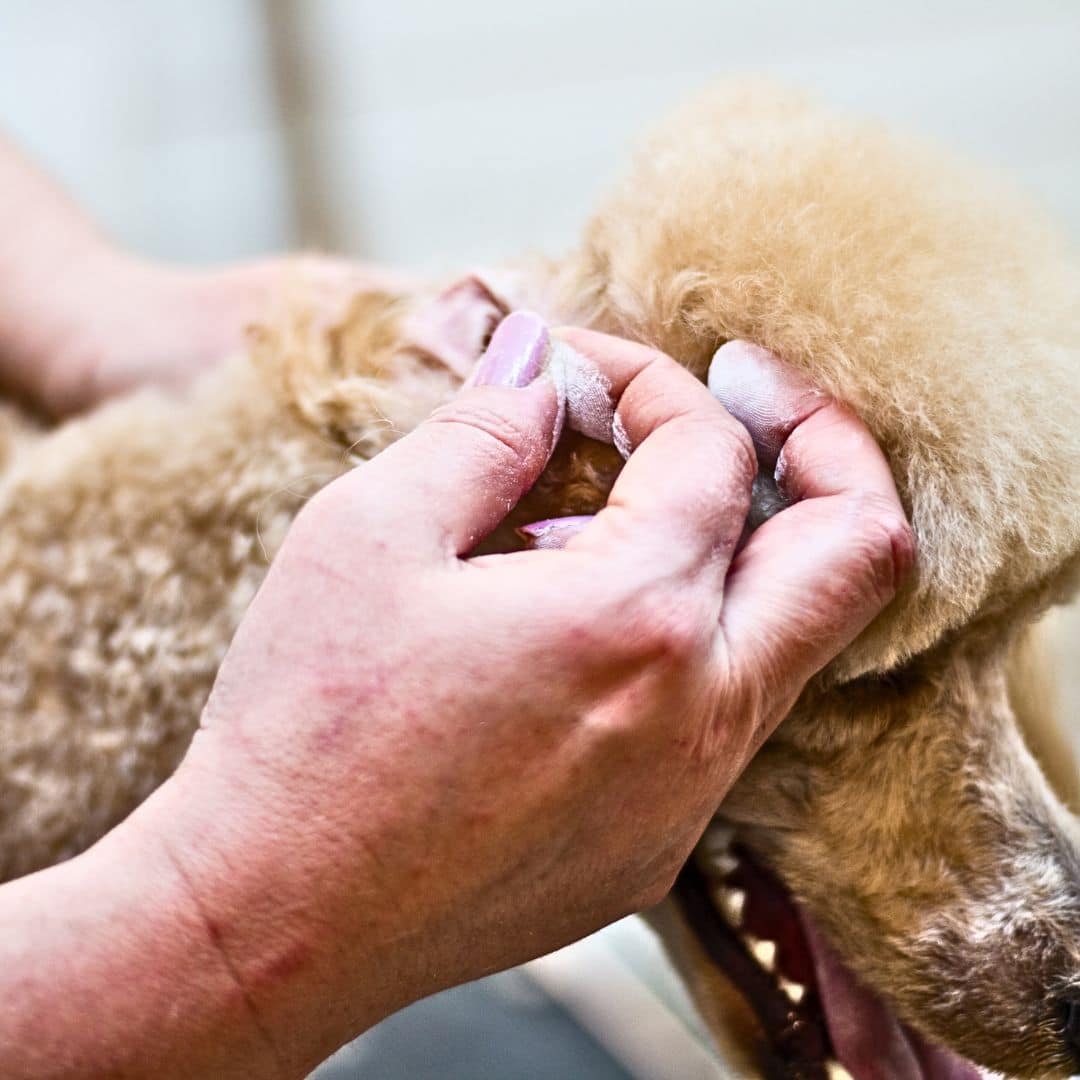 Here's how you can go about it:
1. Gather the necessary supplies: You'll need a dog-specific ear-cleaning solution, cotton balls or pads, and possibly some treats to reward your furry friend.
2. Gently lift your Labradoodle's ear flap and inspect for any signs of redness, swelling, or discharge. If you notice any concerning symptoms, it's best to consult your veterinarian before cleaning.
3. Pour a small amount of the ear-cleaning solution onto a cotton ball or pad. Be cautious not to insert anything into the ear canal – only clean what you can see.
4. Wipe the inside of the ear flap and carefully clean the visible parts of the ear canal using gentle, circular motions. Avoid pushing too deep or using excessive force to prevent any discomfort.
Lastly, when it comes to cleaning the tail area, here are a few steps to follow:
1. Use warm water and a mild dog-specific shampoo to clean the tail area. Avoid using human shampoos or harsh soaps, as they irritate your dog's skin. 
2. Gently lift your Labradoodle's tail and wet the area with warm water. Apply a small amount of shampoo and work it into a lather. 
3. Gently massage the lather into the tail area, reaching all the nooks and crannies. Be careful not to apply too much pressure or tug at your dog's fur, which can cause discomfort.
4. Rinse thoroughly with warm water, removing all shampoo from the tail area. Leftover shampoo residue can irritate the skin and cause itchiness.
5. Pat dry the tail area with a clean towel. Avoid rubbing vigorously, as this can create friction and potentially tangle or damage your dog's fur.
6. If necessary, use a pet-safe conditioner specifically designed for dogs with long hair to help keep their tail soft and manageable.
7. Lastly, reward your Labradoodle for their patience during cleaning! Positive reinforcement is effective in building trust and making grooming a positive experience.
Regular grooming sessions are essential for good hygiene and overall health. Following these steps regularly will help keep their tail area clean and free from discomfort or irritation.
Tip #4: Trimming and Maintaining the Hair Inside Ears and Paws
Do you find it exhausting to manage your doodle's hair in their ears and paws when it gets out of control? Let me help you with that. We understand the importance of keeping these areas well-groomed to ensure your furry friend's comfort and overall health. We've compiled some useful tips to help you maintain ear and paw hair.
Ear Hair Trimming:
Like many other breeds, Labradoodles are prone to excessive ear hair growth. This can lead to problems such as matting, trapping dirt and debris, and even ear infections. Regular trimming is essential to prevent these issues.
1. Invest in a good pair of grooming scissors or clippers specifically designed for trimming ear hair. I will ensure safe and effective trimming.
2. Gently lift your Labradoodle's ear flap and examine the inside for excessive hair growth. You want to focus on the visible hair that extends beyond the natural contours of the ear.
3. Carefully trim the excess hair, ensuring not to cut too close to the skin or into the ear canal. It's recommended to trim in small increments to avoid any accidents.
 4. If you're uncomfortable trimming your dog's ear hair, consider seeking professional help from a groomer specializing in sensitive areas.
Paw Hair Trimming:
Labradoodles have adorable fluffy paws, but long hair can easily become a nuisance or cause matting. Regular paw hair trimming will keep their feet clean and prevent discomfort during walks or playtime.
1. Inspect your doodle's paws for any mats or tangles. Gently comb through the fur with a slicker brush or comb designed for removing carpets.
2. Trim the hair between the paw pads carefully using grooming scissors or clippers. Be cautious not to cut too close to the skin, which can irritate.
3. Pay attention to the hair between the toes as well. Excess hair in this area can trap dirt, debris, or even small objects, leading to discomfort or injury. Trim any excessive growth to maintain cleanliness.
Preventing Matting in Sensitive Areas:
To prevent dirt from accumulating in sensitive areas, prioritizing prevention measures such as matting is crucial.
Here are some additional tips to help you avoid matting in your Labradoodle's ears and paws:
1. Regular brushing: Brush your dog's ears and paws daily or every other day to prevent tangles and remove any debris.
2. Use detangling spray: Consider using a spray specifically designed for dogs with sensitive skin. I can help prevent matting and make brushing easier.
3. Trim the hair: Regularly trim the hair around your Labradoodle's ears and paws to keep it at a manageable length. It will reduce the chances of tangles and mats forming.
4. Keep them clean: Regularly clean your Labradoodle's ears and paws to remove any dirt, debris, or moisture that could contribute to matting.
5. Consult a professional groomer: If you need help caring for sensitive areas properly, consult a professional groomer who can guide proper grooming techniques and recommend suitable products.
Tip #5: Regular Professional Grooming is Worth It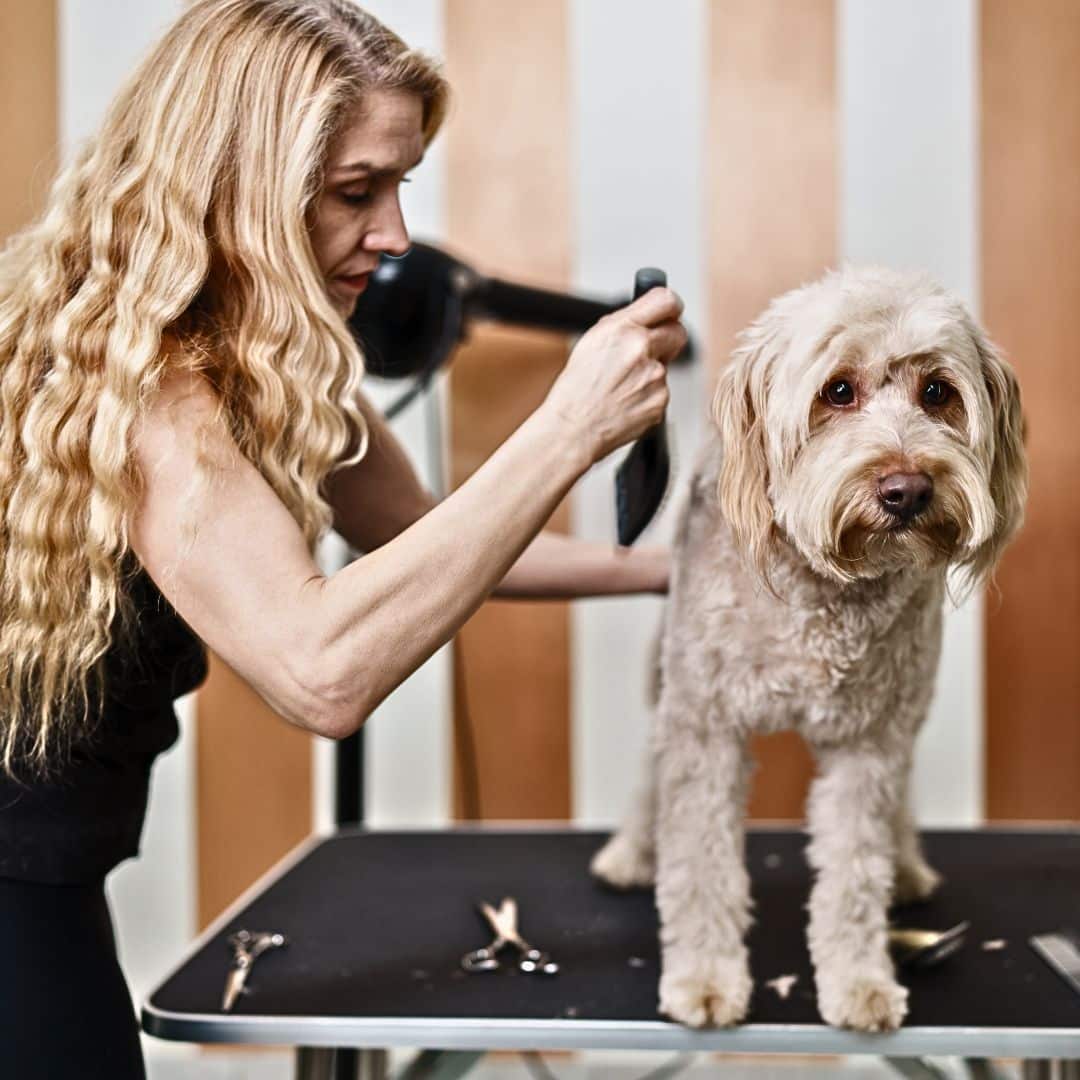 Regular professional grooming is worth it when it comes to caring for your beloved Labradoodle's coat. Here are some benefits to consider:
1. Fur Health: Labradoodles have unique coats that require regular maintenance. Professional groomers are trained to assess the condition of your dog's fur and provide the appropriate care. They can help prevent issues like matting, leading to discomfort and skin problems for your furry friend.
2. Tangle Prevention: Labradoodles tend to develop tangles and knots in their fur. Regular grooming sessions with a professional can help prevent these tangles from becoming unmanageable. Groomers use specialized techniques and tools to gently remove knots gently, ensuring your dog's coat remains healthy and tangle-free.
3. Expert Knowledge: Professional groomers have extensive knowledge and experience handling different coat types. They understand the specific needs of your dog's fur, such as the right products to use and the most suitable grooming techniques. This expertise ensures that your dog receives the best possible care.
4. Stress-Free Experience: Grooming can be a stressful experience for both dogs and their owners. However, entrusting this task to a professional lets you relax and be assured that your dog is in capable hands. Groomers possess the necessary skills to handle dogs with care, making the process as comfortable as possible for your furry companion.
5. Aesthetic Appeal: Regular professional grooming enhances the appearance. Groomers can trim and shape your dog's fur, giving them a neat and well-groomed look. It not only boosts their confidence but also makes them even more adorable!
Investing in regular professional grooming is highly beneficial. It promotes the health of their fur, prevents tangles, provides expert care, reduces stress, and enhances their overall appearance. So why not treat your furry friend to the pampering they deserve?
Tip #5: Maintain a Healthy Diet to Promote Stronger Hair and Prevent Shedding
A healthy diet is essential for promoting stronger hair and preventing dog shedding. Just like humans, dogs require proper nutrition to maintain a lustrous coat. Here are some diet tips to help keep your furry friend's hair healthy:
1. High-Quality Protein: Ensure your dog's diet includes sufficient high-quality protein. It can come from sources like lean meats, fish, and eggs. Protein is vital for healthy hair growth and strength.
2. Omega-3 Fatty Acids: Add omega-3 fatty acids to your dog's diet. Supplementing your pet's diet with fish or flaxseed oil can improve their coat health.
3. Biotin Supplements: Biotin, or vitamin H, can help improve dog coat health. Biotin supplements, available in various forms such as tablets or as an ingredient in specialized dog foods, support the production of keratin, a protein that makes up the hair structure. 
4. Balanced Diet: Ensure your dog's diet is well-balanced and provides all the necessary nutrients. Consult your veterinarian to determine the calories, vitamins, and minerals needed for your dog's breed and size.
5. Hydration: Ensuring your dog is hydrated is essential for maintaining healthy skin and hair. Make sure your dog has access to fresh water at all times. Remember, it's always best to consult a veterinarian before significantly changing your dog's diet or introducing supplements. If you have a dog with specific health conditions or needs, they can offer tailored recommendations to meet those requirements. Providing a nutritious diet with the right accessories can contribute to your dog's overall well-being and help them maintain a strong and shiny coat.
Professional Grooming Services: Where to Seek Help from a Groomer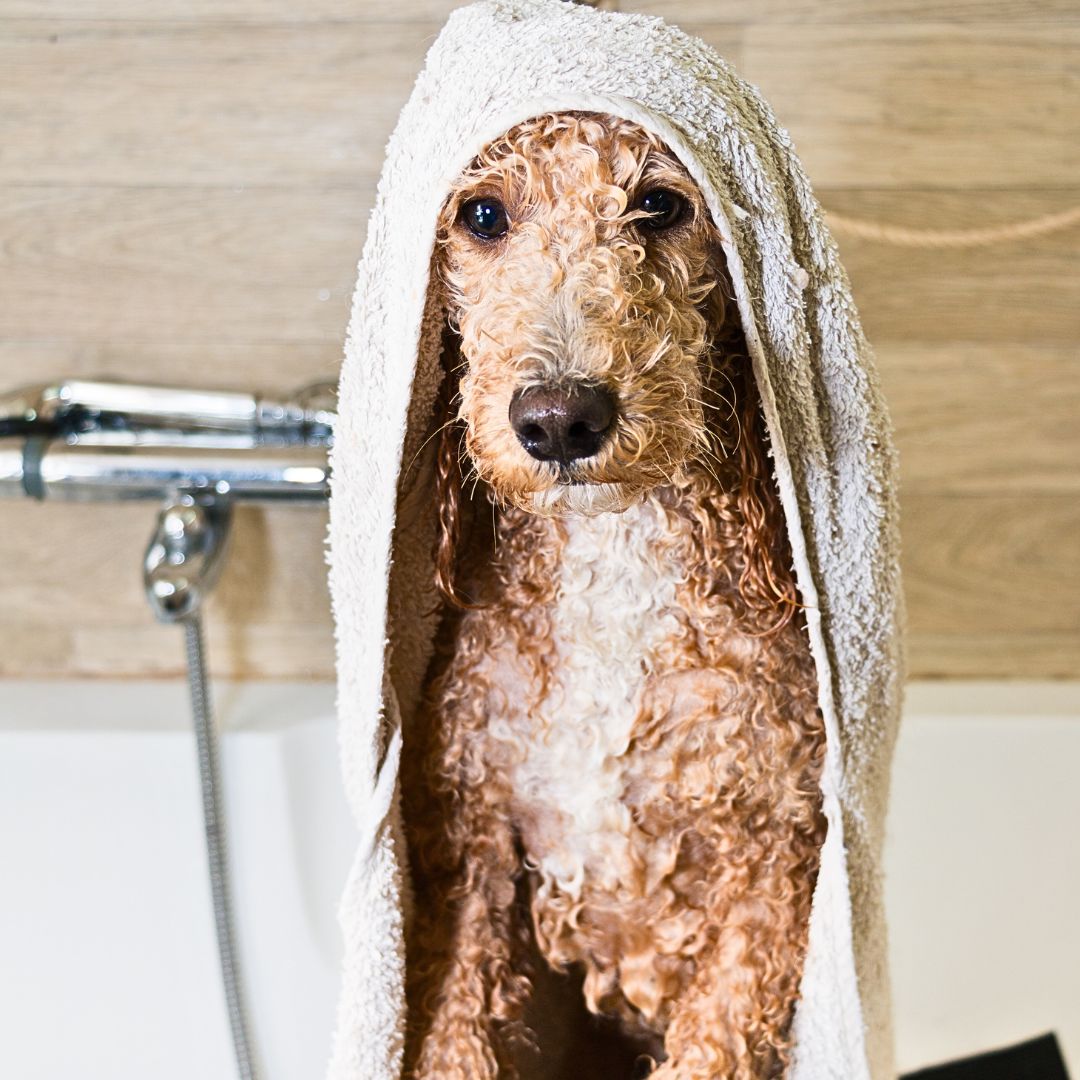 Several options regarding professional grooming services for dogs in Grimsby, Ontario, Canada, are worth considering. Here are a few reputable groomers in the area, along with their addresses:
1. Pawsitively Purrfect Pet Spa
Address: 123 Main Street, Grimsby, Ontario
Pawsitively Purrfect Pet Spa offers a range of grooming services tailored to your dog's needs. The experienced groomers prioritize your furry friend's safety and comfort.
2. Grimsby Grooming Salon
Address: 456 Elm Avenue, Grimsby, Ontario
Grimsby Grooming Salon is known for exceptional grooming services and attention to detail. Their skilled groomers have a passion for pets and will ensure your dog receives the care and attention it deserves.
3. Tails 'N' Tangles Pet Grooming
Address: 789 Oak Street, Grimsby, Ontario
Tails 'N' Tangles Pet Grooming offers a variety of grooming options to keep your dog looking and feeling their best. With their friendly staff and top-notch facilities, you can trust that your furry companion will be in good hands.
Contact each groomer directly for more information on their services, pricing, and availability. It's always a good idea to schedule an appointment to ensure your dog receives prompt attention and personalized care.
If your dog requires basic grooming or a complete transformation in Grimsby, these groomers are at your service. You can call them or check their websites to learn more about their services and schedule an appointment. Your beloved pet will surely appreciate it!
Conclusion: Invest Time and Effort into Preventing Tangles to Keep Your Labradoodle's Coat Beautifully Maintained
Investing time and effort into preventing tangles is crucial to maintaining your Labradoodle's beautifully maintained coat. By taking proactive measures, you can ensure your furry friend looks stunning and stays healthy and comfortable. Here are some key reasons why dedicating attention to tangle prevention is well worth it:
1. Appearance
A well-groomed Labradoodle with a tangle-free coat is a sight. Regular brushing and combing help prevent mats and tangles from forming, keeping your pup sleek and stylish. Whether you prefer a shorter or longer coat, a tangle-free appearance will enhance their overall appeal.
2. Comfort
Tangled fur can be uncomfortable for your Labradoodle, causing irritation, pulling, and discomfort. Preventing tangles ensures your furry companion enjoys a comfortable and pain-free grooming experience. Regular brushing and detangling sessions help to remove any knots or mats, allowing the skin to breathe freely.
3. Health
If unaddressed, tangled fur can lead to more serious health issues. Mats close to the skin can trap moisture, leading to skin infections or hot spots. In addition, tangled hair can become a breeding ground for parasites like fleas and ticks. Investing in tangle prevention can safeguard your Labradoodle's overall health and well-being.
So, how can you prevent tangles effectively? 
Start by establishing a regular grooming routine that includes brushing and combing sessions at least two to three times a week. Use appropriate grooming tools such as slicker brushes or wide-toothed combs specifically designed for Labradoodle coats.
Remember to be gentle when detangling your Labradoodle's fur, using a de-tangler spray if necessary. Be patient and take your time, ensuring you don't pull or tug on any knots. Regularly trimming the hair around sensitive areas like the ears and paws can also help prevent tangles.
Investing time and effort into preventing tangles is essential for maintaining your Labradoodle's coat in pristine condition. By prioritizing regular grooming, you enhance your furry friend's appearance and promote their comfort and health. So don't hesitate to dedicate the necessary attention to tangle prevention – your Labradoodle will thank you for it!