Why Delicious and Nutritious Dog Biscuits with Pumpkin Recipe Are the Perfect Treat
Are you looking for the perfect treat to spoil your furry friend? Look no further than homemade dog biscuits with pumpkin! These delightful treats satisfy your dog's cravings and provide numerous health benefits. From being a delicious snack to offering essential nutrients, homemade dog biscuits with pumpkin are the ultimate choice for discerning pet owners. Let's explore why these treats are a must-have for your four-legged companion.
The Health Benefits of Pumpkin for Dogs
Pumpkin is not just a tasty treat for humans during the fall season but can also provide many healthy benefits for our furry friends. Regarding dogs, pumpkins can be a natural remedy for digestive issues and other important health benefits.
One of the key benefits of pumpkin for dogs is its positive impact on their digestive health. It is rich in fibre, which aids in regulating bowel movements and can be particularly helpful in alleviating constipation. Whether your dog is experiencing occasional digestive issues or has a sensitive stomach, adding pumpkin can help promote healthy digestion.
Additionally, the high fibre in pumpkin can also aid in relieving diarrhea in dogs. It acts as a binding agent, absorbing excess water in the digestive tract and helping to firm up loose stools. It can benefit dogs with sensitive stomachs or those transitioning to a new diet.
Essential Vitamins & Minerals
Pumpkin also boasts a wide range of essential vitamins and minerals for your dog's overall well-being. It is an excellent source of vitamin A, which supports healthy vision and immune function. Additionally, pumpkin is rich in vitamins C, E, and B, which help your dog's health and well-being.
Additionally, the natural antioxidants found in pumpkins can aid in reducing inflammation and supporting a healthy immune system for dogs. These antioxidants neutralize harmful free radicals that damage cells.
Treat your Labradoodles to a Healthy, Delicious and Nutritious Dog Biscuits with Pumpkin Recipe

When introducing pumpkin into your dog's diet, it's important to consult with your veterinarian first. They can guide your dog on the appropriate amount of pumpkin to feed based on their needs and dietary requirements.
Incorporating pumpkin into your dog's diet can have numerous health benefits. This versatile vegetable is a natural and nutritious addition to your furry friend's meals, from aiding digestion and relieving constipation to providing essential vitamins and antioxidants.
Ingredients and Equipment You'll Need to Make Your Delicious and Nutritious Dog Biscuits with Pumpkin Recipe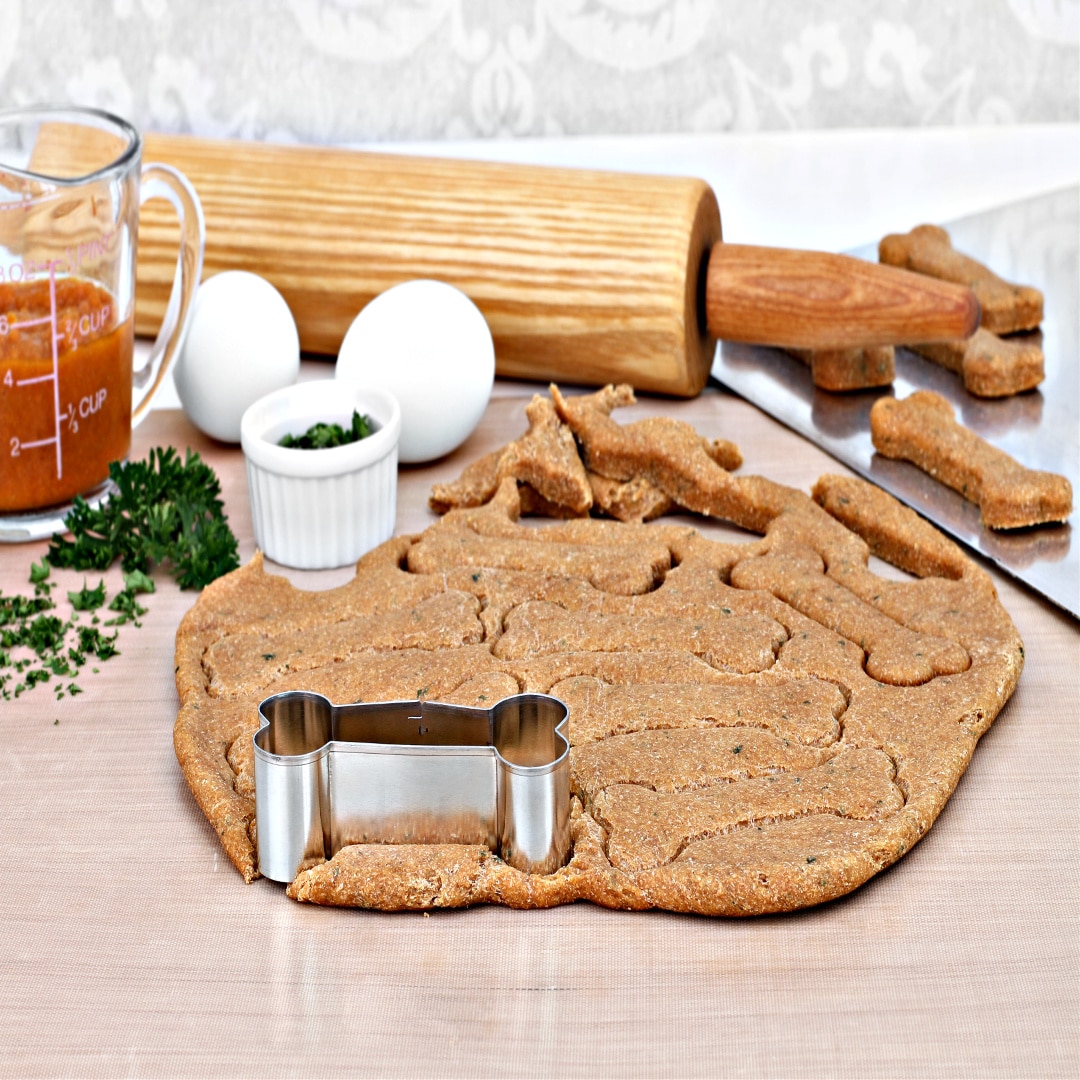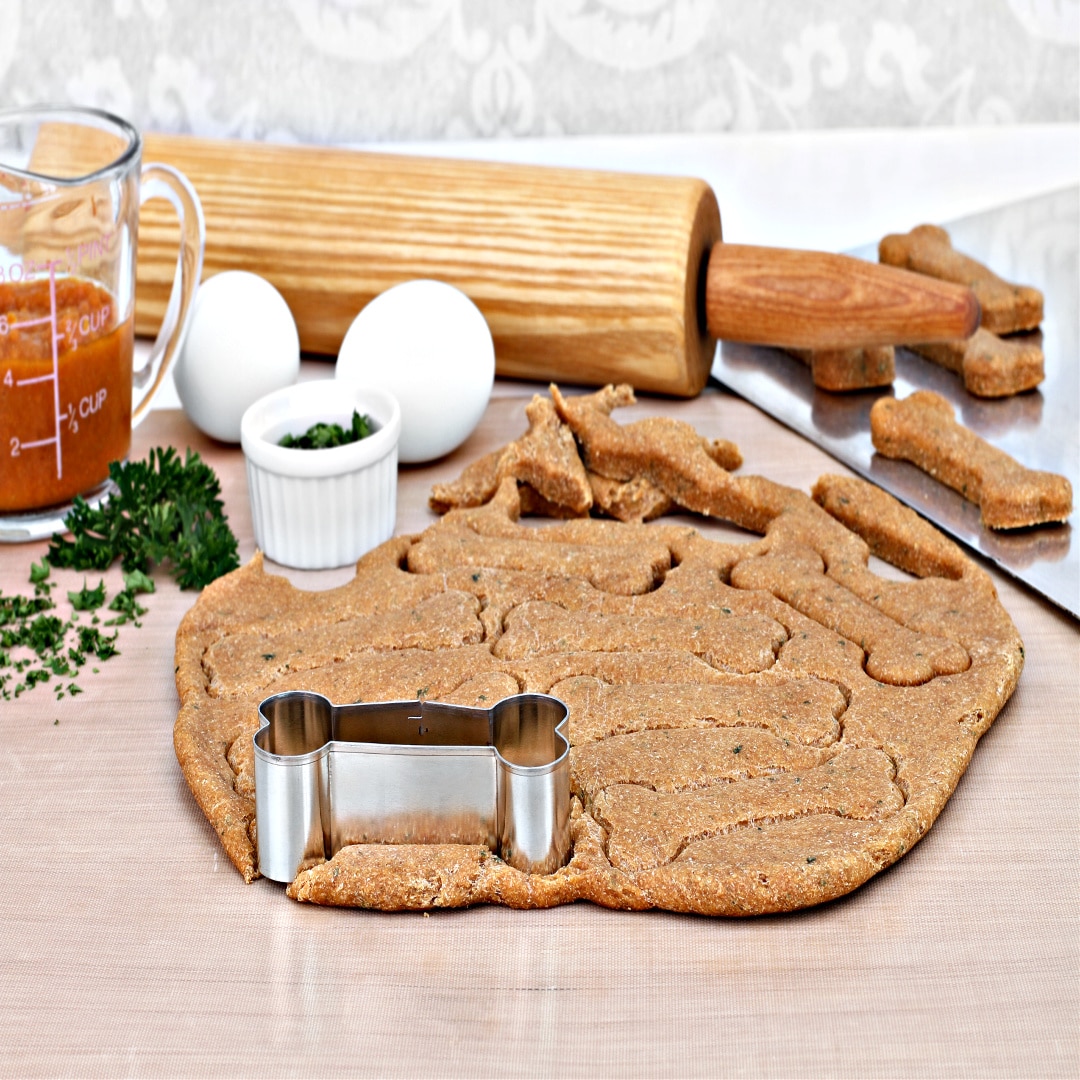 To create Delicious and Nutritious Dog Biscuits with Pumpkin Recipe, here are the ingredients and equipment you'll need:
Ingredients:
1. Pumpkin puree: Choose a high-quality puree free from additives or sugars.
2. Whole wheat flour: This will provide the base for your biscuits and add some fibre.
3. Oats: Rolled oats work wonderfully in this recipe and contribute to the texture.
4. Eggs will act as a binding agent and add protein to your dog's treats.
5. Peanut butter: Opt for natural peanut butter without added sugars or xylitol, which can harm dogs.
6. Baking powder will help your biscuits rise slightly for a lighter texture.
Equipment:
1. Mixing bowls: 
Use separate bowls for dry and wet ingredients to ensure thorough mixing.
2. Measuring cups and spoons: 
Precise measurements are crucial for a consistent batch of treats.
3. Cookie cutters: 
Select fun shapes that make your dog's biscuits look adorable.
4. Baking sheet: 
A sturdy baking sheet lined with parchment paper will prevent sticking and ensure even baking.
By using these ingredients and equipment, you'll be well on your way to creating tasty dog biscuits packed with wholesome ingredients. Your furry friend will surely appreciate your efforts!
Step-by-Step Instructions to Make Delicious and Nutritious Dog Biscuits with Pumpkin Recipe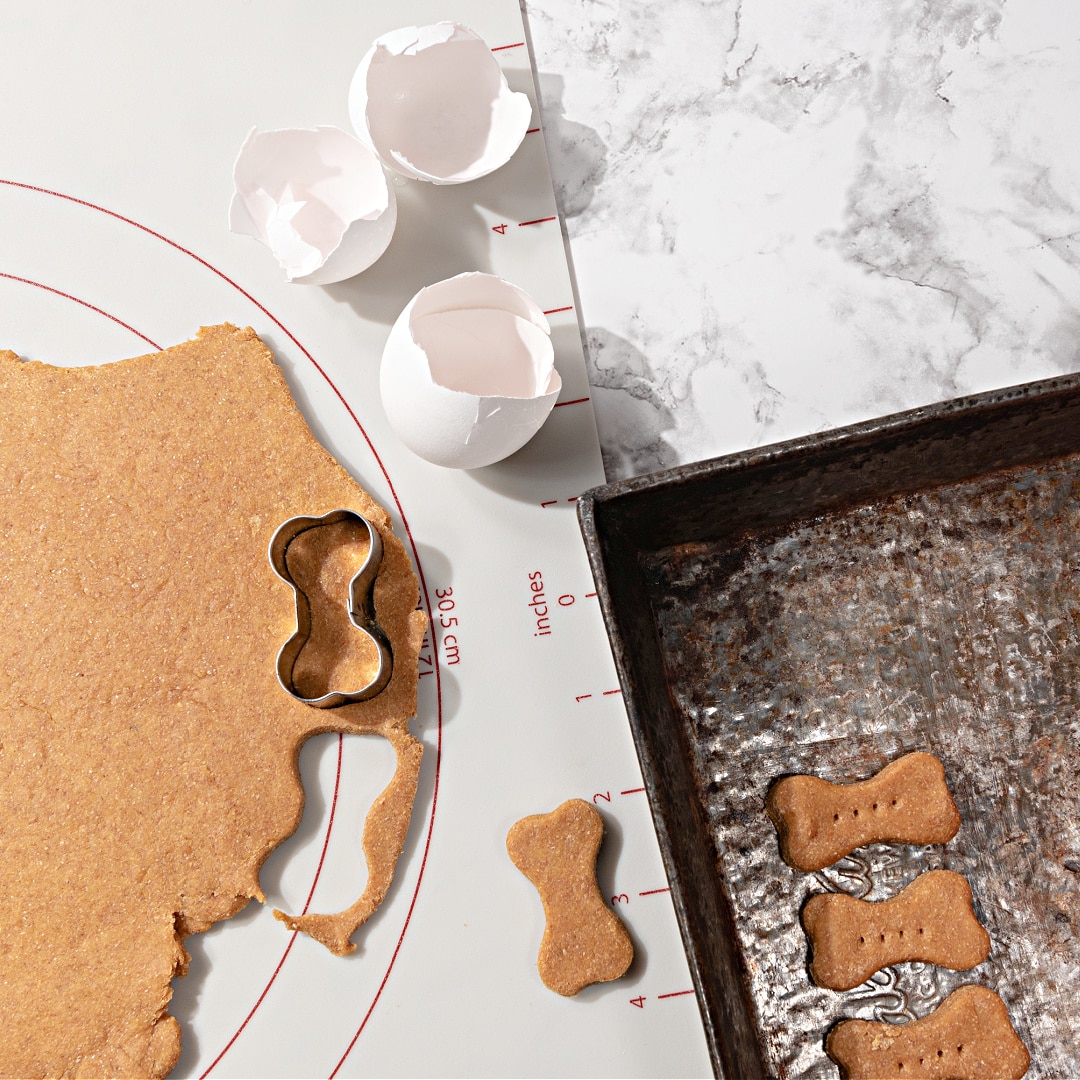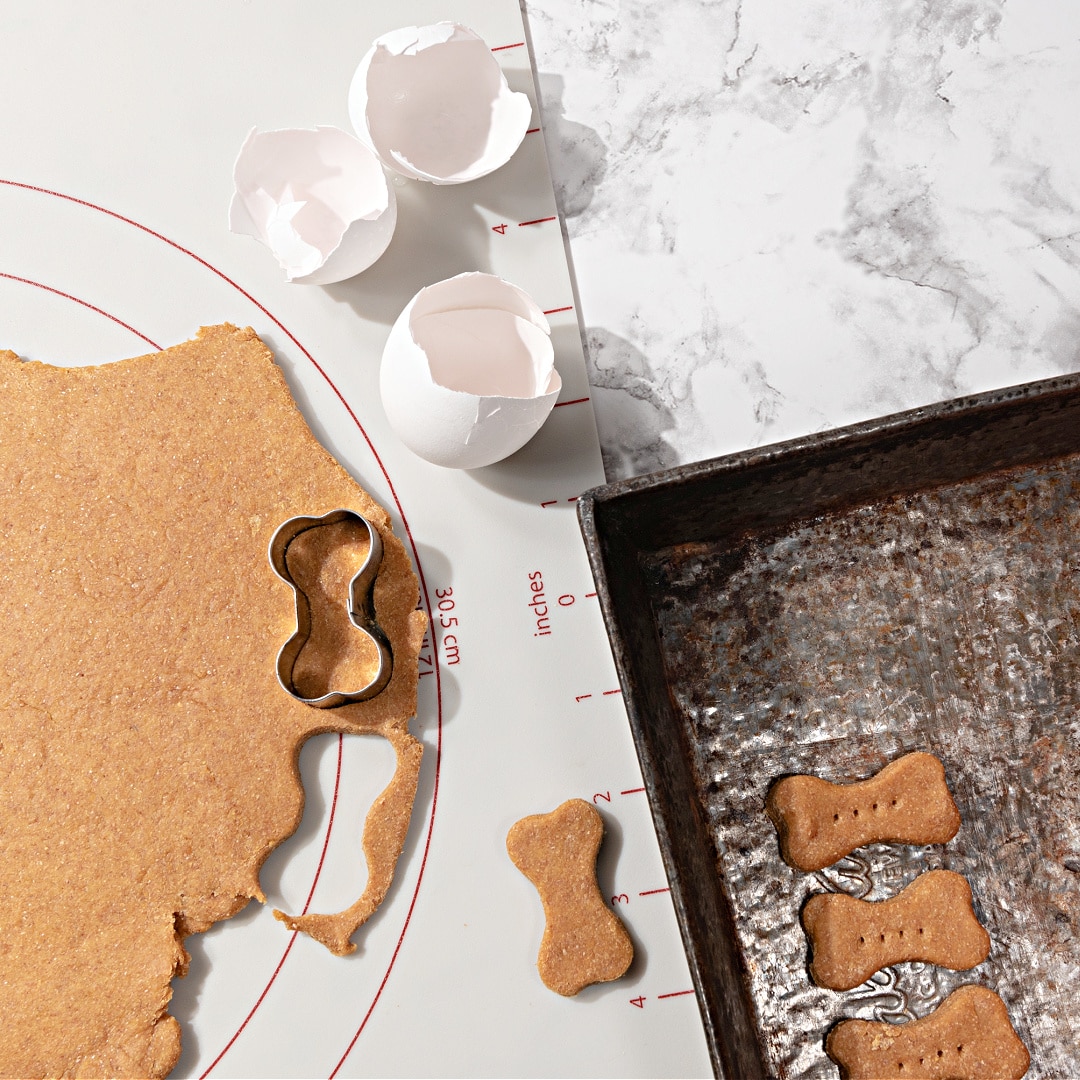 Are you looking to make some delicious homemade dog biscuits with pumpkin? I have just the recipe for you! Follow these step-by-step instructions to create tasty pumpkin dog treats from scratch.
Ingredients:
– 2 ½ cups whole wheat flour
– ½ cup canned pumpkin puree
– ¼ cup peanut butter (Make sure to check the ingredients of Peanut Butter for xylitol, as it can be toxic to dogs.)
– 2 eggs
Instructions:
1. To prepare for baking, set your oven to 350°Fahrenheit. (175°C). It will ensure that your dog's biscuits are baked evenly.
2. Mix canned pumpkin puree, peanut butter, whole wheat flour, and eggs until the dough forms.
3. Place the dough onto a well-floured surface and knead it for a few minutes until it becomes smooth and elastic.
4. Roll out the dough to about a ¼-inch thickness. Rolling pin to make it easier.
5. Now it's time to get creative with your biscuit shapes! You can use cookie cutters in various shapes and sizes to cut out your dog's biscuits. Make sure they are sized appropriately for your furry friend.
6. Transfer the cut-out biscuits onto a baking sheet lined with parchment paper. Leave a little space between each biscuit to allow for even baking.
7. Bake the dog biscuits in the oven for approximately 20-25 minutes or until they turn golden brown and firm.
8. Once baked, remove the biscuits and let them cool completely on a wire rack. This will ensure they become nice and crunchy for your furry friend.
9. Store the homemade dog biscuits in an airtight container or treat jar once cooled. They should stay fresh for up to two weeks, but your pup will gobble them up well before then!
Always consult a veterinarian before introducing new treats into your dog's diet. Enjoy making these delicious pumpkin dog biscuits, and your furry friend will appreciate the homemade love you put into them!
Tips and Tricks to Customize Your Delicious and Nutritious Dog Biscuits with Pumpkin Recipe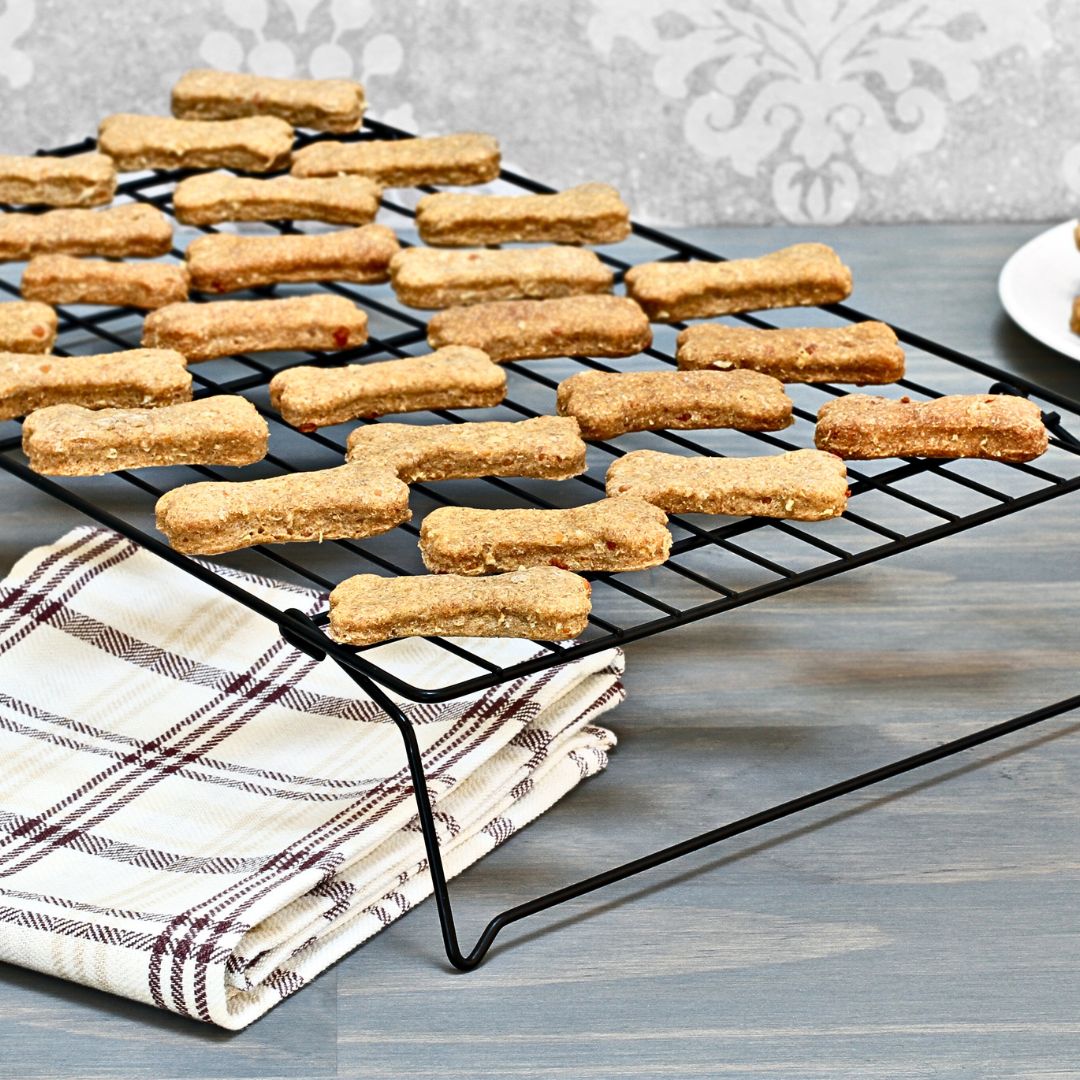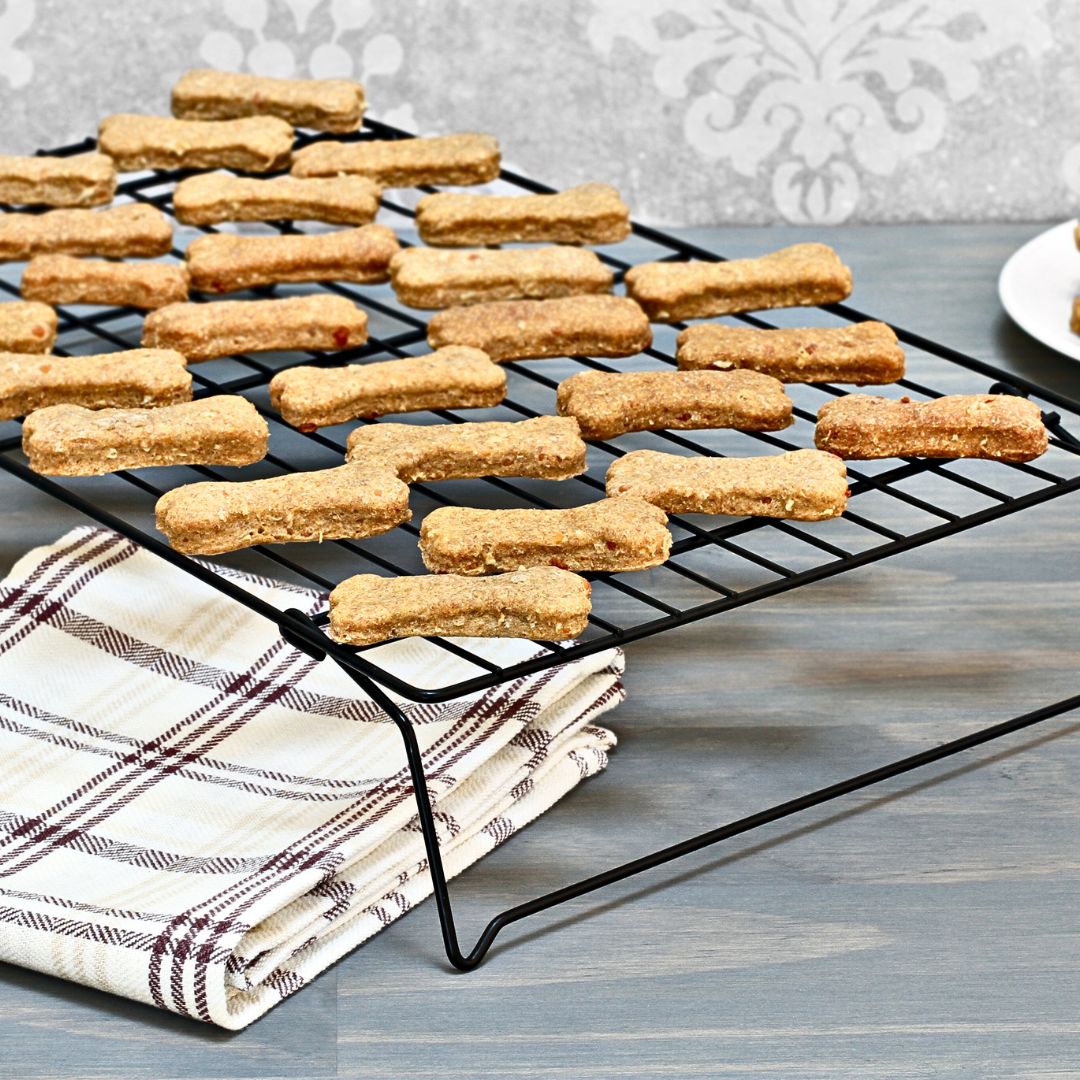 Customizing your dog biscuits with a pumpkin recipe is a fantastic way to add variety and flavour to your furry friend's treats. Here are some tips and tricks to take your homemade dog biscuits to the next level by incorporating other ingredients like sweet potato or apple:
1. Sweet Potato Twist: 
Add some mashed sweet potato to the recipe to give your pumpkin biscuits extra sweetness and nutrition. Sweet potatoes are a healthy and nutrient-packed treat for dogs. Peel, cook and mash the sweet potato before adding it to the dough mixture.
2. Apple Delight: 
Including some finely grated apples in the mix is another great option. Apples are high in fibre and antioxidants, and their natural sweetness adds a delicious flavour to the biscuits. Remove the seeds and core before grating the apple, as these parts are unsafe for dogs.
3. Experiment with Spices:
If you want to spice things up, add a pinch of cinnamon or ginger to the dough. These spices add a delightful aroma and offer potential health benefits for dogs, but be sure to add only a little, as dogs have more sensitive taste buds than humans.
4. Adjusting Consistency: 
You may need to adjust the dough's consistency when adding ingredients to your pumpkin biscuit recipe. If it becomes too sticky or wet due to the added ingredients, gradually add more flour until you achieve a workable texture.
5. Test Small Batches: 
Before making a large batch of customized dog biscuits, it's always a good idea to test smaller portions first. This way, you can see how well your pup enjoys the new flavours and ensure they digest them well without any adverse reactions.
Remember, while customizing your dog biscuits with these variations can be exciting, it's crucial to prioritize your pet's health and well-being. Always double-check that the additional ingredients you choose are safe for dogs, and consult with your veterinarian if you have any concerns. Happy baking, and enjoy treating your furry companion to these personalized pumpkin delights!
The Importance of Proper Storage and Serving Sizes for Homemade Dog Treats
Proper storage and serving sizes are indeed essential when it comes to homemade dog treats. Not only do they help maintain freshness and prevent spoilage, but they also ensure the overall well-being of our furry friends. Let's delve into the importance of these aspects:
1. Storage:
Properly storing homemade dog biscuits is crucial to maintain their freshness and nutritional value. Here are a few tips to keep in mind:
a) Airtight containers: Store the treats in airtight containers to protect them from moisture loss and pests. This will help prolong their shelf life and preserve their texture.
b) Cool, dry place: Find a cool, dry spot to store the treats in your home. Avoid areas with direct sunlight, as these can lead to spoilage.
c) Labeling: It's essential to label your containers with the treat's name, ingredients, and date of preparation. This way, you can easily keep track of their freshness and usage.
2. Serving Sizes:
Determining the appropriate serving size for your dog is crucial to ensure they receive the right nutrition before indulging. Here's why serving size guidelines are important:
a) Health and weight management: Serving sizes tailored to your dog's size and weight can help prevent underfeeding or overfeeding. It's important to maintain a healthy weight to prevent health issues associated with obesity. Any spelling, grammar, or punctuation errors have been corrected. It is important to ensure that one's weight remains within a healthy range to avoid any potential complications.
b) Nutritional balance: Proper serving sizes allow you to provide a balanced diet for your furry companion. They ensure your dog receives all the necessary nutrients without excessive calorie intake.
c) Treat effectiveness: Following serving size guidelines, you can ensure that the treats remain effective as rewards during training sessions or as occasional indulgences. Serving too many treats at once may diminish their value as incentives.
Every dog is unique, and factors such as age, activity level, and health conditions should be considered when determining appropriate serving sizes. Consulting with a veterinarian can provide personalized guidance for your dog's needs.
In conclusion, proper storage and serving sizes are essential for homemade dog treats. Following these guidelines, you can maintain the treats' freshness, prevent spoilage, and ensure your furry friend receives the right nutrition. Happy treating!
Conclusion: Spoil Your Pup with These Delicious and Nutritious Dog Biscuits with Pumpkin Recipe!
In conclusion, treating your furry friend to these delicious homemade dog biscuits with pumpkin is a fantastic way to show them how much you care. Not only will they love the taste, but they will also benefit from the nutritious ingredients packed into each biscuit. Fresh pumpkins provide your pup with natural vitamins and minerals, improving their health and well-being. Additionally, baking these biscuits at home gives you full control over what goes into them, ensuring your pup receives only the best quality ingredients. So go ahead and spoil your dog with these tasty treats – they'll thank you with wagging tails and lots of love!