How to Celebrate Christmas with Your Labradoodle: Fun Ideas and Tips
Experience the Joy of Celebrating Christmas with your Labradoodle.
Experience the magic of Christmas with your beloved labradoodle by your side! There's nothing quite like celebrating the holiday season with a furry friend who brings joy and warmth to your home. Whether you're a long-time dog owner or a new labradoodle parent, this festive time of year is perfect for creating memories with your four-legged companion.
Christmas Morning
One of the most delightful aspects of Christmas with a labradoodle is their infectious enthusiasm. From the moment you start decorating the tree to opening presents on Christmas morning, their wagging tail and playful antics add an extra layer of excitement to the festivities. Labradoodles are known for their friendly nature and love being part of the family, so involving them in holiday traditions will surely make your celebrations even more special.
PetMd says that Tinsel is the most dangerous when choosing decorations for your Christmas tree, so it's important to consider the safety of your furry friends. Unfortunately, Tinsel ranks high on the list of hazardous dog choices. The shiny strands can be incredibly tempting for our canine companions to play with or even ingest. To ensure a worry-free holiday season with your dog, opt for dog-friendly ornaments and avoid tinsel.
Winter Wonderland 
Imagine walking through a winter wonderland with your labradoodle by your side, both of you enjoying the serene beauty of the season. Labradoodles are energetic and love outdoor activities, so take advantage of the crisp winter air and go for long walks or even sledding adventures together. Their boundless energy will keep you entertained, and their warm presence will make every moment unforgettable.
Outdoor Activities 
Christmas is also a time for giving, and what better way to spread joy than by pampering your labradoodle with special treats and gifts? Whether it's a new toy, a cozy bed, or delicious homemade dog cookies in holiday shapes, watching their excitement as they unwrap their presents will warm your heart.
Enjoying Quality Time Together
Lastly, Christmas is about spending quality time with loved ones; your labradoodle is undoubtedly an important family member. Take the time to cuddle by the fireplace, watch a holiday movie, or enjoy each other's company. Labradoodles are known for their affectionate nature and will cherish these quiet moments of togetherness just as much as you do.
So, this Christmas, embrace the joy of celebrating with your labradoodle. Create lasting memories, share laughter, and revel in the unconditional love they bring into your life. It's a season meant for merriment, and what better?
Dress Up Your Labradoodle in Festive Attire
Prepare to spread holiday cheer with these festive accessories and attire for your beloved Labradoodle! Dressing up your furry friend in Christmas-themed outfits is adorable and a great way to include them in the holiday spirit. Here are some must-have accessories and attire for your Labradoodle this Christmas:
Nothing says Christmas like a classic Santa hat! Get a cute, well-fitted Santa hat for your Labradoodle to transform them into Santa's little helper instantly.
Turn your Labradoodle into Rudolph with a pair of reindeer antlers. These fun and whimsical accessories will turn heads around during your holiday gatherings.
Keep your Labradoodle cozy and stylish with a festive Christmas sweater. Look for ones with cute patterns like snowflakes, Christmas trees, or even Santa Claus himself.
Let your Labradoodle embrace their inner elf with an adorable elf costume. Complete with pointy ears and a jolly hat; this outfit will surely make them the star of any holiday party.
Add a touch of elegance to your Labradoodle's attire with a festive bow tie or collar. Look for ones in traditional Christmas colours like red, green, or gold.
Keep your Labradoodle's paws warm and stylish with cute paw socks. These socks add a layer of warmth and protect their paws from cold surfaces during winter walks.
For a more subtle festive touch, consider a Christmas-themed bandana. Look for ones featuring holiday patterns or prints that can easily be tied around your Labradoodle's neck.
Remember to choose comfortable accessories and attire for your Labradoodle, and do not restrict their movement or cause any discomfort. Always prioritize their safety and well-being while enjoying the holiday festivities together.
So, dress up your Labradoodle in their festive best this Christmas! With these accessories and attire, your furry friend will surely steal everyone's hearts and spread joy and laughter throughout the holiday season.
Include Your Labradoodle in Decorating the House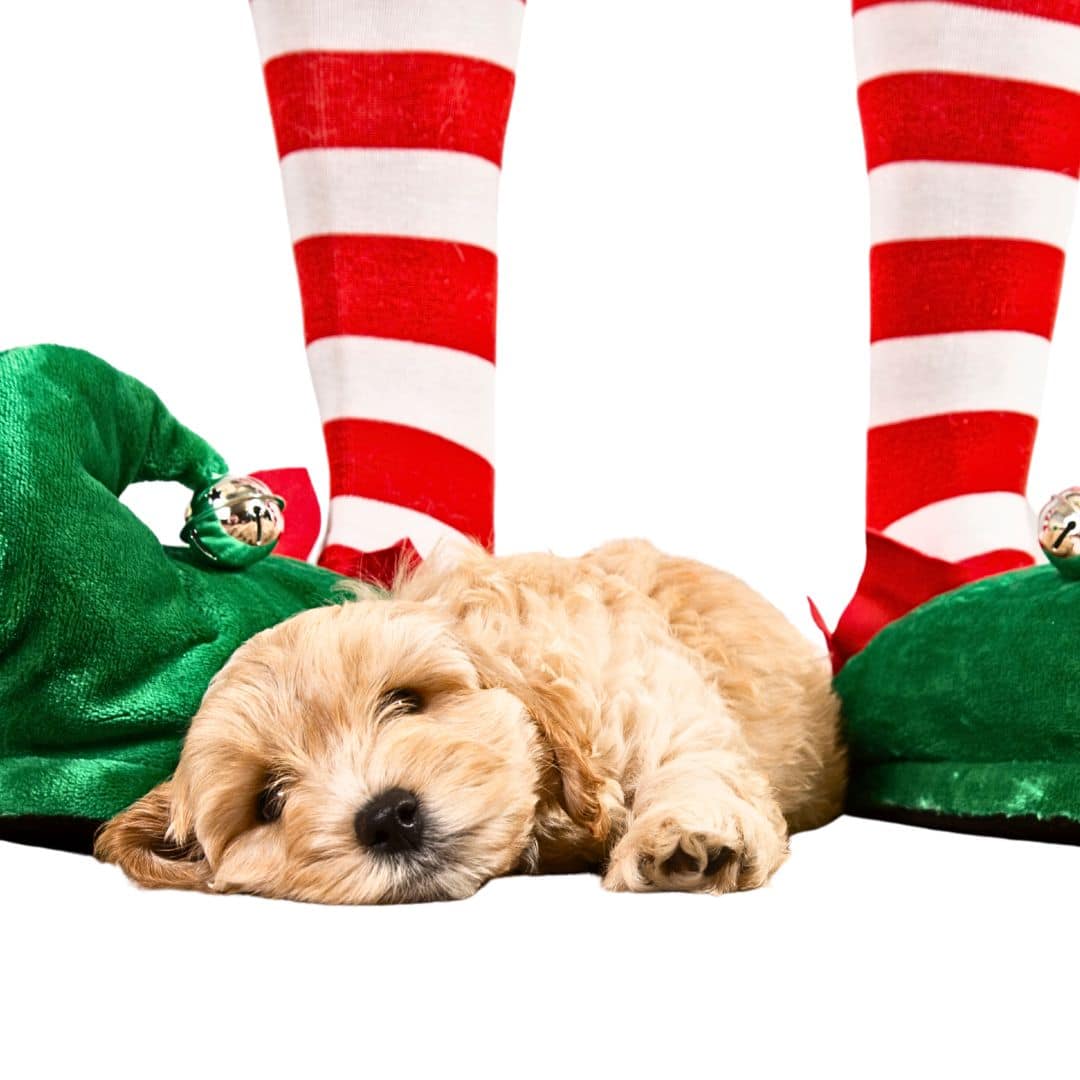 Decorating the house for any occasion is an exciting time, and involving your beloved labradoodle can make the process even more enjoyable. Here are some ideas to include your furry friend in the decorating fun while keeping their safety in mind.
Labradoodle – Friendly Decorations
Opt for labradoodle-friendly decorations that won't pose any harm to your pet. Avoid using fragile or easily breakable ornaments that could injure your furry friend.
Look for dog-safe ornaments made from non-toxic materials. There are plenty of pet-friendly options available in stores or online. These ornaments are designed to be durable and pet-safe, ensuring that your labradoodle can freely explore and interact with them.
Engage your labradoodle in the decorating process by assigning them a role. For example, you could train them to bring you specific ornaments or assist in hanging decorations at lower levels of the tree or around the house.
Create a Pet-Friendly Space
Set up a designated area for your labradoodle can observe the decoration process without getting in the way. Please provide them with a comfortable bed or blanket nearby so they feel included while still having their own space.
While involving your labradoodle in decorating, it's essential to supervise them closely. Look for signs of distress or attempts to chew on decorations, wires, or other potentially hazardous items. Redirect their attention towards dog-friendly toys to prevent accidents.
Tinsel and ribbons may appear attractive to dogs but can be dangerous if ingested. Avoid using these decorations altogether or place them out of reach from your labradoodle's curious paws.
Incorporate Labradoodle-Themed Decor
Consider adding labradoodle-themed decorations to celebrate your furry friend. You could find ornaments or wall hangings featuring labradoodles, adding a personal touch to your decor and making your pet feel extra special.
Remember, the key is to create a joyful and safe environment for you and your labradoodle during decorating. Following these tips, you can involve your furry friend while ensuring their well-being throughout the festivities. Happy decorating!
Prepare Special Dog-Friendly Christmas Treats
Indulge your beloved labradoodle this Christmas with a selection of delectable treats that are not only delicious but also safe for our furry friends. These specially crafted goodies will surely make their tails wag with joy.
Peanut Butter and Pumpkin Dog Cookies
Ingredients:
– 2 cups whole wheat flour
– 1 cup pure pumpkin puree
– ½ cup natural peanut butter
– 2 eggs
Instructions:
– Preheat oven to 350°F (175°C).
– Mix the flour, pumpkin puree, peanut butter, and eggs in a large bowl until well combined.
– Roll out the dough on a floured surface to about ¼ inch thickness.
– Use a cookie cutter to shape or cut into small rounds.
– Place the treats on a baking sheet and ensure it is lined with parchment paper.
– The cookies should be baked for 20 minutes or until they turn golden in colour. Please check the cookies frequently to ensure that they do not over-bake.
– Allow cookies to cool completely before serving them to your Labradoodle.
Apple and Oatmeal Dog Biscuits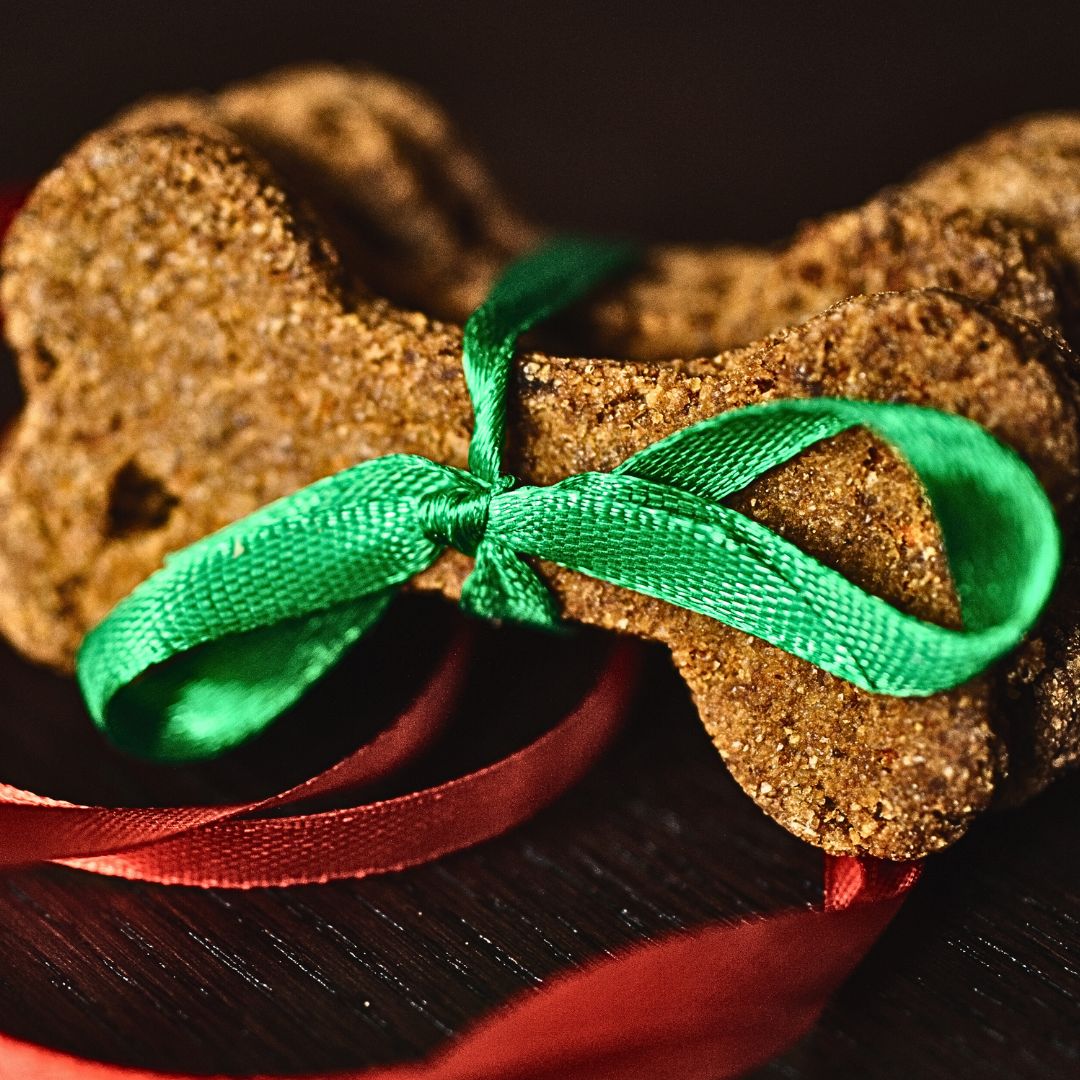 Ingredients:
– 2 cups whole wheat flour
– 1 cup rolled oats
– 1 apple, grated (remove seeds and core)
– ½ cup unsweetened applesauce
– ¼ cup water
Instructions:
– Preheat oven to 350°F (175°C).
– Mix flour, oats, grated apple, applesauce, and water in a large bowl until dough is formed.
– Roll out the dough on a floured surface to about ¼ inch thickness.
– Use a cookie cutter to cut into small rounds.
– Place the treats on a baking sheet and ensure it is lined with parchment paper.
– Bake cookies for 25 minutes or until firm and slightly golden.
– Allow biscuits to cool before serving them to your Labradoodle.
Turkey and Sweet Potato Meatballs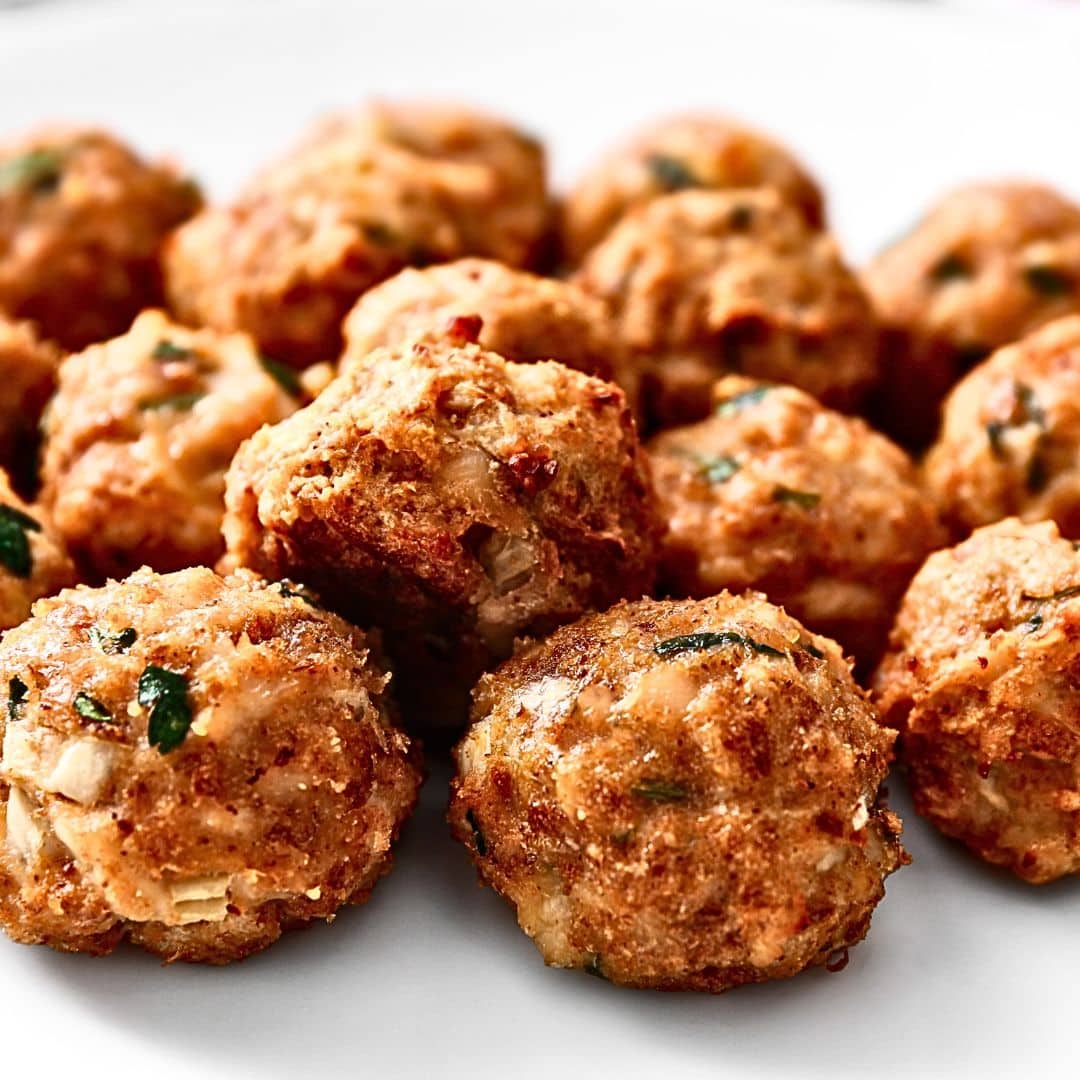 Ingredients:
– 1 pound ground turkey
– 1 cup cooked sweet potato, mashed
– ½ cup rolled oats
– 1 egg
Instructions:
– Preheat oven to 350°F (175°C).
– Mix the ground turkey, mashed sweet potato, oats, and egg in a large bowl.
– Roll the mixture into small meatballs, place them onto a baking sheet, and ensure it is lined with parchment paper.
– Bake for 20-25 minutes or until cooked through.
– Allow the meatballs to cool before serving.
It's always important to consult your veterinarian before introducing new treats to your dog's diet. It will ensure that your furry friend stays healthy and happy. Enjoy making these tasty Christmas treats for your labradoodle!
Take Your Labradoodle on a Winter Adventure or Walk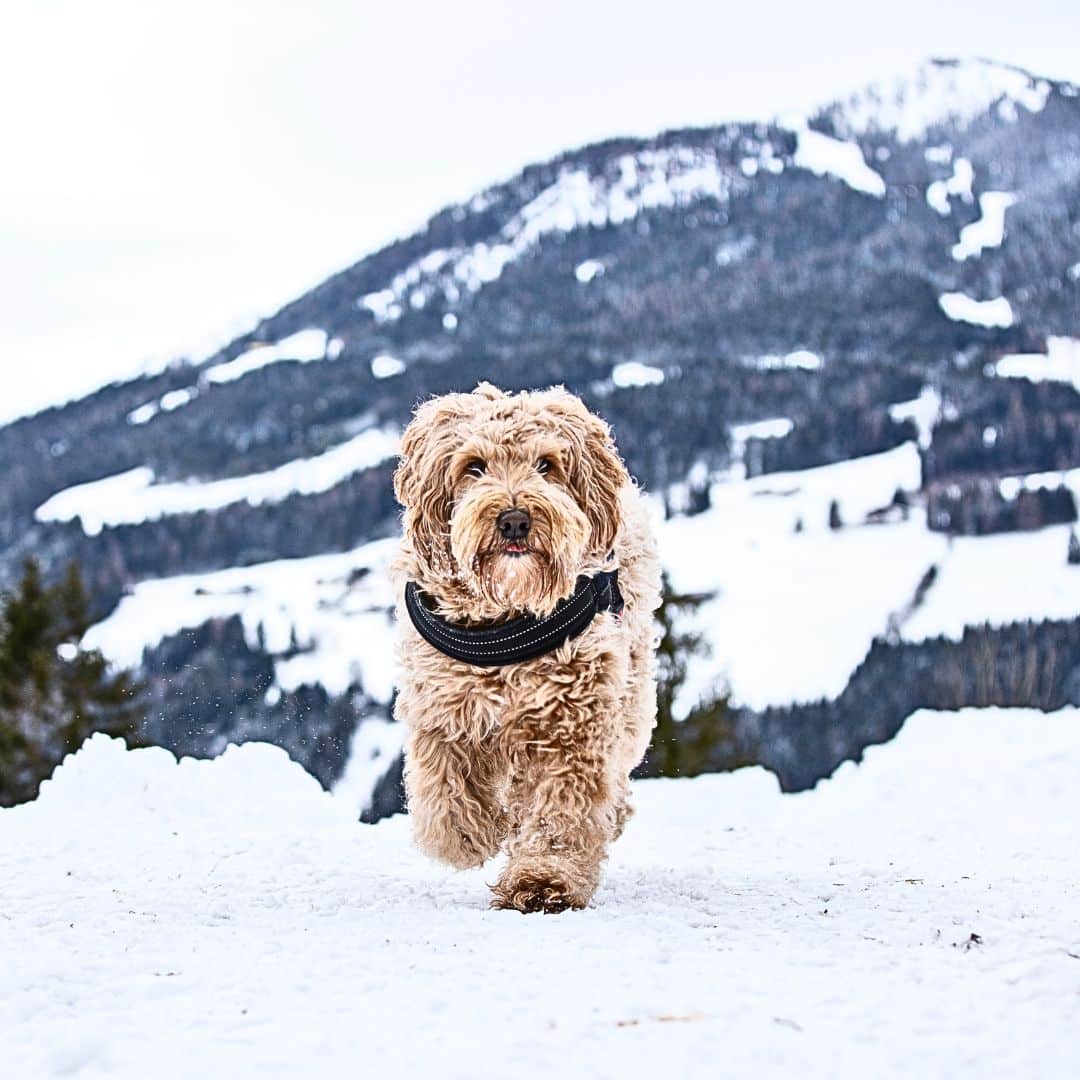 Are you looking for exciting winter activities with your beloved Labradoodle? Look no further! Here are some wonderful ideas to make the most of the snowy season:
Take your Labradoodle on scenic walks through snow-covered parks or trails. The fresh air and beautiful surroundings will delight you and your furry friend.
If you have a sled, try taking your Labradoodle for a ride! Dogs often enjoy the thrill of sliding down snowy hills, and it's a fantastic way to bond while having fun.
Engage your Labradoodle in a playful game of snowball fetch. Roll up some small snowballs and toss them gently for your dog to catch. It's a great way to exercise their agility and keep them entertained.
If you and your Labradoodle are up for an adventure, consider going on a winter hike together. Just ensure your furry friend is properly protected with booties and warm gear to keep them comfortable in the cold.
Some ski resorts offer dog-friendly trails or designated areas where dogs can play in the snow. Check for alternatives nearby and plan a day trip with your Labradoodle to enjoy the winter wonderland.
Play a game of hide and seek with your clever Labradoodle in the snow. Hide behind trees or mounds of snow and call out their name, encouraging them to find you. It's a mentally stimulating activity that will help your Labradoodle adds extra excitement to their playtime.
Remember, safety should always come first during winter adventures with your Labradoodle. Keep an eye on their well-being, monitor their body temperature, and provide regular breaks indoors to warm up if needed. Enjoy the holiday together, creating precious memories and strengthening the bond with your furry friend!
Create a Cozy Space for Your Labradoodle to Relax and Enjoy the Festivities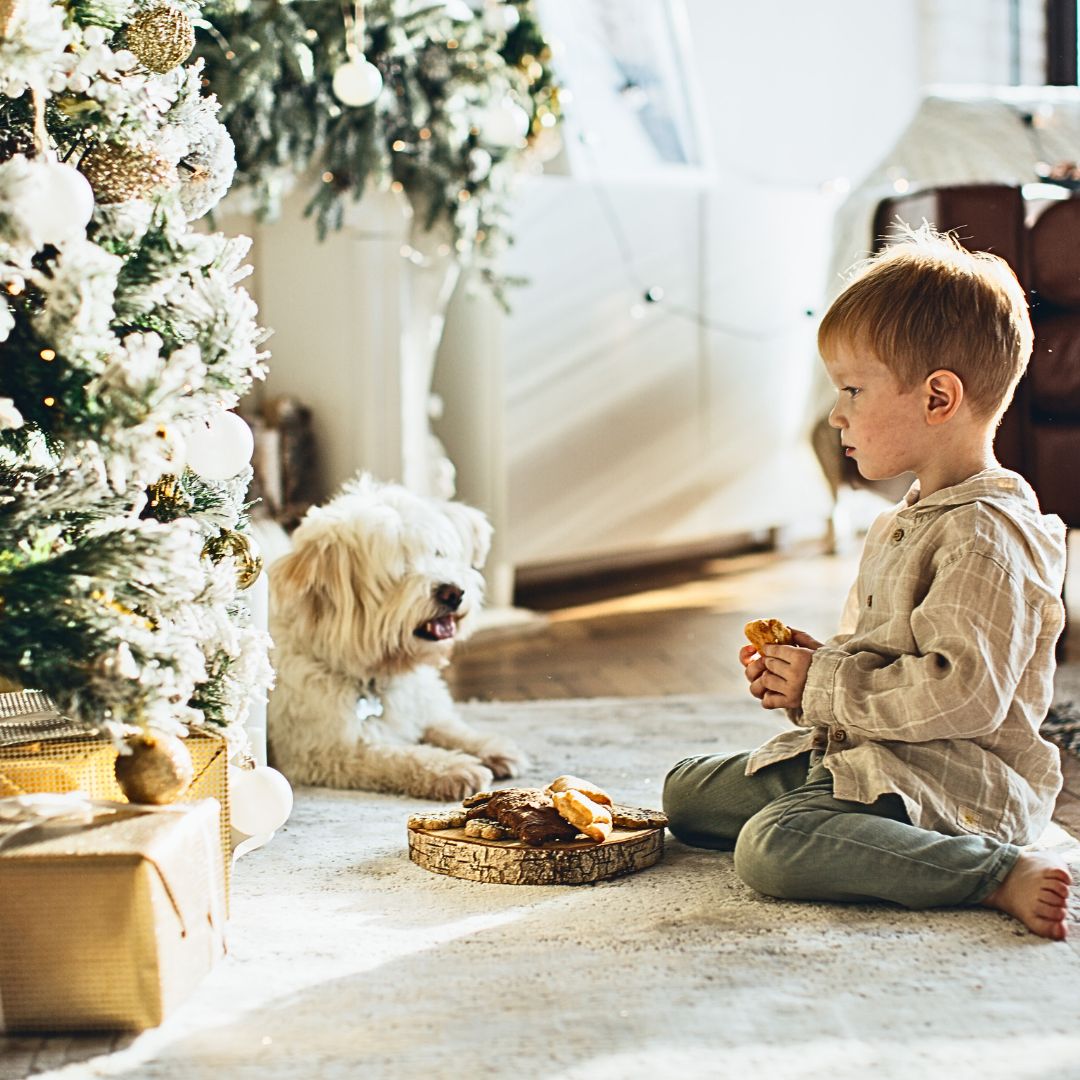 Transforming a cozy corner for your Labradoodle to relax and enjoy the festivities is a wonderful way to ensure their comfort during the holiday season. Here are some ideas to help you create a serene and inviting space for your furry friend:
Designate a specific area in your home as a doggie holiday corner. This could be a cozy corner in the living room or a small nook in a quieter part of the house. A dedicated space will help your Labradoodle associate it with relaxation and calmness.
Comfortable Bed or Blanket
Invest in a comfortable bed or blanket that provides ample support and warmth from your Labradoodle. Look for options that are cozy yet easy to clean. Consider their size and sleeping habits to ensure it's the perfect fit.
Decorate the doggie holiday corner with festive yet soothing elements. Opt for soft lighting like string or dimmed lamps to create a serene ambiance. Avoid loud decorations or flashing lights that may overwhelm your furry friend.
Play soft white noise or calming music in the background to drown out any loud noises from celebrations. It can help create a peaceful environment for your Labradoodle, especially if they are sensitive to noise.
Scented Candles or Essential Oils
For a pet-friendly home, opt for pet-safe candles or use calming essential oils such as lavender or chamomile to create a peaceful atmosphere. However, always ensure these scents are safe for dogs and not placed too close to their resting area.
Provide your Labradoodle with engaging toys or puzzle games to keep you occupied and mentally stimulated during the festivities. This can help redirect their attention away from the hustle and bustle.
Every dog is unique, so observe and adapt these suggestions based on your Labradoodle's preferences and behaviour. Creating a cozy and calm space will ensure your furry friend feels safe and relaxed during the holiday celebrations.
Conclusion: Make this Christmas Memorable by Including Your Beloved Labradoodle in the Festivities!
This Christmas can be made special by including your beloved Labradoodle in the festivities. They are a part of your family and deserve to be included in the joyous celebrations. However, it is crucial to remember that their safety and well-being should always be a top priority.
As you plan activities and decorations for the holiday season, remember that some elements may pose risks to your furry friend. Take precautions to ensure that they are not exposed to harmful substances or objects that could potentially harm them. Avoid using toxic plants or decorations that could be hazardous if ingested.
Additionally, be mindful of their comfort levels during gatherings or parties. Some pets may become anxious or overwhelmed by loud noises or large crowds. Provide them with a quiet and secure space to retreat if needed.
By prioritizing your pet's safety and well-being, you can make this Christmas memorable for you and your beloved Labradoodle. Please include them in the festivities while ensuring their happiness and health throughout the holiday season. Wishing you a joyous and cheerful Christmas filled with barking happiness! May the holiday season bring laughter, love, and tail-wagging celebrations to all.