Here are some essential tips to help you pick the ideal toys for your beloved canine companion.
Are you scratching your head about entertaining your dog and making it happy? Finding the best toys for your pet is your best idea. Let's dive into our blog, which has all the answers to your "How to Pick the Best Toys for Your Dog?" thoughts!
Regarding your dog's happiness, toys play a crucial role. A suitable toy can fulfill their needs, whether they need mental stimulation, exercise, or a companion. This article will navigate the vast world of dog toy types and find the perfect ones for your furry companion.
How to Pick the Ideal Toys for Your Dog?
Imagine your dog's excitement when they discover a new toy that keeps them engaged for hours. And while every dog is unique, their toy preference can vary, too! Are you curious to know which toys are best for your furry companion? Keep reading!
Soft & Squeaky Dog Toys For Gentler Dogs
Did you know soft and squeaky dog toys are perfect for gentler dogs? A study in the Journal of Animal Welfare claims that these toys can help satisfy a dog's instincts without overwhelming them. 
The soft texture and gentle squeak provide a satisfying chewing experience, making it ideal for dogs with a delicate demeanour. Toys like plush stuffed animals or soft and safe fetching balls for dogs are excellent options for entertaining and contenting your furry friend. So, let them unleash their inner playfulness with these delightful toys!
Active Dog Toys for High-Energy Dogs
For high-energy dogs, active dog toys are a must-have! Research reveals that engaging in physical activities helps release pent-up energy and promotes overall well-being. 
To cater to their boundless energy, opt for toys encouraging movement and exercise, such as fetch balls, frizbees, or interactive puzzle toys. These toys will keep your pup entertained and provide an outlet for their endless enthusiasm. Get ready for some tail-wagging fun with the best toys for high-energy dogs!
Treat Toys And Puzzle Toys For Smart Dogs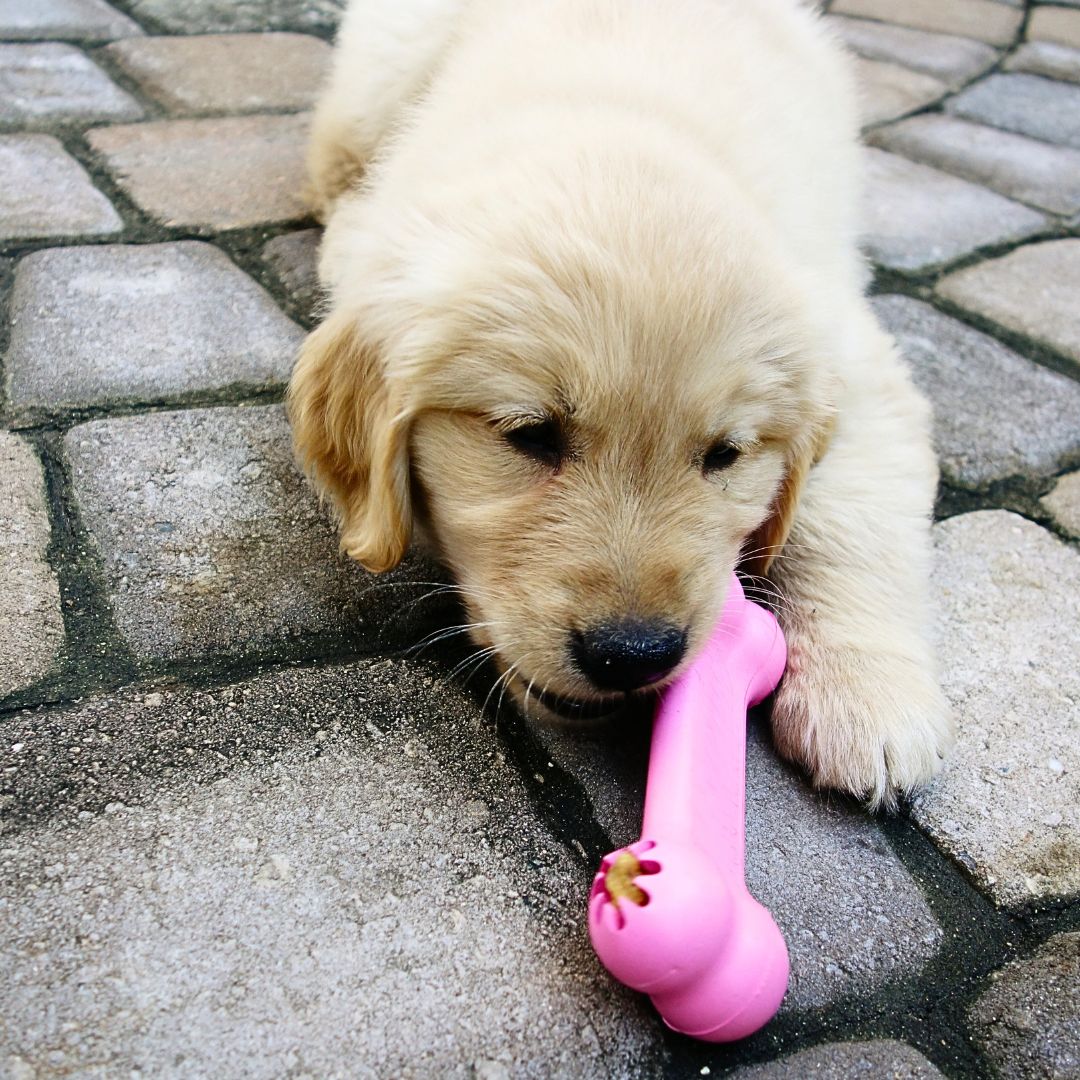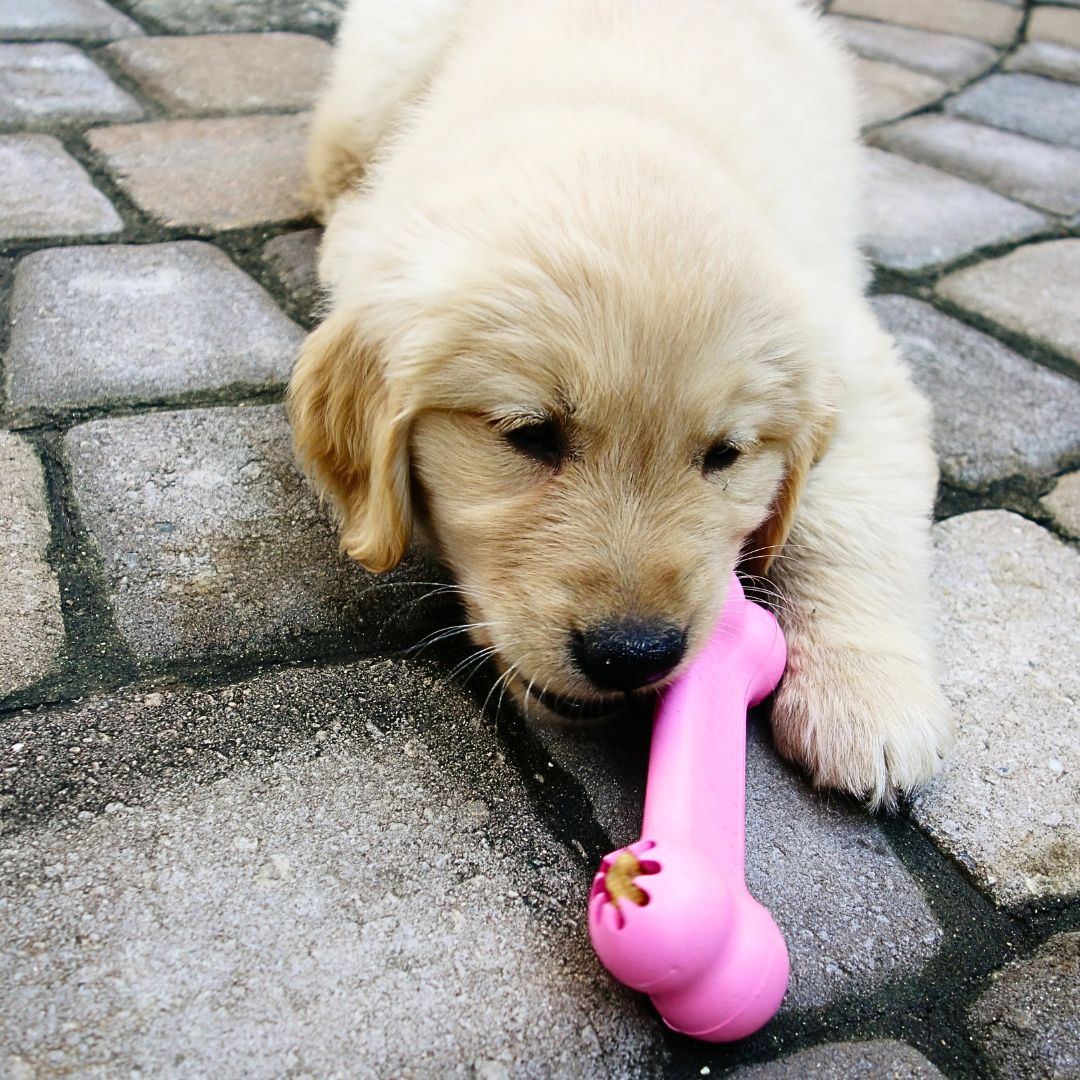 If you have a smart dog, treats and puzzle toys are game-changers! The "Veterinary Clinics" research demonstrates that these toys stimulate their mental abilities, preventing boredom and promoting cognitive development. 
Introduce toys like treat-dispensing balls or dog-proof activity table toys to challenge their problem-solving skills and keep them entertained. These toys provide a delightful challenge that will engage their clever minds and reward them with tasty treats. Let your smart pup's brilliance shine with these engaging toys that make learning fun!
Comfort Toys For Anxious Dogs
For anxious dogs, comfort toys are like a soothing hug! According to a study published in "Animal Behavior Science," soft dog toys that rip apart mimic the feeling of tearing into prey, providing a sense of security and reducing anxiety. 
Look for plush toys with reinforced stitching or interactive snuggle toys designed to provide comfort and companionship. Examples include stuffed animals with hidden squeakers or self-warming toys. 
However, it's better to opt for the best chew toys for dogs recommended by vets. These toys offer a gentle distraction and can become a source of solace for your anxious pup, bringing them peace and tranquillity.
Teething Toys For Puppies
For teething puppies, teething toys are their saving grace! Research published in the "Applied Animal Behaviour Science" emphasizes the importance of proper chew toys for dogs' teeth. These toys provide a safe outlet for their natural urge to chew, soothing their sore gums and aiding in developing strong, healthy teeth.    
Use durable, flexible toys like rubber chew bones or textured teething rings. These toys alleviate discomfort and help prevent destructive chewing on household items. It's time to fetch the best chew toys for dogs' teeth and promote good dental health from an early age!
Tactile Toys for Blind Dogs
For blind dogs, tactile toys open a world of sensory delight! A veterinarian study reveals that tactile stimulation is vital for their mental and emotional well-being. Opt for different textures like plush toys with crinkle sounds or rope toys with varying knots. 
These toys provide a sensory experience through touch and sound, enabling blind dogs to explore and engage with their environment. But remember to avoid unsafe dog toys with small parts to avoid choking. Let your blind companion embark on a tactile adventure with toys that stimulate their senses!
Avoid Rawhide Toys at Any Cost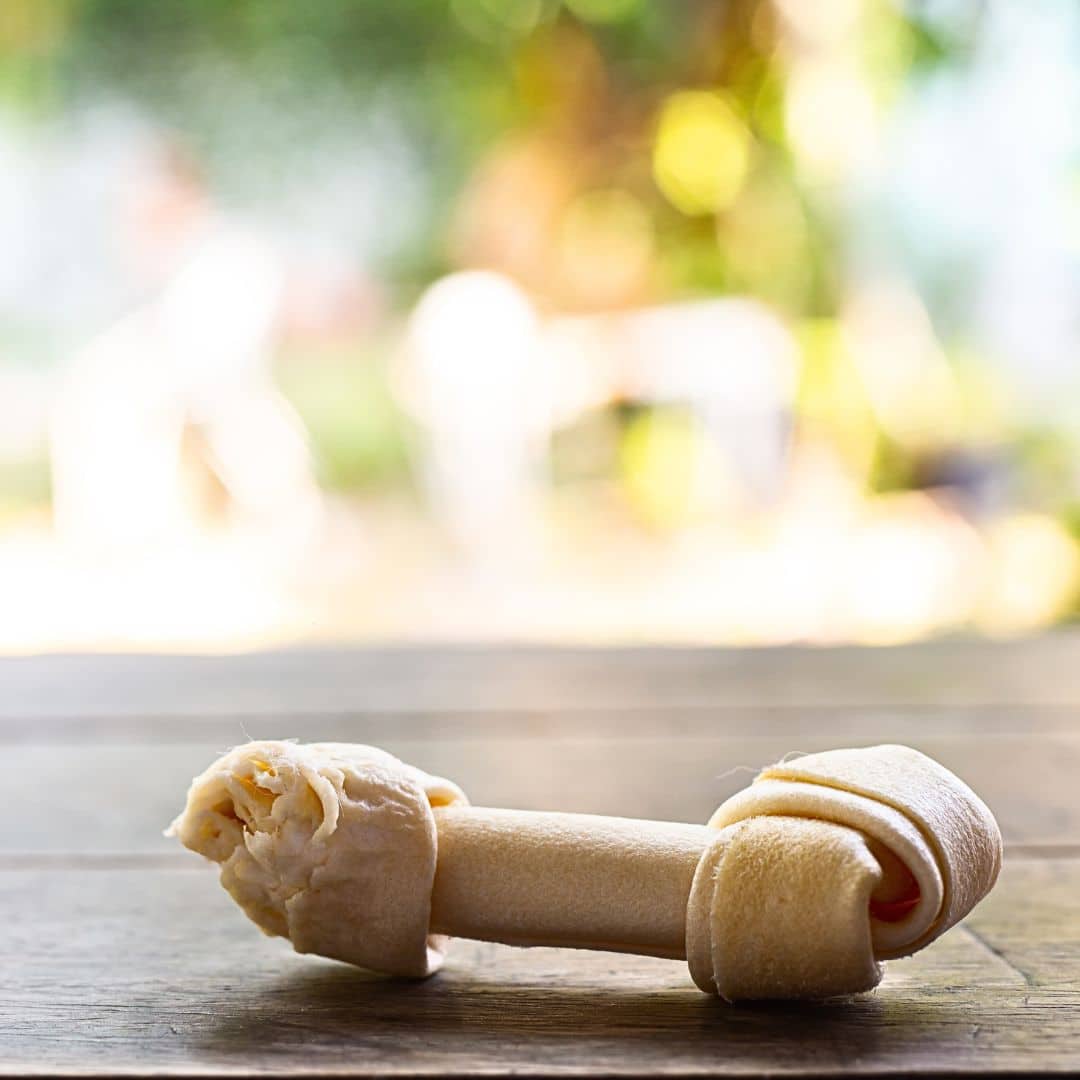 Regarding dog toys, steer clear of rawhide at all costs! Animal Kennel Club reveals the potential risks associated with rawhide toys. Rawhide can pose a hazard and may lead to digestive issues or blockages. 
Instead, opt for safer alternatives like rubber chew toys or durable nylon bones. Ensure your pup's safety and peace of mind by avoiding rawhide toys altogether. Remember, it's always better to be safe and keep an eye out than sorry about your furry friend's well-being!
Things to Consider While Buying a New Dog Toy
When shopping for new dog toys, there are a few things you'll want to keep in mind. We've got you covered with this guide! From durability to size suitability, we'll help you make paw-fect choices for your furry friend. So, before you head to the pet toy store, check out our tips on buying the best toys for your dog's happiness and enjoyment.
Keep Your Dog's Age in Mind
Age matters when it comes to choosing dog toys! Puppies, for instance, may require softer toys for teething. At the same time, adult dogs may prefer more durable options. 
So, choose age-appropriate toys that cater to your dog's specific needs. For example, my puppy toys included soft plush for gentle play, while all dog toys were suitable for my adult dog's robust play style. So, remember your puppy's age to ensure they have a tail-wagging good time!
Take Care of the Texture
Texture plays a crucial role in choosing dog toys. Different textures provide varied sensory experiences for dogs. For instance, dogs may enjoy toys with ridges or bumps for a satisfying chewing sensation.
However, avoid dog toys with edible stuffing as they can pose a choking hazard. If you're wondering, "Are stuffed toys bad for dogs?" opt for safer alternatives like rubber or plush toys with reinforced stitching. Remember, not all textures are created equal, so choose wisely for a paw-some playtime experience!
Don't Forget the Size
It matters when it comes to dog toys. Toy-sized dogs, for instance, prefer smaller toys that are easier to carry and play with. 
On the other hand, larger breeds may require sturdier toys that can withstand their strength. Choosing toys proportionate to your dog's size ensures safety and enjoyment. For example, a Pooch, the good puppy toy, perfectly suits the size of a medium dog for tail-wagging playtime!
Think About the Material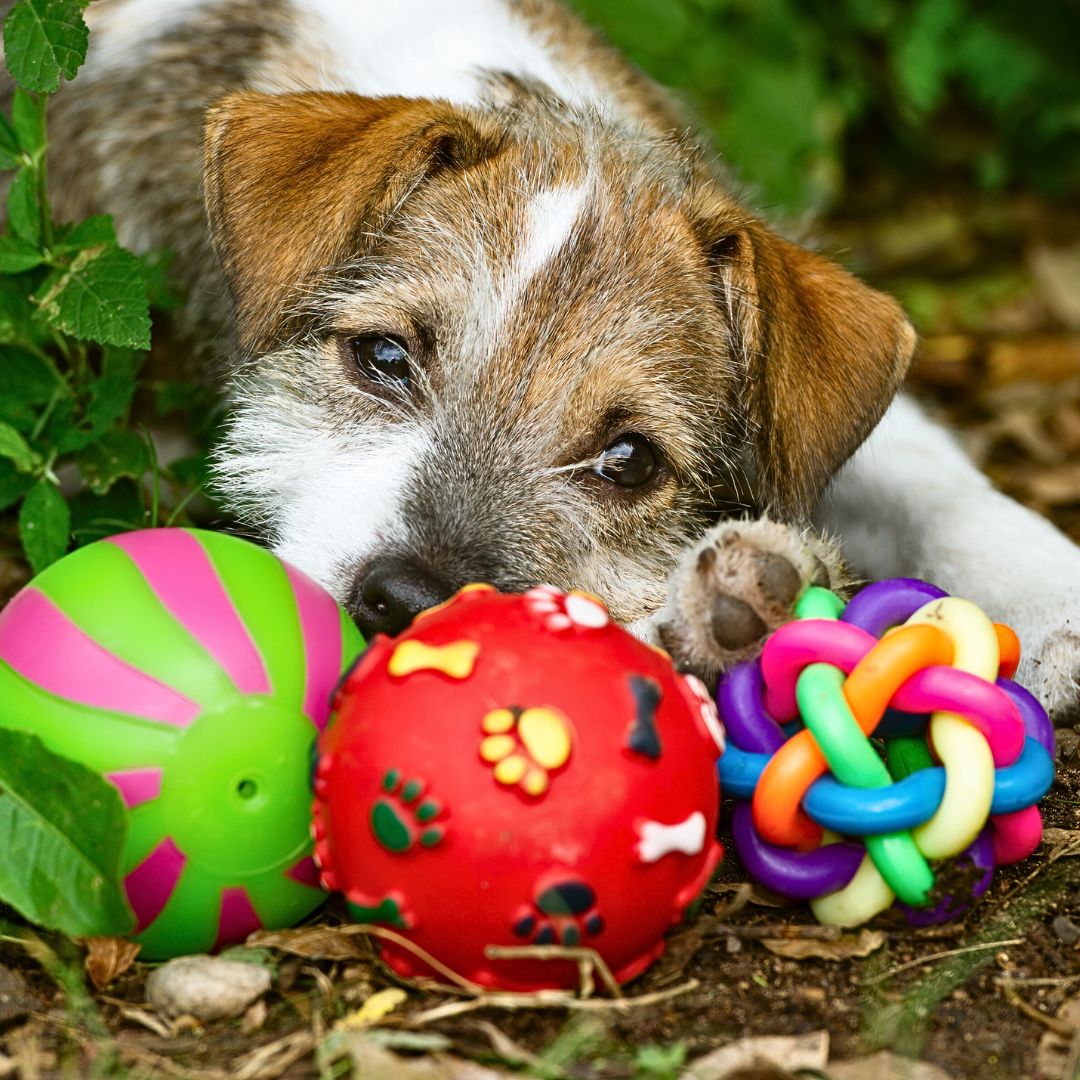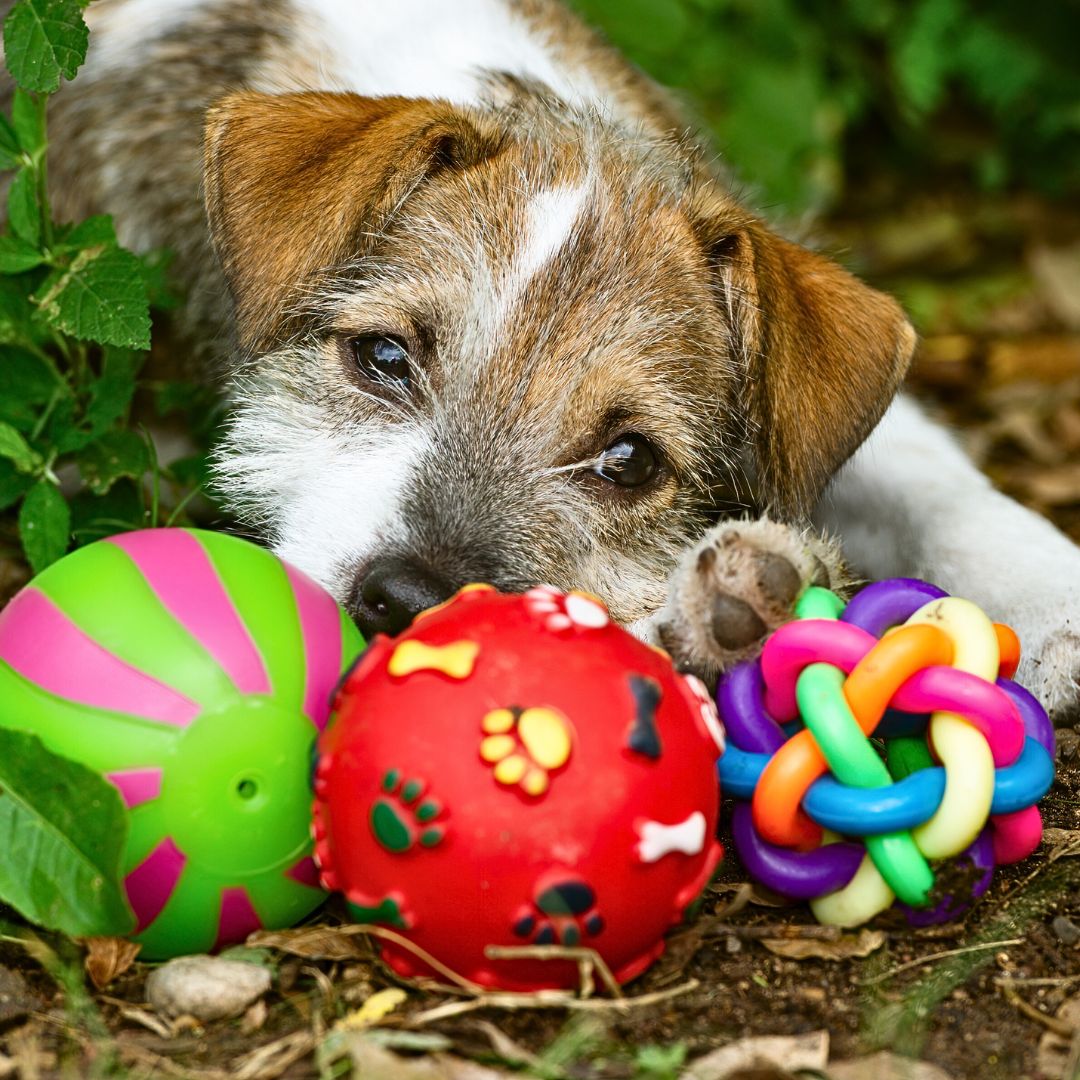 When it comes to dog toys, materials matter. Scientific research by the "Applied Animal Behaviour Science" raises important questions like "Are rubber chew toys safe for dogs?" and emphasizes the need for safe options. 
While rubber chew toys are generally safe for dogs, it's crucial to consider your pup's chewing habits and strength. Opt for durable options like nylon or reinforced rubber toys for aggressive chewers. 
Do not give your dog any toys with small bits that are easily chewed off and ingested. Look for the best safe dog toys for aggressive chewers to ensure your furry friend can enjoy playtime without any risks.
Some Dog Toys Tips to Keep in Mind
Let's look at some helpful tips to remember while choosing toys for your dog to ensure a fun and secure play session. Rotate your dog's toys every four weeks to keep things fresh and exciting. It's like giving them a surprise gift every month! 
Remember to remove damaged toys ASAP to prevent any potential hazards. Safety first, always! And if you need clarification on toys or your dog's needs, visit your vet. 
So, how much do dog toys make your puppy's tail wag? That's the reply to, "Do you like your new toy, dog?"
How many toys should a dog have?
The number of toys a dog should have depends on their preferences and play style. Various 4-6 toys can keep them entertained and prevent boredom. However, rotating and replacing toys is vital to keep the excitement alive. Remember, it's all about keeping their tails wagging with joy!
At what age do dogs like toys?
Dogs can start showing interest in toys as early as a few weeks old. Puppies often begin exploring and playing with toys during their early stages of development. It's adorable to watch them discover the joy of playtime! Just make sure to choose appropriate toys for their age and size.
Do dogs get jealous of toys?
While dogs can display behaviours that resemble jealousy, it's more likely a sign of resource guarding or competition for attention. Some dogs may show possessiveness over toys, but providing them with individual playtime and awareness is crucial to avoid conflicts and promote harmony in the household.
Final Thoughts
Congratulations, you're now equipped with the knowledge on "How to Pick the Perfect Toys for Your Dog!" Ensure your dog is happy. When choosing toys, they must consider their age, size, play style, and preferences. These factors allow you to find the perfect toys to make your tail wag joyfully.
Remember, it's all about tailoring the toys to your furry friend's needs and providing them with safe and engaging playtime. So go ahead, fetch the best toys for your canine companion, and watch their tails wag with delight!