The Importance of Ensuring Your Labradoodle's Safety During the Festive Season
The Christmas festive season is filled with joy and excitement for many, including our beloved labradoodles. However, amidst all the festivities, it's crucial to prioritize their safety and well-being. Labradoodles rely on us to protect and secure us like any other pets. Here are a few reasons why ensuring your labradoodle's safety during the festive season is paramount.
Labradoodle Safety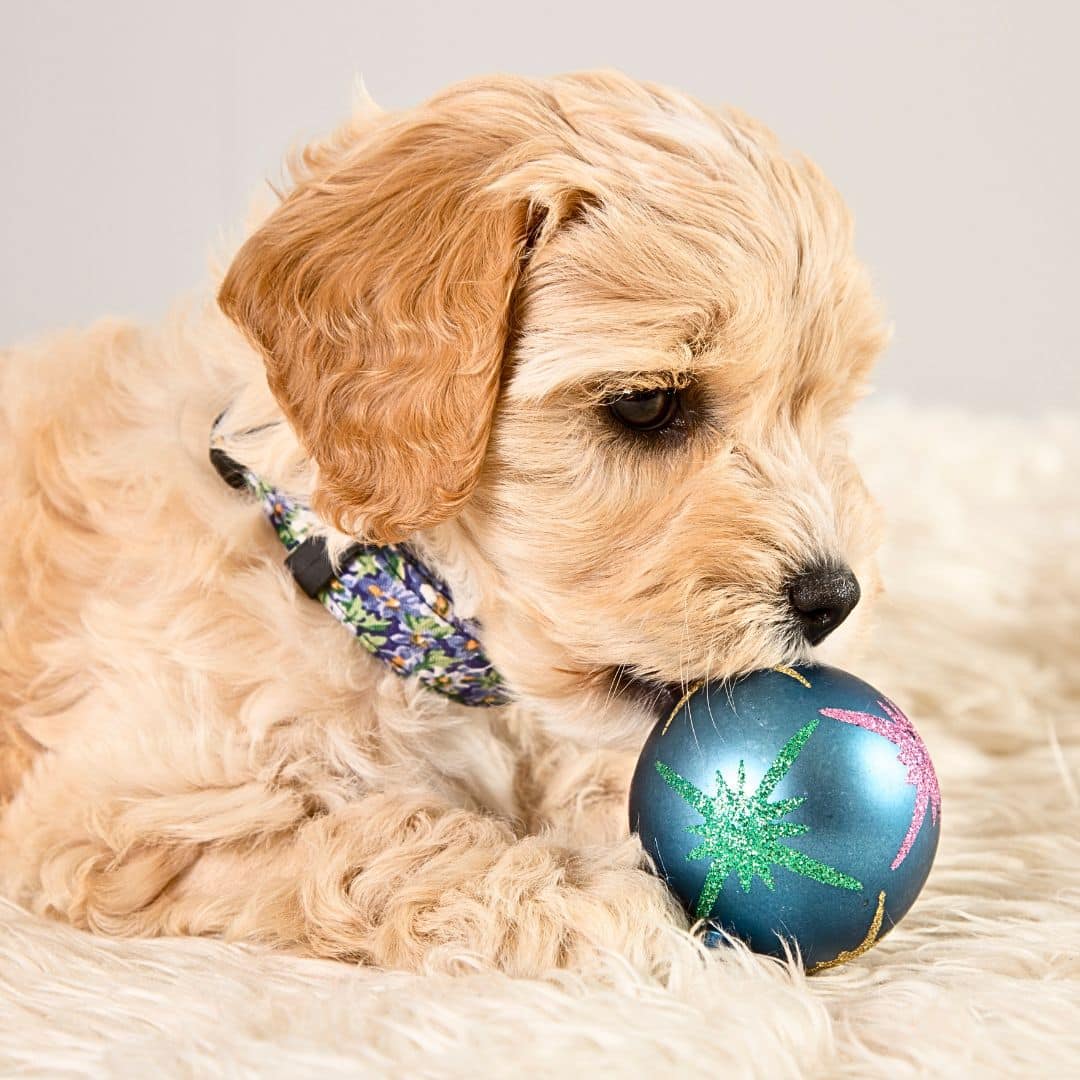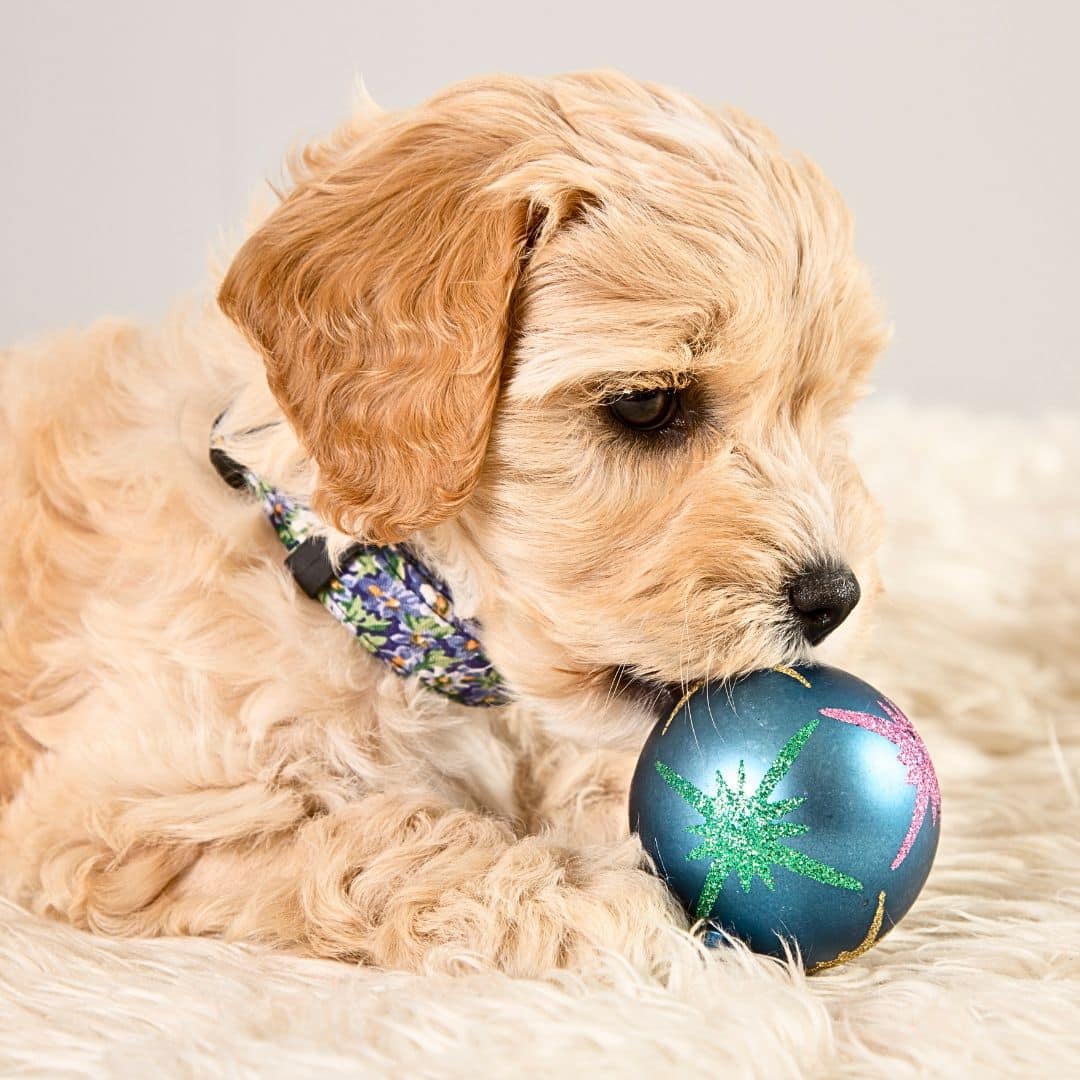 Labradoodle safety is essential for their overall health, and with the hustle and bustle of the holiday season, numerous potential hazards can pose risks to your furry friend. Christmas decorations such as tinsel, ornaments, and lights may seem harmless, but they can be hazardous if ingested by your labradoodle. It's crucial to keep these items out of their reach or opt for pet-friendly decorations to prevent accidents or health issues.
Toxic Foods

Labradoodle care includes keeping them away from foods that are toxic to dogs. During the festive season, there is often an abundance of tempting treats around the house. It's important to educate yourself on what foods are safe for your labradoodle and avoid feeding them anything that could harm their digestive system or cause an allergic reaction. Chocolate, grapes, raisins, and certain nuts are just some foods that should be kept out of their reach.
Holiday Stress

Your labradoodle's health can be compromised by the increased stress levels associated with the festive season. The hustle and bustle of parties, visitors, and loud noises can overwhelm our furry friends. It is essential to create a safe space for your labradoodle to retreat when they feel anxious or stressed. It can be a designated room or a cozy crate where they can relax away from the commotion.
Moreover, Christmas pet safety also extends to outdoor activities. Cold weather conditions can have adverse effects on your labradoodle's well-being. Ensure they are adequately protected with a warm coat or sweater during walks, and be mindful of salt or ice melt products used on sidewalks as they can irritate their paws.
Prioritizing your labradoodle's safety during the festive season is crucial for their health and well-being. You can ensure your labradoodle has a safe and enjoyable holiday season by keeping them away from potential hazards, avoiding toxic foods, providing a stress-free environment, and protecting them during outdoor activities. Remember, their safety is in your hands, and by being
Preparing Your Home for a Pet-Friendly Christmas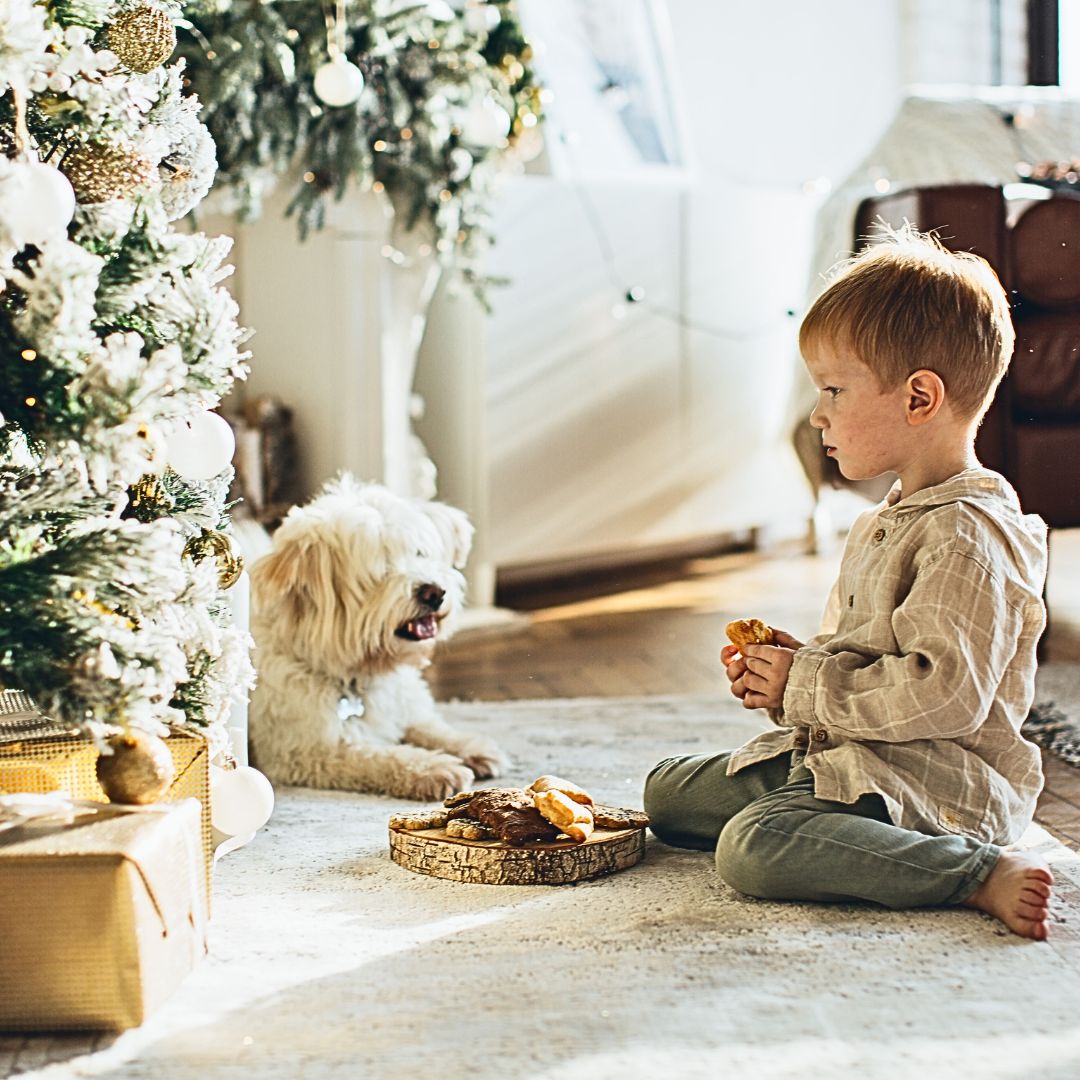 Are you excited about celebrating Christmas with your beloved labradoodle? We understand the importance of ensuring your home is pet-friendly during this festive season. Here are some tips on how to prepare your home for a pet-friendly Christmas:
1. Pet-Proofing Your Home: Before the holiday season begins, it's crucial to pet-proof your home to ensure your labradoodle's safety. Keep potentially harmful items, such as ornaments, tinsel, and electrical cords, out of reach. Secure any loose wires or decorations that could be tempting for your furry friend.
2. Labradoodle-Friendly Decorations: When choosing decorations, opt for labradoodle-friendly options. Avoid using fragile ornaments that can easily break and pose a hazard to your pet. Instead, consider using shatterproof ornaments made from pet-safe materials. You can also hang decorations higher up on the tree to prevent curious paws from knocking them down.
3. Christmas Tree Safety: When you have a playful Labradoodle at home, taking precautions with your Christmas tree is important. Anchor the Christmas Tree securely to prevent it from toppling over if your Labradoodle decides to explore. Consider using a tree skirt or barrier around the tree's base to discourage them from getting too close.
4. Safe Holiday Plants for Labradoodles: Some holiday plants are toxic to pets if ingested. Keep your labradoodle safe by avoiding poinsettias, mistletoe, and holly plants. Instead, choose pet-safe alternatives like Christmas cacti or spider plants, which are non-toxic.
Following our, you can ensure a safe and enjoyable Christmas for your labradoodle. Let the festivities begin while ensuring the well-being of your furry friend!
Eating Right: Navigating the Christmas Feast with Your Labradoodle in Mind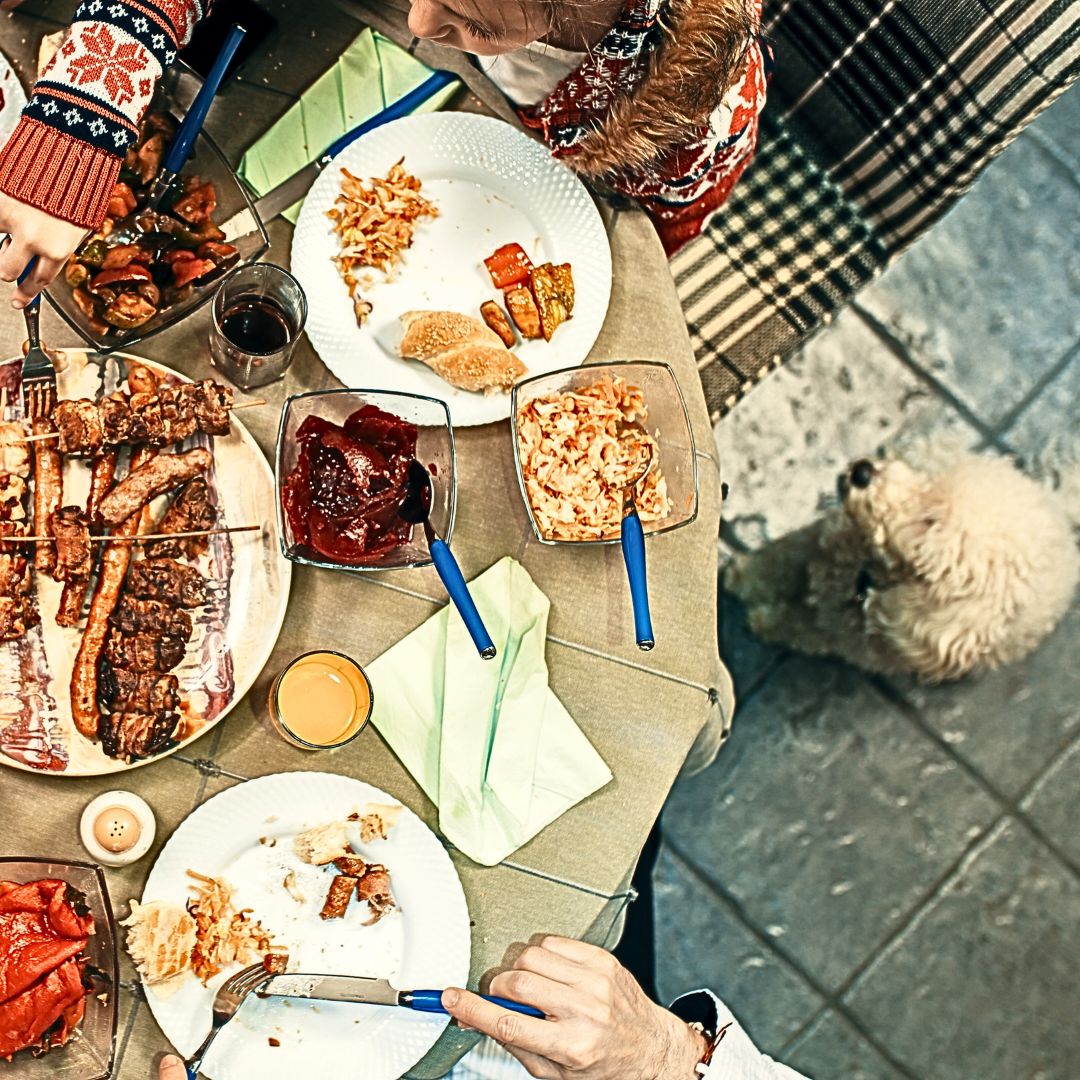 The holiday season is a time of indulgence, with delicious feasts and treats. As you prepare to celebrate and create lasting memories, it's important not to forget about your furry friend's well-being. Labradoodles, known for their lovable nature and energetic personalities, require special attention regarding their nutrition. This guide will explore labradoodle-specific dietary considerations, holiday pet treats, avoiding toxic foods, and the importance of portion control.
Labradoodle Nutrition:
Labradoodles thrive on a balanced diet that provides them with essential nutrients. High-quality commercial dog food formulated for medium-sized breeds is generally a good choice. Look for dog food with real meat as the main ingredient, and avoid excessive fillers or artificial additives. Also, consult your veterinarian to determine if your labradoodle has specific dietary needs or allergies.
Holiday Pet Treats:
It's only natural to want to include your labradoodle in the holiday festivities by treating them to special goodies. However, not all human foods are safe for dogs. Instead of sharing from your plate, opt for specially-made pet treats that are designed with their unique nutritional requirements in mind. Healthy organic ingredients treats can be found at pet stores or home using dog-friendly ingredients such as lean meats, fruits, and vegetables.
Toxic Foods to Avoid:
Certain foods are toxic or harmful to dogs during the holiday season. Some examples include chocolate, grapes and raisins, alcohol, caffeine, onions, garlic, and nuts such as macadamia. It's important to keep these items out of your labradoodle's reach and ensure that well-meaning guests know these potentially dangerous foods.
Be mindful of what your furry friend consumes, as certain substances like caffeine and theobromine can adversely affect their health. These chemicals can accelerate heart rate and stimulate their nervous systems, potentially leading to discomfort or serious complications for your beloved pet. Regarding your furry friend's well-being, the risk of them falling ill from ingesting chocolate can vary depending on the quantity of chocolate consumed and their weight. It is crucial to note that the concentrations of these harmful substances can differ across various types of chocolate.
Portion Control:
While it may be tempting to spoil your labradoodle with extra treats and table scraps during the holidays, practicing portion control is crucial. Overfeeding your Labradoodle can lead to obesity and a range of health issues. Remember that labradoodles have specific calorie requirements based on size and activity level. Stick to a regular feeding routine and limit treats to maintain a healthy weight.
Maintaining a Routine: Keeping Your Labradoodle Happy and Stress-Free during the Holidays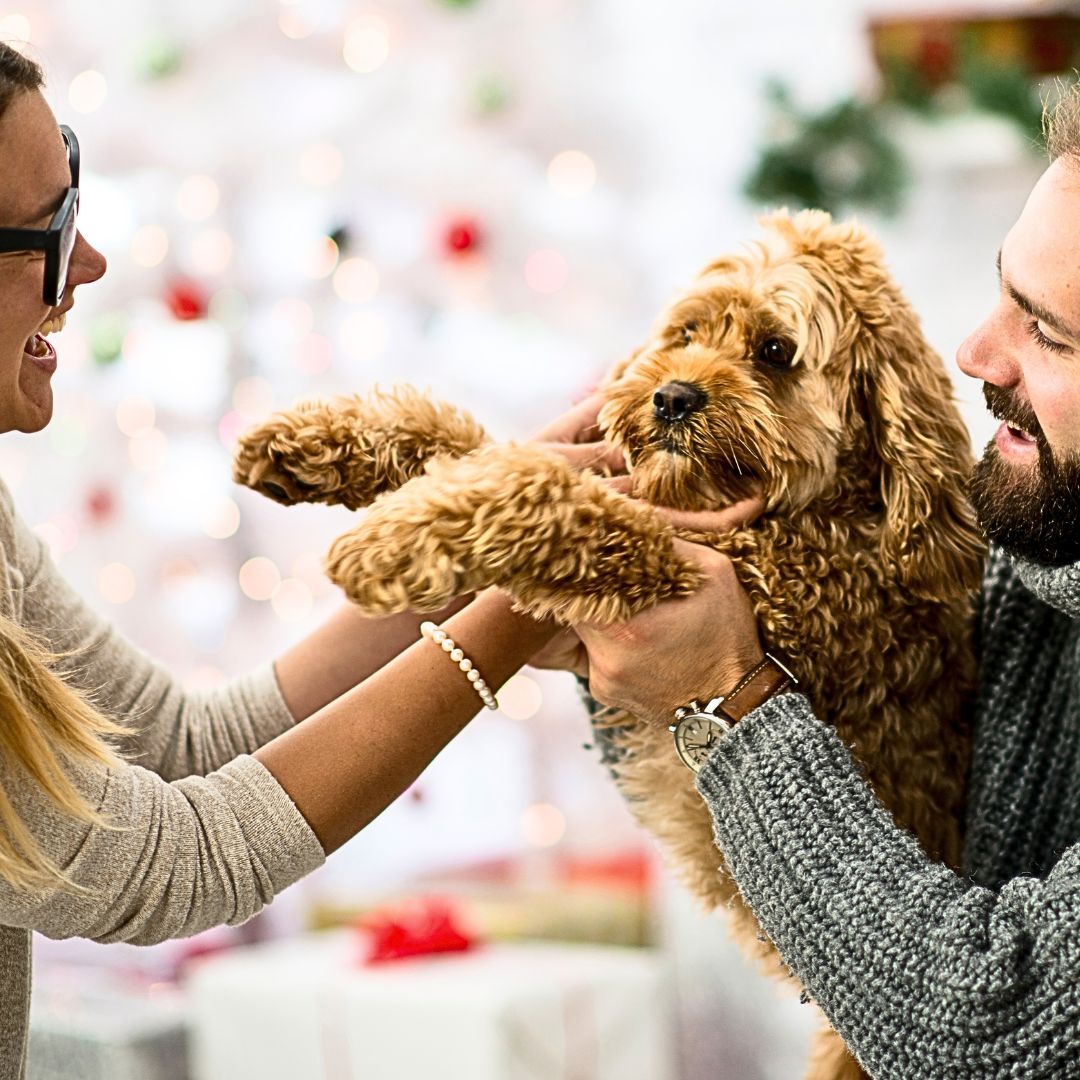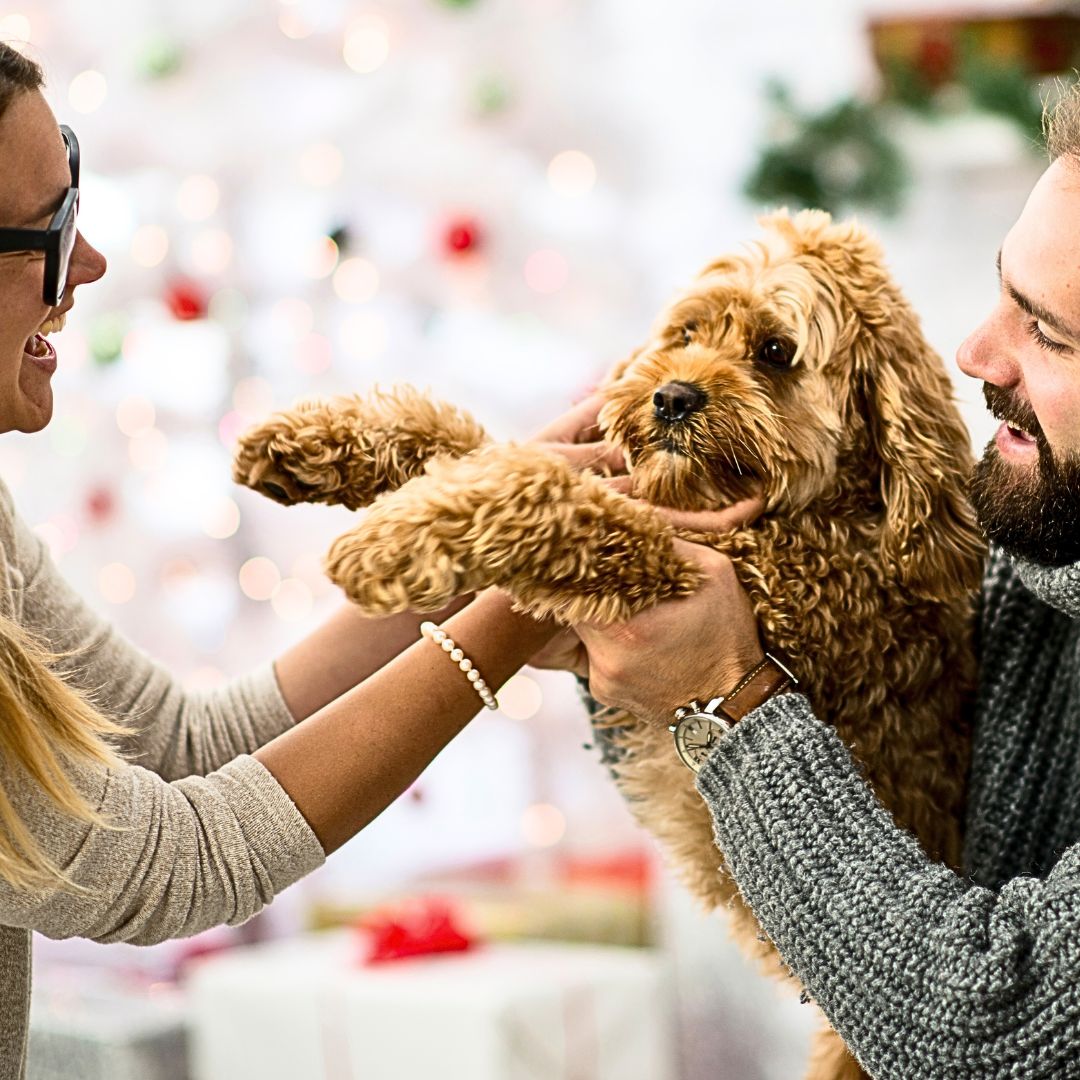 The holiday season is joyous, with festivities, decorations, and loved ones. As Labradoodle owners, it's essential to ensure that our furry friends remain happy and stress-free during this busy period. One way to achieve this is by maintaining a routine that includes exercise, playtime, and managing visitors and guests around your dog. This guide will provide valuable tips to navigate the holiday season while keeping your Labradoodle's well-being in mind.
Stick to a Holiday Routine:
Labradoodles thrive on routine, so it's crucial to maintain their regular schedule as much as possible during the holidays. Dogs feel most secure when they know what to expect, so keep their feeding times, exercise routines, and sleep schedules consistent. This stability will help reduce stress and anxiety during this potentially chaotic time.
Exercise and Playtime:
Labradoodles are energetic dogs and require regular exercise to stay happy and healthy. With the holiday hustle and bustle, carving out time for playtime and exercise sessions is essential. Take your Labradoodle for daily walks or engage in active play sessions at home or in a secure area. This physical activity will help burn off excess energy and keep your dog content.
Managing Visitors and Guests:
Having visitors and guests over during the holidays is inevitable but can sometimes be overwhelming for your Labradoodle. To ensure their comfort, consider the following tips:
a) Introduce Your Dog Gradually: If your Labradoodle is not accustomed to having many people around, introduce them to guests gradually. Allow your dog to approach new people at their own pace, ensuring they feel safe and secure.
b) Create a Safe Space: Designate a quiet area in your home where your Labradoodle can retreat if they feel overwhelmed. Provide their bed, toys, and water in this space to create a familiar and comforting environment.
c) Communicate Boundaries: Inform your guests about any rules or boundaries related to your Labradoodle. Let them know if your dog is sensitive to certain behaviours or if areas in the house are off-limits.
d) Supervise Interactions: Keep a close eye on interactions between your Labradoodle and guests, especially children. Ensure everyone understands how to approach and interact with your dog safely and respectfully.
Ensuring a Peaceful Coexistence Between Your Labradoodle and Guests/Children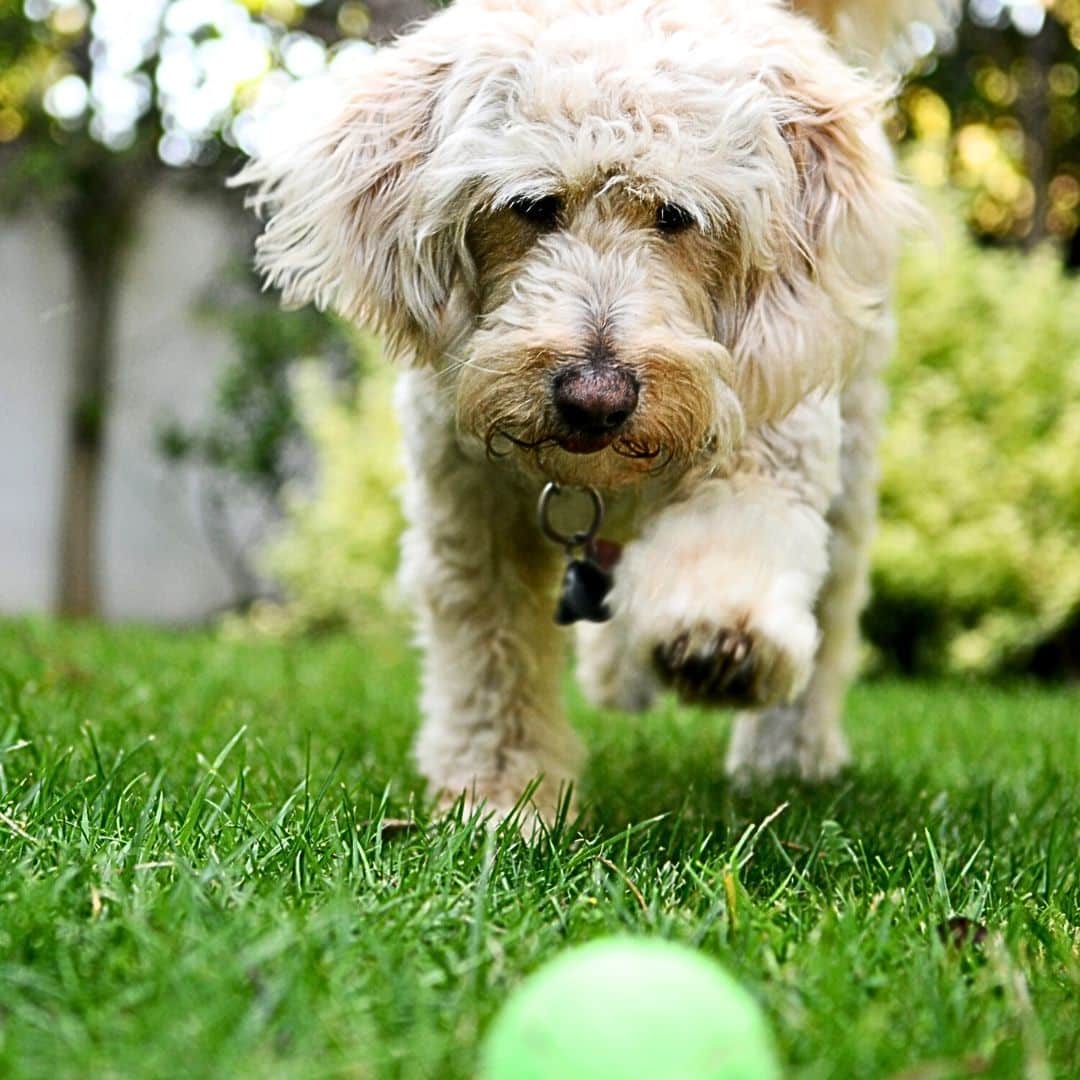 Are you tired of worrying about how your Labradoodle will behave around guests and children? We understand the importance of peaceful coexistence and are here to help! By taking the time to socialize with your Labradoodle and establishing clear boundaries and rules, you can create a harmonious environment for everyone involved.
Firstly, socialization is key. Exposing your Labradoodle to different people, environments, and situations from an early age is essential. This will help them become more comfortable and confident around guests and children. Organize playdates with friends who have well-behaved children or invite visitors over regularly to give your Labradoodle positive experiences.
Setting boundaries and rules is equally important. Your Labradoodle needs to understand what behaviour is expected of them. Teach your Labradoodle basic commands like "sit," "stay," and "leave it." These commands will come in handy when interacting with guests and children. Consistency is key, so ensure that everyone in your household enforces the same rules.
When guests or children come over, supervise their interactions with your Labradoodle. 
Introduce your Labradoodle gradually by allowing them to approach guests at their own pace. Provide positive reinforcement for good behaviour, such as treats or praise. If your Labradoodle becomes overwhelmed or anxious, give them a safe space where they can retreat.
Educating your guests and children about appropriate behaviour around your Labradoodle is important. Teach them not to approach or touch the dog without permission, especially when eating or resting. Encourage gentle petting and discourage any rough play that could lead to an unpleasant reaction from your Labradoodle.
Remember, patience is key during this process. Each Labradoodle is unique; some may require more time and effort than others. Please don't rush the process, as it's crucial for building a positive relationship between your Labradoodle, guests, and children.
Socializing your Labradoodle and establishing clear boundaries and rules can create a peaceful coexistence between your beloved pet, guests, and children. With time and effort, you'll be able to enjoy stress-free interactions and create a safe and happy environment for everyone involved.
About Labradoodles' Safety during Christmas 2023:
1: Can My Labradoodle Eat Turkey Bones?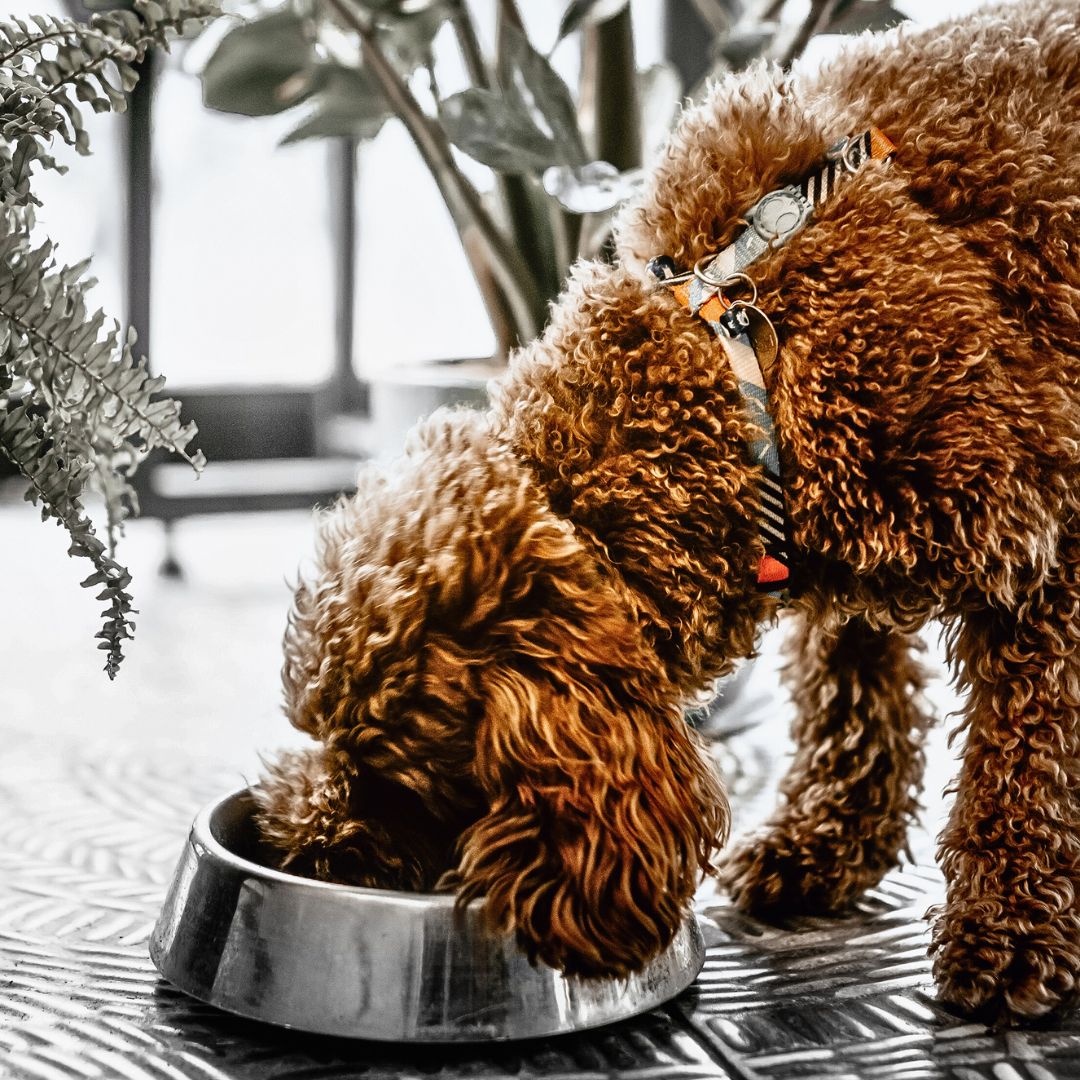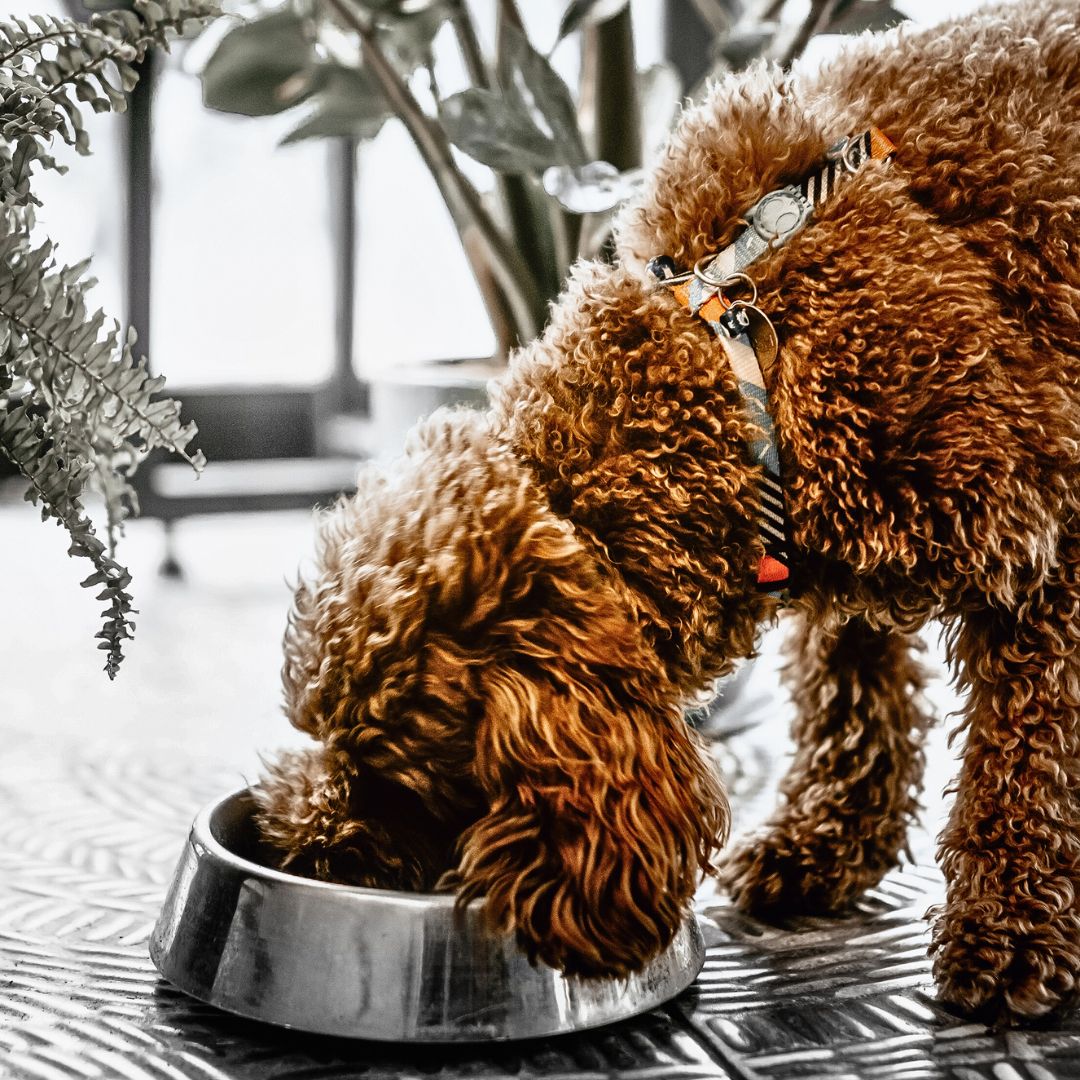 No, it is not safe for your Labradoodle to eat turkey bones. It's important to be cautious when giving your dog bones, especially turkey bones can splinter and cause harm to the digestive system and become lodged in their throat. Avoid any potential risks; it's best to avoid giving your dog any bones, particularly cooked ones. Instead, offer them safe and appropriate dog-friendly treats and chew toys to keep them entertained.
2: How Do I Keep My Dog Calm During Fireworks?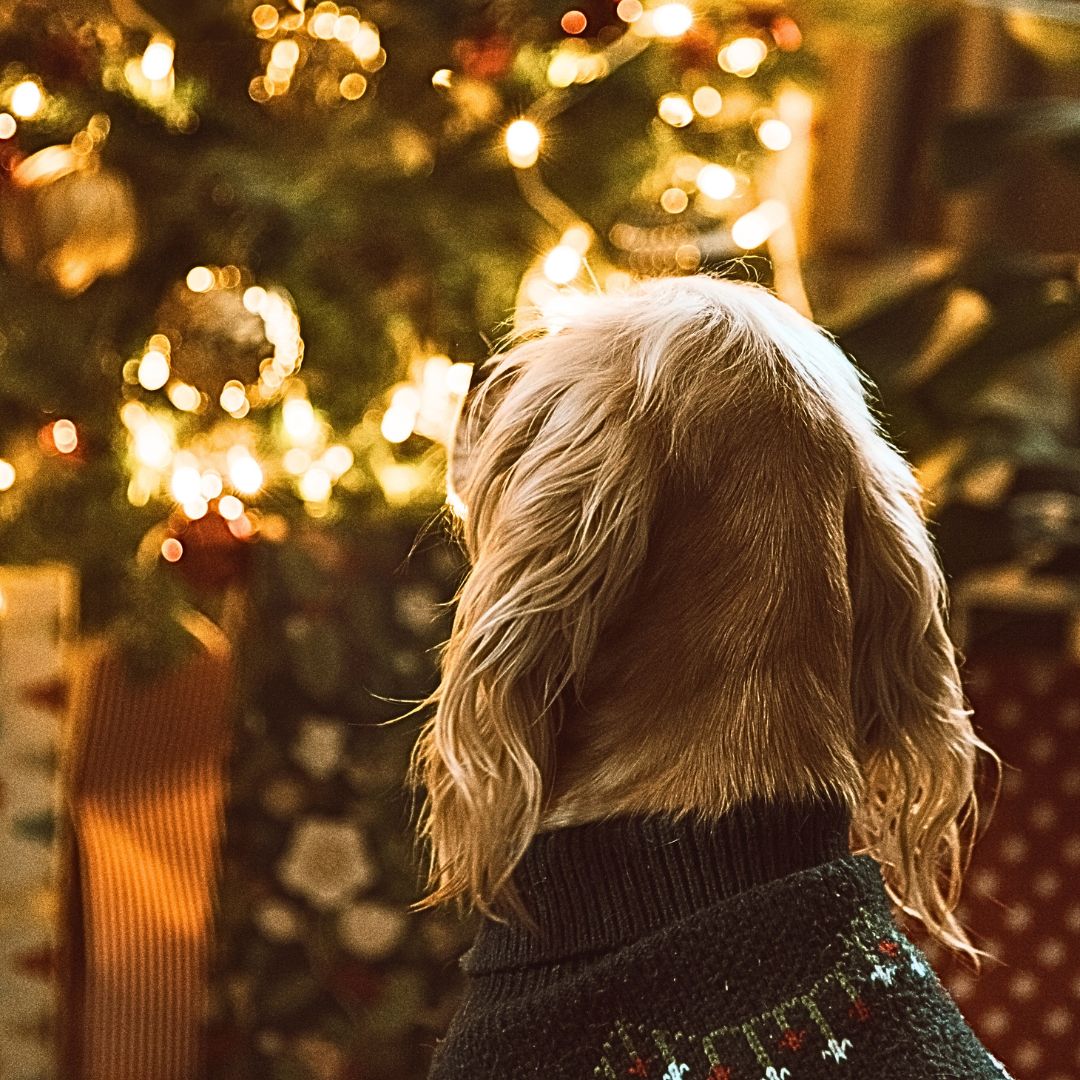 Keeping your dog calm near fireworks can be challenging, but you can help ease their anxiety with a few proactive steps. Here are some tips to consider:
1. Create a safe space: Designate a quiet, secure area where your dog can retreat during fireworks. Make it comfortable by adding their bed, toys, and familiar scents.
2. Provide distractions: Keep your dog occupied with activities they enjoy. Offer puzzle toys, interactive feeders, or long-lasting chews to help redirect their focus away from the noise.
3. Close windows and curtains: Reducing the sound and visual stimulation can help minimize your dog's anxiety. Closing windows and curtains will dampen the noise and block out bright flashes.
4. Use white noise or calming music: Playing soothing sounds or classical music can help the noise of fireworks and create a calming atmosphere for your dog.
5. Stay calm: Dogs are perceptive and can pick up on your emotions. Maintain a calm and reassuring demeanour around your dog to help them feel more secure.
6. Consult your veterinarian: If your dog experiences severe anxiety during fireworks, consult with your veterinarian. They may be able to recommend calming aids or medications to help alleviate their stress.
Remember, every dog is unique, so experiment with different strategies to find what works best for your furry friend. You can help your dog during fireworks celebrations with patience and understanding.
3: Is It Safe to Give My Dog Chocolate as a Treat?
No, giving your dog chocolate as a treat is unsafe. Did you know that chocolate is harmful to dogs due to a substance called theobromine? It's crucial to note that even a small quantity of chocolate can cause your pet to experience vomiting, diarrhea, and an elevated heart rate. In severe instances, these symptoms can lead to death. Therefore, avoiding giving your furry friend any chocolate is advisable and instead, opt for dog-friendly treats.
4: Can I give my Labradoodle Christmas leftovers?
Absolutely! Labradoodles are known to have healthy appetites and can enjoy some Christmas leftovers in moderation. However, it's important to be cautious about what you feed them. Some human foods are harmful or toxic to dogs. Here are a few tips to keep in mind:
1. Stick to dog-friendly ingredients: Offer your Labradoodle plain, unseasoned meats like turkey or ham without any bones, skin, or fatty pieces. Please avoid using any seasonings, spices, or sauces that might upset their stomach.
2. Watch out for potential hazards: Certain foods, such as chocolate, garlic, onions, grapes, and raisins, can be toxic to dogs. Make sure to keep these items away from your Labradoodle's reach.
3. Avoid rich and fatty foods: While sharing rich dishes like gravy or buttery mashed potatoes may be tempting, these can cause digestive issues for your furry friend. Stick to lean proteins and steamed vegetables instead.
4. Offer small portions: Treats and leftovers should only make up a small portion of your Labradoodle's diet. Their main meals should be balanced dog food that meets their nutritional needs.
5. Be mindful of allergies: If your Labradoodle has any known food allergies or sensitivities, avoid giving them any leftovers that contain those ingredients.
Always consult your veterinarian if you have concerns about feeding your Labradoodle. Human food can provide personalized advice based on your dog's needs and health conditions.
Remember, moderation is key when sharing Christmas leftovers with your furry friend. Enjoy the holidays together and keep their health and well-being a top priority!
5: How can I prevent my Labradoodle from chewing on Christmas decorations?
To prevent your Labradoodle from chewing on Christmas decorations, here are some helpful tips:
1. Supervision: Keep a close eye on your Labradoodle whenever they are near the Christmas decorations. This will allow you to redirect their attention if they are interested in chewing.
2. Limit access: Consider restricting your Labradoodle's access to the area where the decorations are displayed. Use baby gates or barriers to create a designated space where they cannot reach the decorations.
3. Deterrent sprays: Use pet-safe deterrent sprays on the Christmas decorations. These sprays are bitter to dogs, and they generally dislike them, which can help discourage tour Labradoodle from chewing on the items.
4. Provide alternatives: Ensure your Labradoodle has plenty of chew toys to keep them occupied. Offer these toys as an alternative whenever you notice them showing interest in the decorations.
5. Training and redirection: Teach your Labradoodle basic commands like "leave it" or "drop it." This way, you can redirect their attention away from the decorations and towards something more appropriate.
6. Secure decorations: Ensure that Christmas decorations are securely fastened or hung out of reach. Avoid using low-hanging ornaments or fragile items that may tempt your Labradoodle to investigate or chew on them.
7. Exercise and mental stimulation: A tired dog is less likely to be destructive. Ensure your Labradoodle gets plenty of exercise and mental stimulation throughout the day to help curb their urge to chew.
When training your Labradoodle, it's important to remember that consistency and positive reinforcement are key. By implementing these strategies and providing appropriate alternatives, you can help redirect their behaviour and keep your Christmas decorations safe.
6: Are there any specific holiday activities that may harm my Labradoodle?
As a responsible pet owner, it's important to be mindful of certain holiday activities that may pose a risk to your Labradoodle's well-being. Here are a few specific exercises to approach with caution:
1. Decorating: While festive decorations can create a joyful atmosphere, be cautious with potentially hazardous items such as tinsel, ornaments, and electrical cords. These can be tempting for curious dogs and may lead to choking hazards or electrical accidents. Keep decorations out of your Labradoodle's reach, or opt for pet-friendly alternatives.
2. Loud noises: Parties and fireworks are common during the holiday season, but the loud noises can distress dogs like Labradoodles. Ensure your pup has a quiet and secure place to retreat when things get too noisy. Consider using white noise or providing them with a calming product recommended by your veterinarian.
3. Traveling: If you plan to travel during the holidays, make sure your Labradoodle is safe and comfortable. Whether leaving them at a trusted boarding facility or bringing them along on the trip, ensure they have all necessary vaccinations and identification tags.
5. Cold weather: Depending on where you live, winter holidays may coincide with colder temperatures. Labradoodles have a thick coat but can still be susceptible to hard weather-related issues like hypothermia or frostbite. Protect them with appropriate clothing and limit their time outdoors in extreme conditions.
Remember, every dog is different, so it's essential to consider your Labradoodle's needs and consult your veterinarian about any specific concerns or precautions for the holiday season.
7: What kind of Christmas gifts are suitable for Labradoodles?
Labradoodles are wonderful pets, and finding the perfect Christmas gift for them can be a delightful experience. When choosing gifts for Labradoodles, it's important to consider their unique needs and playful nature. Here are a few gift ideas that could make their holiday season even more enjoyable:
1. Interactive toys: Labradoodles are intelligent and active dogs, so providing them with interactive toys can keep them mentally stimulated and entertained. Look for toys that dispense treats or have hidden compartments to challenge their problem-solving skills.
2. Chew toys: Labradoodles love to chew, so high-quality chew toys made from durable materials are a great option. Look for toys specifically designed for strong chewers to ensure they last longer.
3. Comfortable bedding: Labradoodles enjoy having a cozy spot to relax and unwind. Consider getting them a comfortable dog bed or a plush blanket where they can curl up and get some well-deserved rest.
4. Puzzle games: Labradoodles are known for their intelligence, so that puzzle games can be a fantastic gift. These games challenge their problem-solving abilities while providing mental stimulation and entertainment.
5. Grooming supplies: Labradoodles have a unique coat that requires grooming to keep it healthy and tangle-free. Consider gifting grooming supplies such as brushes, combs, or even a professional grooming session to help keep their coat in shape.
Every Labradoodle is unique, so it's important to consider their preferences and needs when selecting the perfect Christmas gift. Enjoy the process of finding something special that will bring joy to your beloved Labradoodle during the holiday season!
Conclusion: Ensuring a Safe and Enjoyable Christmas for Your Labradoodle
In conclusion, prioritizing the safety and enjoyment of your Labradoodle during the Christmas season is of utmost importance. Following simple guidelines can create a joyful and stress-free environment for your furry friend.
First and foremost, be mindful of the decorations you choose to adorn your home. Opt for pet-friendly ornaments and avoid using any decorations that could be potentially hazardous if ingested. Keep fragile or breakable items out of reach and secure your Christmas tree to prevent accidental toppling.
When it comes to festive foods, resist the temptation to share your holiday feast with your Labradoodle. Many traditional Christmas foods can be harmful to dogs, including chocolate, grapes, onions, and alcohol. Stick to their regular diet and consider providing them with some dog-friendly treats instead.
Creating a calm and peaceful space for your Labradoodle is crucial during the holiday season. With all the hustle and bustle, it is important to provide them with a quiet area where they can retreat when they need downtime. Consider setting up a cozy bed or crate in a secluded spot away from the festivities.
Lastly, remember to include your Labradoodle in the Christmas fun! Engage them in interactive play sessions or puzzles to keep their minds stimulated. Purchase some durable chew toys or a new squeaky toy as a special gift just for them.
By taking these measures, you can ensure that your Labradoodle has a safe and enjoyable Christmas. Remember, their well-being should always come first, so prioritize their needs throughout the holiday season.