Our Checklist is exclusively designed for Cucciolini Labradoodles.
Preparing for your puppy's arrival involves ensuring you have all the necessary supplies and that everyone at home understands the rules and routines for welcoming a new dog. You're not alone in this; the Puppy Checklist is here to guide you. It will help establish a safe and comforting environment for your new Labradoodle puppy from Cucciolini in Ontario. It will also aid you in selecting the right products and tools to care for your furry companion.
Our Checklist will help you slowly introduce your new puppy to your other pets.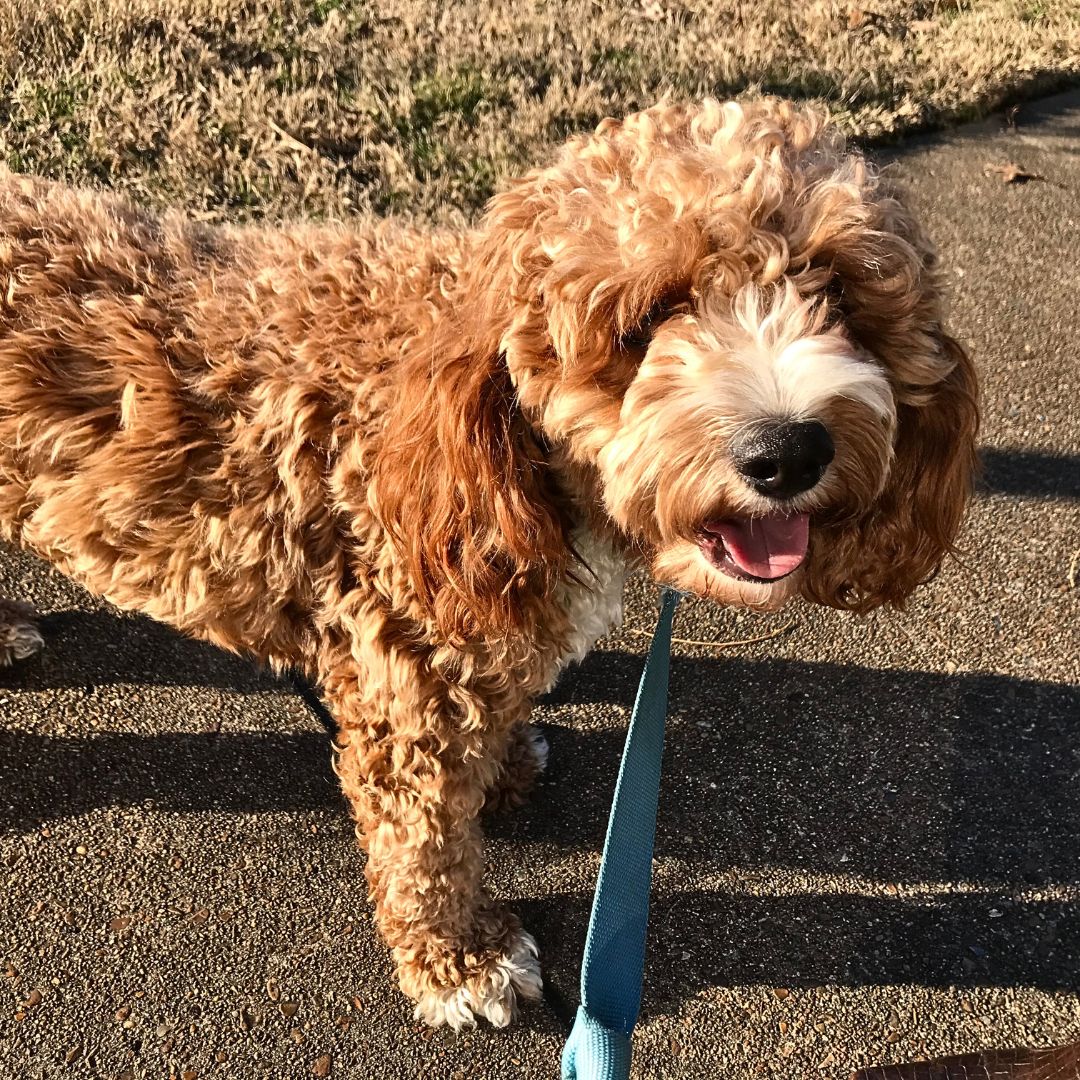 Playtime Starts with Our New Puppy Checklist!
Puppies require exercise and engagement. While intense activities like long runs and jumping are unsuitable, playing, mental stimulation, and yard exploration are beneficial. Some experts suggest waiting until a dog is around one year old to begin serious exercise, considering breed variations and growth plate closure in joints. Varying energy levels and growth rates exist among dog breeds. Incorporate play and activities in your puppy's routine, such as walks, toy play, and bonding moments, to effectively channel their energy. Opt for multiple shorter sessions instead of one prolonged session.
Naps and Bedtime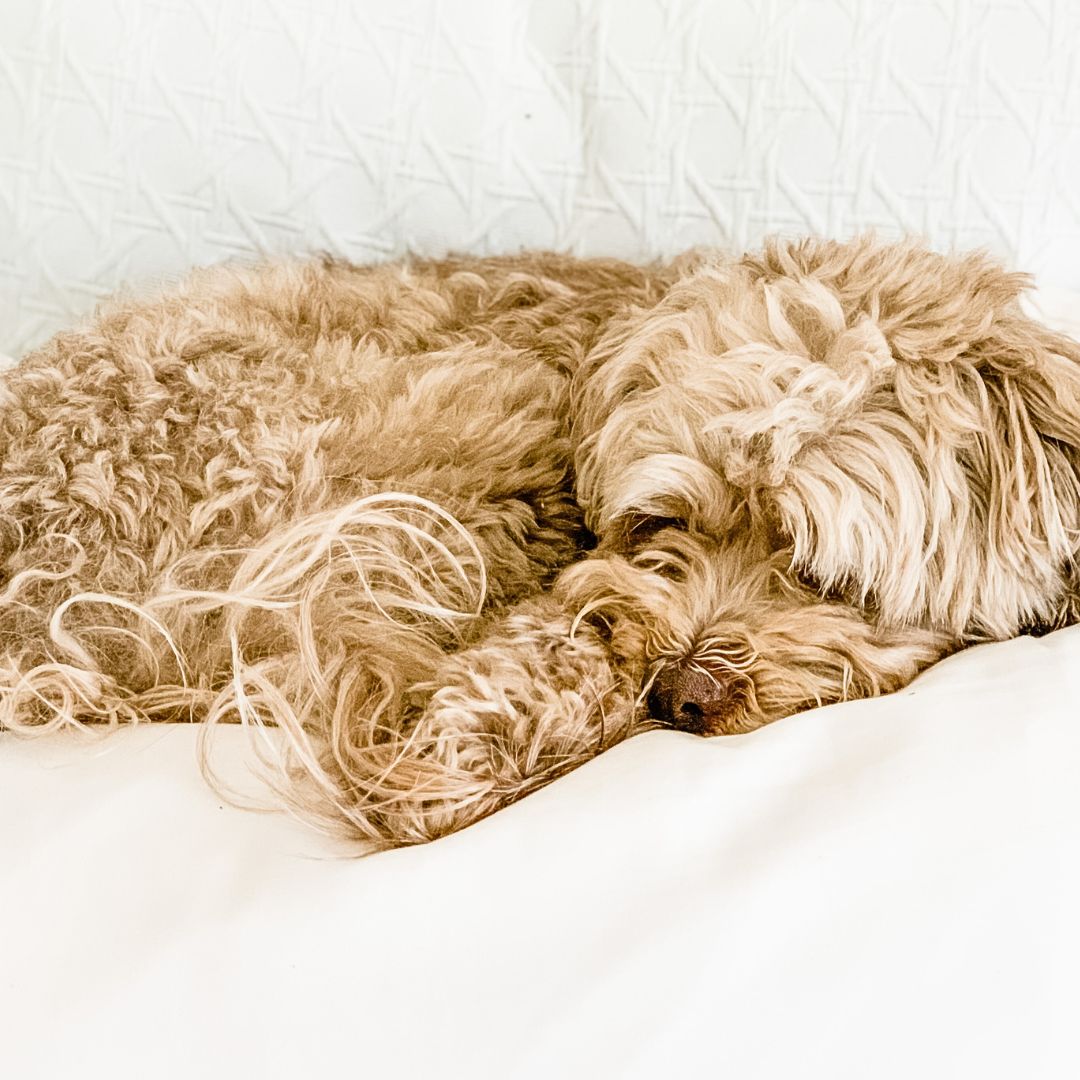 Is your new puppy causing sleepless nights? Are you puzzled about their sleep patterns? While your puppy's sleep schedule might not align with yours, you can try recommended tricks to ensure you get enough rest.
During their growth, puppies need attention and management. Puppyhood is relatively short, so it's essential to establish a sleep routine that suits both of you.
Puppies sleep a lot, sometimes up to 16 to 18 hours daily. Schedule quiet nap times multiple times a day. Teach family members, especially kids, not to disturb the puppy while sleeping. Consider placing a crate in a calm area to prevent distractions during naptime.
Setting a consistent bedtime can help your puppy adjust to a routine. Some prefer their puppy to sleep when they do.
Reasons for a puppy's sleep troubles after arrival include separation from littermates and unfamiliar surroundings. Placing a comforting blanket can help them feel secure. New sounds and smells might make it challenging for them to settle or cause nervousness.
Small bladders contribute to frequent waking. Puppies don't want to soil their sleeping area, leading to whining when they need to relieve themselves.
A Sample Meal Plan Puppy Checklist
Formulating a Puppy Checklist aids in scheduling and ensuring timely meals. It establishes a routine and facilitates organized shopping.
First thing in the morning: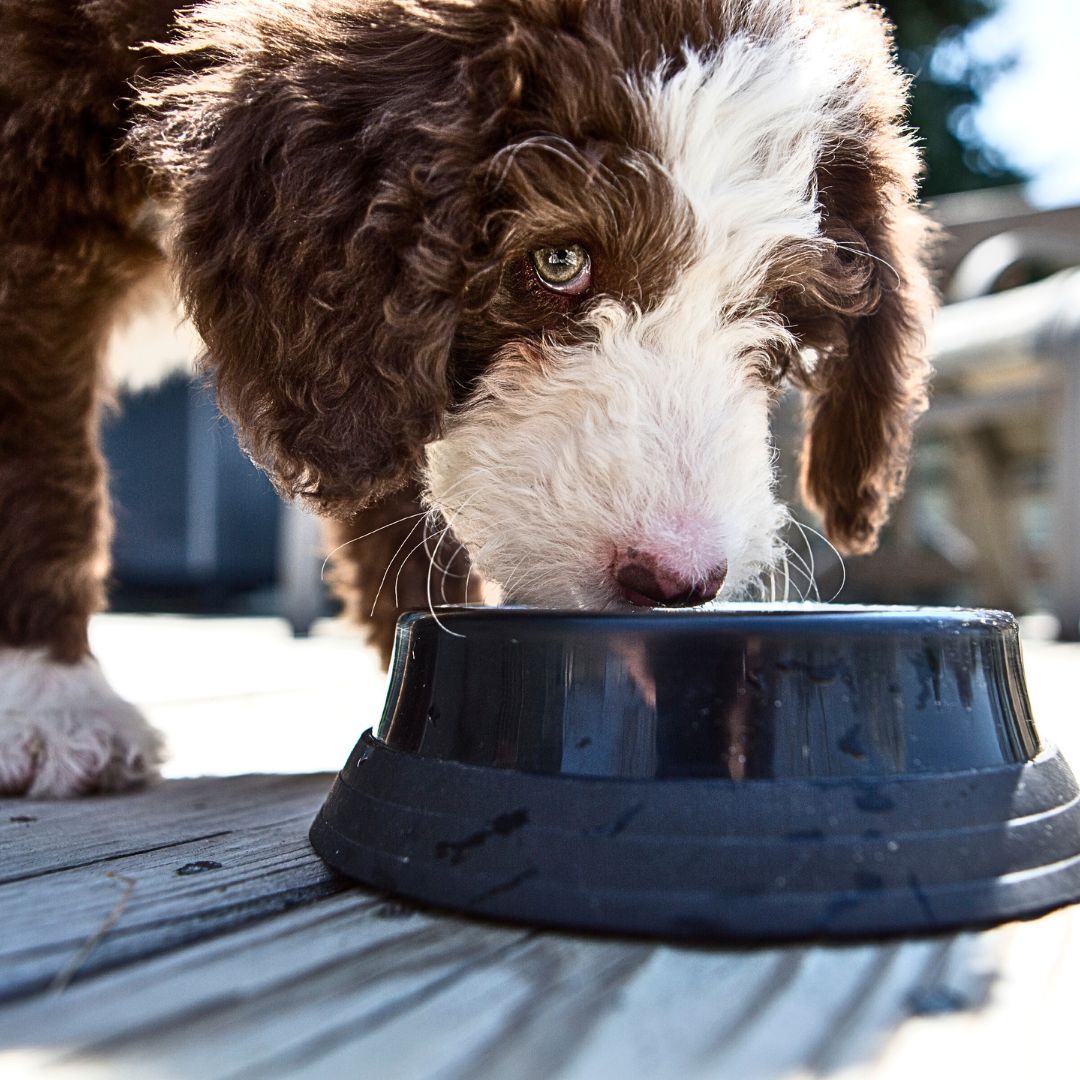 Allocate time to take the puppy outside for bathroom breaks. Engage in play and interaction to foster bonding and mutual understanding.
Breakfast time:
After the puppy's breakfast: 
Puppies often must be eliminated shortly after eating, so provide another potty break. Engage in play and training afterward. Incorporating effective training techniques is crucial for fostering a harmonious living environment with your canine companion, as the American Kennel Club (AKC) emphasizes. Amid morning routines, spare time for a brief walk to offer the puppy another opportunity to relieve themselves.
Mid-morning:
The remainder of the morning is suitable for nap time, preferably within a dog crate or enclosure. Even at home, allocate time for your puppy to be in a box or pen; this encourages independence. It's hard to predict a puppy's actions when you momentarily divert your attention, necessitating a safe place for such instances. If your puppy is alone longer than their bladder control, create a pen with a designated relief area or consider a pet sitter's assistance.
Noon: 
Reiterate the morning routine: take him outside upon waking. Follow lunch with another outdoor break. Engage in play and training to expend energy. Remember a final potty break before the afternoon nap!
Mid-afternoon:
Upon waking, go outside once more. Engage in play and training once again, followed by a potty break. If you're home, he can spend time with you before dinner.
Dinner: 
Align his meal schedule with yours, making it convenient to feed him during dinner preparation or mealtime. However, be attentive to immediately take him outside after eating. Before your family dines, offering a chew toy in his crate keeps him occupied and prevents table scraps. This prevents him from being in the way and discourages feeding him from the table.
Evening: 
One more potty break! The early evening offers ample interaction. This time is often lively for puppies, so proactive play may prevent restlessness. Later, an evening walk provides exercise and another opportunity to relieve himself. Ensure a final potty break before bedtime.
Bedtime:
Establishing a consistent bedtime simplifies adjustment and house training. Whether it's 8 p.m. or midnight, regularity is key. Guide him to his crate and assist him in getting comfortable for the night.
Night:
If your puppy can't last through the night, set the alarm for a quick, uneventful potty break. He wakes up a bit earlier than his usual time to avoid reacting to whining or barking. Then, return to bed, prepared for the next day with your puppy. Establishing this routine will pave the way for a content and well-adapted dog.
Feeding: 
Twice daily.
Water: 
Daily check for cleanliness and adequacy.
Clean Crates:

Daily cleaning maintains puppy health.
Coat Care: 
Brush to prevent tangles, fostering a special bond.
Dental Hygiene:

 
Brush teeth before and after meals.
Trim Toenails: 
Every two weeks.
Ear Care: 
Clean ears twice weekly, plucking hair to prevent infection.
Grooming: 
As needed, typically monthly.
Bathing: 
Avoid shampooing in eyes, thorough rinsing, and proper drying as required.
Practice Commands: 
Twice weekly, rewarding with treats to reinforce training and bonding.
Daily Play: 
Vital for active Labradoodles' health and weight management.
Positive Reinforcement: 
Use treats to encourage desired behaviour.
Crate Purpose:
Never for discipline, only as a haven.
Puppy Checklist Plan for Travel
Preparing to bring your new puppy home is an exhilarating time, often causing us to overlook key supplies for the journey. Here's a rundown of necessary items to pre-pack:
Keeping wipes readily available ensures you're equipped for unforeseen messes. From puppy gates to choosing the best puppy food, you'll want to make sure to have the following:
Water Bowls
Including water bowls in your puppy essentials is vital, with many choices available, including travel-friendly options to keep your pup hydrated on outings.
Although it's apparent, varying pups require specific water bowls due to size, eating habits, or health considerations.
Opt for a non-slip silicone mat to prevent sliding on floors.
The process involves experimentation, potentially leading to multiple bowls before finding the right fit; thus, factor in your puppy's hydration needs.
Food Puppy Checklist
Opting for the right puppy food is intricate, as mentioned before. It might entail trial and error to discover the right match—grain-free, raw, dry, or canned.
Regardless of your selection, prioritize a comprehensive diet packed with vital nutrients to bolster sturdy puppy development.
Considering their size and activity, puppies may require double the daily nourishment of adult dogs. Therefore, ensure the chosen food is entirely balanced. Seeking advice from your vet is wise in determining the best nutrition for your puppy.
Puppy treats, including training treats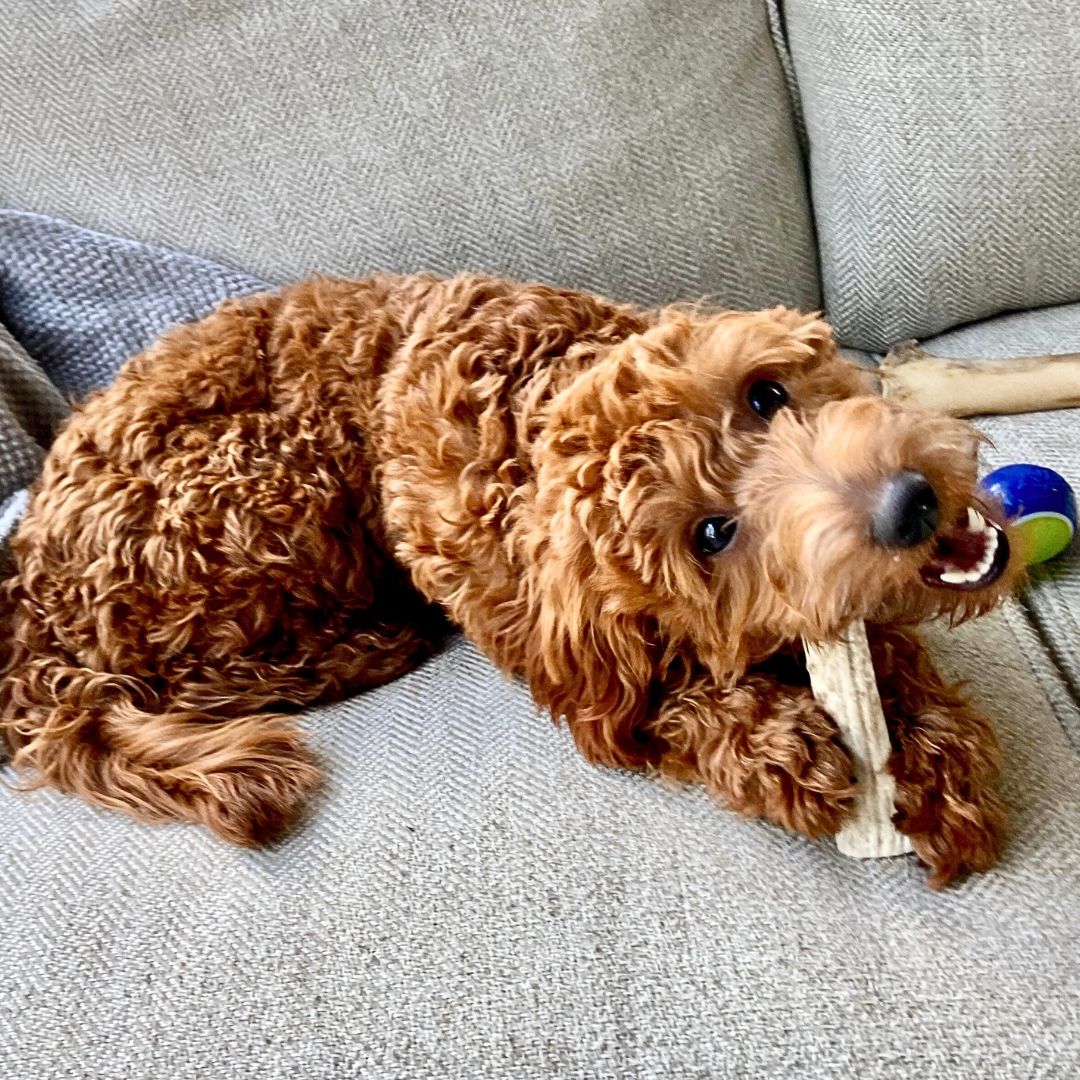 All treats for your pup should be bite-sized for their tiny mouths, aiding in chewing and digestion.
As they grow, modest portions of lean meats such as turkey and chicken serve as delectable training rewards for food-motivated pups. Cooked or raw vegetables like broccoli and carrots are equally excellent.
Puppy Checklist for New Collar & Leash
Adjustable Collar
No puppy checklist is whole without a fresh collar. Opt for a padded, adjustable option that's gentle on your pup's skin. Extra credit if you choose a brand featuring reflective elements, boosting visibility during evening strolls.
Puppy Leash
Choosing the appropriate puppy leash is essential in any new puppy checklist. Some pups chew or pull, while others need close control.
For training, a long nylon leash is a reliable choice. A 15-foot length works well for recall training and park walks.
For avid chewers, opt for a thick, tightly webbed nylon leash. Alternatively, if your pup pulls, a shock-absorbing bungee cord leash eases the strain on you and the leash while maintaining control.
Puppy Toys
Toys can help teach instructional commands like "give it" and be used for bonding and interactive playtime with owners. 
Various puppy toys are available, with durable options like Kong toys. Whether it's an engaging puzzle toy or a tasty chew toy, there's something enjoyable for every pup.
Chew Toys
Pups enjoy chewing, so offer durable chew toys for variety. It keeps them occupied and prevents them from targeting your beloved slippers.
Chase toys
Energetic puppies benefit from chase toys such as balls and Chuck-it, effectively expending excess energy.
Interactive toys
To engage bored pups, consider interactive toys like treat puzzles, snuffle mats, or an Automatic Ball thrower to provide mental stimulation.
Plush toys
Every pup adores a plush toy. During naptime, allow your new addition to cuddle up with a soothing Heartbeat Stuffed Plush Toy.
Puppy Checklist for Crates and Sleeping Beds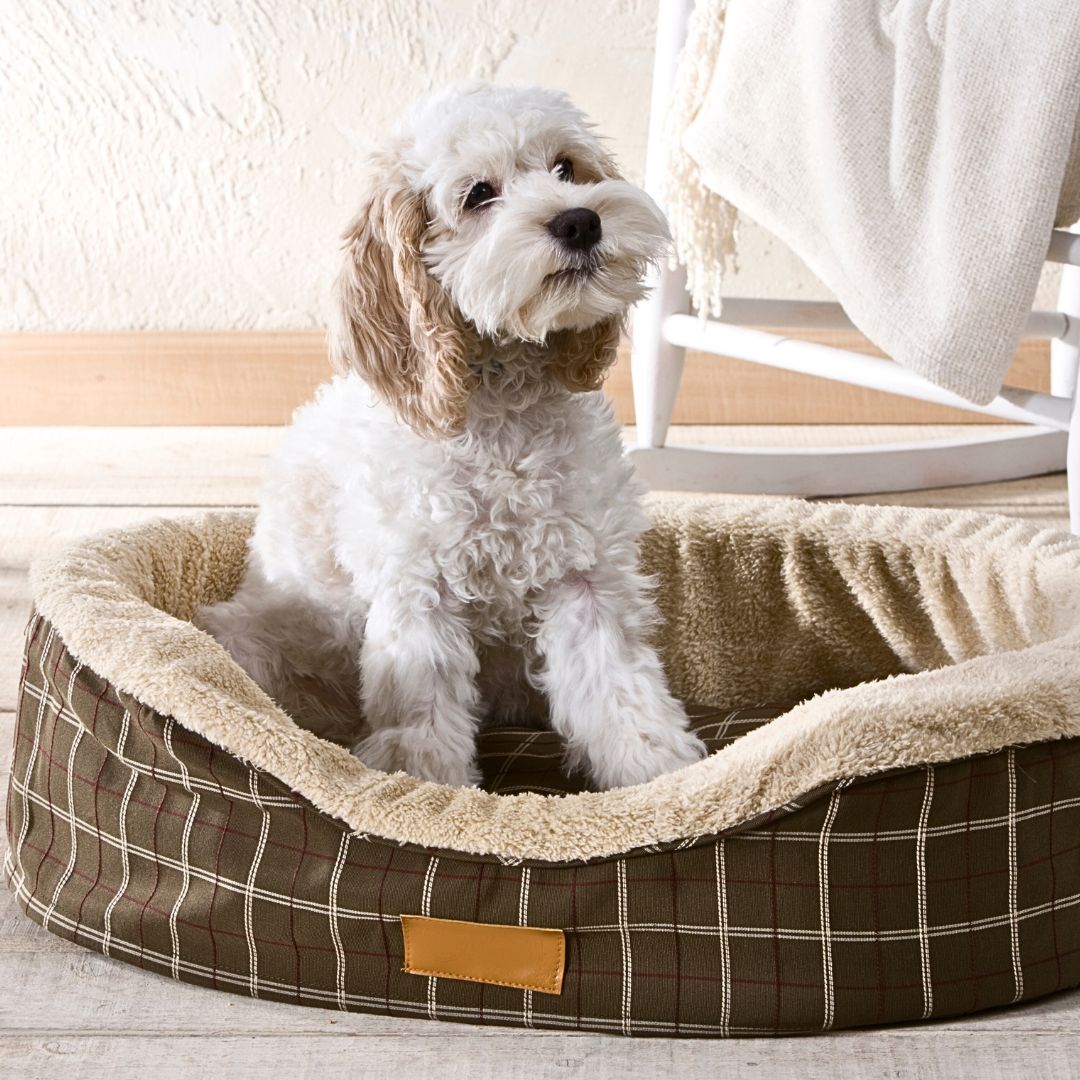 Crates
An essential item is a quality training, travel, or vet visit crate. Opt for a collapsible crate with a movable wire divider that is adaptable to your puppy's growth and easy to store.
Sleeping Bed
Providing appropriate beds for your pup is vital to ensure their comfort. In their initial weeks away from their birth mom, new puppies might experience some loneliness, so a cozy retreat can offer solace as they adjust to their new environment.
Here are our top picks for beds:
Doughnut Beds:
Doughnut dog beds offer raised sides and cozy textures, ideal for your puppy to snuggle on without toppling. If your pup is anxious, these raised edges offer safety.
Memory foam 
Memory foam beds present another favoured option. The plush memory foam ensures exceptional comfort, and you can often find custom-made options tailored to their size and shape, enhancing relaxation. These beds are also remarkably durable and suitable for strong chewers.
Creating a Puppy Checklist for Dog Grooming Products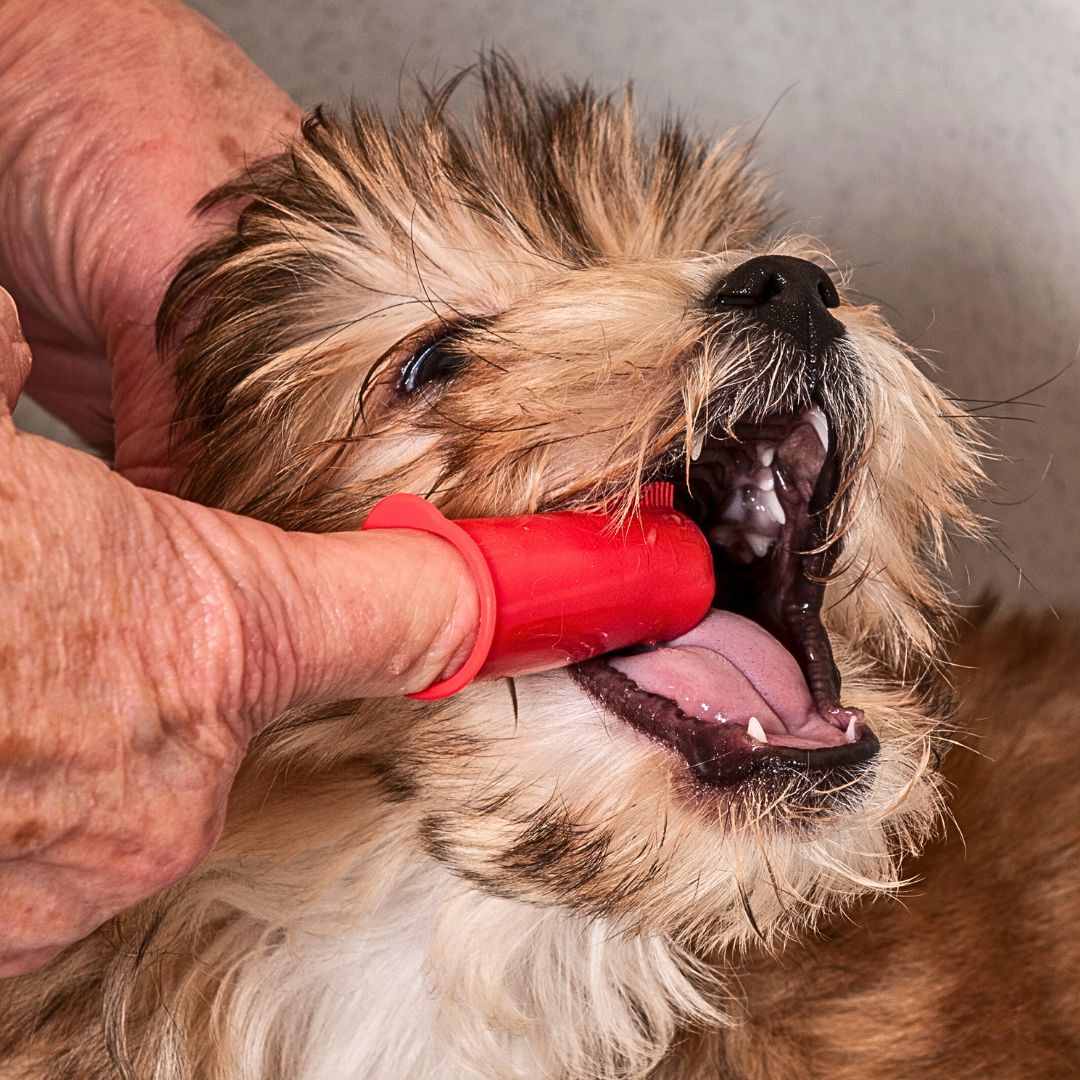 Puppy brush
Even dogs with minimal shedding require occasional brushing, and consistent grooming helps acclimate your pup to handling early on. Opt for a brush with soft rubber bristles, providing a massaging effect while combing their coat. Daily brushing is crucial for breeds needing regular grooming to prevent tangles and enhance circulation.
Shampoo
Early water exposure is vital to familiarize your puppy and reduce fear, making bath time more enjoyable.
Pro tip: If you can't manage bathing, consider introducing your pup to the groomer at 10-12 weeks, particularly for long-haired or coarse-textured breeds. This maintains their coat's quality and eases them into the experience, minimizing stress.
Puppy Checklist Toothpaste and Toothbrush
I am using meat-flavoured toothpaste alongside a dual-sided toothbrush featuring a finger brush aid in familiarising the puppy with mouth handling.
Stain and Scent Remover
Inevitable accidents call for products to eliminate furniture and carpet stains and odours. Various options, like upholstery shampoos, aid in tackling colour and scent issues. Remember to invest in a capable vacuum, preferably with handy pet attachments.
Bitter Apple Spray
Utilise non-toxic bitter apple spray as a chewing deterrent for your pup. The spray is harmless on furniture, fabric, and even your dog's fur, preventing them from bothering their skin.
Poop Bags
Poop bags are a must for puppy owners. Opt for an eco-friendly choice.
Puppy Gates
Restricting your puppy's movement allows them to explore cautiously while staying nearby and secure.
Puppy Pads
Inevitable during housebreaking, accidents can be managed with absorbent and protective pads, perfect for training intervals.
ID and Tags
Swiftly identify your pup in case of escape, ensuring they're registered and your information, including your current address, is updated. Numerous charming tags are available to select from.
So, there you have it—a thorough new checklist. After marking off all the essentials, you're set to welcome your pup home warmly. Prepare for delightful chaos!