The Joyful Bond Between Humans and Labradoodles
Labradoodles are a wonderful breed to consider as a companion as they tend to help people feel Happy and Healthier. They are smart, easily trained, and eager to please with excitement and energy. Owning a Labradoodle has several benefits, as they love socializing and can offer fewer thoughts of anxiety and lower feelings of stress through their consistent bouncy character.
Their energy level may appear overwhelming to control, but Labradoodles are renowned for their fantastic outlook on life. They flourish in open areas and will look for methods to please you. Labradoodles are known for bringing happiness and comfort to your life. They can help you handle depression and reduce your tension levels through the companionship they offer.
Benefits of Keeping a Labradoodle as a Pet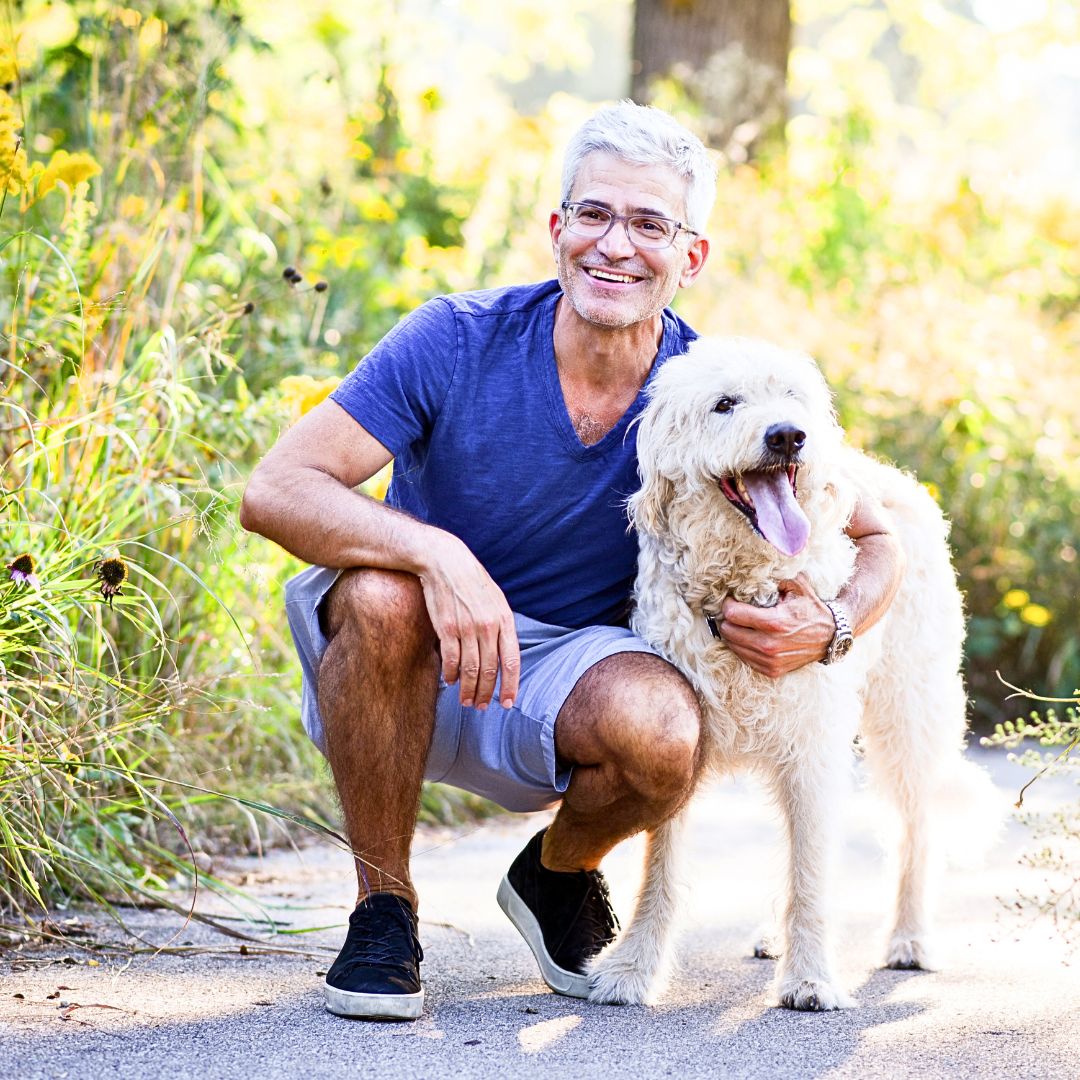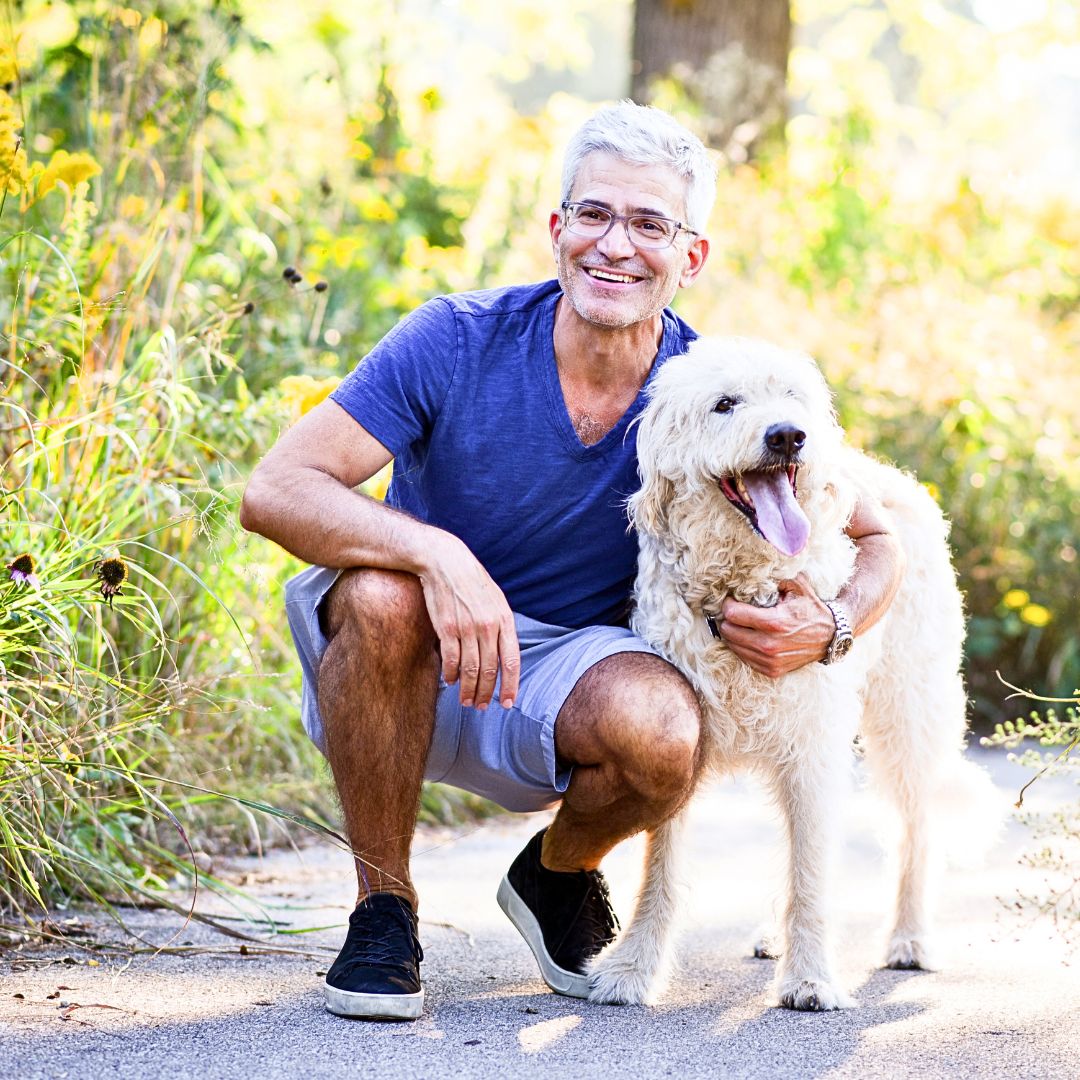 There is a list of Labradoodle pros and cons; however, the list of pros is longer than the cons. 
Very Social
According to a study by NCBI, one of the most significant advantages of owning a Labradoodle is its high social skills. Many people have social anxiety and find it challenging to communicate with others. It can result in feelings of isolation, but that is where a Labradoodle's companionship will help.
Conversation Starters
A Labradoodle is a fantastic conversation starter because of its gorgeous face, friendly manner, and silly nature. Even strangers cannot withstand cuddling it and talking about it with you. Your self-confidence will increase as you interact socially and make friends with new individuals.
Lower Anxiety
Labradoodles can lower anxiety in an individual's life and give them a sense of purpose. Labradoodles can reduce feelings of fear since they are highly caring and mild. According to research, Being social creatures, Labradoodles relish companionship with their owners. This companionship can effectively counteract sensations of loneliness and isolation, factors known to exacerbate anxiety.
Support
They can help to give psychological support and encourage humans to adopt healthy practices and workouts. They can also be used as service therapy dogs to help people with mental health issues like depression or anxiety.
When you decide to adopt a dog, consider a few of the most well-known breeds: Labrador Retrievers, Golden Retrievers, and Labradoodle. 
Would you consider getting a designer dog like a Labradoodle?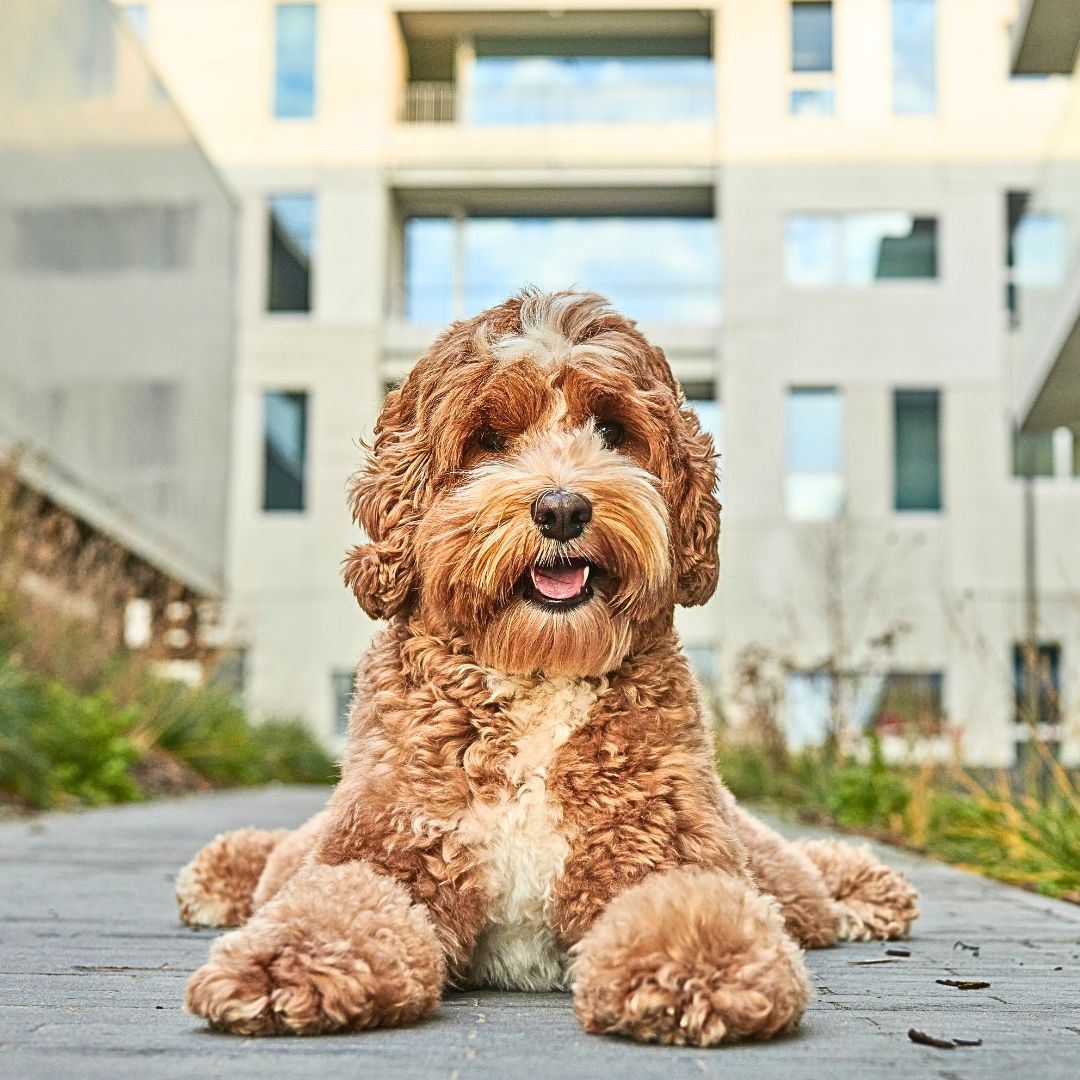 After appearing in 1955, Labradoodles became a favourite dog for their charming appeal. This mixed breed can be a fantastic Therapy pet as they are always ready to love. So, if you intend to adopt this wonderful loving breed, you will learn about the designer dogs known as Labradoodles.
A mix of the Labrador Retriever and the Poodle
The Labradoodle, also known as a doodle, is among the designer dogs. It combines a Labrador Retriever and a pure-breed Poodle. According to the study, it combines a Labrador Retriever and a pure-breed Poodle. Wally Conron, the head dog breeder for the Australian Guide Association, was the first to produce Labradoodles in 1989. While Labradoodles are a mix of Labrador Retrievers and Poodles, the Australian Labradoodle is a crossbreed breed combining the Standard Poodles, Cocker Spaniel, and Labrador Retriever.
Service and Companion Dogs
Labradoodles make incredible service dogs for people with disabilities; they have quickly become household dogs because of their intelligence and remarkable difference among the many dogs worldwide. Before deciding to adopt a Labradoodle, examining the parents is important.
Labrador Retrievers.
Created in the United Kingdom, Labrador Retrievers make lovely family members' pets. They are simple to groom and don't possess character issues.
Poodles
The Poodle is a German Breed available in various sizes, from very small to standard. 
What creates Labradoodles to be such beautiful dogs?
The Labradoodle possesses the power and work ethic of a Labrador Retriever integrated with the hypoallergenic coating of a Poodle. For novice pet owners, this breed is a great option. This charming breed combines two different species. But the rate is worth considering that the dogs are dedicated, quick, and easy to train. If you decide to adopt one, research the Top Labradoodle in Ontario as Labradoodles by Cucciolini as a credible breeder.
Body size as well as personality
Labradoodles look lovely with their curly coats as well as soft ears. They obtain their fleecy coats that come from their Poodle parent species. Doodles usually get their dimension and colouring from the Labrador Retriever.
Retriever Parent Type
Although Doodles do not generally lose hair, some shed occasionally. Since they shed much less, Labradoodles are excellent dogs for people with allergies.
The Labradoodle also requires regular weekly Grooming. 
To ensure an easy brush, use the clicker brush for your Labradoodle while brushing weekly. Brushing more often will limit taking your dog to a groomer, not to mention the bond you create with your fur baby. Ensure to take your Labradoodle to a groomer for a trim every four months, as you don't want your Doodle's coat growing too long and covering his eyes.
Colours
Doodles are available in different sizes and generally mature between 14 to 24 inches tall. Their measurements depend on the Poodle's parent genetics. The Labradoodle comes in many colours: blue, silver, dark red, golden, apricot, caramel, chalk, phantom, red, parchment, and delicious chocolate. 
Weight
A Labradoodle will weigh 30 to 65 pounds. A medium doodle usually matures between 30 to 45 pounds. In contrast, a mini grows between 15 to 20 pounds.
Can Labradoodles go for a swim?
The Labradoodles are well known for enjoying the water and also are great swimmers. They also love the snow and will borrow their face deep in the snow.
Character
Labradoodles are gentle dogs. They are energetic and love to be around people like the Labrador Retriever.
Energetic
A study declares that labradoodle puppies are intelligent as well as energetic. You can quickly train your dog by offering scheduled Training and providing them with many board games and toys to keep them occupied as the Kong Toys. 
Hire a Professional
The Labradoodles additionally need regular walks. Suppose you hire a professional pet walker to care for your beloved dog. The professional can schedule daily outings, feed meals and take them outdoors to eliminate, play games like ball throwing to help keep your Labradoodle in shape, and much more. It is crucial to provide stimulation so the dog does not get bored and become destructive.
Are Labradoodles great along with children?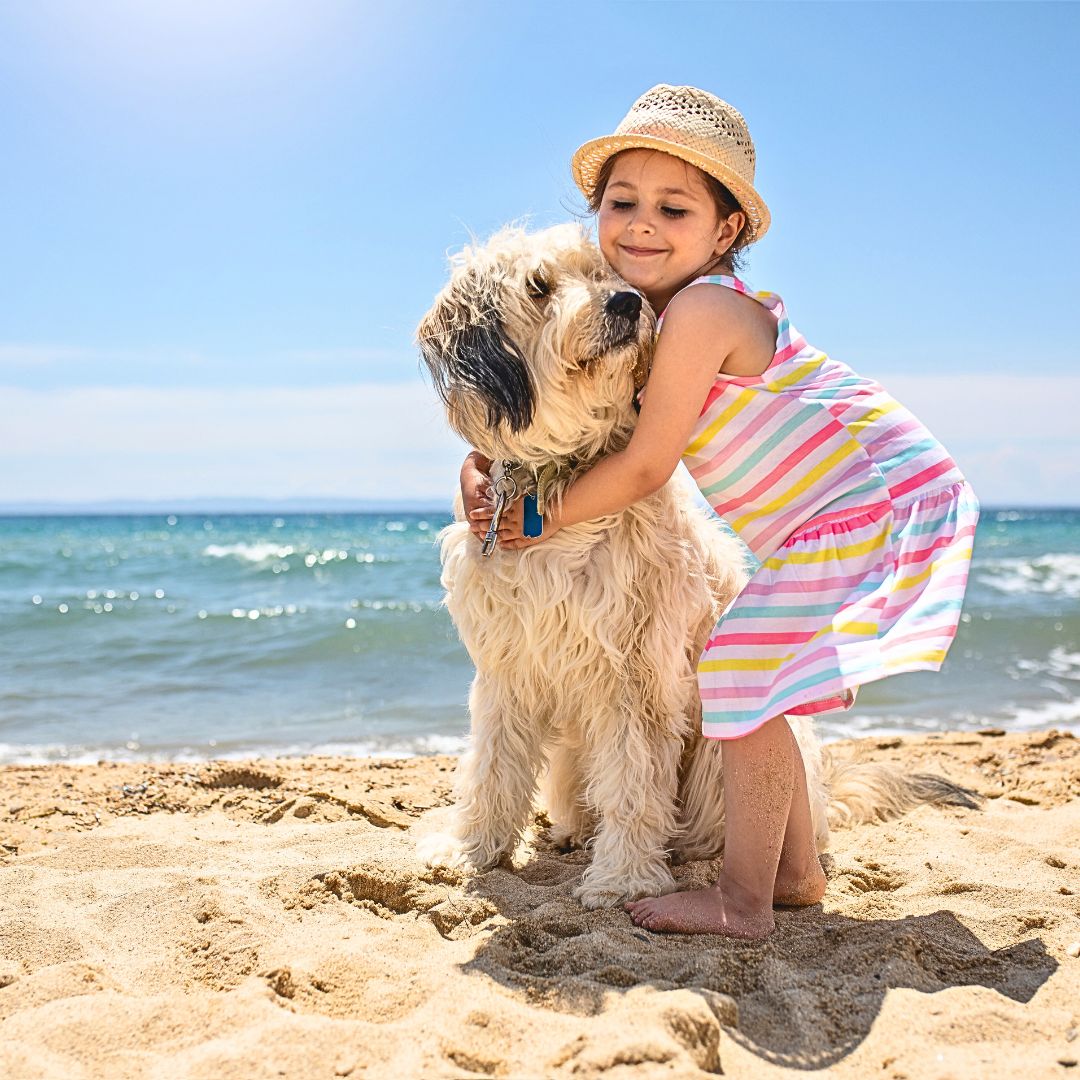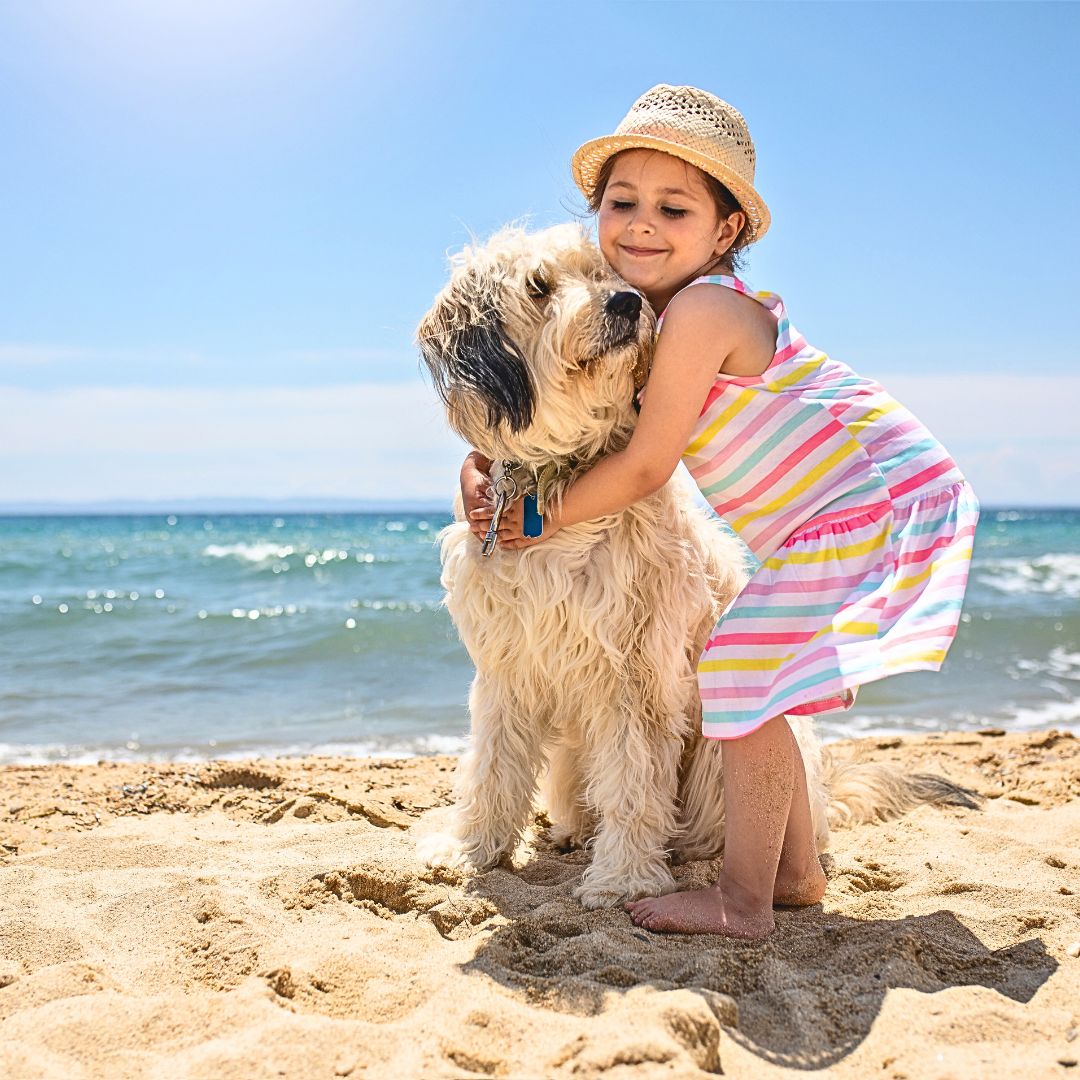 Labradoodles are remarkable for children and adults. They are affectionate and extremely gentle, which makes them the ideal Labradoodle as a companion for people with disabilities and therapy.
Do Labradoodles get along with various other dogs?
Unlike other pet dogs, the Labradoodle hardly ever causes conflicts with different other pet dogs. Doodles are high-spirited as well as love to socialize with other dogs.
Do Labradoodles show anger?
Labradoodles hardly ever get angry unless aggregated by someone picking at them. Since Labradoodles are such a docile dog breed, they will likely want to play with people rather than bark at them. Analysis of The Labradoodle is very docile, friendly, social, and calm if appropriately socialized and trained.
The personality of the Labradoodle
Labradoodles are Extremely friendly and outgoing; the Labradoodle's characters are very similar to a child with a playful demeanour, busy, eager to please all they encounter, and always curious about the world around them. They are easygoing and love to be friends with everyone.
Food demands, and Why do Labradoodles need to have more meals?
Since Labradoodles are energetic dogs that devote their opportunity to playing and wandering about, they shed even more energy and require even more meals.
Therefore, nourishing young puppies with carb-rich and high protein-rich Food is necessary. Yet, be cautious about how much you feed your dog as they age. Like the Labrador Retriever parent breed, the labradoodle can easily be prone to weight problems and other weight-related health conditions. 
Labradoodle new puppies must consume meals created for new puppies at a minimum until they are one year old. Since they are growing and still have smaller stomachs, new puppies must be fed tiny amounts of Food three times daily from eight weeks to five months. After five months, you can easily offer him meals daily. Talk with your veterinarian regarding when to change your Doodle to adult food. 
Some Labradoodles need till they are 16 months old before you change all of them from puppy food. Once your dog matures, you can start feeding adult dog food.
Lifespan
Longevity for our precious Labradoodles is approximately 12 to 14 years. Correct care and feeding will give your dog a more extended, healthier lifestyle.
Hereditary Health Issues
Labradoodles are healthy and balanced dogs even to a rip old age. The Labradoodle is susceptible to the usual health conditions, including ear diseases, epilepsy, allergy symptoms, Addison's disease health condition, and hip and arm joint dysplasia. Among these problems, hip dysplasia is the most common. Take your Doodle in for standard veterinary examinations so you can detect any health issues.
Can you take your Labradoodle for a walk in the Winter?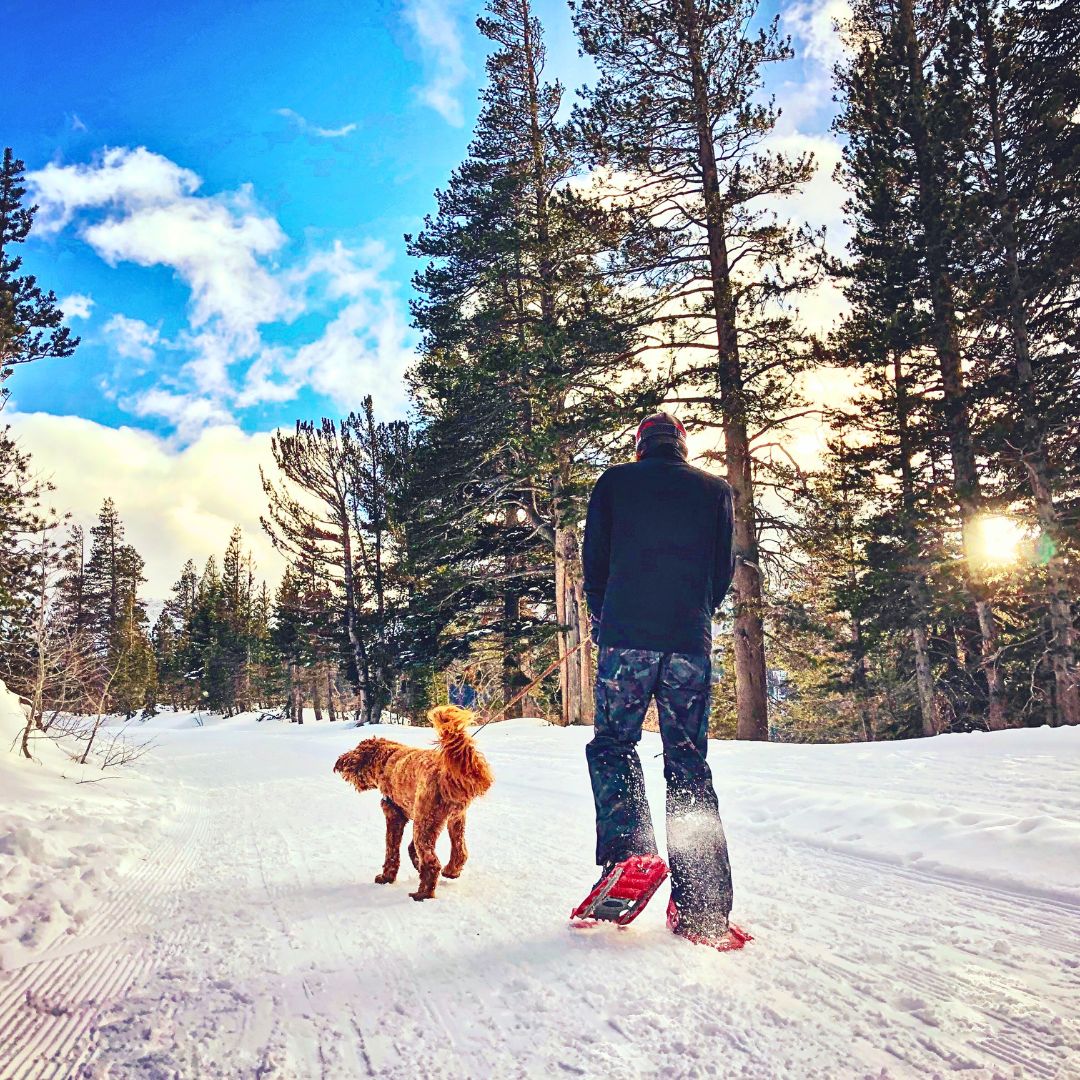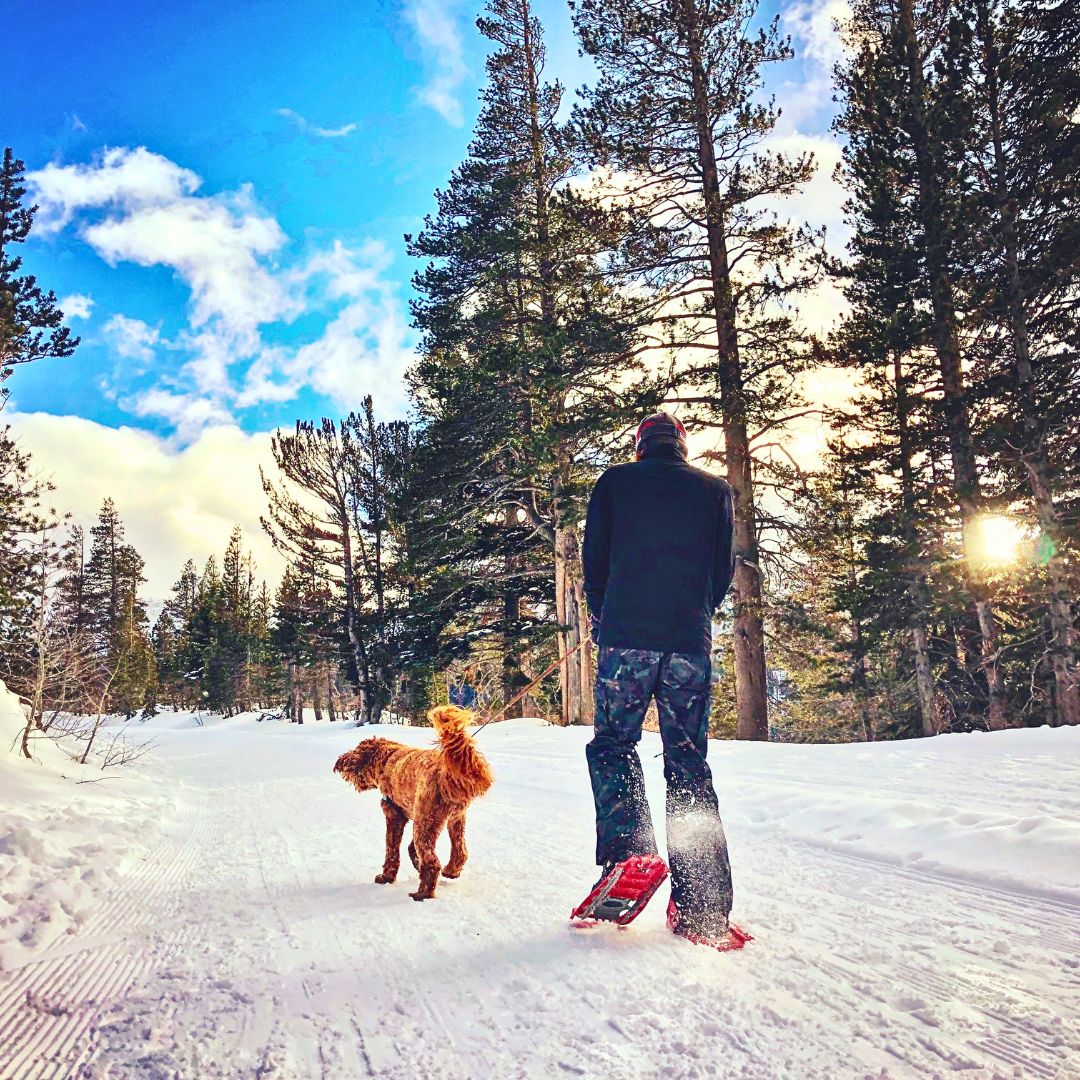 Your Labradoodle will need a jacket if you live in a colder climate. No matter how healthy and balanced your dog is or how thick its coat is, it needs protection against freezing temperatures.
How expensive will it be to care for a Labradoodle Puppy?
So, you have decided to add the Labradoodle to your family. The cost of owning a Labradoodle is at least $1,000 per year. The prices will include Food, which is approximately ($400+ each year): Food costs will be different based on the size of your Labradoodle. However, ensure high-quality dog food and budget $500 per year in food expenses. 
Buying or adopting a Labradoodle puppy will cost between $1,500–$4,000, Vet care would be $350–$600, Supplies be anywhere between $200–$400, Grooming would be between $185–$400, and Training: $300–$1000.00
Can Labradoodles help with loneliness?
Yes, Labradoodles provide companionship and emotional support, helping to alleviate feelings of loneliness.
Do Labradoodles improve mental well-being? 
Indeed, interacting with Labradoodles can release feel-good hormones, contributing to improved mental well-being and reduced anxiety.
Can Labradoodles enhance family bonding? 
Caring for a Labradoodle can unite families, teaching responsibility and fostering stronger connections.
Do Labradoodles have any health benefits? 
According to studies, Labradoodles have been shown to lower blood pressure and reduce the risk of heart attacks.
Can Labradoodles improve overall happiness? 
Certainly, Labradoodles' unconditional love and joyful presence have the potential to enhance our overall happiness and quality of life.
Owning a Labradoodle
1. Are Labradoodles hypoallergenic?
2. How much exercise do Labradoodles require?
3. Do they shed a lot?
4. Are they good with children and other pets?
5. What is the average lifespan of a Labradoodle?
Answer 1: Exploring the Hypoallergenic Qualities of Labradoodles
Are you tired of constantly dealing with allergies caused by pet dander? If so, consider the hypoallergenic qualities of Labradoodles. These adorable crossbreeds are popular for individuals and families seeking a furry companion but must minimize the risk of allergic reactions.
Labradoodles are a hybrid breed resulting from crossbreeding a Labrador Retriever and a Poodle. This intentional mix was initially developed in the 1980s to create a dog that would possess the intelligence and trainability of a Poodle while being more suitable for individuals with allergies.
Hypoallergenic Nature
One main factor contributing to Labradoodles' hypoallergenic nature is their coat. These dogs typically have a curly or wavy coat, similar to a Poodle, which is known to shed less dander than other breeds. Dander is the primary issue behind allergic reactions, so having a dog with a low-shedding coat can significantly reduce the risk of triggering allergies.
Additionally, Labradoodles have hair instead of fur, making them less likely to produce excessive allergens. Hair grows continuously and requires regular Grooming rather than shedding as skin does. Regular Grooming keeps their coat clean and free from loose hair and dander, further reducing the likelihood of causing allergic reactions.
It's important to note that while Labradoodles are often marketed as hypoallergenic, not all individuals with allergies will have the same experience. Allergies can vary from person to person, so it's crucial to spend some time with a Labradoodle before bringing one into your home. Spending time with the breed will allow you to assess if your allergies are triggered by their specific dander levels.
Labradoodles offers a potential solution for individuals or families seeking a dog who won't exacerbate allergies. Labradoodles can help minimize the risk of allergic reactions caused by pet dander with their low-shedding, curly or wavy coat and hair instead of fur. However, spending time with the breed is always recommended to ensure compatibility with your specific allergies.
Answer 2: Meeting the Exercise Needs of Your Energetic Companion
As a proud owner of a Labrador Poodle mix, commonly known as a Labradoodle, you understand the importance of maintaining their happiness and overall well-being. These energetic companions have specific exercise and mental stimulation needs that must be met to ensure their health and contentment. 
Daily Exercise Requirements:
Labradoodles are a crossbreed known for their high energy levels, requiring regular exercise to keep them physically fit and mentally sharp. Labradoodles should take at least 30-60 minutes of moderate to vigorous activity daily on average. It can be achieved through brisk walks, jogging, playing fetch, or dog sports like agility training.
Engaging Activities for Mental Stimulation: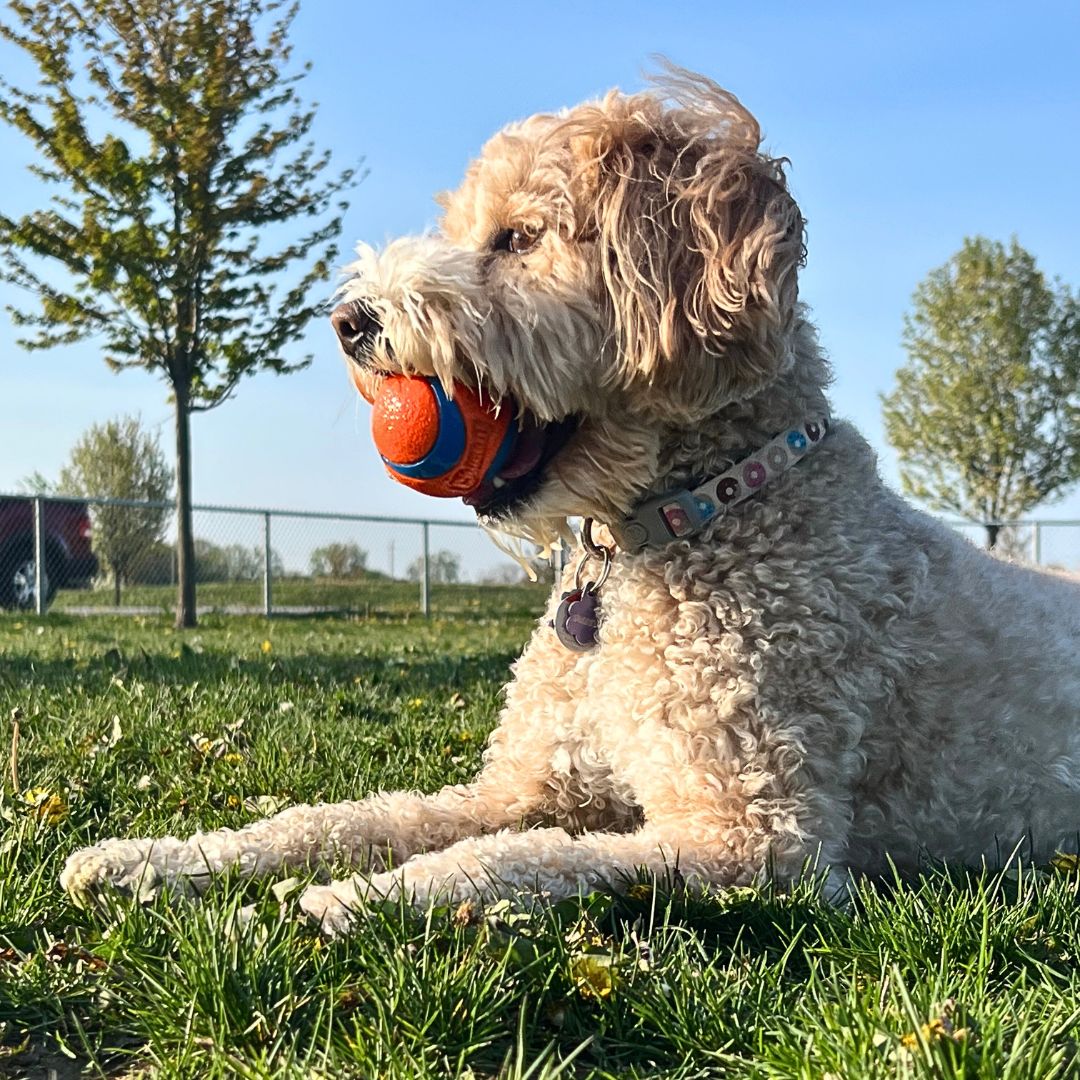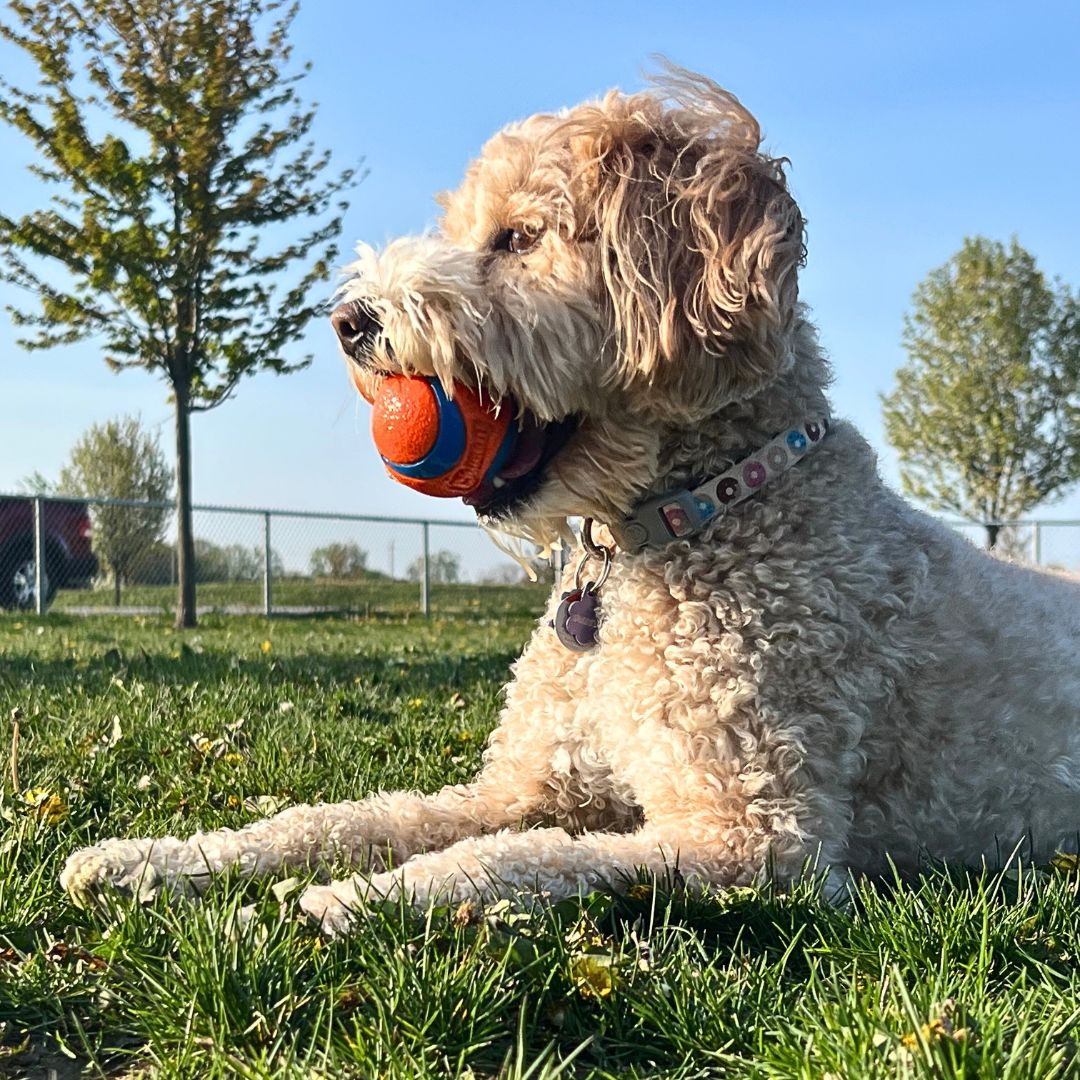 Ensuring mental stimulation for your Labradoodle is as crucial as providing them with physical exercise. These intelligent dogs thrive on mental challenges and enjoy activities that engage their problem-solving skills. Here are some engaging activities you can incorporate into your Labradoodle's routine:
1. Puzzle Toys
Invest in interactive puzzle toys that require your Labradoodle to figure out how to access treats or toys hidden inside. It will keep them mentally engaged and entertained while rewarding them for their efforts.
2. Training Sessions
Labradoodles are highly trainable, so incorporating regular training sessions is an excellent way to provide mental stimulation. Teach them new tricks or work on reinforcing basic obedience commands. It keeps their minds active and strengthens the bond between you and your furry friend.
3. Scent Games
Tap into your Labradoodle's natural sense of smell by playing scent games. Hide treats or toys and encourage them to find them using their nose. This activity provides both physical exercise and mental stimulation.
4. Interactive Playtime
Engage in interactive play sessions with your Labradoodle using toys that require problem-solving, such as treat-dispensing toys or toys that need them to manipulate certain parts to access treats. It will keep their minds busy and provide an outlet for their energy.
By meeting the exercise needs of your Labradoodle and incorporating engaging activities for mental stimulation, you are ensuring their happiness and overall well-being. Remember to tailor the exercise routine to your dog's needs and consult a veterinarian if you have any concerns. With regular physical
Answer 3: Managing Shedding in Your Home
Labradoodles are a popular choice for their friendly nature and hypoallergenic qualities, which make them suitable for families and individuals alike. However, like all dogs, Labradoodles do shed to some extent. If you're looking for effective ways to manage shedding in your home and keep it under control, this article will provide helpful tips and maintenance routines.
Understanding Labradoodle Shedding Characteristics:
Labradoodles have a unique coat that can vary in texture, length, and thickness. Depending on the type of coat they inherit from their parent breeds, their shedding can range from minimal to moderate. Understanding your Labradoodle's specific coat type is essential to managing its shedding better.
Grooming Tips for Minimizing Shedding:
1. Regular Brushing: Brushing your Labradoodle's coat prevents loose hair from spreading around your home. Use a slicker brush specifically designed for their coat type. Aim for at least two to three brushing sessions per week.
2. Professional Grooming: Regular visits to a professional groomer are vital for maintaining your Labradoodle's coat health. A groomer can provide specialized techniques, such as de-shedding treatments, which can significantly reduce shedding.
3. Bathing: Regular baths help keep your Labradoodle's skin and coat healthy, minimizing excessive shedding caused by dry or irritated skin. Use a mild shampoo suitable for sensitive skin and follow up with a conditioner to moisturize their coat.
4. Proper Nutrition: A well-balanced diet rich in essential nutrients is critical for your Labradoodle's overall health and coat condition. Please consult your veterinarian to ensure you feed them a diet supporting healthy skin and reducing shedding.
Regular Maintenance Routines:
1. Vacuuming: Invest in a high-quality vacuum cleaner with strong suction power to remove loose hair from your floors, carpets, and furniture. Vacuuming will help prevent hair build-up in your home.
2. Lint Rollers or Sticky Brushes: Keep lint rollers or sticky brushes handy to quickly remove stray hairs from clothing or upholstery. They are great for touch-ups before heading out or when guests arrive.
3. Washable Furniture Covers: Consider using washable covers on furniture to prevent hair from embedding itself in the fabric. It makes it easier to remove and keep
Answer 4: Labradoodles as Great Family Pets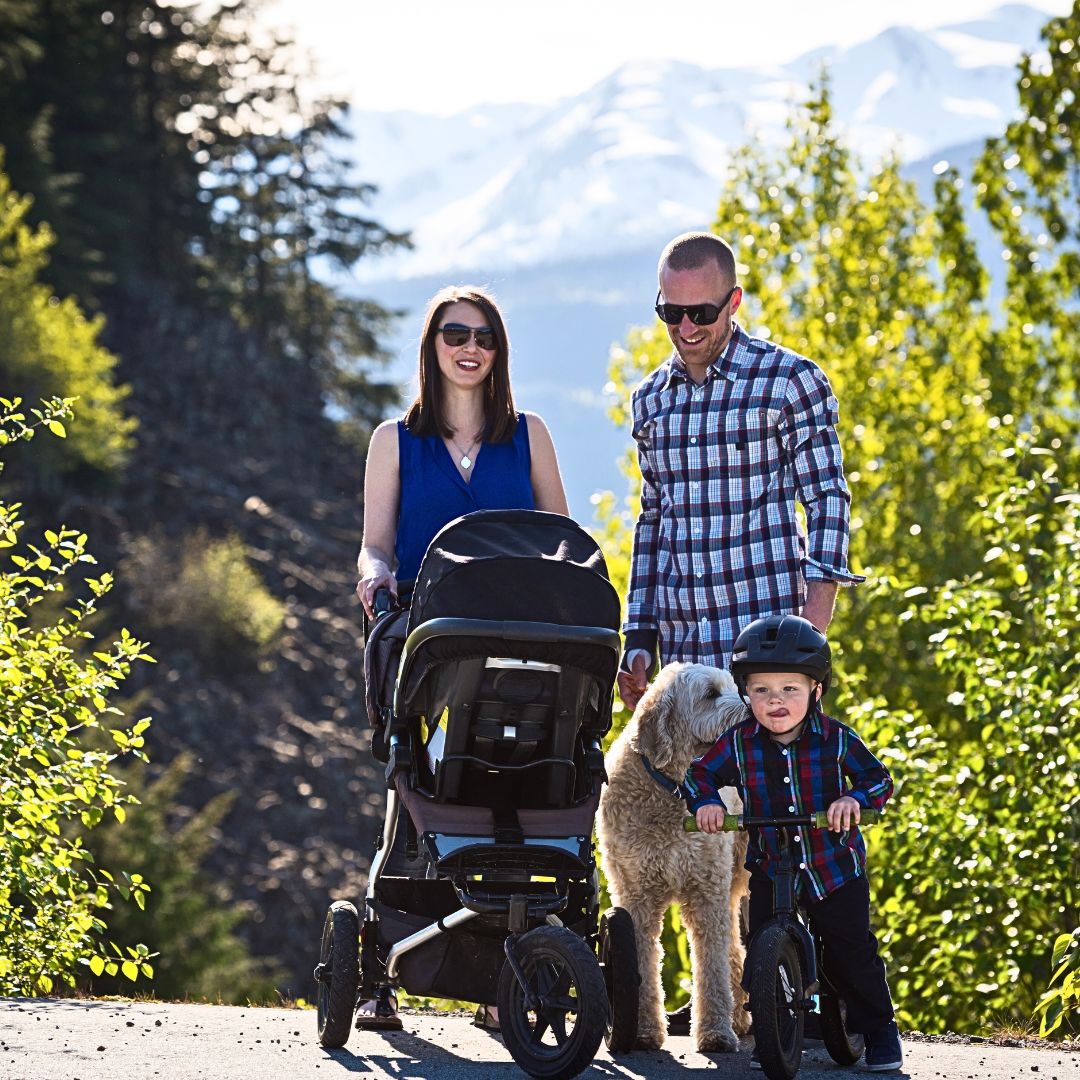 Labradoodles are great family pets, thanks to their wonderful temperament and compatibility with children and other pets. These adorable hybrid dogs cross between a Labrador Retriever and a Poodle, resulting in a breed known for being friendly, affectionate, and sociable.
Natural Affinity for Children
Labradoodles possess a natural affinity for children and tend to be patient and gentle with them. Their playful nature makes them excellent companions for kids, as they enjoy interactive games and activities. Labradoodles also have a low tendency to display aggression, which is an important trait when considering a family pet.
Adaptability
Furthermore, Labradoodles typically get along well with other pets in the household. Whether you have cats, other dogs, or even smaller animals like rabbits or guinea pigs, Labradoodles have the adaptability to coexist peacefully with them. Their friendly nature allows for easy integration into multi-pet households, making them an ideal choice for families with existing animal companions.
Training
Training techniques ensure that your Labradoodle becomes a well-behaved and socialized companion. Labradoodles respond best to positive reinforcement training methods from an early age. Labradoodles are intelligent and eager to please, making them highly responsive to reward-based training methods such as treats or praise.
Socialization
Consistency is key when training your Labradoodle. It is important to set clear boundaries to help individuals understand the expected behaviour from them. It will ensure that they know their limits and can act accordingly. Socialization is also essential for Labradoodles to become well-rounded pets. Exposure to various people, animals, environments, and situations will help them develop confidence and adaptability.
Answer 5: Understanding the Lifespan of Labradoodles
Understanding their average lifespan and the factors influencing it is essential for providing the best care possible.
Average Lifespan of Labradoodles:
The average lifespan of Labradoodles typically ranges between 10 to 15 years. However, it's important to note that each dog is unique, and individual lifespans, such as genetics, overall health, and lifestyle, may vary.
Factors That Influence Lifespan:
1. Genetics: Like all dogs, Labradoodles inherit certain genetic traits from their parents. Responsible breeders take great care in selecting healthy parent dogs to minimize the risk of hereditary health conditions that may impact lifespan.
2. Diet and Nutrition: Providing a well-balanced diet with high-quality ingredients is crucial for your Labradoodle's overall health and longevity. It is recommended to consult your veterinarian to determine the appropriate diet for your dog's specific needs.
3. Exercise and Mental Stimulation: Regular exercise helps maintain a healthy weight and stimulates your Labradoodle mentally. Physical activities such as walks, playtime, and interactive games can promote a longer and happier life.
4. Regular Veterinary Care: Regular veterinary check-ups are crucial in detecting potential health issues early on. It is essential to ensure that your pet receives routine check-ups to maintain their overall health and well-being. Vaccinations, dental care, parasite prevention, and annual exams are vital to maintaining your Labradoodle's well-being.
5. Grooming and Hygiene: Regular grooming sessions keep your Labradoodle looking their best and contribute to their overall health. Brushing their coat, cleaning their ears, and maintaining dental hygiene can help prevent certain health problems.
Tips for a Long, Healthy Life:
1. Provide a balanced and nutritious diet tailored to your Labradoodle's needs.
2. Regularly exercise to keep your dog physically fit and mentally stimulated.
3. Schedule routine veterinary check-ups and vaccinations to catch any health issues early.
4. Maintain a consistent grooming routine to keep your Labradoodle's coat and hygiene in shape.
5. Create a safe and stimulating environment at home, free from potential hazards.
Conclusion: 
The bond between humans and Labradoodles is truly a joyful one. These remarkable dogs positively impact our happiness and health in numerous ways. From their affectionate nature to their energetic spirit, Labradoodles bring abundant joy into our lives.
One of the most significant benefits of owning a Labradoodle is its ability to uplift our spirits. Their warm and loving nature creates an instant connection, providing us with companionship and emotional support. Whether we're feeling down or needing some company, Labradoodles are always there to brighten our days.
Playful Nature
Furthermore, Labradoodles are known for their playful nature and boundless energy. Engaging in long walks strengthens the bond between owner and dog and promotes a healthier lifestyle for both parties. The physical action of owning a Labradoodle can improve cardiovascular health and overall fitness, leading to a happier and more fulfilling life.
Therapy Dogs
Labradoodles also excel as therapy dogs, providing comfort and solace to those in need. Their gentle nature and intuitive understanding make them ideal companions for individuals with physical or emotional challenges. Labradoodles's unconditional love can profoundly impact the well-being of individuals facing difficult circumstances.
Boundless Energy
If you are considering bringing a dog into your life, it is worth considering the incredible benefits of owning a Labradoodle. Their affectionate nature, boundless energy, and therapeutic qualities make them the perfect addition to any family. Not only will you experience increased happiness and improved health, but you will also have a loyal friend by your side through thick and thin. Choose the joyful bond between humans and Labradoodles and embark on a journey filled with love, laughter, and endless tail wags. Your life will never be the same again.