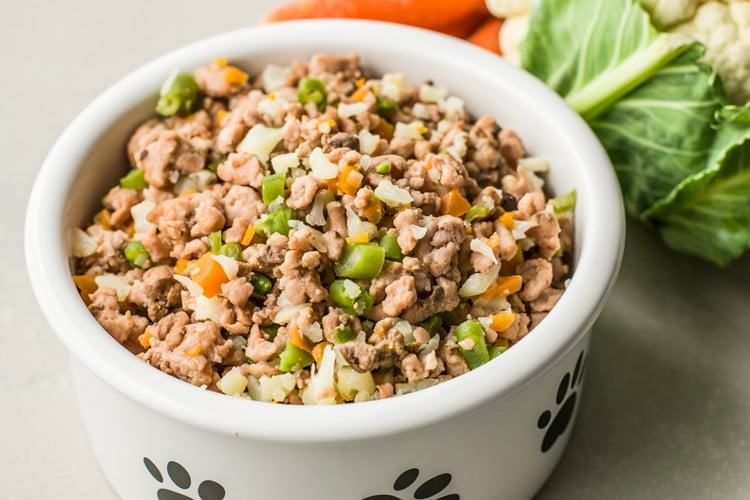 We only want the best for our Labradoodles! That's why we recommend making Turkey and Veggie Dog Food Recipe. It's the best way to ensure natural ingredients and preservatives stay out of our dog's body. Our dog food and treat recipes are 100% natural, human-grade ingredients. The same clean, healthy foods you use to create your meals! That's why you'll find lean turkey, protein-rich liver, and nutrient-dense vegetables in this. 
Turkey and Veggie Dog Food Recipe
Our recipe is a complete, nutritious, and healthy whole food. Our Dog family members at Labradoodles

Puppies Ontario

deserve the best!
Prep Time 10 minutes
Cook Time 10 minutes
Total Time 20 minutes
Ingredients
2 tablespoons chicken liver finely diced

2 medium carrots coarsely chopped

1 cup green beans diced

1 cup cauliflower florets

2 tablespoons olive oil

2 pounds lean ground turkey
Instructions
Add 1 1/2 cups water to a double boiler, place vegetables in a steam basket over the pot and cover. Heat until boiling, reduce heat to a low boil and steam until veggies are tender, about 10 minutes.

In the meantime, add the turkey and liver to a large skillet and cook on medium-high heat until done. Drain off any fat and discard. Chop veggies or pulses in a food processor. Add veggies to cooked turkey.

Add the olive oil and toss with the turkey & veggie mixture. Allow cooling before dividing into freezer-safe containers.
When creating our dog food recipes, we research which ingredients are best for dogs to eat and digest. Then, we make the recipes and test them on our dogs. Once we know our dogs are satisfied, we give the recipes to our friends and families and try them out on their dogs. 
After doing our research, we selected lean, ground turkey for this Turkey and Veggie Dog Food recipe. We also added a few nutrient-rich vegetables to boost your pet's health and wellness. As a bonus, we included olive oil in the mix. It provides essential fats for your dog's healthy diet and gives your dog's coat the shine it deserves.
NOTE: Check with your veterinarian before changing your pet's diet. Also, please be aware of any allergies your pet may have to specific ingredients. Always avoid ingredients which have caused reactions in your pets in the past. 
Nutrition Information
Calories: 176kcal | Carbohydrates: 3g | Protein: 28g | Fat: 6g | Saturated Fat: 1g | Cholesterol: 75mg | Sodium: 76mg | Potassium: 458mg | Fiber: 1g | Sugar: 1g | Vitamin A: 3080IU | Vitamin C: 9mg | Calcium: 16mg | Iron: 1mg | 
Labradoodles by Cucciolini invites you to shop for everything your puppy needs for a great start, including Crates, Food, Treats, Accessories, Feeding Bowls, Health, Grooming, Training Aids and Toys!