Our Handsome "Labradoodle CHARLIE" is an Emotional Support DOG
CHARLIE HAS BECOME AN ADULT/CHILD-CERTIFIED DOG WITH ST. JOHN AMBULANCE. HE VISITS 4 NURSING HOMES, A HOSPITAL, AN THE LIBRARY WEEKLY. ALONG WITH WEEKLY COMMUNITY EVENTS.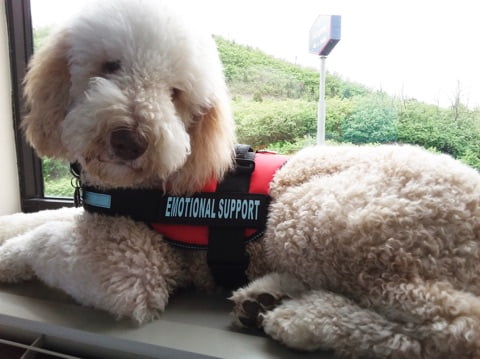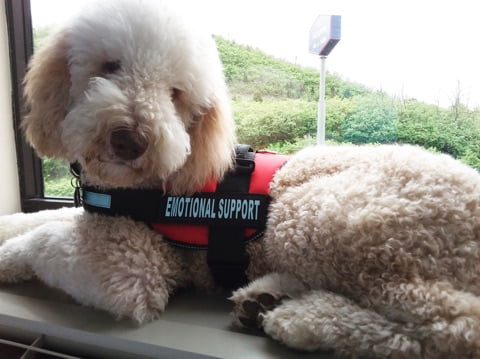 Creating Docile, Intelligent, Social Labradoodles with Therapeutic Benefits from "CHARLIE."
A puppy with intelligence and learning capacity is the same as an 8-month-old child. I would chew Everything I could get my teeth on. It's how I explore and learn about the world around me. Even human children are putting things that don't belong in their mouths. Train me on what is mine to chew and what is not acceptable.
Charlie says that Dogs cannot hold my bladder for a long time, usually not longer than 1-2 hours. Dogs cannot speak and let you know if they need to go outdoors and pee.
Could you not feed me too late?
It would help if you remembered that I must go to the bathroom after eating, sleeping, playing, drinking, or every two to three hours

. If you want me to sleep at night, wait to give me a drink of water after seven or eight pm. A crate will help me learn to train easier. Accidents will happen. Please be patient with me!
They were playing and running with Toys.
I like to play and run around. Love chase imaginary monsters. Running after your feet and toes is yummy, attacking you is fun, and chasing fuzzy balls, that's fun too. I play,y, and it's what I do; I love to play all day if I can. Please don't be mad at me, as we cannot sleep all day; a dog can't do it.
Use your experience to guide me outdoors with toys and activities like chasing a ball, gentle tugging games, or many chew toys that keep me busy

. If I nip too hard, teach me in dog language by giving a loud BARK

,

I will get the message, as it's how dogs speak with one another.
How to Love Respect as you do. Therapeutic Benefits from "CHARLIE
An animal has many feelings and deserves Respect; it is vital to me to be part of your family. I will give you companionship and unconditional love, always. Help me grow with gentleness and guidance to learn.
No one is perfect, as are you.
One day I will make you proud of me. I love you, Charlie.
Crates, Food, Treats, Accessories, Feeding Bowls, Health, Grooming, Training Aids and Toys!