Understanding 5 Labradoodle Behaviors to Nip in the Bud Early Training
Labradoodles are a highly sought-after breed renowned for their amiable disposition. However, like any other dog, Labradoodles have unique behaviours that owners should be aware of.
Understanding 5 Labradoodle Behaviors to Nip in the Bud Early and the importance of early training is crucial in ensuring a well-behaved and happy companion.
Whether your goal is puppy socialization or participating in dog sports, training is key. AKC suggests Canine Good Citizen (CGC). 
Highly Intelligent
Labradoodles are highly intelligent dogs that thrive on mental and physical stimulation. They are eager to please their owners, which makes them trainable and responsive to commands. However, without proper training and socialization, Labradoodles can exhibit unwanted behaviours such as excessive barking, jumping, or digging.
Training is Vital
Early training is vital for Labradoodles as it helps establish boundaries and teaches them appropriate behaviour from a young age. Start by teaching you basic commands, such as sit, stay, and come, and progress to more advanced techniques. Positive reinforcement, using treats and praise, is most effective with Labradoodles.
Socialization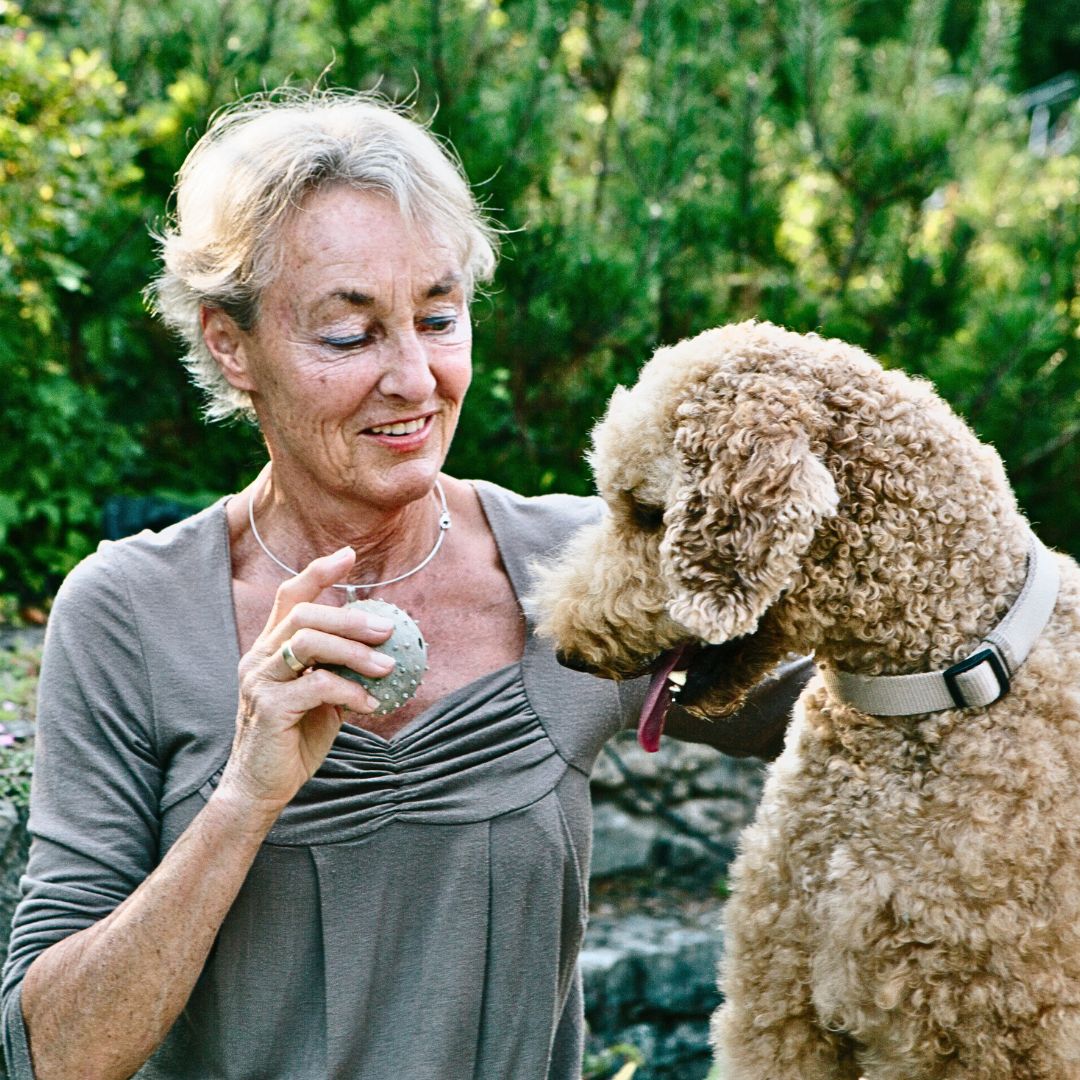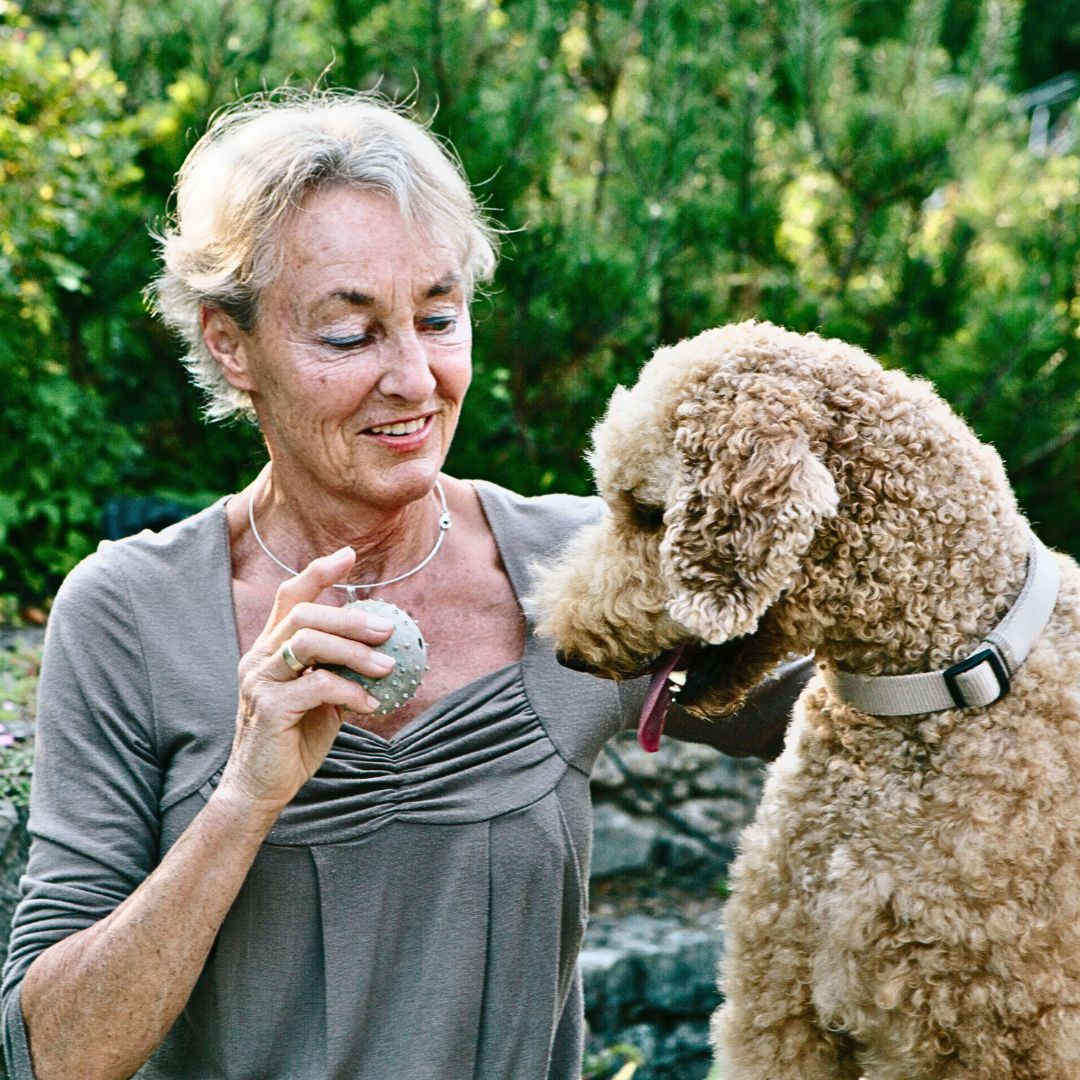 Socialization is equally important for Labradoodles. Expose them to environments, people, animals, and stimuli to ensure they become well-rounded and confident dogs. It helps prevent fear or aggression towards unfamiliar situations or individuals. 
Routine is Key
Establish a routine with regular exercise, mental stimulation, and training sessions. Labradoodles have high energy levels and need plenty of physical activity to prevent boredom or destructive behaviour.
Labradoodles are social dogs that thrive on human companionship. If left alone for extended periods, they might suffer from separation anxiety. I made sure to correct any spelling, grammar, and punctuation errors. Therefore, it's important to gradually introduce alone time from an early age to help them become comfortable being alone for short durations.
5 Labradoodle Behaviors to Nip in the Bud Early
Behaviour #1: Excessive Barking – How to Stop Your Labradoodle from Being a Noisy Neighbor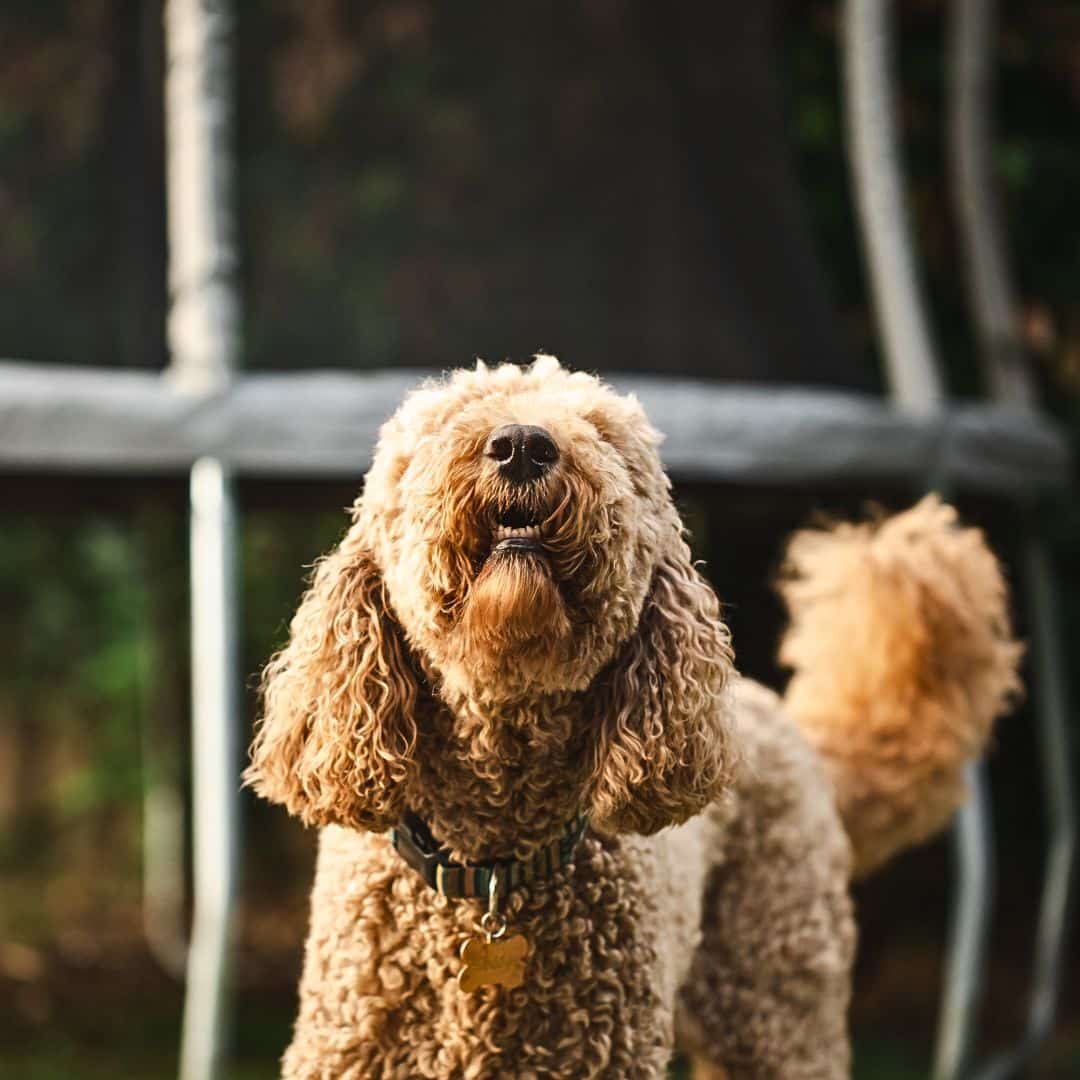 Is your Labradoodle's excessive barking causing concern among your neighbours? Understandably, you want to find a solution to this behaviour. Here are some tips to help you address and reduce your Labradoodle's excessive barking, making them a quieter and more considerate neighbour.
1. Identify the cause
Understand why your Labradoodle is barking excessively. It could be due to boredom, anxiety, territorial behaviour, fear, or even seeking attention. Identifying the underlying cause will guide you in finding the most effective solution.
2. Provide mental and physical stimulation
Ensure your Labradoodle gets enough exercise and mental stimulation throughout the day—a tired dog barks when content and relaxed excessively.
3. Establish consistent routines
Dogs thrive on routines, providing them security and predictability. Create a daily routine with regular feeding times, exercise sessions, playtime, and rest periods. I will help your Labradoodle feel more balanced and less likely to bark excessively.
4. Train your Labradoodle
Basic obedience training is crucial for any dog, including Labradoodles. Teaching your dog commands like "quiet" or "enough" can help them understand when it's appropriate to stop barking. When they respond correctly, reward them with treats or praise to reinforce the desired behaviour.
5. Address anxiety or fear
If your Labradoodle's excessive barking is rooted in anxiety or fear, consider consulting a professional dog trainer to guide you through specific techniques to help your furry friend overcome their concerns. They may suggest desensitization exercises or use calming aids like pheromone diffusers or anxiety wraps.
6. Use positive reinforcement
When your Labradoodle remains calm and quiet in situations that typically trigger excessive barking, reward them with treats or praise. Positive reinforcement will help them associate good behaviour with rewards, encouraging them to repeat it in the future.
7. Minimize triggers
Identify the triggers that cause your Labradoodle to bark excessively. It could be people passing by, other animals, or loud noises. Take steps to minimize these triggers, such as closing curtains or using white noise machines to block outside sounds.
Remember, addressing excessive barking requires patience and consistency. It's essential to remain calm and avoid scolding or punishing your Labradoodle, as this can create more anxiety and worsen the behaviour. With
Behaviour #2: Jumping Up – Teaching Your Labradoodle Proper Greetings and Boundaries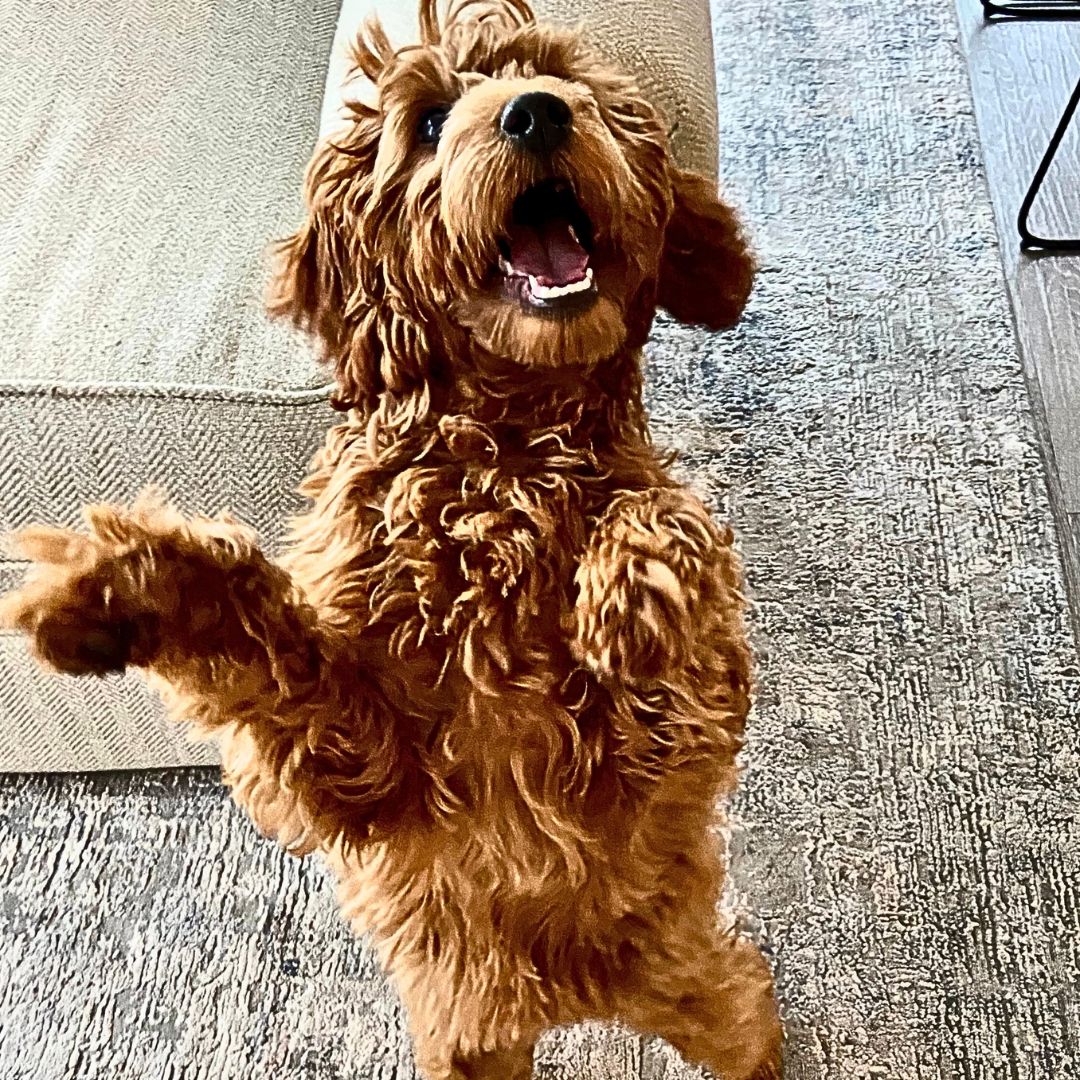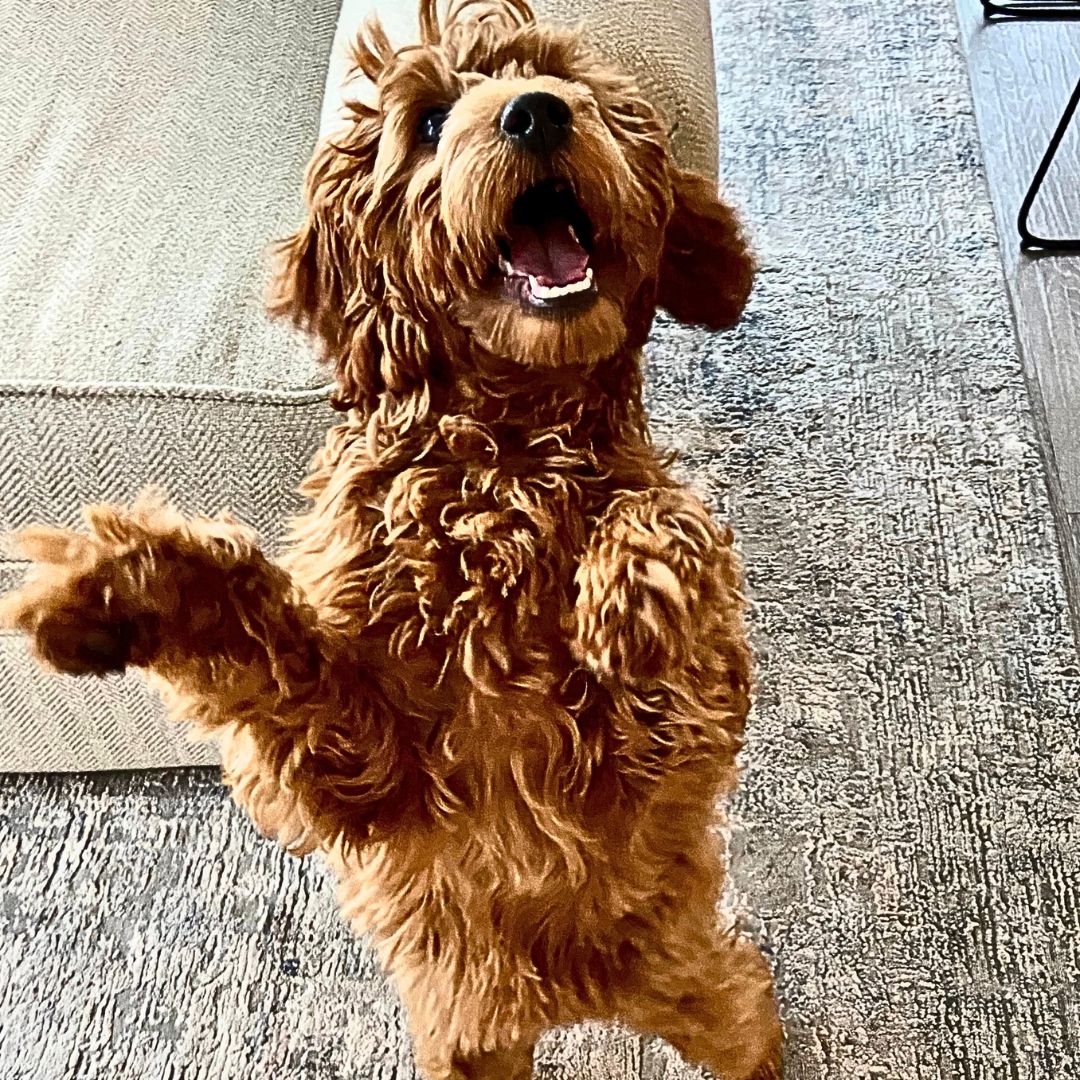 Is your Labradoodle displaying an enthusiastic jumping behaviour when greeting you or other people? While their excitement is endearing, teaching them proper greetings and setting boundaries is essential to ensure a harmonious interaction. Here are some effective strategies to prevent jumping behaviours in Labradoodles and establish polite greetings:
1. Consistency is Key
Be consistent when addressing jumping behaviour. Labradoodles thrive on routine, so everyone in your household follows the same guidelines.
2. Ignore the Jumping
When your Labradoodle jumps up, avoid giving them attention or physical contact. Instead, turn away and avoid eye contact until they calm down. It teaches them that jumping won't elicit the desired response.
3. Teach an Alternative Behavior
Redirect your Labradoodle's energy by teaching them an alternative behaviour to replace jumping. For instance, please encourage them to sit or offer a paw instead of jumping up. Reward and praise them when they exhibit the desired behaviour.
4. Use Positive Reinforcement
Labradoodles can be effectively trained using positive reinforcement, a powerful tool. Whenever your furry friend greets you or others calmly without jumping, provide treats, praise, and affection as rewards. 
5. Consistent Training Sessions
Regular training sessions on teaching proper greetings will reinforce good behaviour. Use treats, toys, or other rewards to make training enjoyable for your Labradoodle.
6. Set Clear Boundaries
Establish boundaries for your Labradoodle's behaviour around guests or strangers. Teach them to wait patiently before approaching someone new, ensuring they understand that respectful greetings are expected.
7. Socialization Opportunities
Expose your Labradoodle to various social situations early on. Properly socialized dogs are likelier to exhibit well-mannered behaviour when meeting new people.
Remember, training your Labradoodle takes time and patience. Consistency, positive reinforcement, and clear communication will help them understand the expected behaviour when greeting others. With practice and dedication, you'll soon enjoy a well-behaved Labradoodle who welcomes others politely and respects boundaries.
Behaviour #3: Chewing and Destructive Behavior – Protecting Your Home from a Teething Labradoodle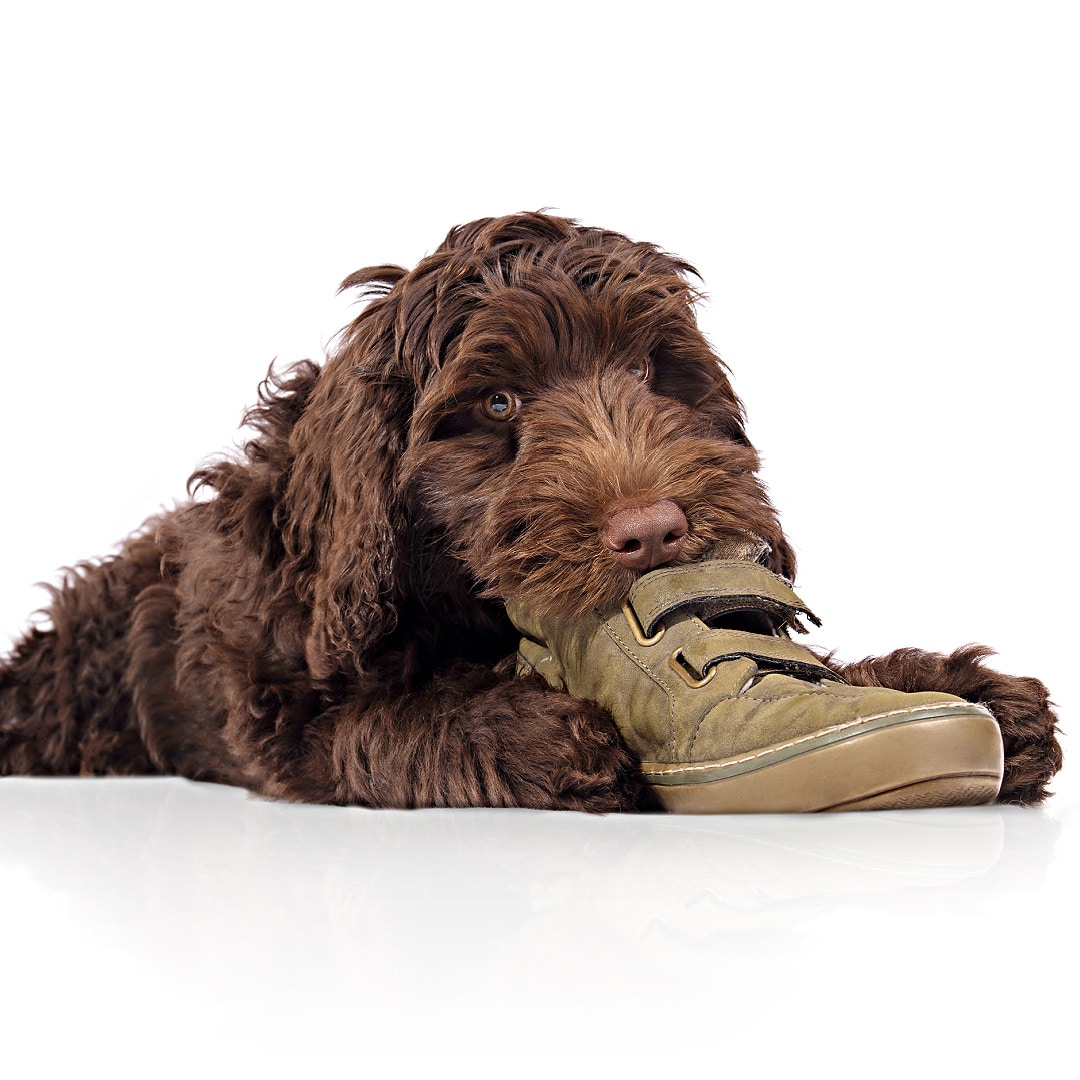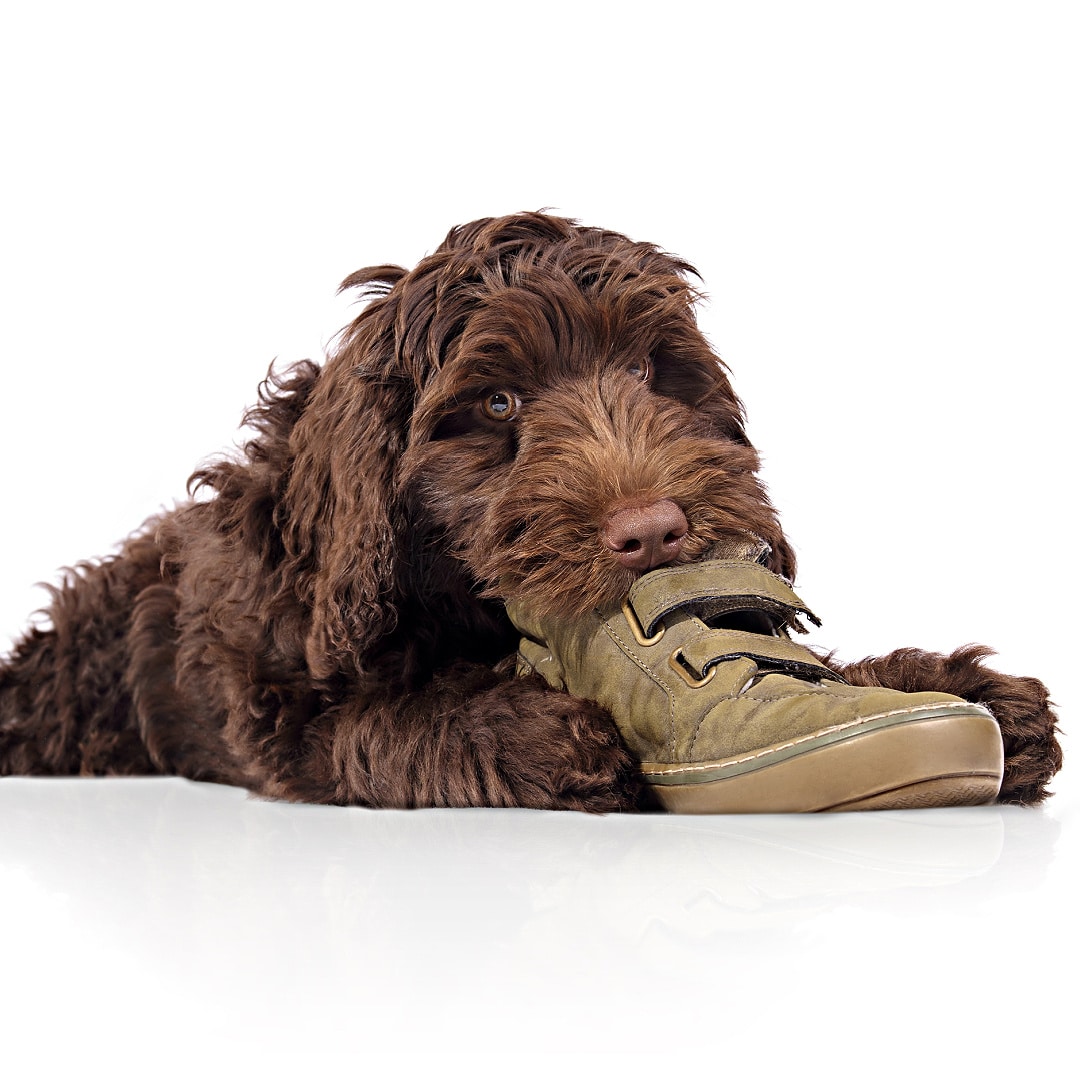 Are you tired of coming home to a chewed-up mess? Dealing with a teething Labradoole can be challenging, but fear not! With 5 Labradoodle Behaviors to Nip in the Bud Early, you can protect your home from destructive chewing and help your furry friend through this crucial phase.
Step #1
First and foremost, it's important to understand that chewing is a natural behaviour for Labradooles, especially during their teething period. Puppies explore the world through their mouths, and teething intensifies this behaviour. You can redirect their attention away from your furniture and belongings by providing appropriate outlets for chewing.
Toys
Invest in a variety of chew toys specifically designed for teething puppies. Look for toys made from durable materials that provide relief to sore gums. These toys should also be safe and free from small parts that could be swallowed. By offering a range of textures and sizes, you'll keep your Labradoole engaged and satisfied.
Puppy-Proof
Another key strategy is to puppy-proof your home. Remove any valuable or dangerous items from your puppy's reach. Keep shoes, cords, and household chemicals securely stored away. Remember, prevention is always better than cure! When you catch them chewing something they shouldn't, calmly redirect their attention toward an appropriate chew toy. Praise and reward them when they choose the right item to chew on. This positive reinforcement will reinforce good behaviour over time.
Boredom
When a puppy is tired, it is less likely to engage in destructive behaviour due to boredom. Please let me know if you need me to make any further adjustments. Regular exercise and interactive playtime can help burn off excess energy. Additionally, puzzle or treat-dispensing toys can keep their minds occupied and discourage destructive chewing.
Contact Dog Trainer
If, despite your best efforts, your Labradoole continues to exhibit destructive chewing behaviour, consider consulting with a professional dog trainer or behaviourist. They can assess the situation and provide specialized guidance tailored to your dog's needs.
Remember, teething is just a phase, and with patience and consistency, you can protect your home from the havoc of a teething Labradoodle. Stay proactive, provide appropriate outlets for chewing, and shower your furry friend with love and attention. Before you know it, those sharp puppy teeth will be a distant memory!
Behaviour #4: Pulling on Leash – How to Enjoy Walks with Your Well-Behaved Labradoodle
Walking your Labradoodle should be a pleasurable experience for both you and your furry friend. However, it can quickly become frustrating if your Labradoodle constantly pulls on the leash. Don't worry! With the right training, you can teach your Labradoodle to walk politely on a loose leash, transforming your walks into enjoyable bonding experiences. 
1. Start with Proper Equipment
Using the right equipment is crucial when it comes to leash training. Opt for a sturdy yet comfortable harness that fits your Labradoodle properly. Harnesses are generally preferred over collars as they distribute pressure more evenly across the body, reducing strain on the neck and throat.
2. Set Realistic Expectations
Leash training takes time and patience. It's essential to set realistic expectations and not rush the process. Consistency is key when teaching your Labradoodle loose leash walking, so be prepared to invest time and effort into the training.
3. Basic Leash Training Techniques
a) Positive Reinforcement: Use treats, praise, and affection as rewards to reinforce good behaviour. Reward your Labradoodle when they walk calmly by your side or respond to your cues.
b) Stop-and-Go Method
If your Labradoodle pulls on the leash, it's important to stop walking and wait for them to relax. You can resume walking once they calm down and the leash becomes loose again. This technique helps to teach your furry friend that pulling on the leash will only result in a halt in their progress. Consistent with this training will teach your Labradoodle to walk calmly without pulling.
c) Change Directions
Changing directions whenever your Labradoodle pulls helps them focus on you and teaches them that stretching won't get them where they want to go.
4. Consistency is Key
Consistency is crucial when training your Labradoodle. Use the same commands, rewards, and techniques consistently to reinforce the desired behaviour. Remember, every walk is an opportunity to support good manners and strengthen the bond between you and your Labradoodle.
5. Seek Professional Help if Needed
If you need help with leash training, feel free to seek professional help. Professional dog trainers can provide additional guidance and tailor a training program for your Labradoodle.
Behaviour #5: Separation Anxiety – Helping Your Labradoodle Cope When You're Away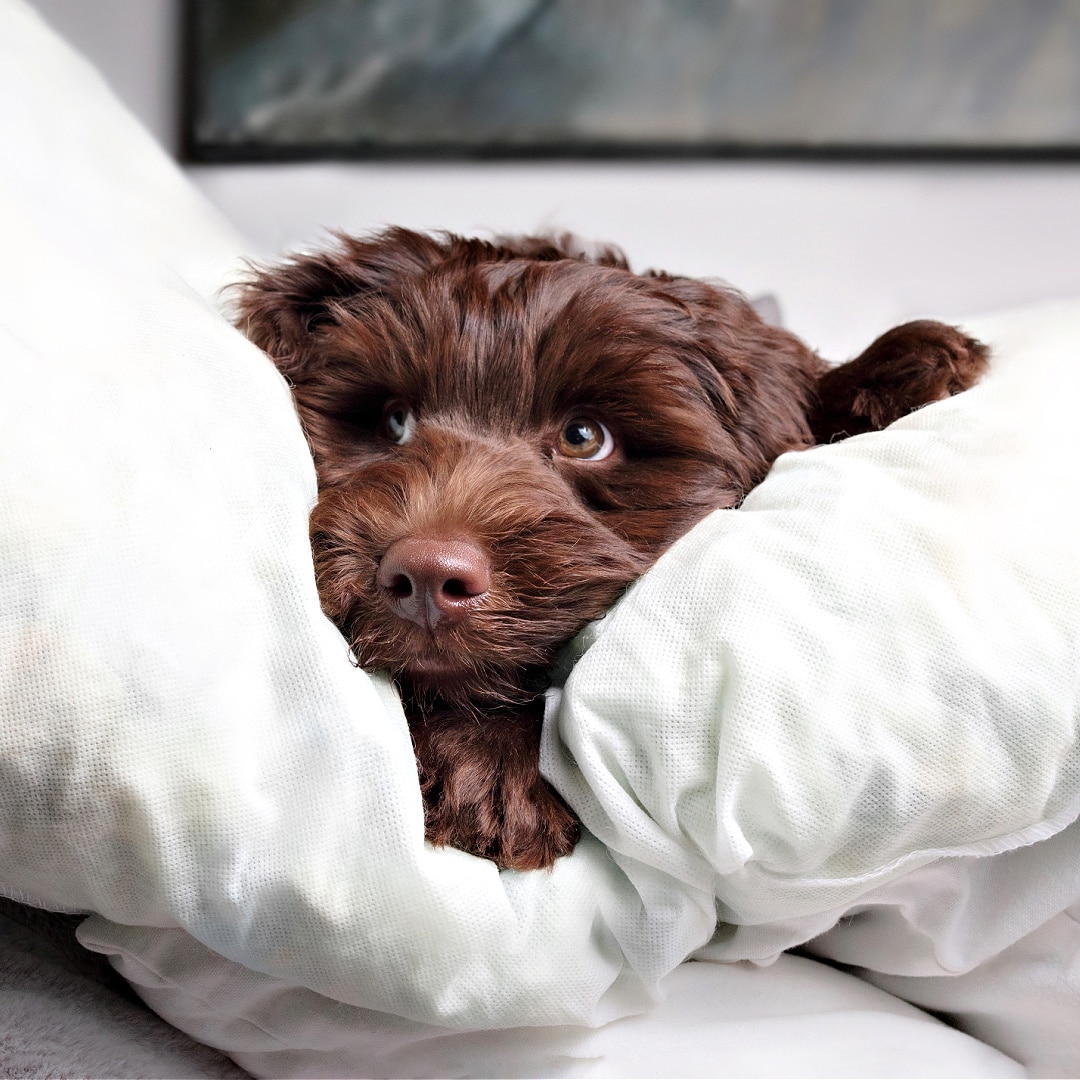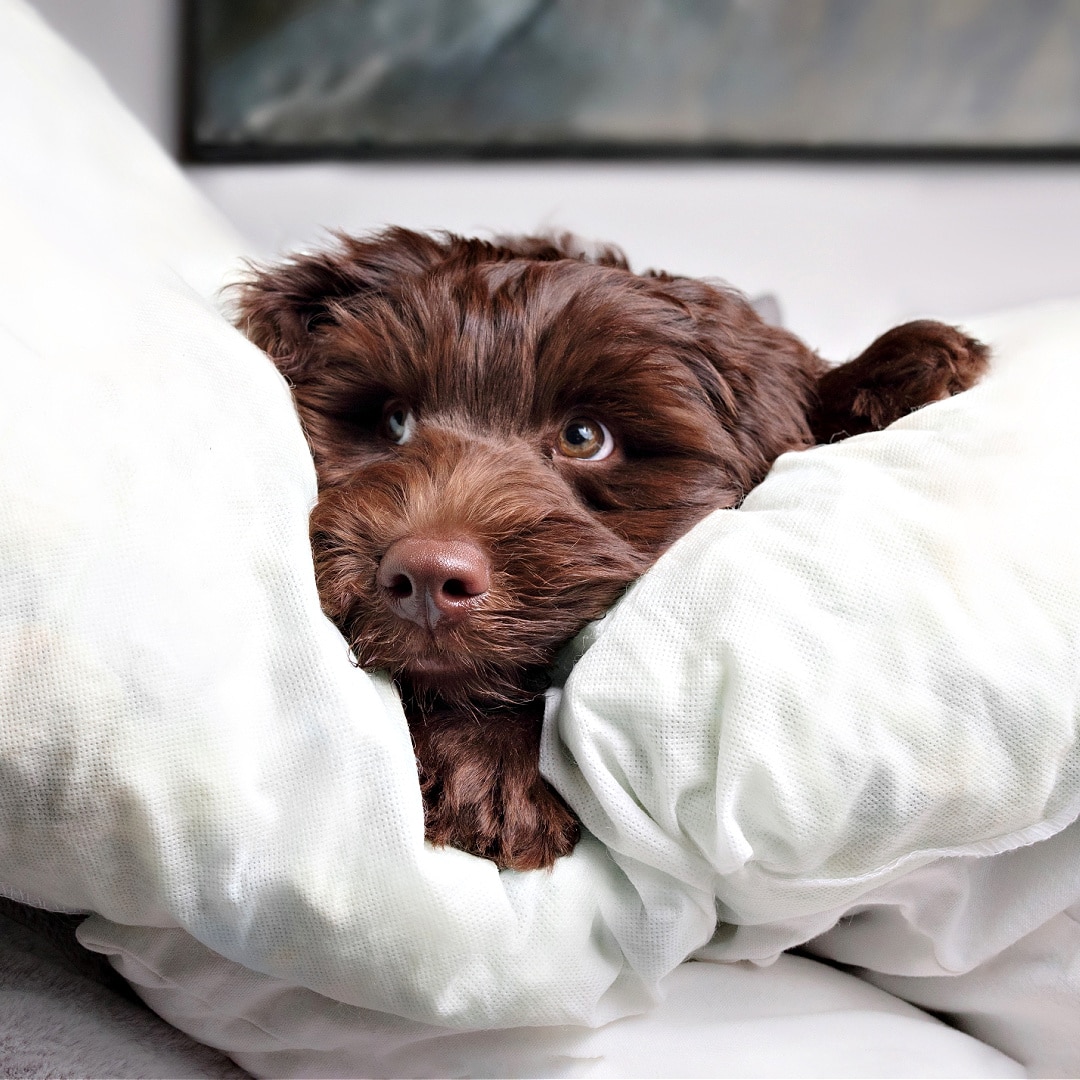 Separation anxiety can be a challenging behaviour for Labradoodle owners to address. The distress that our furry friends experience when we're away can be heartbreaking. However, with the right approach and patience, you can help your Labradoodle overcome separation anxiety and create a more comfortable environment for them when you're not around. In this article, we'll explore effective strategies to cope with separation anxiety in Labradoodles and prevent it from occurring in the first place.
1. Gradual Departures and Arrivals
One of the key methods to address separation anxiety is gradually getting your Labradoodle accustomed to your departures and arrivals. Start by leaving for short periods, increasing progressively duration as your dog becomes more comfortable. This approach helps them realize that their absence is temporary and that they will return.
2. Create a Safe Space
Designating a specific area in your home as a safe space for your Labradoodle can give them a sense of security. I could be a cozy corner with their bed, toys, and familiar scents. Please ensure this space is associated with positive experiences by rewarding them with treats or praise when they use it willingly.
3. Interactive Toys and Puzzles
Providing your Labradoodle with interactive toys or puzzles can help stimulate their mind when you're away. These toys offer mental engagement and distract them from feeling anxious or bored. Consider toys that dispense treats or require problem-solving skills to keep them occupied.
4. Desensitization Training
Desensitization training involves gradually exposing your Labradoodle to situations that can trigger their anxiety, such as picking up keys or putting your coat on. Start with these triggers in a non-threatening way and gradually build up to more realistic scenarios. This technique helps your dog associate these triggers with positive experiences rather than anxiety.
5. Seek Professional Help
Consulting with a professional dog trainer or behaviourist may be beneficial if your Labradoodle's separation anxiety persists despite your best efforts. They can offer personalized guidance and develop a customized training plan for your dog's needs.
About 5 Labradoodle Behaviors to Nip in the Bud Early

Q: Are Labradoodles good with children?
A: Labradoodles are known for their friendly and gentle nature, making them great companions for children. They are typically patient and tolerant, which makes them well-suited for families with young kids. However, it's important to introduce any dog to children in a supervised manner and teach both the dog and the child how to interact safely and respectfully.
Q: Do Labradoodles require a lot of exercise?
A: Labradoodles are an active breed that needs regular exercise to stay happy and healthy. They have a moderate energy level that will benefit from daily walks, playtime, and mental stimulation. Engaging them in fetch or agility training activities will burn off their energy and prevent behavioural issues arising from pent-up energy.
Q: Are Labradoodles easy to train?
A: Labradoodles are intelligent and eager to please, which makes them relatively easy to train. They strongly desire to learn and respond well to positive reinforcement techniques. Consistency, patience, and positive reinforcement methods such as treats and praise are key when training a Labradoodle. It's also recommended to start preparing early on to establish good behaviours.
Q: Are Labradoodles prone to any health issues?
A: Labradoodles are generally healthy dogs but can inherit certain health issues from their parent breeds (Labrador Retrievers and Poodles). Some common health concerns in Labradoodles include hip and elbow dysplasia, eye disorders, and certain genetic conditions. Many breeders perform health tests on their breeding dogs to help minimize the risk of passing on these issues. Regular veterinary checks, a balanced diet, and exercise can improve their health and well-being.
Q: Do Labradoodles make good therapy or service dogs?
A: Labradoodles are often chosen as therapy or service dogs because they are friendly, calm, and trainable. Their intelligence and willingness to please
Conclusion: Addressing and Correcting Labradoole Behaviors for a Happy and Well-Balanced Companion
You can create a harmonious and enjoyable relationship with your furry friend by taking the necessary steps to address Labradoodle behaviours. It is crucial to understand that Labradoodles are intelligent and energetic dogs who thrive on mental and physical stimulation. They must manage their behaviours to avoid future frustration and potential problems.
Start with proper training and socialization from an early age. It will help develop good manners, learn basic commands, and understand appropriate behaviour. Positividing reinforcement techniques, such as rewards and praise, can be highly effective in shaping their behaviour.
Mental Stimulation
In addition to training, regular exercise and mental stimulation are vital for a well-balanced Labradoodle. Engaging them in daily walks, interactive playtime, and puzzle toys will help burn off excess energy and keep them mentally stimulated. A tired Labradoodle is less likely to engage in unwanted behaviours such as excessive barking or destructive chewing.
Correcting Behaviours
Correcting Labradoodle behaviours requires patience and consistency. It is important to identify the root cause of any undesirable behaviour and address it accordingly. Whether it's separation anxiety, fear-based reactions, or attention-seeking behaviour, understanding the underlying cause will help you implement the right corrective measures.
Hire a Certified Dog Trainer
Getting help from a certified dog trainer or behaviourist can be very beneficial if you struggle with specific Labradoodle behaviours and can provide expert guidance tailored to your Labradoodle's needs, ensuring a more effective approach to correcting problematic behaviours. By consistently training, positively reinforcing, and giving plenty of love and care, you can help your Labradoodle become a well-balanced and happy companion for life.