We are always so happy to hear from families who have bought one of our puppies from Labradoodle by Cucciolini Ontario. I love hearing stories about what they're like as adults and how they are now a much loved part of your family.
Hey Carmelina, It's been about 1 year since we brought Koa home from Faye and Max's litter in Feb 2020. Koa is such a great fit to our family. The kids, Melissa and I adore him. Koa is very much like his parents. Similarly to Faye he is a big fan of playing fetch and like Max he loves running around through the bush, going swimming, and he has a big affinity for the snow. Seeing that his entire life so far with us has been throughout COVID his interactions with other dogs are limited to the dog park and we don't get to have people over ever so when it comes to meeting others he's super excited and wants to play with everyone. We think he's done growing now at around 75 lbs. He is quite the big boy.  Thank you so much for what you do, you've introduced us to the final member of our family and we couldn't be happier.  I've attached a couple of photos as well as a link to a video I posted publicly on Facebook entitled "The evolution of Koa". Hope you enjoy.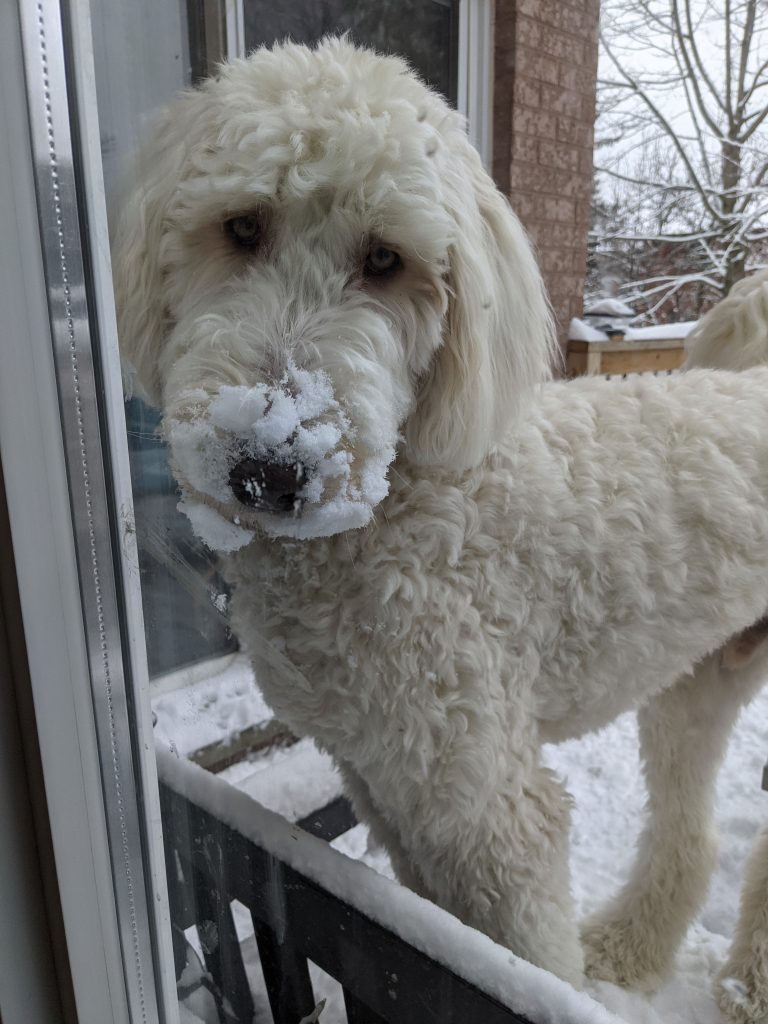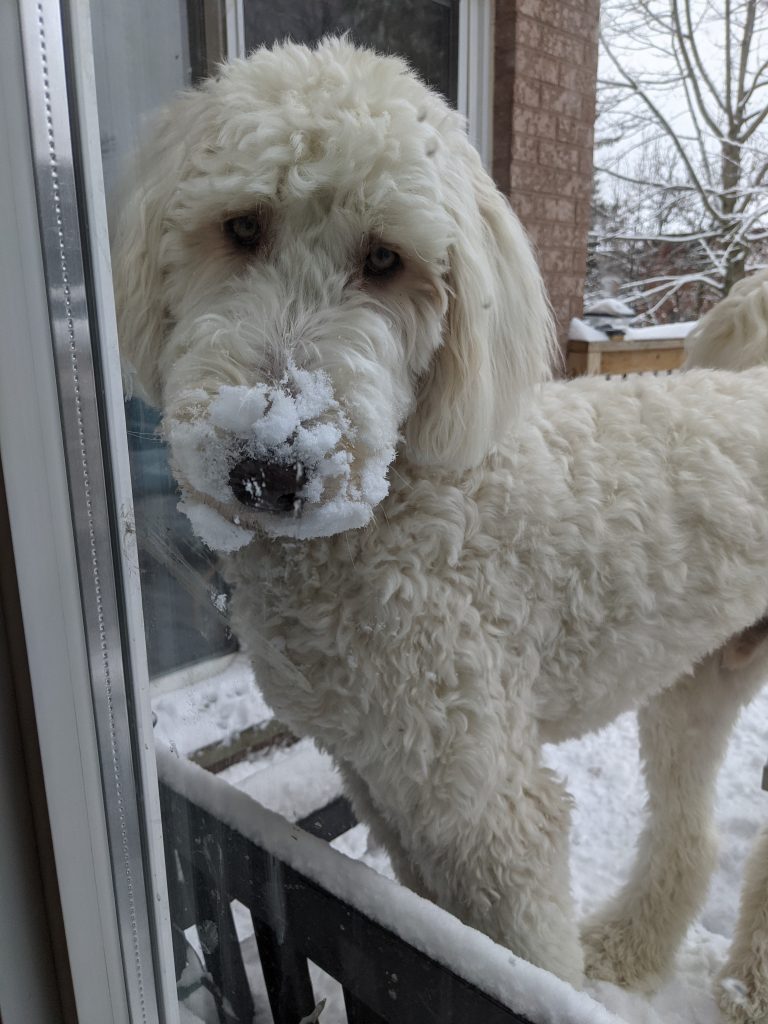 Hi Carmelina,  I hope this email find you and your family well! Just wanted to update you and thank you for raising such a well socialized puppy, he's a gentle, kind, loving little guy. Teddy (Misa and Max, Feb 9th) has been such a wonderful addition to our family, our 3 kids adore him and I know he adores them too.  He's been doing great,  2 weeks ago we had good sniff spaw come out to our home and pamper him with a fresh hair cut, nails, and bath! He's such a smart little guy, he learned the sit, paw, and down commands within the first 3 weeks that we picked him up. He's now learning the look and stay command, and so far so good! He sleeps in his big crate all night, and has only had 1 (poo poo) accident since we got him!! He's an excellent walker on his leash, well behaved around other dogs, and loves people and kids! Last week I had a lady stop her car turn around and come ask me about him and if he was a labradoodle, I gave her your information! He's mastered one puzzle, so we bought him Nina Ottosson level 3 advanced puzzle and just after 1 try he's accomplished the first part, Now we're going to try locking the handles so he will have to pull on the locks and move the trays to get the treats! We bring him everywhere, soccer games and practices, ball hockey,  walks by the lake, he's so well behaved in the car! Here are some pictures since we picked him up! Thank you so much again! And I will keep you updated. Best, Silvana

Hi Carmelina,  It's been a few weeks and I just wanted to say thank you and give you a bit of an update. Bailey is such a loving, smart boy and he has been settling in very well. He loves people and can't get enough cuddles from people and dogs alike. He gets along great with our 3 year old Golden doodle and the two of them can play for hours and then cuddle up for nap time. I attached a picture of the two of them together. The other pictures are at the cottage. He loves to run around on the beach, play in the water and go for boat rides. Thank you for all your hard work socializing the puppies at such a young age. Bailey is such a social puppy who is learning very quickly from his buddy Leo. I'm sure the other puppies are also doing very well. Thanks again and I hope all is well! Best, Melissa Hann

Hi Carmelina, Roxie is a joy. We are always kissing her. She gets 3 walks a day and eats well ( not always a fan of her own food). Tony likes to give her steak and chicken……she is due for another spa day…. Going tomorrow. Thank you so much for our beautiful Labradoodle, she is such a wonderful socialized Puppy. We love her so much!! Marianne Rocca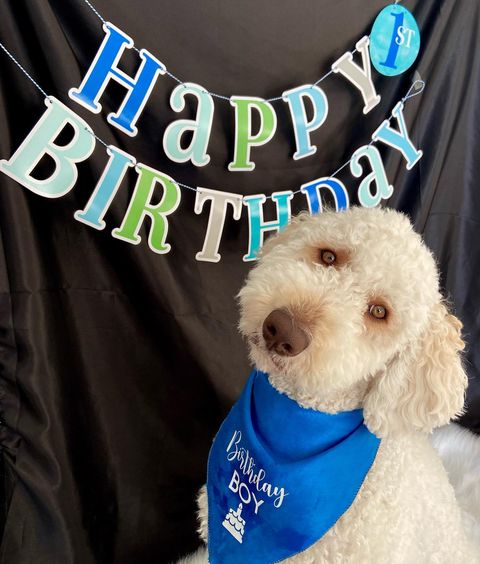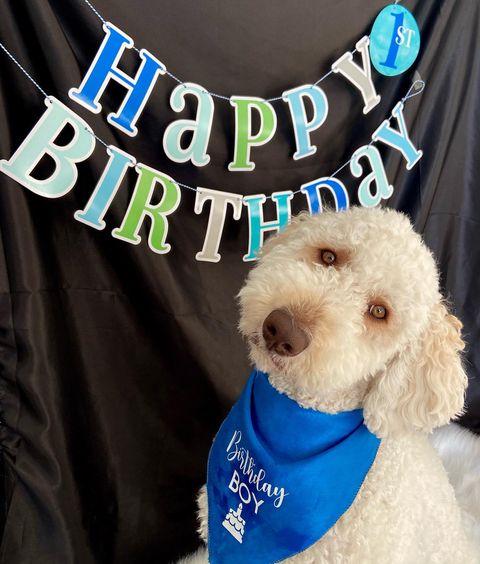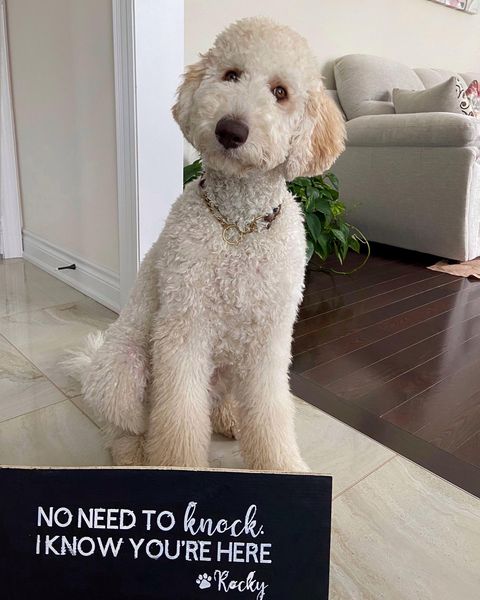 Hello Carmelina,  Sorry it has been so long since we gave you an update.  The last time I wrote, we were in a panic and worried we had made the wrong decision, thought maybe too early to get another dog and I spoke to you. That was August 10, 2015. We are now so thrilled with our decision and glad you told us to "hang in there". Lucy is so lovable and is attached to my leg at all times. 🙂 We decided that I should be the one to do the training, feeding and most walks and she has become very attached to me. I took her for a face trim at our groomers then took her for a bath at Value pet where you do it yourself. That was fun! She was good except with the blow dryer, did not like that. She likes a bath at home. Her brown fur got reddish brown and it looks like a bath mat. lol 2 minutes after I brush her she goes all kinky again. Love it. I took her to Pet Smart training for puppies and she was a superstar, graduated after 6 weeks. Can sit, stay, lay down, shake a paw, leave a treat until given permission to take it and also has learned to "drop it". She has not ruined one item in our home and we crated her until this past week for sleeping. She now goes to "her room" at bed time. We had her spayed on October 15th and she has been a Houdini getting the cone off, so we have given up on it. She is healing nicely. Lucy has filled a void for us, we love her to pieces. I myself have never been so attached to an animal before. Thank you for our lovely girl, she is growing like a weed. She is about 40 lbs and is still growing. She has her first grooming on October 29, 2 weeks after her surgery. We are giving her lots of loving, have started our 2nd training classes and she has been good with our 2 grandchildren who are 9mos and 1 yr now. Enjoy the pictures. Willy and Kathryn Henschel
Hi Carmelina, Nothing but amazing things to say about Labradoodles by Cucciolini. From the moment we went to see the puppies from the April 2015 litter, Carmelina and her husband make you feel like family. Not pressuring you to purchase a puppy and spend the time to educate you on the type of breed. She has the perfect property where the dogs are able to run and roam around, the facility the puppies stay in is clean and the little ones get so much love. Maya and Maggie are two of the sweetest dogs out there (they give you so much love as soon as they see you). We were lucky enough to get one of the last puppies left in Maya's litter, thank goodness! Our little (50lbs) baby, Brody. He is the most cuddly teddy bear ever, who was so easy to train. He was out of the crate by the second week and was not having any accidents in the house. He learned to sit within 10 minutes of having him. He is so loving, and has the best personality. He offers the best of both worlds, loves running around the park chasing sticks and can lay with you all night on the couch all snuggled up. I would definitely recommend Labradoodles by Cucciolini to anyone looking to add a new member to their family.  Brittany, Alessandro & Brody Bozzo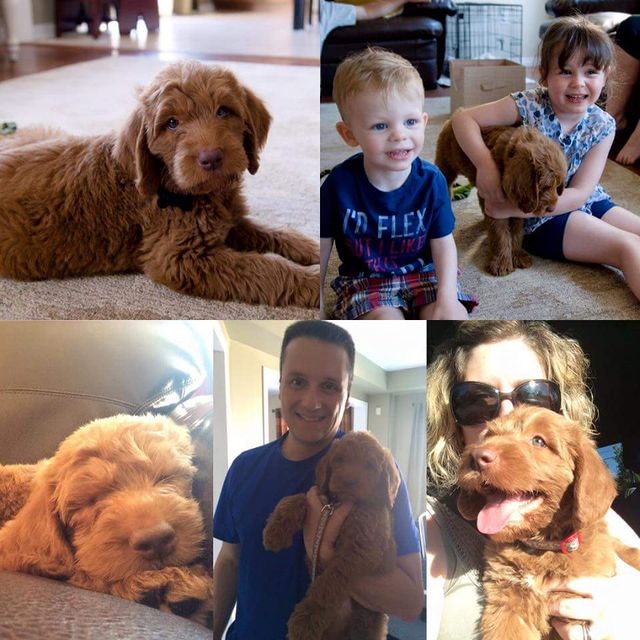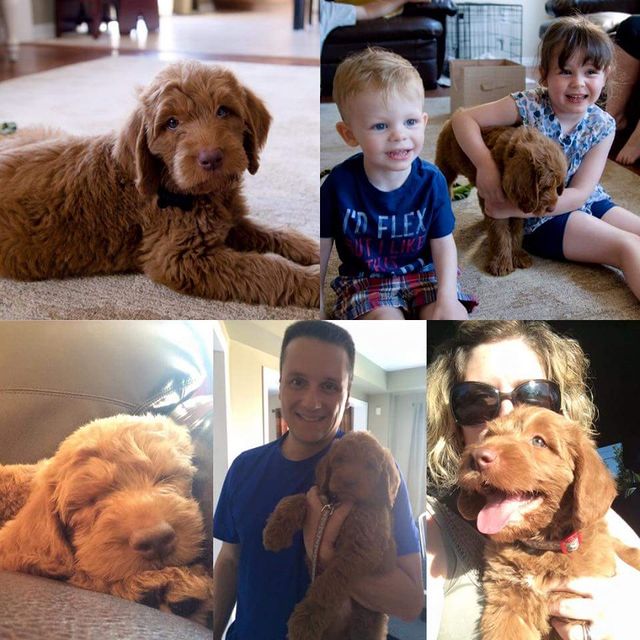 Hi Carmelina,  Just an update to let you know that we took Cookie to the vet yesterday for her overall check, and she flew threw her appointment with flying colors. We have had a few busy days…and long nights….but she is doing very well. She is getting very good at house training and loves to cuddle and play with our family.  November 25-2015 Litter! Thanks again for the beautiful puppy! Just an update to let you know that we took Cookie to the vet yesterday for her overall check, and she flew threw her appointment with flying colors. We have had a few busy days…and long nights….but she is doing very well. She is getting very good at house training and loves to cuddle and play with our family.  Thanks again for the beautiful puppy!  The Chester family
Hi Carmelina,  It been about 6 months since I adopted Lexi, but I just wanted to give you an update and send you a picture of us playing at the beach just before the winter snow hit. She is growing up so fast! She just started going to doggy day care a couple weeks ago and is loving every chance she gets to go meet and play with other dogs. Thank you so much, Olivia
Hi Carmelina,  Just sending you a little update on Sadie with a couple of updated pics. Sadie is doing well. She gets along so well with our yellow lab as you can see from the pictures.She LOVES the outdoors and loves to play in the snow. We have had her 3 weeks and she is already house trained to routine. We have not had any accidents for 2 weeks! She is so smart. She goes to the door to be let out and if we are not watching she will come and wine when she needs out. As soon as she gets outside she has a pee, so she knows exactly what she is out for. Then she likes to stay out in the yard and play in the snow. She is very playful with the lab as well and very loving with us. She's amazing! Jack and Rebecca Kingshott
Hello Carmelina, I just wanted to let you know that Molly is doing great! She keeps me busy but she is an absolute delight.  She is happy, healthy, and unbelievably friendly.  She loves to cuddle at night, and even right now she is taking a nap on top of my feet.  She is a very smart dog and training is going very well.  I've attached some photos so you can see how she's doing.  Best Regards,  Roxanne Hearn
Save
Save
Save
Save
Save
Save
Save
Save
Save
Save
Save
Hi Carmelina, It's been three weeks now so I thought I would drop you a note to let you know how Juno is doing! She is our pride and joy – we're completely in love and she has us wrapped around our little fingers! As you can see, she's also gorgeous! As you warned, she's a big suck up and absolutely loves everyone. We're convinced she's the best dog to walk the planet and we're very happy we went with you. Thank you! We'll be sure to send more pictures as she grows! Madeline and Kyle
Hello Carmelina, "Oscar" Our Parti Labradoodle who is growing into such a handsome young man. Very very full of energy and keeping his big sister (an 8 year old Dane) on her toes 🙂 Oscar is 45 lbs and quite the runner. Oscar and my youngest son are the best of friends and he loves his cats too , he is such a loving and playful pup. Follows simple commands very fast and easily. Beautiful non shedding coat. Just wants to be with people and kids all the time. Most sociable pup I have ever had in a long time.Thank you for breeding such beautiful labradoodles! Thanks Kelly Petz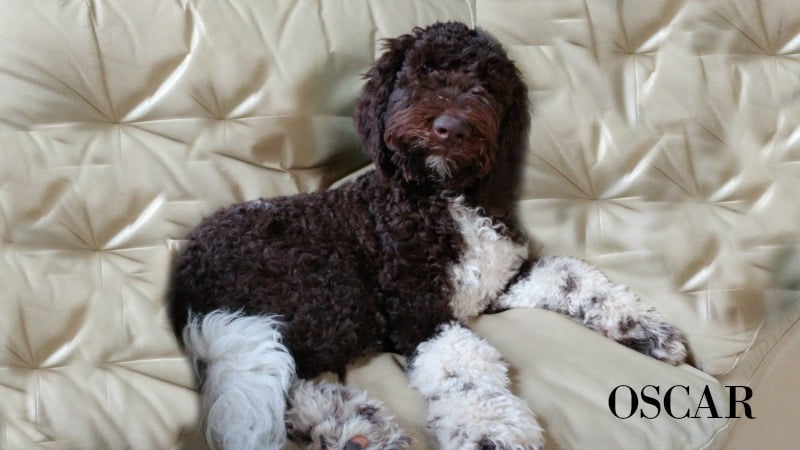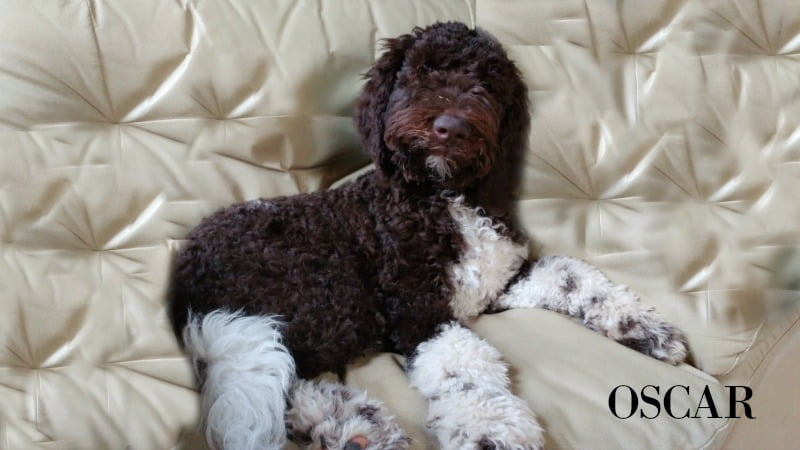 Carmelina was very informative of all her puppies. She shared knowledge with me regarding 2 puppies I was having a hard time choosing. I wanted a larger puppy so I was advised not to go with the runt of the little as he would be a bit smaller.  I also got to meet the mom who was very beautiful, and you could tell she has been taken care of really well. Again I can't say enough about the living conditions. Inside Carmelina's home was also very clean and neat. It made me feel good knowing my puppy hadn't been raised in dirty conditions. 
The paper work was a breeze. Carmelina explained everything and the puppies had their 1st shots, and given the all clear from the vet. She also gave me tips and information regarding my puppy. This is my first puppy so all the information was very appreciative. I also received a little care basket for my pup. Included was food, and a book, poop bags and holder, and a gift receipt for a free bag! My pup Boots is 1 YEAR OLD now and he is doing amazing! He gets stopped all the time because he is so cute, and interacts very well with people and other dogs. I couldn't be more please and can't wait to get another labradoodle from Carmelina! Diane Mackenzie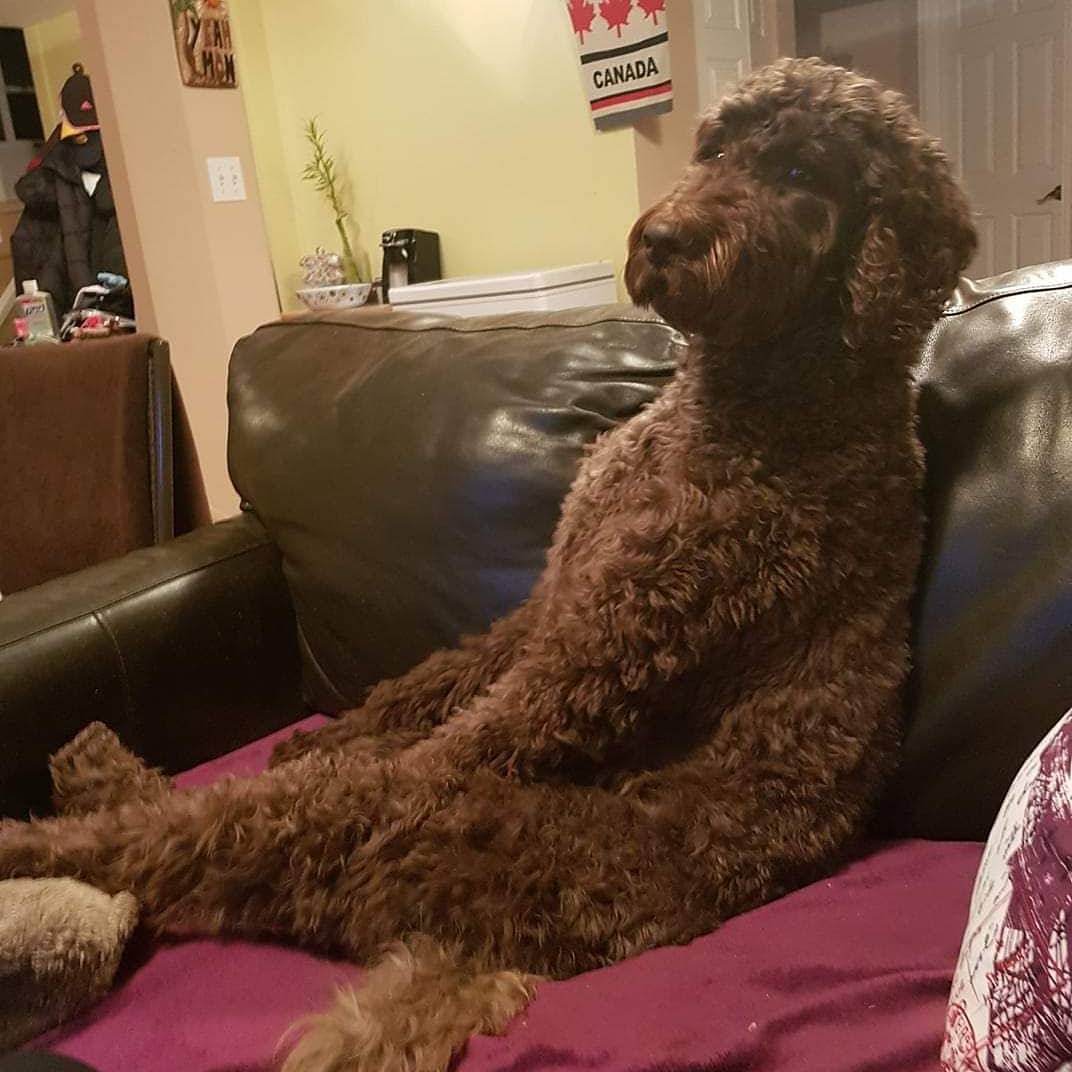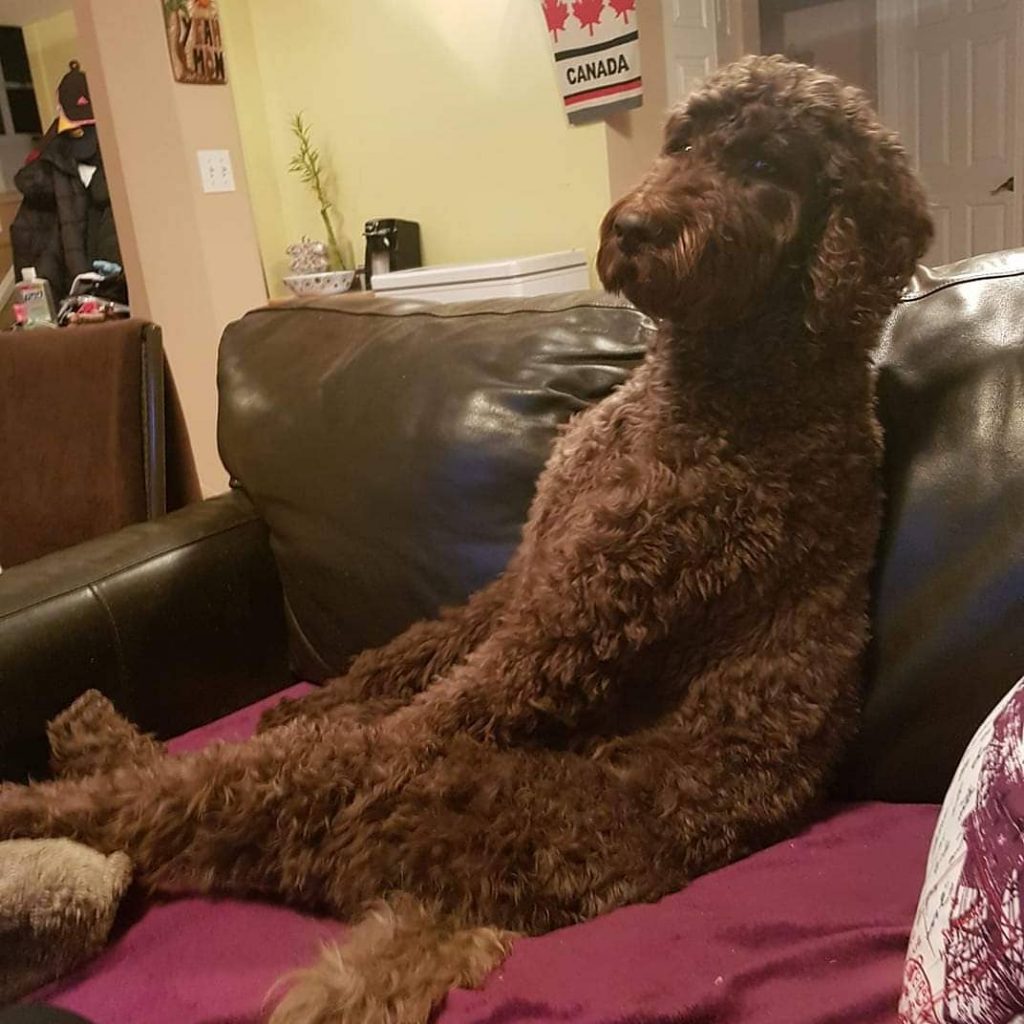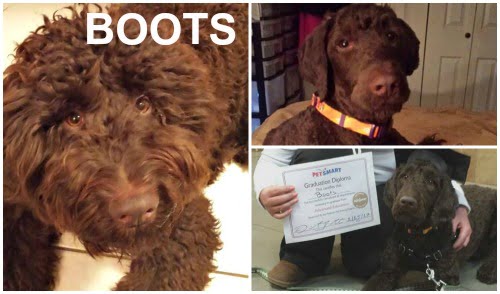 Hello Carmelina,  Thank you again!  We truly are in love with Sam!! During the summer of 2016 our family was blessed with Sam, our beautiful labradoodle.  Her loyalty and unconditional love for our family makes her the ideal family companion.As a first time dog owners (myself and my children) we could not have picked a more suitable breed! 
It took several months convincing my husband that we needed Sam in our life but since then he too has fallen in love with her!  When we went to visit Carmelina at Labradoodles by Cucciolini we were extremely impressed with the temperament and quality of the labradoodles. The environment for the dogs (moms, dads, and new puppies) was very clean and well organized, with all dogs appearing very happy, healthy and loved.    We wasted no time in selected our newest family member.  When it came time to pick her up, Sam was ready to go with first set of vaccines complete, micro-chipped, her very own puppy care package and of course, lots of love! 
Thank you, Carmelina!  Sam is an absolute doll & cannot get enough of her.  She truly is the icing on the cake! The Jamieson Family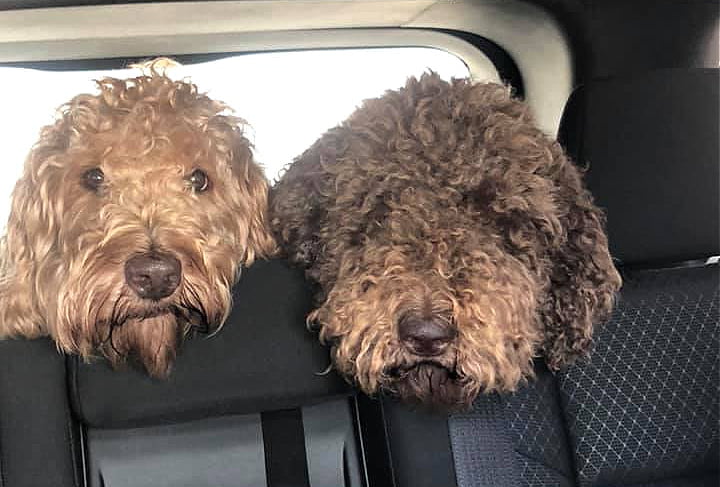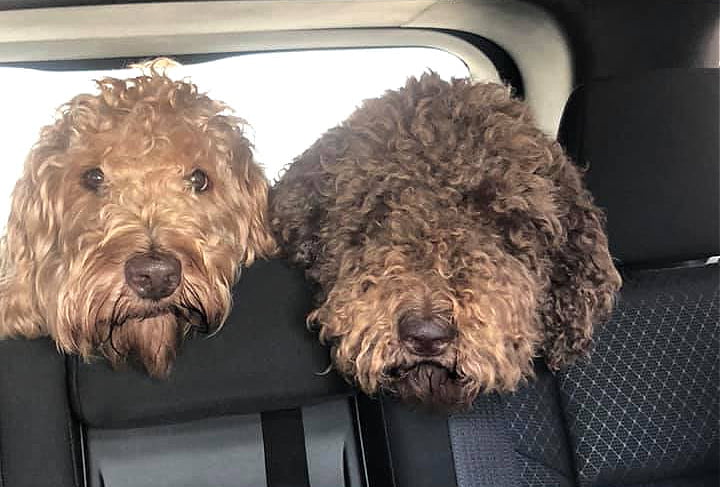 OUR HANDSOME "CHARLIE" HAS BECOME AN EMOTIONAL SUPPORT DOG…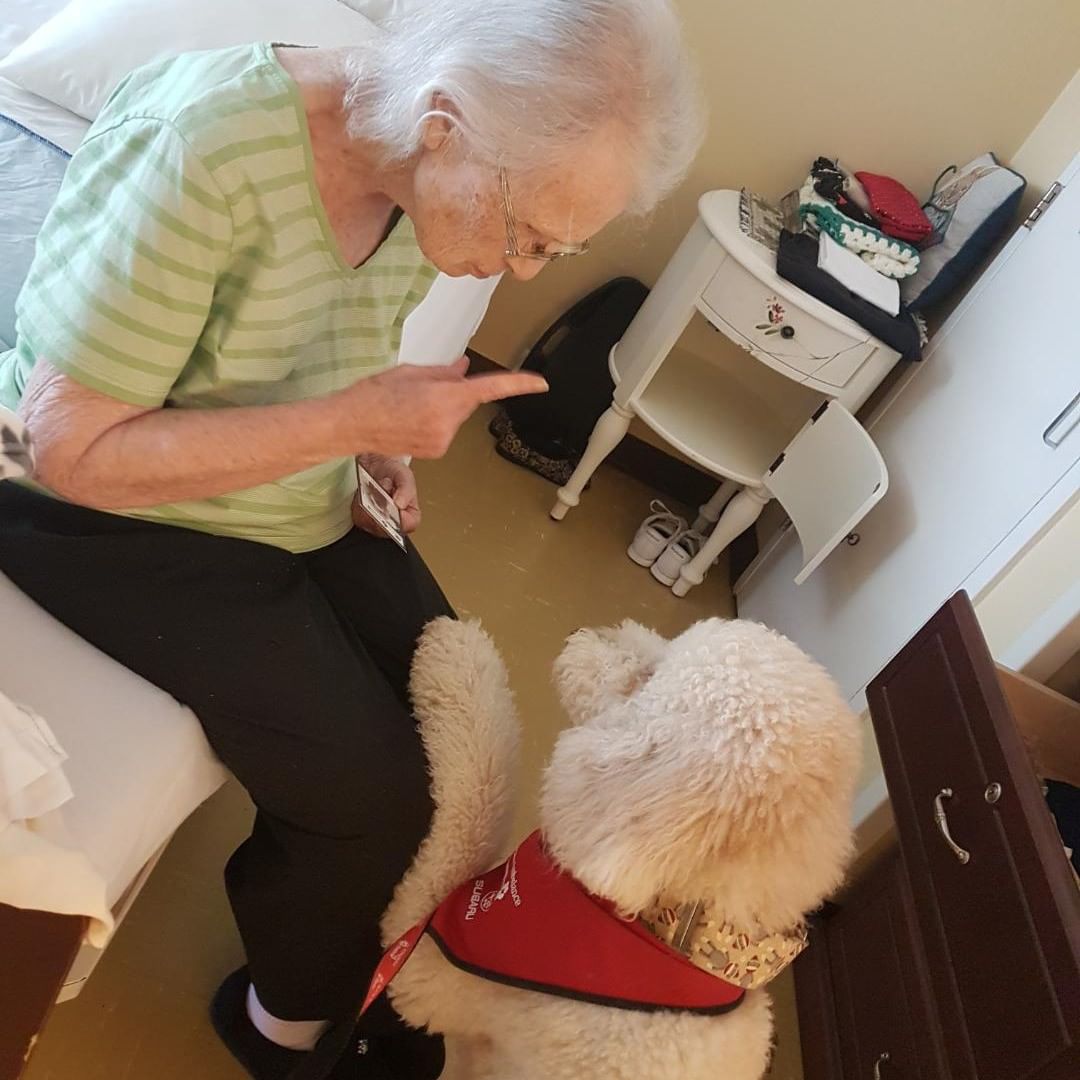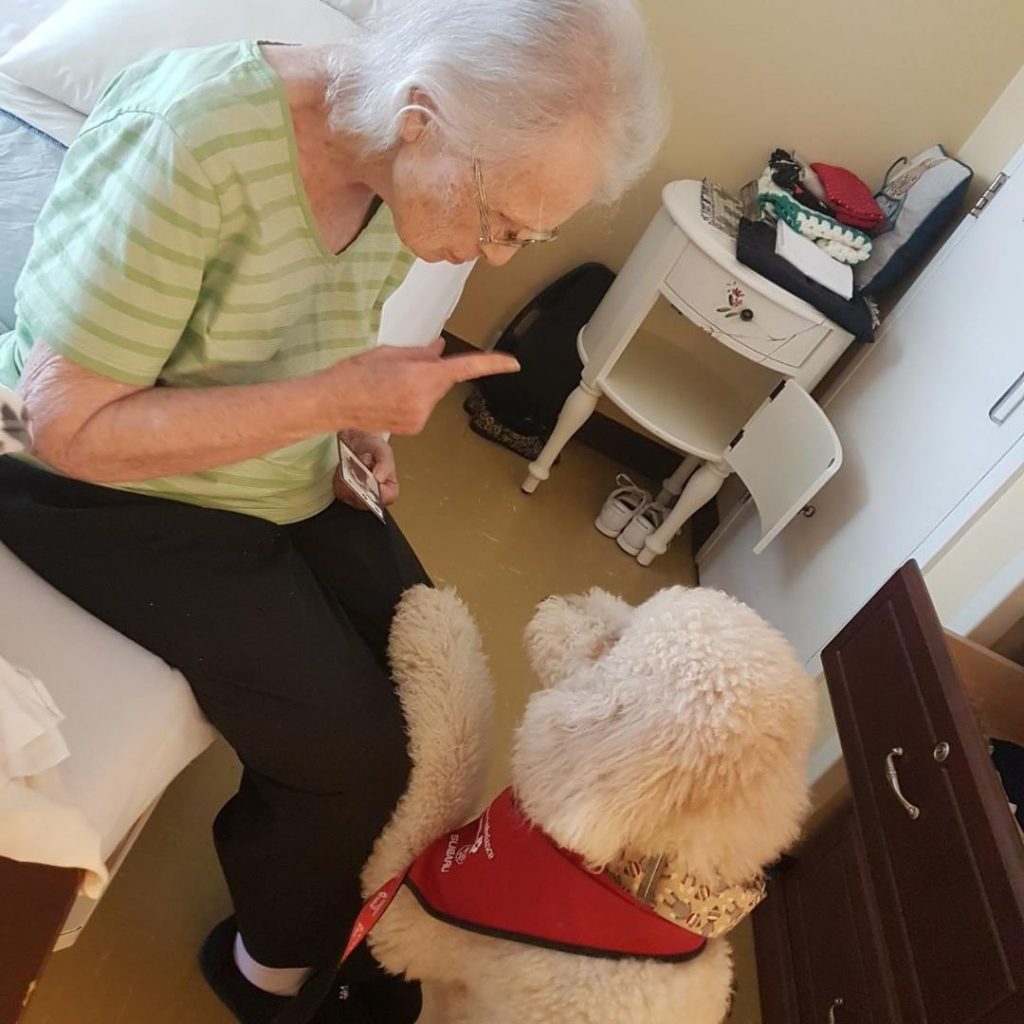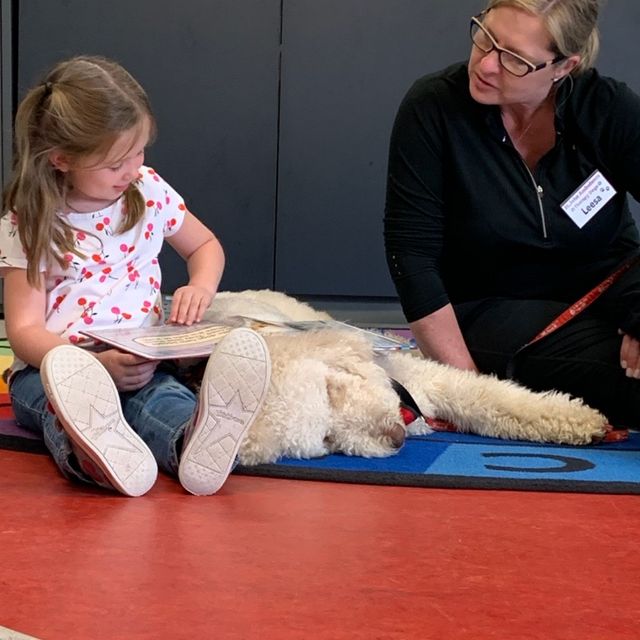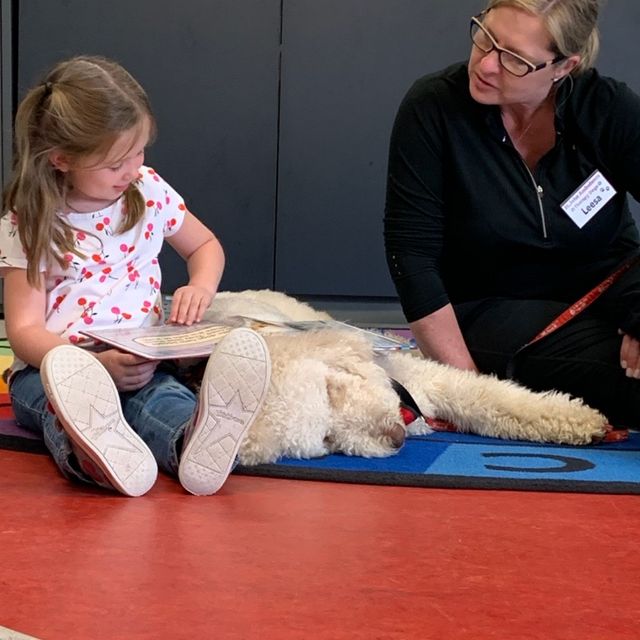 Puppy kisses are one of the best therapies one can receive, Emotional and Therapy dogs offer a very specific service.  There is no age requirement but a positive puppy temperament test and good health may make a good candidate to be a therapy dog.
In addition to being adorable and reliable family pets, we have always believed that our dogs should be more than just cute. Labradoodles by Cucciolini was created with the commitment to make something useful out of our puppies, to assist those who could benefit by having Emotional Service or Service trained Labradoodles. Congratulations to our beautiful "Charlie" and his Family whom has made the commitment to helping those in need! GOD BLESS OUR LABRADOODLES AND THEIR FAMILIES!
To whom it may concern:
I am Charlie, and I will love you until the end of the earth, but please know a few things about me. I am a puppy; this means that my intelligence and capacity for learning are the same as an 8-month-old child. I am a puppy; I will chew EVERYTHING I can get my teeth on. This is how I explore and learn about the world. Even HUMAN children put things in their mouths. It's up to you to guide me to what is mine to chew and what is not. 
I am a Charlie; I cannot hold my bladder for longer than 1-2 hours. I cannot "feel" that I need to poop until it is actually beginning to come out. I cannot vocalize nor tell you that I need to go, and I cannot have 'bladder" and bowel control until 6-9 months of age. Do not punish me if you have not let me out for 3 hours and I tinkle. It is your fault. As a puppy, it is wise to remember that I NEED to go potty after eating, sleeping, playing, drinking and around every 2-3 hours in addition. If you want me to sleep through the night, then do not give me water after 7or 8 pm. A crate will help me learn to housebreak easier, and will avoid you being mad at me. I am a puppy, accidents will happen, please be patient with me! In time I will learn. 
I am Charlie, I like to play. I will run around, and chase imaginary monsters, and chase your feet and your toes and 'attack' you, and chase fuzz balls, other pets, and small kids. It is play; it's what I do. Do not be mad at me or expect me to be sedate, mellow and sleep all day. If my high energy level is too much for you, maybe you should consider an older rescue from a shelter or Rescue group. My play is beneficial, use your wisdom to guide me in my play with appropriate toys, and activities, like chasing a rolling ball, or gentle tug games, or plenty of chew toys for me. If I nip you too hard, talk to me in "dog talk", by giving a loud YELP, I will usually get the message, as this is how dogs communicate with one another. If I get too rough, simply ignore me for a few moments, or put me in my crate with an appropriate chew toy. I am a puppy; hopefully you would not yell, hit or strike, kick, or beat a 6 month old human infant, so please do not do the same to me. I am delicate, and impressionable. If you treat me harshly now, I will grow up learning to fear being hit, spanked, and kicked or beat. Instead, please guide me with encouragement and wisdom. For instance, if I am chewing something wrong, say "no chew!" and hand me a toy I can chew. Better yet, pick up ANYTHING that you don't want me to get into. I can't tell the difference between your old sock and your new sock, or an old sneaker and your 200.00 Nike's.
I am Charlie; and I am a creature with feelings and drives much like your own, but yet also very different. Although I am not human in a dog suit, neither am I an unfeeling robot who can instantly obey your every whim. I truly DO want to please you, and be a part of your family, and your life. You got me (I hope) because you want a loving partner and companion, so do not relegate me to the backyard when I get bigger, do not judge me harshly but instead mold me with gentleness and guidelines and training into the kind of family member you want me to be…
I am Charlie; and I am not perfect, and I know you are not perfect either. I love you anyway. So please, learn all you can about training, and puppy behaviors and caring for me from your veterinarian, books on dog care and even researching on the computer! Learn about my particular breed and it's "characteristics". This will give you understanding and insight into WHY I do all the things I do. Please teach me with love, patience, the right way to behave and socialize me with training in a puppy class or obedience class, we will BOTH have a lot of fun together.
I am Charlie and I want more than anything to love you, to be with you, and to please you. Won't you please take time to understand how I work? We are the same you and I, in that we both feel hunger, pain, thirst, discomfort, fear, but yet we are also very different and must work to understand one another language, body signals, wants and needs. Someday I will be a handsome dog, hopefully one you can be proud of and one that you will love as much as I love you.  Love, Charlie
The benefits Emotional Support or Service Dogs Provide!
People with a disability report feeling a frustrating lack of independence. Loneliness. Stress on family. Lack of exercise (or lack of sleep). Anxiety, depression, or even suicide. Co-morbidity with other conditions. Lost wages (or the high cost of a lifetime of caregivers). Guilt and even anger, both from the patient and from caregivers.
If a person with a disability gets an Emotional or Service dog, they are more likely to be:
More independent (90%).
Have higher self-esteem (80%).
Be more content (80%)
Be more assertive (80%)
There are many other types of working dogs out there beyond this list, and new types of jobs for dogs are developed all the time. Isn't it amazing what dogs can do?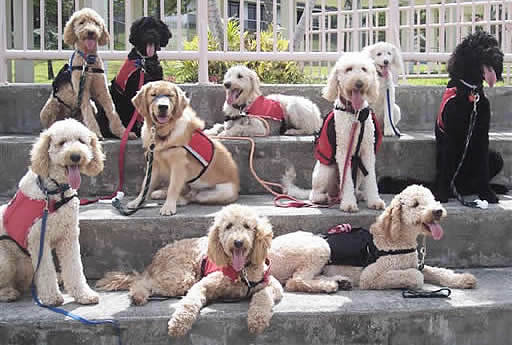 Hey Carmelina! I hope you're well. I just wanted to send you an update on Mason. He'll be 10 months on the 29th and is 58lbs!! He is just the sweetest, goofiest, loving dog ever. He's a very busy boy but we just adore him. He's been on two trips to the East coast already! He travels great and just overall loves life and being beside us for everything. I am so thankful for him.
Here's a pic of my little sidekick!
Hi Carmelina, Here is Cooper at 5 months and 41 lbs. after his first grooming. He is such a ham. He loves the grand kids and he is so smart. He learns really fast and loves to play and retrieve anything for a treat. He always wants to be included with anything we do. He is an awesome fit to our family. Thanks so much for breeding such great family companions.
Bill and Marg Finch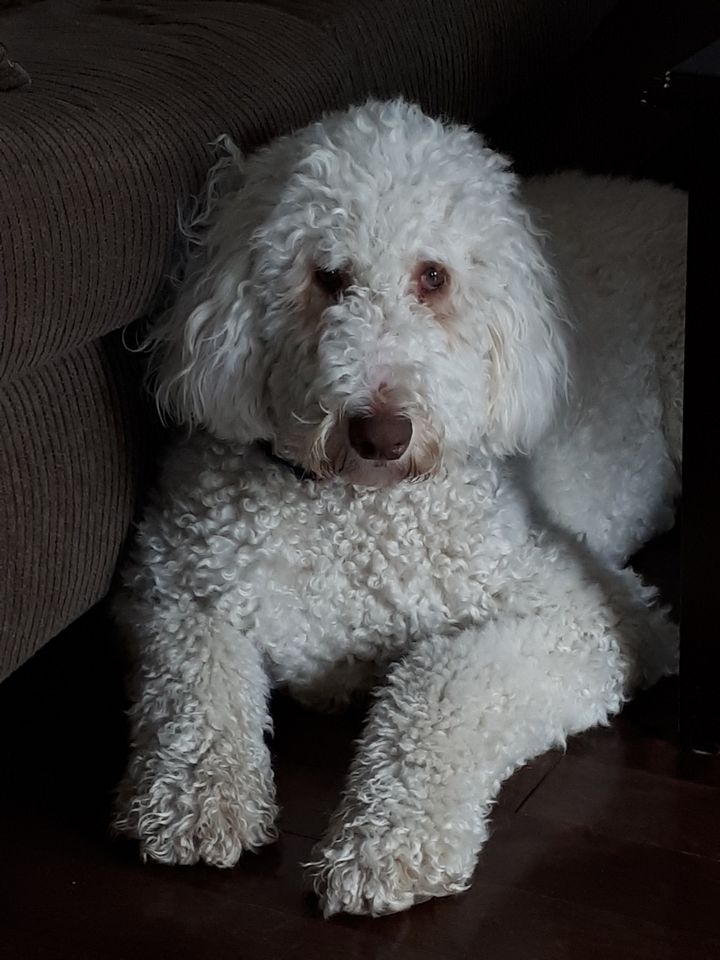 My family has been blessed to now include "Milo" (labradoodle -Maya and Milo litter) for 2 weeks now and she is simply adorable! She gets along super well with our older dog Keeno. She loves to play and is not shy around new people! She's got tons of character and has been the best new addition to our family
🙂 Thank you so much Carmelina!  Nathaniel Bram
We have had our labradoodle "The Captain" (Maya & Milo litter Dec 2016) for 5 weeks now. Captain is a silly puppy with lots of love to give! She already knows sit, shake paws, high five and how to spin around going left and right. She is super smart!!! If you are looking for a smart and loyal dog, look no further! Thanks Carmelina for raising a great puppy! We just love our Captain!
Save
Save
Save
Save
Save
Save
Save
Save
Save
Save
Save
Save
Save
Save
Save
Save
Save
Save
Save
Save
Save
Save
Save
Save
Save
Save
Save
Save
Save
Save
Save
Save
Save
Save
Save
Save
Save
Save
Save
Save
Save
Save
Save
Save
Save
Save
Save
Save
Save
Save
Save
Save
Save
Save
Save
Save
Save
Save
Save
Save
Save
Save
Save
Save
Save
Save
Save
Save