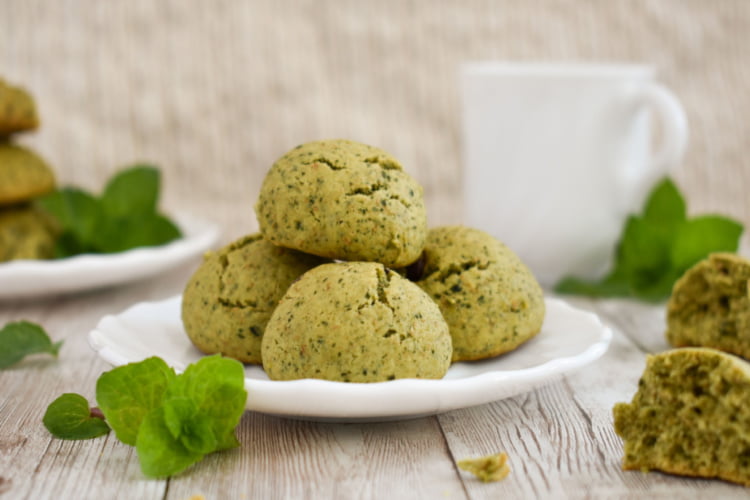 Our Homemade Minty Dog Treats will help keep your Dog's breath smelling great while enjoying a delicious treat! Our dog cookies are a terrific treat; they also give your pup a fresher breath that will delight everyone.
Who does not enjoy pet dog kisses? 
Many dogs get bad breath from the build-up of plaque. Call the Vet and get his

teeth cleaned

at least every six months is also crucial. Our Homemade Minty Dog Treats will assist remove your Dog's lousy breath, no matter the reason!
There are a few essential ingredients in these Homemade Minty Dog Treats to make them work while keeping them healthy for your Dog

. Gluten-free oats provide fibre, vitamins, minerals, antioxidants, and plant-based protein.
The green leaves of the parsley plant contain chlorophyll, which works to remove bacteria

. Getting rid

of excess bacteria

indicates better breath for your Dog! Parsley is an excellent herb for your Dog's digestive system, too.
Mint makes everybody's breath much better, from humans to our furry buddies. It will add a great, light flavour to the Homemade Minty Dog Treats.

The Mint Leaf will help your Dog relax and will scent their breath after they eat one of our treats.
Homemade Minty Dog Treats
Our cookies are a wonderful treat; they provide your puppy with fresher breath that will make kissing your puppy pleasurable

.
 

2 1/2 cups old-fashioned oats
 

1/2 cup parsley fresh, sliced
 

1/2 cup Fresh Mint, sliced
 

1/4 cup water plus one tablespoon to help form the dough.
 

3 tablespoons of coconut oil melted (unrefined extra virgin is best).
Instructions –
Preheat the oven to 325 ° F.
Include oats in a mixer and pulse to a flour-like consistency—blend in diced parsley, Mint, egg, water, and oil in a large bowl

. Add oat flour and stir to integrate.

Knead the dough a few times on a floured surface area.



Flatten the dough to about 1/8″ thick using your hands or a rolling pin.

Cut out roughly 40 (1-inch round cookies) using a cookie cutter or knife—place mints about 1/4-inch apart on a parchment-lined or non-stick cookie sheet

.

Bake the cookies for 35 – 40 minutes until they are golden.

Ensure cookies are cold before serving—place in an airtight container in a refrigerator for two weeks or the freezer for up to 5 months
Suggestion: For dogs with allergies to chicken, substitute one big egg with 1/4 cup of unsweetened applesauce.

Labradoodles by Cucciolini invites you to shop for everything your puppy needs for a great start, including