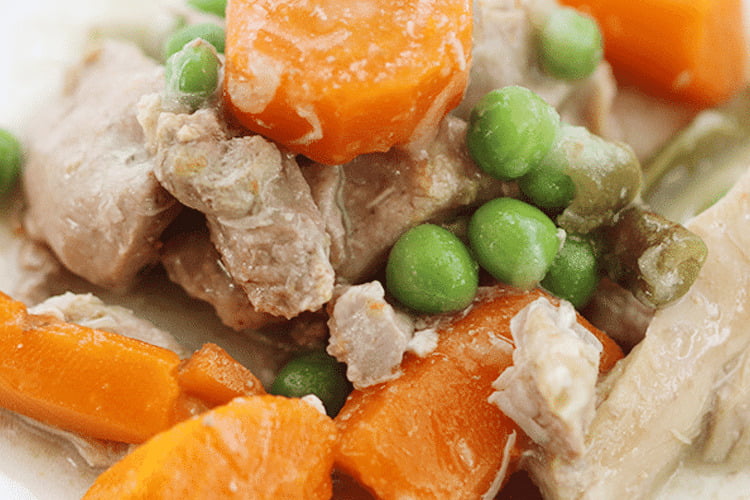 Our pet food dishes are human-grade, so do not hesitate to bite. Your pet will enjoy this stew recipe with wholesome ingredients like chicken, apples, carrots, green beans, and peas. This make-ahead recipe is simple to freeze too. Divide the stew into freezer-safe bags or containers, defrost in the refrigerator, and serve. BARK, BARK!
 Preparation: Time 5 minutes
 Cook Time: 5 hours
 Total Time: 5 hours and 5 minutes
 Ingredients:
 3 pounds boneless and skinless chicken thighs
 1/4 cup chicken livers
 2 carrots peeled and sliced
 1 cup frozen green beans
 1 apple cored, seeds eliminated, and cut into quarters
 2 to 3 cups water
 1 cup frozen peas
 1/3 cup fresh parsley chopped
 1 tablespoon olive oil
Directions
Slow-Cooker Method:
Include all active ingredients, including peas, parsley, and olive oil, into the slow cooker.

Add a small amount of water to cover the vegetables.

Simmer on low heat for six to eight hours or on high for four to five hours.

Cook for 15 minutes before turning off the Slow-Cooker.
Stove-Top Method:
Add all active ingredients to a large pot, including peas, parsley, and olive oil.

Use enough water to cover the Ingredients.

Bring to a boil and reduce it to a simmer and cover and cook slowly on low for 1 hour or until carrots are tender and the chicken cooks through.

About 15 minutes before shutting off, add peas and parsley.
Ensure ingredients cool down slightly. Using a slotted spoon, add active ingredients and olive oil to a Large Bowl, Mash with a Fork/Masher or use a processor, depending upon the consistency chosen. I like to use a food mill and pulse until fine about three to four times so that it's soft, like canned dog food. Ensure cooling totally before placing it into a freezer-safe zip-lock bag or container.
Freezing Stew Recipe – The dog food mix can be divided and stored in specific freezer-safe zip-lock bags. Frozen baggies should be thawed in the fridge overnight. The serving size will depend upon the size and breed of your pet dog. Consult your vet first if you need help with how much to feed your canine.
Proteins including Vegetables
Our Home-Made Dog Food contains protein-rich ingredients. This recipe includes both chicken and Chicken Liver. Other veggies that work well in this dish are cauliflower, sweet potatoes, and butter-nut squash. We choose vegetables that are not highly starchy but contain antioxidants.
Our Home-Made Dog food and treats are without additives, coloring, by-products, fillers, sweeteners, salt, or other unhealthy active ingredients.
Labradoodles by Cucciolini invites you to shop for everything your puppy needs for a great start, including Crates, Food, Treats, Accessories, Feeding Bowls, Health, Grooming, Training Aids and Toys!