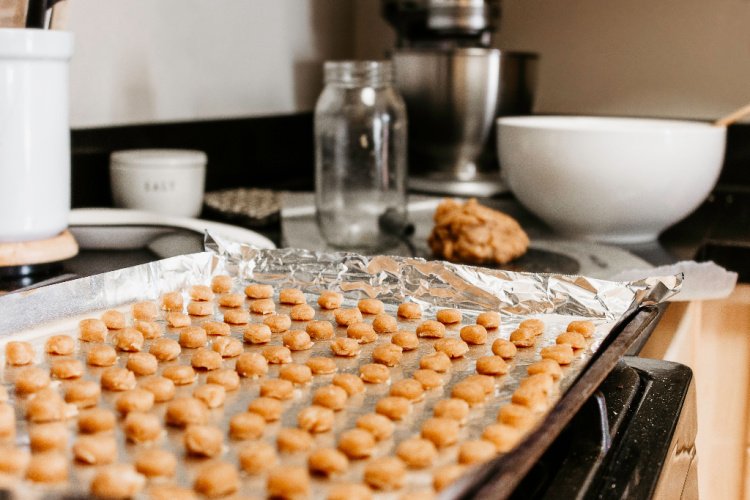 Make your Fur Baby's day with our Healthy Dog Biscuit Recipe with delicious active ingredients from Labradoodles by Cucciolini Ontario.
Our Holiday treats can hurt family pets, so make sure you have something tasty to use that is not just yummy but also healthy. This Homemade Parmesan & Spinach Pet Dog Treats with the flavours pet dogs like and a rewarding crunch that is excellent for their teeth- no ingredients, fillers, artificial colours, or flavour.
Your furry pal is an essential member of the family, which suggests they are worthy of homemade treats too! You can purchase a box of dog biscuits, but many dogs love these, and they're just as easy to make as making a batch of cookies.
Healthy Dog Biscuit Recipe Treats
Treat your pup to these healthy and Delicious dog treats!
Prep Time 5 minutes

Cook Time 30 minutes

Total Time 35 minutes
Ingredients
2 cups old-fashioned oats (preferably gluten-free)

1/2 cup grated Parmesan cheese

1 cup fresh spinach

1/4 cup chicken broth fat-free, low sodium

1 tablespoon olive oil

1/4 cup carrots grated
Instructions
Preheat oven to 350 degrees. Place oats in the blender and grind them into flour. In a medium bowl, mix the oat Flour and the Parmesan. Steam spinach until slightly wilted in a steam basket or microwave with one tablespoon of water. Drain water from the spinach and add to the blender with grated carrots and chicken broth.
Blend until pureed. Add puree to dry ingredients along with olive oil. Combine ingredients either with a large spoon or using your hands.
Use a nonstick cookie tray. Start by Shaping the dough into 14-16 1-inch balls and place them on the cookie sheet. Flatten the balls into 1/4-inch cookie shapes. Bake for 15 minutes, turn over and bake an additional 15 minutes. You can place biscuits in a container for Ten days in your refrigerator or for two months in the freezer.
Nutrition Information – Calories: 64kcal 
Keywords – Healthy Dog Recipes, Quick and Easy, Labradoodles by Cucciolini Ontario, Healthy Pet Biscuit Recipe Treats, Parmesan Cheese, Fresh Spinach,

Labradoodles by Cucciolini invites you to shop for everything your puppy needs for a great start, including Crates, Food, Treats, Accessories, Feeding Bowls, Health, Grooming, Training Aids and Toys!