MEET OUR GIRLS
We are so blessed with our exceptional Labradoodle Girls! Our girls are beautiful, intelligent, friendly, playful, temperament-testing, and healthy. We have produced three different coat types, Including beautiful fleece, Wavy and Curly coats that are non-shedding and allergy-friendly. Our Girls love and enjoy their lives on our 2-acre lush property in the stunning part of the Niagara Escarpment.
We cherish the time we spend with each one of them in our Program, and the ones who do not live with us full-time are spoiled and loved by their fantastic Guardian Families! Our girls are friendly, not to mention how comfortable they are around our Children and Adults, with many customers with Adults with Disabilities.
They are all so eager to create happiness for everyone they encounter. It is a beautiful inherited trait passed down to their beautiful puppies. We are happy to inform you that many of our Adopted Adults are Canine Good Citizen Certified, which creates happiness, joy and laughter in Nursing and Family homes with Autistic Children and Adults with many disabilities.
Our Girl "Lucia"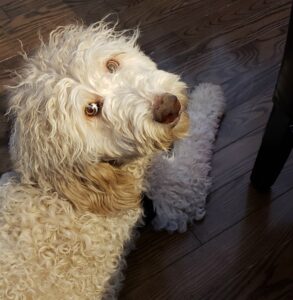 LUCIA is a solid girl with excellent conformation and a beautiful Caramel/Apricot wavy fleece coat. She is a happy girl, who is affectionate and thinks she is a big lap dog! She loves to be outdoors and enjoys going on hikes and walks. Lucy has an intuitive nature and beautiful hazel eyes that look right into you. She loves all people and dogs and brings joy and peace to all who are in her presence.  Wherever we go, people want to know when Lucy is having puppies! She has a beautiful conformation and is strong and sturdy, Lucy is an F1 medium sized girl with beautifully expressive eyes. Lucy is 47lbs and 22″ in Height. Lucy produces, Chocolate, Cream, Apricot and Cafe au Late Puppies.

Our Girl "Scotia"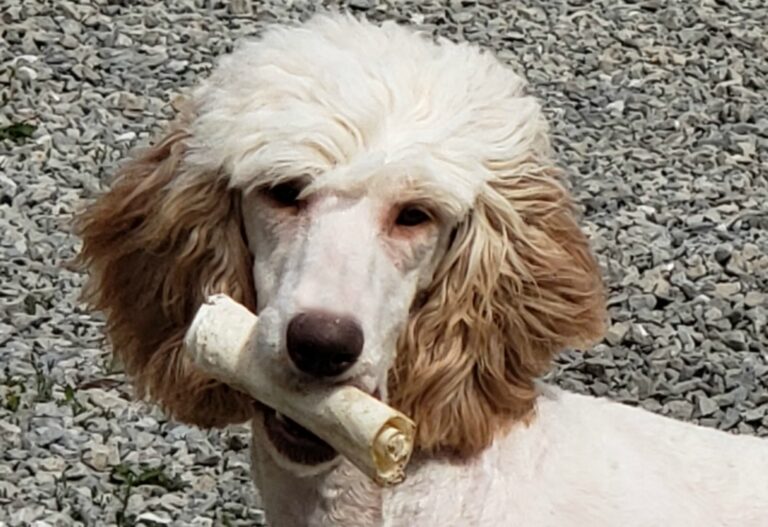 SCOTIA  is an outgoing and fun loving girl with a gorgeous curly fleece COAT. She Is an F1, Medium Size weighing 50 lbs 21 inches in height! She has tons of energy. Scotia is especially quick to learn. She is outgoing and very social, and has a bouncy happy personality. She is bright smart and eager to please. Scotia has produced beautiful Chocolate, Cream, Parti, Cafe au Late and Apricot Puppies!

Our Girl "Faye"

FAYE Our Beautiful Parti F1 Labradoodle. Not only is she beautiful, but she also has the perfect temperament and zest for life. We are looking forward to her future puppies, which I am sure will be little beauties.  Her all-time favorite thing is play fetch with a ball! She loves socializing with children of all ages. She has a wonderful, happy disposition and loves making eye contact until she gets the cuddles she is looking for from you.  Faye is a Standard 22" in height and her weight is 55 lbs. Faye produces Chocolate, Cream, Apricot and Parti Puppies!
Our Girl "Gracie"

GRACIE What a doll! This GIRL has it all…good looks, beautiful soft Fleece coat, great temperament, great conformation, she's patient, sweet, playful and a snuggle bug. GRACIE, draws attention everywhere she goes. She loves everyone she meets. GRACIE is an F1 Medium 21″ in height and 55 lbs! GRACIE produces Chocolate, Cream and Apricots & Reds!

OUR Girl "MISA"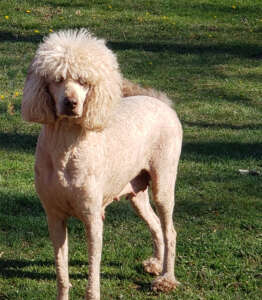 MISA Our beautiful Apricot girl, has everything going for her with her stunning Apricot wavy fleece coat, and her sweet and mellow personality. She represents the qualities we love in our puppies and we are excited to pass these characteristics on to her future generations and is an F1 Medium 21″ in height and is 48 lbs! Produces, Apricots, Reds, Chocolate, Cafe au Late and Cream Puppies!

Our Girl "RED"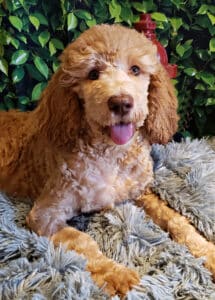 RED is an F1 an has a fabulous combination of intelligence, she is spunky, sweet natured, and all around a loving temperament. She loves water and hanging out with her family, she also loves Snow! RED stands at 22 inches and weighs 48 lbs her coat is curly with a beautiful softness to it. RED has such a Calm disposition and Loves anyone she meets. Beautiful Red Produces, Cream, Apricot, Reds and Chocolate!

BARK AVENUE BY CUCCIOLINI
Labradoodles by Cucciolini invites you to shop for everything your puppy needs for a great start, including Crates, Food, Treats, Accessories, Feeding Bowls, Health, Grooming, Training Aids and Toys!
www.barkavenuebycucciolini.ca 
Further Questions? Contact Us at 1-647-967-8997 or email us at  

[email protected]

.
We at Labradoodles by Cucciolini appreciate your Comments or Questions. Feel free to BARK us anytime.
[elfsight_instagram_feed id="1″]
[elfsight_social_icons id="1″]